Man your blimp and watch your back as Bond Night returns to examine all angles of Roger Moore's final James Bond film, A View to A Kill.
Welcome back to Bond Night! This month we're climbing the Golden Gate Bridge to get the best vantage point for examining Roger Moore's final James Bond film, A View to A Kill (1985). From this perspective, we'll be able to see the horizon and the setting sun of Moore's 007 career. From this angle, we can pivot to the delicacies of French cuisine. And while we can still see straight, we'll pour a few Americano cocktails and celebrate San Francisco with the legendary steam beer. So watch your step but do look down; Bond Night starts just below your sightline.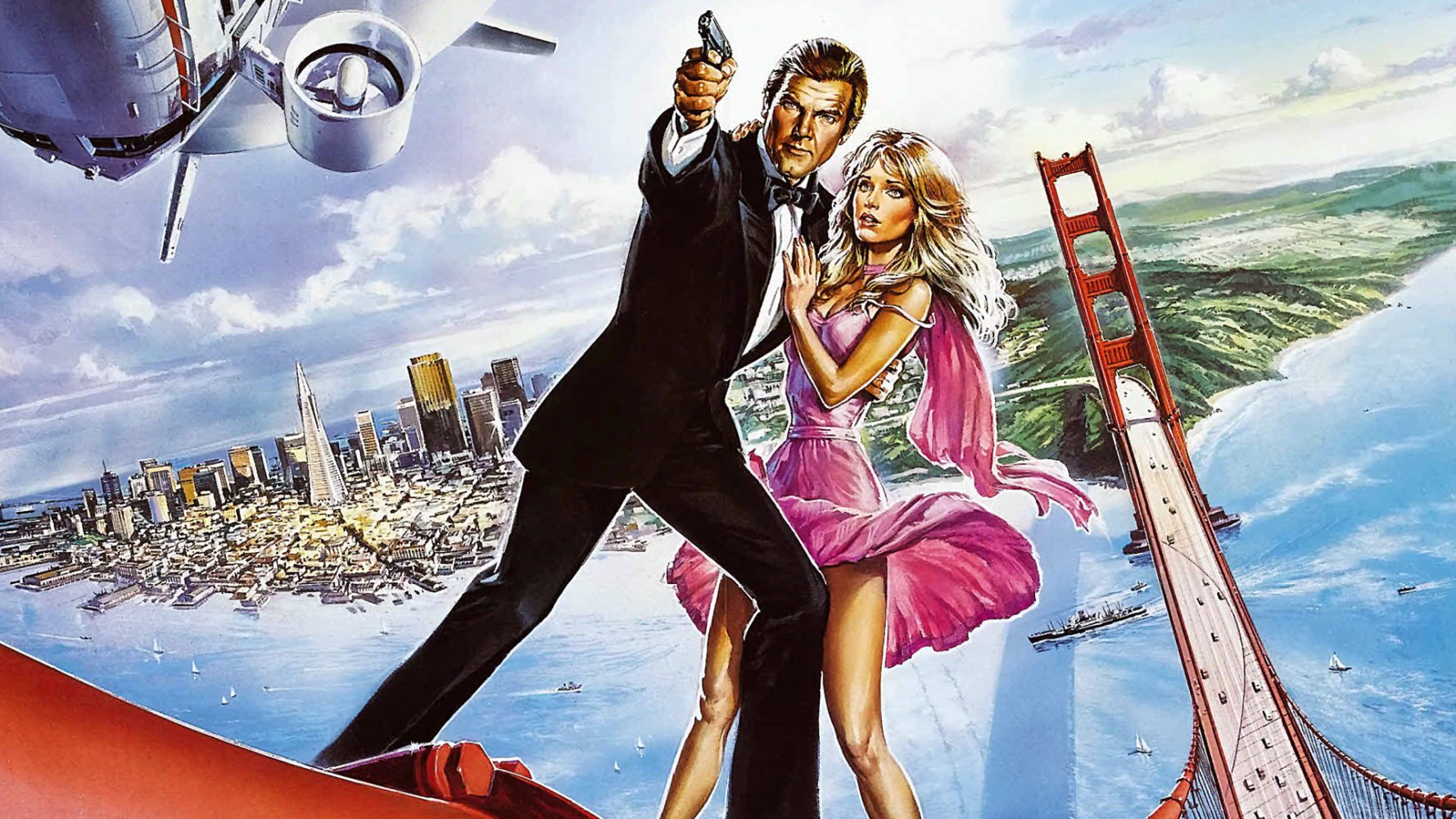 HISTORY
Emerging battered but triumphant from the tumultuous year of 1983, Producer Cubby Broccoli and Director John Glen must have exhaled an audible sigh of relief. They had gone head-to-head with Producer Kevin McClory's rival Bond production, Never Say Never Again, and came out victorious in both box office returns and pop culture reverence. The audience had spoken with their wallets and Roger Moore's James Bond was still the hottest movie ticket in town. While it wasn't a total rout, McClory didn't have a second round loaded in his chamber; he'd had his shot to topple the official Bond franchise and he'd blown it.
Their nemesis thwarted and the coast clear, Broccoli and Glen got back to business as usual–the next James Bond film, number 14 in the official series. However, stripped of their competition and feeling perhaps a bit complacent, the resulting film feels more like a victory lap than a bold new direction or exciting culmination of the 007 formula. Perhaps in Broccoli's mind, there was an advantage in playing it safe and running up the score.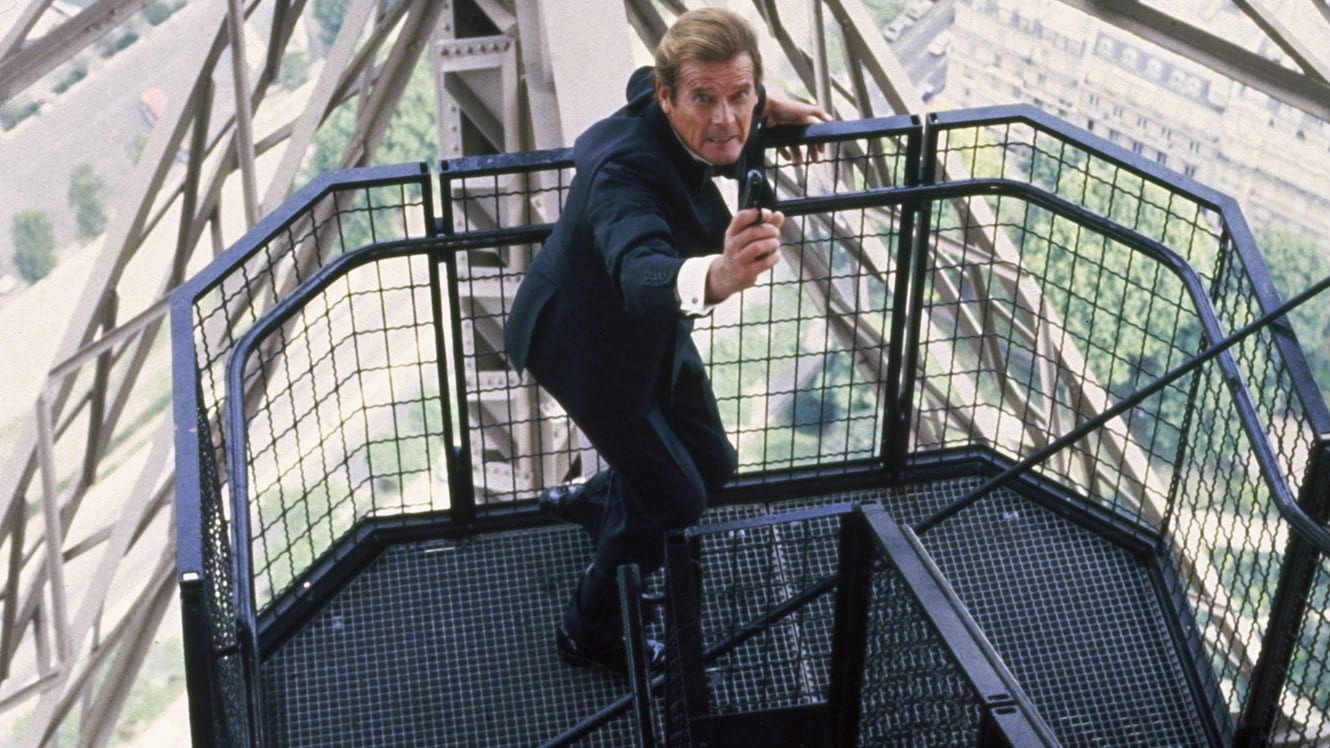 That said, this would be John Glen's third Bond film, and you can see his boldness and audacity growing with each entry. Starting with For Your Eyes Only, Glen had refocused the trajectory of the franchise, moving away from campy Blofeldian megalomaniacs with plans for world domination and delving into a grittier, seedier world of terrorists, organized crime, mercenaries and rogue agents. The violence got a little more extreme and the tongue-in-cheek sexism was dialed down a few notches.
That tradition continues here with a couple of well staged and surprisingly brutal kills and Christopher Walken's Max Zorin as a legitimately disturbing sadist, at one point gunning down his own employees and laughing maniacally for what feels like several minutes of screen time. Despite the usual quips and occasional groaner (the Beach Boys musical cue during a snowboarding action sequence comes to mind), there's a sense that the franchise is gradually being guided into darker and deeper waters. By this point in the culture, audiences were already accustomed to more gruesome and brutal action films with the likes of Dirty Harry, the Terminator, and Rambo gunning down baddies with no remorse; naturally, it wouldn't take long for this new approach to bleed into the James Bond franchise.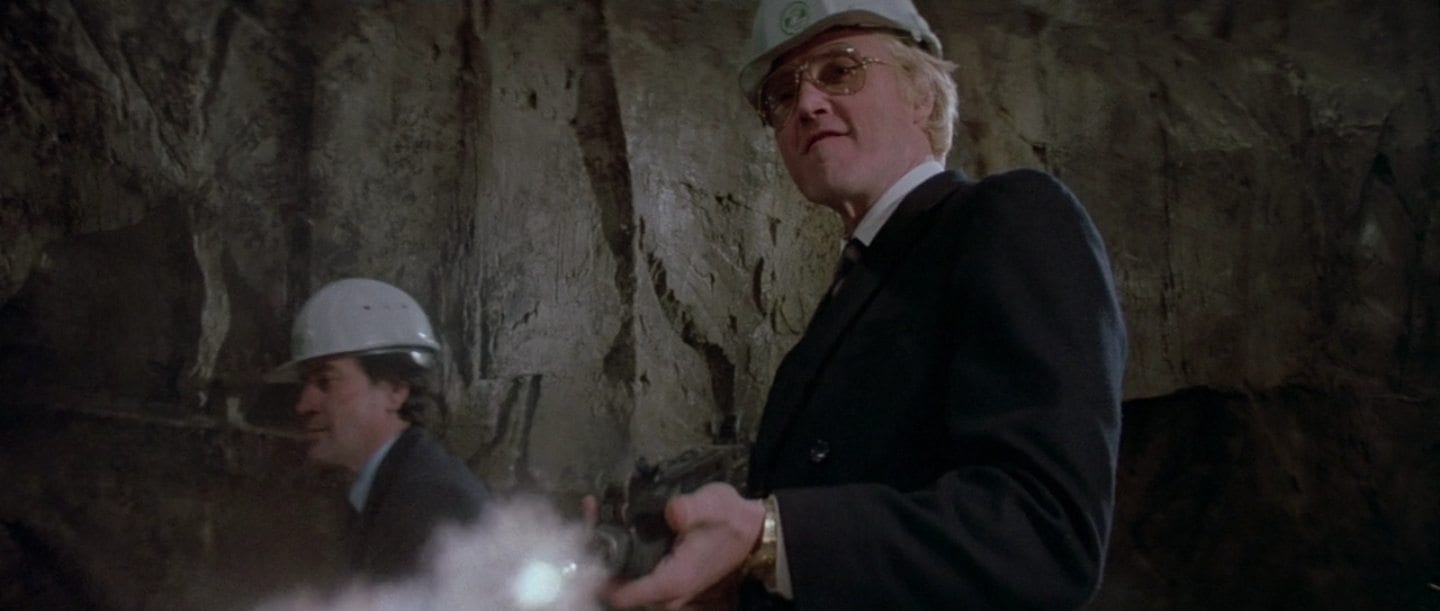 The one obstacle in pursuing this path was ironically Bond himself, Roger Moore, who decried the impulse to make his character more sadistic and cruel. In his mind, the Bond adventures were meant to be amusing escapist entertainment, not amoral bloodlettings.
But Moore was 57 at the time of filming View, and there was no doubt this would be his final go in the role. While a grizzled and graying Moore worked wonders two films prior, it had delivered diminishing returns since. And here in View, Moore is simply not believable as an action star, especially when he's snowboarding, hanging off a blimp dodging skyscrapers, and getting into a fight atop the Golden Gate Bridge with the far younger Walken. To make matters worse, Moore's stunt doubles look nothing like him and are hard to miss in many of the action sequences.
So with Roger Moore passing the torch, the onus would be on Broccoli and Glen to brainstorm the future of the franchise. Would corny and clever, sly and tongue-in-cheek still sell in the late 80s or was it time for a new direction? While View wouldn't outright flop at the box office, it would definitely be something of a disappointment after the back-to-back blockbuster hits of Moonraker and Octopussy. Perhaps the audience was ready for something different..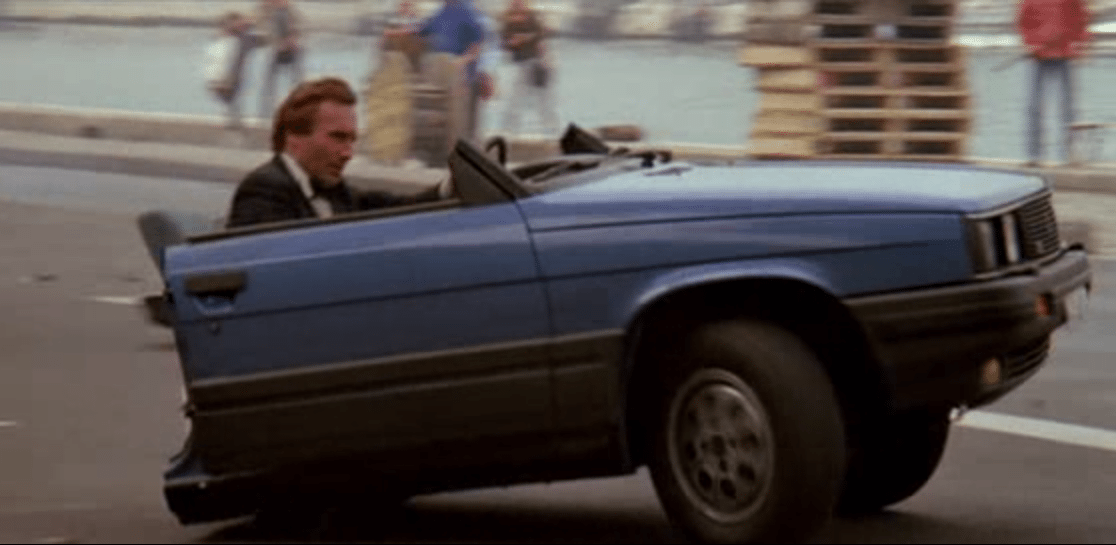 DINE
One of the best parts of any Bond Night screening with friends or family is getting together for a meal before the film and matching the cuisine with one of the locales from the movie. While the San Francisco half of the film is clearly the more iconic, Bond's exploits in France provide a unique opportunity to explore one of the world's most celebrated cuisines.
Like most cuisines, French food includes some staple ingredients, but what really separates it from the pack has more to do with cooking philosophy. The secret is fresh and high quality ingredients, clean but bold flavors, and a deft skill at pairing various foods with one another.
At first blush, this doesn't sound easy to replicate for a Bond Night get-together without being an expert chef or taking your crew out to an expensive restaurant. But keep in mind that French cuisine is more than steak tartare, foie gras and $200 bottles of wine. Some times the best things in life are also the simplest.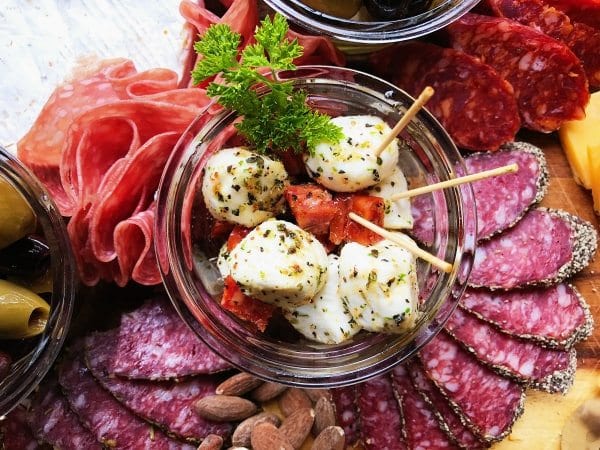 For starters, load up on a few basic staples. From your local deli, market or butcher, you can assemble a simple charcuterie board that won't break the bank and will provide plenty of good snacking options to share around the table. Cured meats like prosciutto, salami, and sopressata provide a savory, salty and spicy kick; consider pairing them with a few soft, funky cheeses like brie and gouda; then add some olives, almonds or walnuts, and fruit like apple slices, cherries or figs to round out the selection. Finally, fresh sourdough bread, baguettes or crackers make for a good base to stack and combine your assorted goodies or cleanse the palate between bites.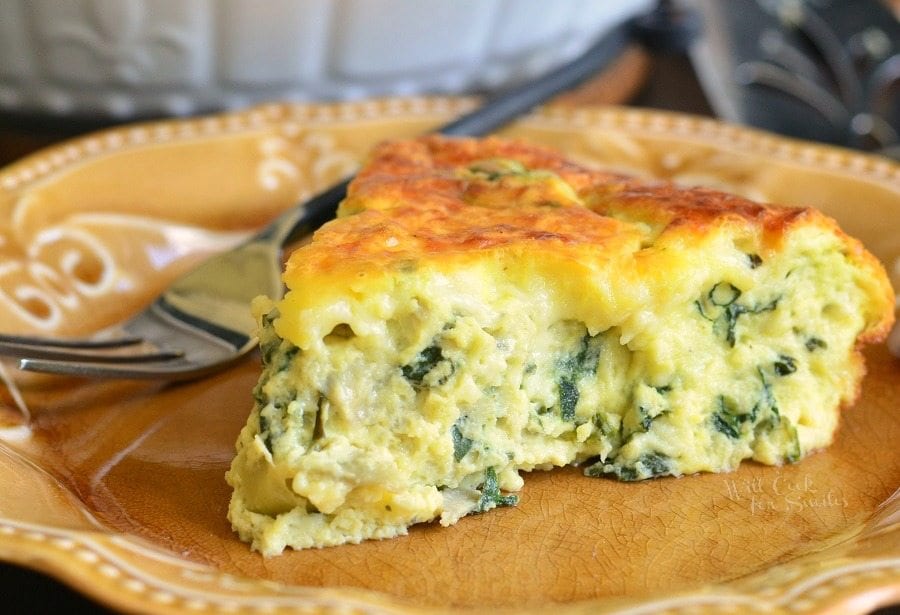 For your main meal, you'll want something that can be communally enjoyed. Your best bet is probably a large quiche or a variety of smaller personal sized quiches. This dense egg, cheese and cream-based entree is essentially a hearty, savory pie and often includes fillings like sausage, bacon, mushrooms, herbs and spinach. Best of all, high quality ready-to-bake quiches are ubiquitous at local markets and neighborhood bakeries.
Additionally or alternatively, if you have a creperie in your home town, consider putting together a takeout order of various sweet and savory crepes. These thin pastries made of wheat or buckwheat flour make for wonderful desserts or even a meal in and of themselves. Whether filled with strawberries and cream or mushrooms and eggs, these are the perfect finger foods for those in search of French flair and flavors.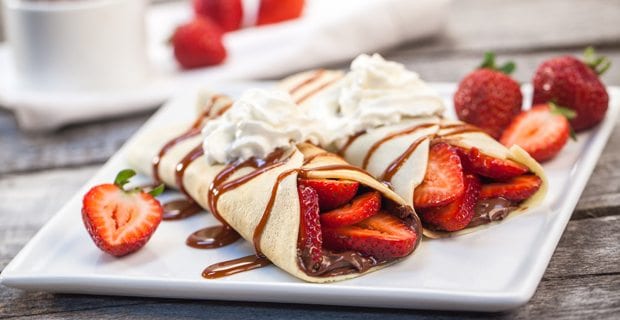 DRINK
The very first drink that James Bond orders is not–you may be surprised to learn–a vodka martini. Rather, it's the Americano, a classic Italian cocktail originally called the Milano-Torino. Legend has it that it was renamed because it was the drink of choice for American expatriates living in Italy; another legend is even better, claiming it was in honor of Primo Carnera, the first Italian heavyweight boxer to win a world championship in the US.
Whatever the case, James Bond was a fan. Not only did he order it in his very first appearance in the novel Casino Royale, he would also revisit it in the short story, "From A View To A Kill." In that story, Bond specified his recipe– equal parts Campari and Cinzano Rosso, and topped with Perrier sparkling water. 007 was a stickler when it came to high quality mixers, arguing that the cheapest way to improve a cocktail was to insist on a premium soda or tonic water.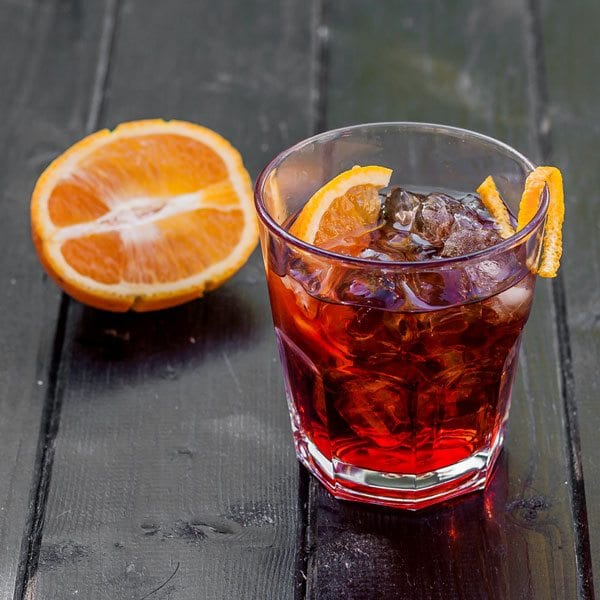 If you joined us for a Negroni back when we covered it for For Your Eyes Only, you probably recognize a few of these ingredients. The Americano is essentially a lighter, more refreshing Negroni that substitutes the gin for soda water. A balance between bitter and silky fruitiness, this is a drink that's designed less for delicately sipping and more for tossing back, perhaps while sitting out front of a small European cafe or in this case in front of a screen with friends or family.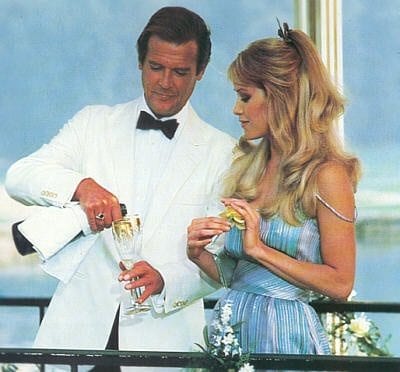 Americano
1.5 oz of Cinzano Rosso (alternatively, Cocchi Vermouth di Torino is an excellent vermouth)
1.5 oz of Campari
Perrier Soda Water
Orange Peel
Directions
In a rocks glass filled with ice, pour your Cinzano and Campari. Stir for about a minute to dilute. Then top with the soda water. Finally, cut a thick slice of orange peel, twist it over the drink, rub it along the rim of the glass, and drop it in.
Bonus Drink: American Steam Beer (aka California Common)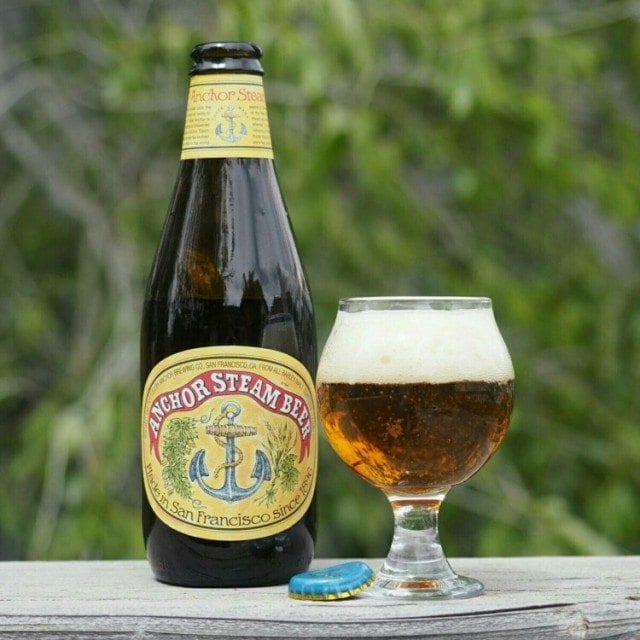 Although James Bond doesn't often drink beer, he's been known to pour a pint every once in awhile, usually favoring European style lagers like Löwenbräu and Heineken or the Jamaican beer Red Stripe. In celebration of this film's San Francisco setting, it seems fitting to serve your friends a bottle or two of the classic steam beer, a style that originated in the United States in the mid-19th century and became famous in San Francisco, California.
Not only is this style a refreshing addition to this month's cocktail, it also tastes like a beer James Bond would have enjoyed if he'd ever run across it during his travels. It's just light enough to enjoy during hot weather and just complex enough to satisfy tastebuds looking for a challenge in colder climes. Plus, it's a unique, wholly original style that hailed from a certain part of the world, and that's something 007 always appreciated.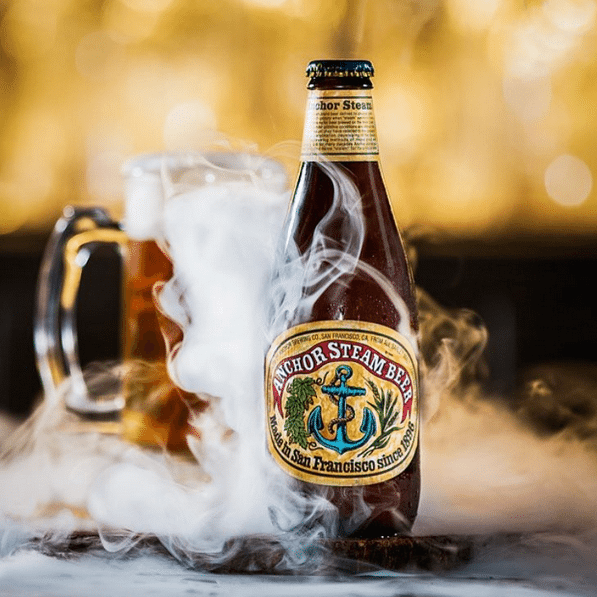 The steam beer is actually a special hybrid lager that ferments at warmer ale temperatures, imparting the cleanliness of the lager but some of the fruity and fuller flavors of an ale. These beers are often biscuity with a light toasted character and some subtle caramel sweetness. Hoppiness is present but usually fairly low; it's there to accent rather than blister the tastebuds.
The prime example of the style undoubtedly hails from San Francisco's own Anchor Brewing although there are plenty of other breweries making the style as well, usually under the labeling of a "Common" or "California Common." If you have a local microbrewery in town, check to see if they offer one. Fresh local beer is always superior to the alternative.
INTERMISSION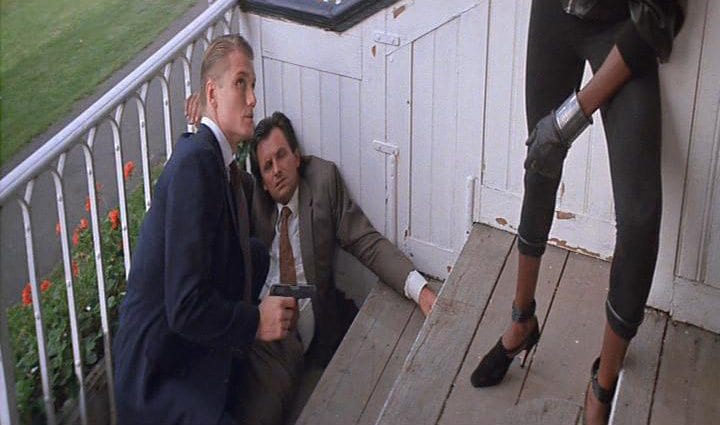 Pause the film at 00:55:51 or right after General Gogol tells Zorin "No one ever leaves the KGB." You'll know the scene. It's the one where Dolph Lundgren makes his first ever onscreen appearance. You can't miss it.
Then mix up a new round of Americanos or crack open some Anchor Steam in preparation for the San Francisco half of the film. And don't forget to publicly shame any of your friends who didn't recognize The Dolph.
A View To A Kill – VERDICT
When it comes to lousy James Bond films, there are legitimately bad ones and then there are just forgettable ones, and I'm not really sure which is worse.
For my friends, A View to a Kill was not an unpleasant viewing experience, though it was often a mildly disappointing one. When they heard Christopher Walken was going to be the villain, they were excited to see him ham it up Pulp Fiction or True Romance style, but instead his Max Zorin is a solid villain but never an exceptional one. He's a little creepy, a little sadistic, and every once in awhile, he brings the cowbell, but he doesn't quite reach the upper echelons of classic Bond baddies.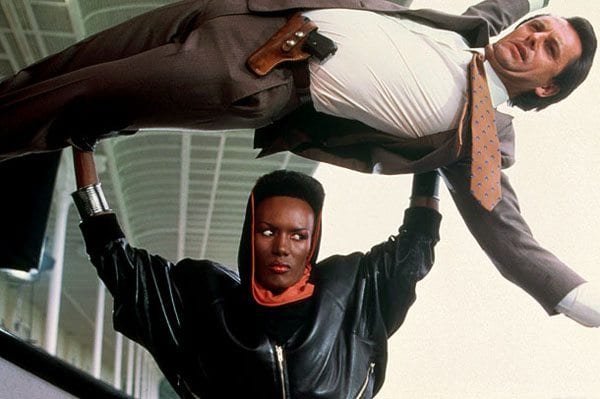 Oddly enough, Grace Jones' fiery and fierce May Day was probably the bigger highlight. My friends were pleasantly surprised by the villainess' commanding presence and vicious demeanor and cheered the character arc she undergoes.
As for good old Roger Moore, everyone agreed he was clearly too… well, old, but no one was grousing about his performance in the film. His quips, witticisms and comic timing were as sharp as ever. Nevertheless, the gang was ready to see him retire after this film and excited to see what a new actor would bring to the role.
So while my friends weren't necessarily smitten with A View to A Kill, neither did anyone seem to particularly loathe it. But as future Bond Nights came and went, my friends would often reflect back on the experience of seeing all the films and would regularly throw A View to a Kill under the Aston Martin. It's not that it does anything egregious; it's just that it doesn't really stand out. It's easily lost in the shuffle and is by no means an essential 007 experience.
For one thing, the action set pieces just aren't that exciting. While a fight atop the Golden Gate Bridge sounds riveting in theory, in execution it relies on too many cheesy rear projection shots and clumsy stage fighting. Aside from that, there's hazy memories of blimps, mines, and a chase scene with a fire truck, but nothing that reaches the stratospheric cool factor of previous Bond films' car chases, fist fights, or evocative settings inside volcanos, under oceans or through outer space.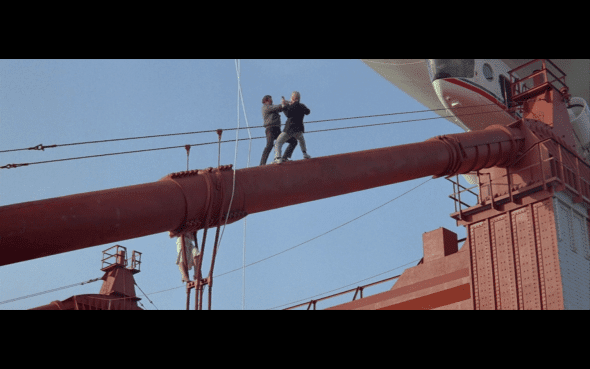 For the majority of View, Bond is either playing amateur detective in horse stables or protecting a mansion in the country with his rock salt loaded shotgun. That sounds less like a cinematic event on par with the James Bond brand and more like a made-for-TV movie of some hokey 80s action show.
RANK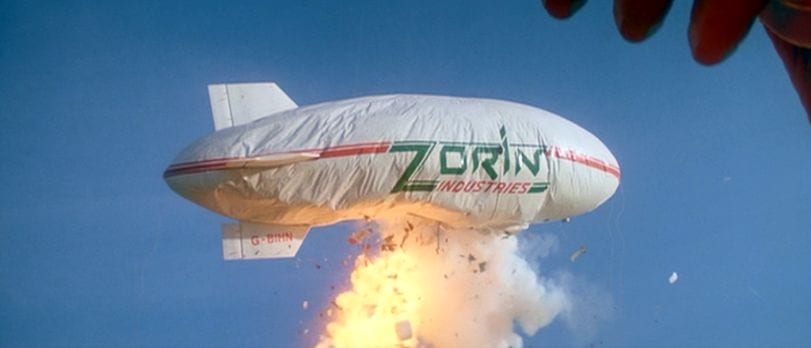 Sandwiched between the two other worst Roger Moore James Bond films, A View to A Kill neither matches the few arguable highs of The Man With The Golden Gun nor descends to the myriad lows of Moonraker. You could certainly do worse for a James Bond film, but not by much.
In other words, if blimps were Bond films, this definitely wasn't a Goodyear for 007.
A View to A Kill
---
Bond Night Will Return with The Living Daylights…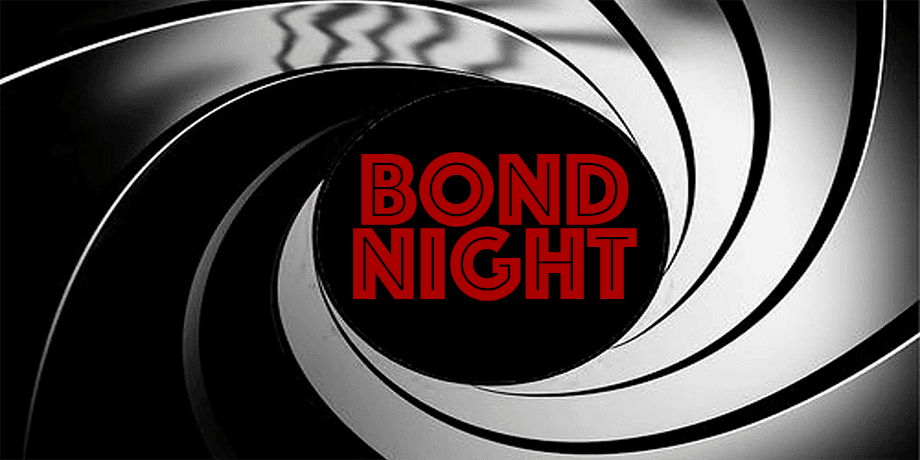 Bond Night is a tradition started by myself, a bonafide Bondian, and friends whose exposure to the James Bond film franchise was limited. One film a month is paired with a region-appropriate cuisine and cocktail, and spirited discourse about each film's merits and shortcomings. The goal of this column is to translate that experience here, walking newbies and Bond-experts alike through fifty years of the British superspy's cinematic history (from Dr. No through today) and declassifying all the secret intel necessary for you to host your own Bond Night with friends and family.
Bond Night: A View to A Kill (1985)
Michael O'Connor is a writer, filmmaker, and designer with a deep affection for film, literature, comic books… and craft beer. You can read his musings, check out his stories and watch his films at OCONNOBLOG. You can also check out his apparel company, George Shot First, and pick up a one-of-a-kind t-shirt or hat in honor of Star Wars creator George Lucas! Follow him on Twitter and Facebook at the links below.