Crack open the latest Bond Night case file with For Your Eyes Only as we declassify the secret history of Roger Moore's most grounded 007 adventure, the delights of Greek cuisine, and how to craft the perfect Negroni!
Welcome back to Bond Night! This month, we're sneaking back into the world of espionage and spycraft to unseal the case files of Director John Glen's For Your Eyes Only (1981), the film that brought James Bond back to earth, both literally and figuratively. If you'll lend me your eyes, I'll expose the secret history of Eyes; if you'll lend me your tastebuds, I'll delight them with Greek cuisine; and if you promise not to redact any of this, I'll show you how to make the perfect Negroni. But enough whispering and double talk! It's time to flip open the folder on your next Bond Night adventure!

HISTORY
How in this world (or the next) do you top Moonraker? The blockbuster Bond film had laser guns, space travel, sky diving, and an invincible villain with metal teeth. James Bond was no longer just a spy or a secret agent; he was a superhero who had just saved the human race from total extinction and, in the process, had delivered the highest grossing 007 film yet! Where do you go from there?
As Producer Cubby Broccoli saw it, he had two options. The first was to go even bigger, wilder, and wackier… if that was even possible. The second was to practically ignore the enormous financial success of Moonraker and do the absolute opposite of that film, to zig where it zagged — in other words, to bring Bond back to earth… both literally and figuratively. To his credit, Broccoli took the creatively daring path and chose the latter option.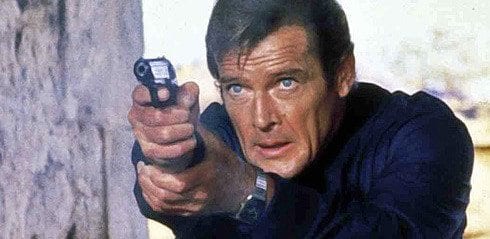 Joined by Director John Glen, an editor on three previous 007 films, Broccoli returned to the original Ian Fleming source material for inspiration. Glen, for his part, was enthusiastic about recovering the series' more grounded Cold War thriller roots and saw an opportunity to give James Bond fans of the 1980s a glimpse of the character as he'd been originally envisioned.
The only problem? There weren't any Fleming novels (aside from Casino Royale) they hadn't already adapted. So Glen and veteran writer Richard Maibaum went panning through Fleming's short stories instead. Fortunately, they found a couple diamonds in the rough with the stories "For Your Eyes Only" and "Risico," both classic 007 tales that were ripe for a big screen treatment.
Maibaum combined these two stories seamlessly and introduced a McGuffin called the ATAC, an advanced targeting computer lost in a sunken British submarine that the Soviets hoped to obtain and the British needed to recover. When a criminal organization seeks to obtain the technology and sell it to the Soviets, Bond must race against the clock to defeat the crooks and prevent the sale.
If that seems like remarkably low stakes for a Bond film, especially the sequel to Moonraker, it's worth recalling the series' earlier installments for context. For Your Eyes Only has shades of From Russia With Love's blend of espionage, conspiracies, and betrayals. And it embraces a loyalty to the source material audiences hadn't seen since On Her Majesty's Secret Service, a similarly grounded installment in the series.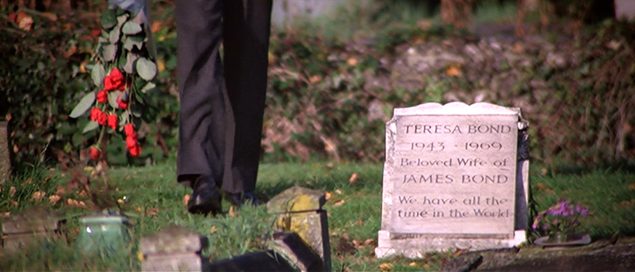 In fact, the connection to Majesty's, a film that had otherwise been largely ignored aside from a brief exchange in The Spy Who Loved Me, is the subject of Eyes' pre-title sequence. Not only does it acknowledge Bond former's wife, it also gives us one last showdown between 007 and the man who killed her, Ernst Stavro Blofeld.
That sequence was apparently added to the film as a poke in the eye to nemesis Kevin McClory who was in the process of filming Never Say Never Again, his own James Bond film unaffiliated with the official series. McClory, you may recall from the Bond Night coverage of Thunderball, owned the rights to that novel and many of the characters and elements within, including Ernst Stavro Blofeld and SPECTRE. Cubby Broccoli couldn't legally use Blofeld, so the bald, cat-stroking, Mao-suit wearing villain in Eyes' pre-title sequence is intentionally left unnamed and faceless before being promptly dumped down a smokestack. It was Broccoli's way of sending a message: they were done with the character once and for all; they didn't need him.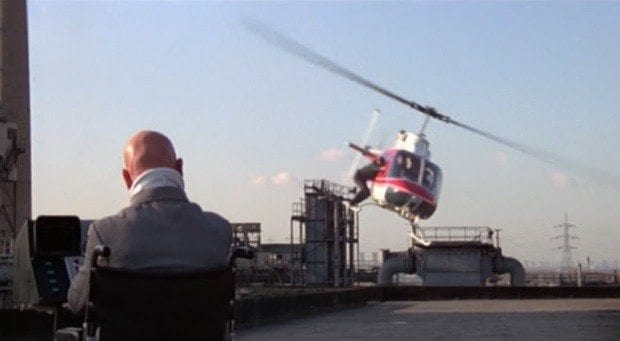 But whether intentional or not, that opening sequence sends another message as well. It's also a retirement of the entire Blofeldian mold embodied by prior baddies Drax and Stromberg and to a lesser extent Scaramanga and Kananga; no longer would the Bond series concern itself with wealthy eccentrics with wild aims to rule the world from their outrageous lairs aboard space stations, in the base of volcanoes or deep beneath the sea. Starting with For Your Eyes Only, director John Glen would use his five consecutive 007 films to push Bond into the Cold War and real world like never before. In that pursuit, Bond would be exposed to an increasingly more sordid rogues gallery of KGB agents, mercenaries, arms dealers, drug smugglers, and corrupt politicians.
For better and for worse, James Bond would never be the same again.
DINE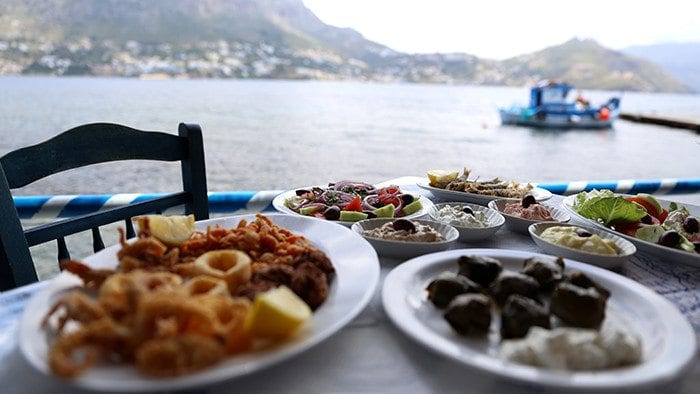 Of all the jaw dropping locales in the James Bond franchise, the scenery of Greece in For Your Eyes Only may just rank as my personal favorite. Whenever I sit down to a meal of Greek cuisine I am invariably reminded of this classic Bond film. And whenever you're sitting down to watch For Your Eyes Only, you really ought to be thinking about Greek cuisine.
Based largely around central ingredients like olive oil, goat cheese, seafood, lamb, and pita bread, as well as vegetables like spinach and onions and herbs like thyme and oregano, Greek cuisine evokes warm weather and fresh, natural flavors. Although it shares many regional ingredients with nearby Italy, the cuisine has more in common with Turkish traditions. Common fare includes pita sandwiches, cooked seafood, and fresh vegetables and salads, along with a few casseroles and the occasional soup.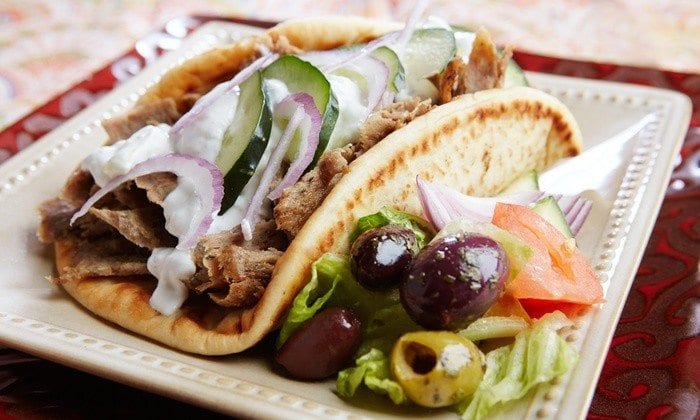 Fortunately, Greek or Mediterranean restaurants are fairly common, and if you've got a good one in your neck of the woods, you shouldn't hesitate ordering up a feast for your Bond Night group. You might consider starting everyone off with their own pork or chicken gyro to establish a good base upon which to build the rest of the meal. Gyros are the perfect handheld meal with spiced, juicy meat forced to share the same swallow as fresh vegetables like tomatoes, onions, and lettuce. The secret ingredient is the creamy tzatziki sauce, which ties the whole sandwich together.
As for side dishes, there are plenty of options but possibly none more satisfying than the dense spinach and cheese casserole known as spanakopita. With its crusty filo crown and its juicy, cheesy, oily interior, this is a dish that's best partitioned out into small doses among friends. Then clean your palate with some lighter fare like a Greek salad with feta cheese or a refreshing sauceless orzo pasta dish. And if you're still hungry for more, an order of calamari or even just a small bowl of olives make for good accents and contrasts to the rest of the meal.
DRINK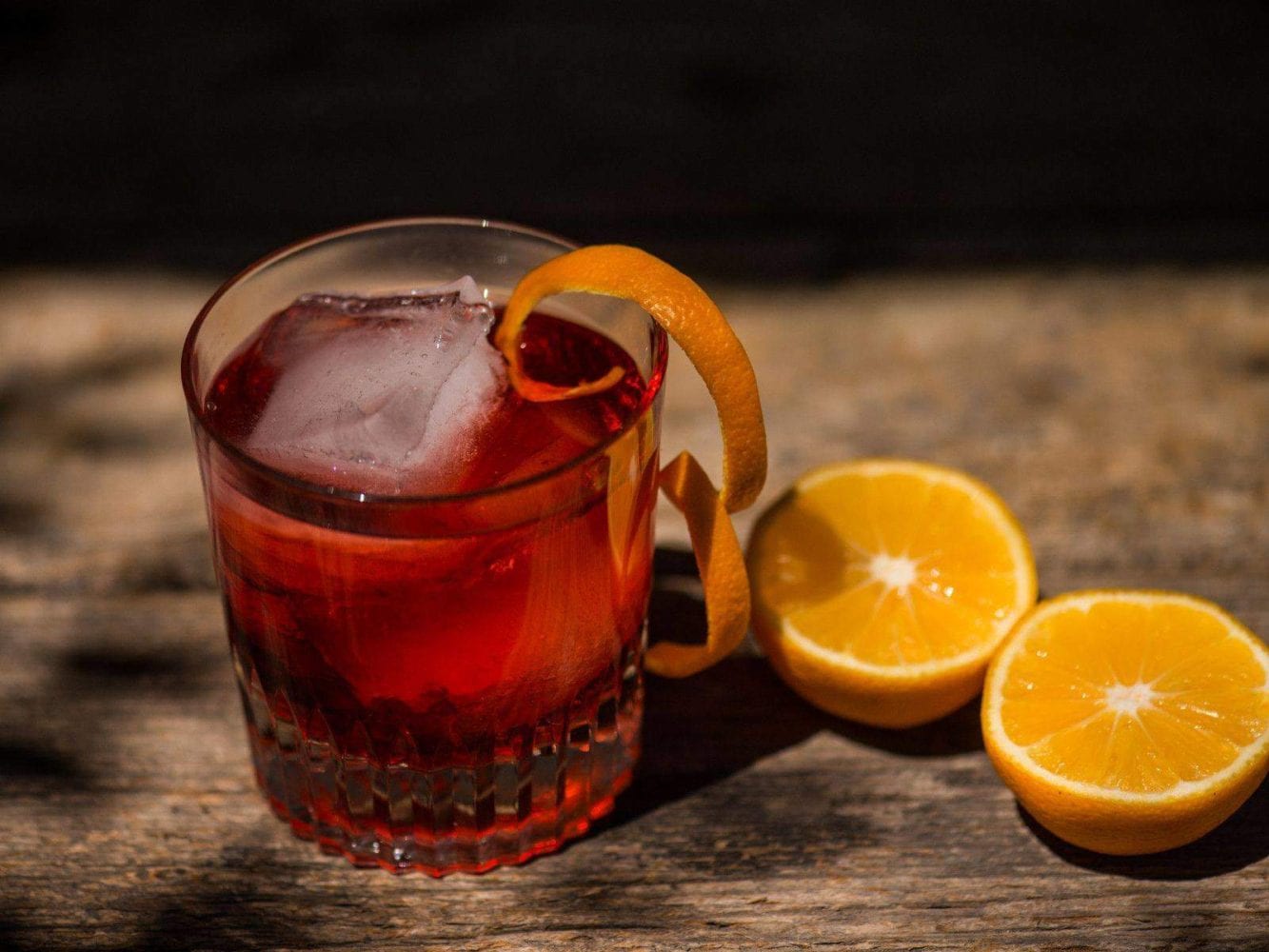 In "Risico," one of the short stories adapted for the film For Your Eyes Only, James Bond orders a Negroni for his meeting with Kristatos. Curiously it's the only time the literary Bond orders the drink. And that's a shame, because the Negroni is a quintessentially Bondian cocktail.
Coincidentally for our purposes, this Italian classic serves as an excellent companion to Greek cuisine. It manages to be simultaneously refreshing and warming, and its blend of herbal bite and bitterness with a sweet, almost silky fruitiness will keep your tastebuds guessing.
Comprised of a liquor, a liqueur and a fortified wine, the Negroni is a contradiction in a glass — a chaotic drink on paper that is remarkably balanced on the tongue. The three main ingredients are gin, sweet vermouth, and Campari, a bitter Italian liqueur made from fermented herbs and citrus fruits. When these ingredients join forces, magic happens quite naturally with very little effort on the part of the bartender.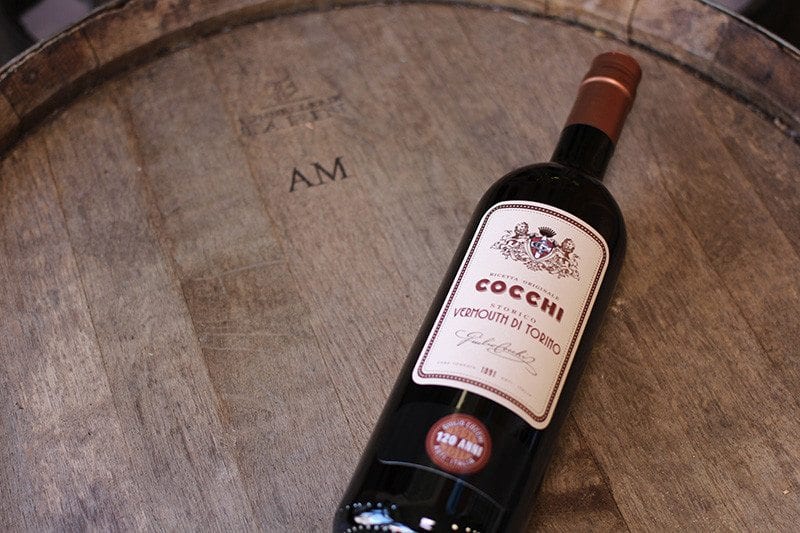 The only real effort is in the shopping, specifically in finding a solid gin and sweet vermouth to join the bottle of Campari. Bond calls for Gordon's Gin and while that's still a fine option, it's worth noting that Gordon's has lowered the proof of their gin since "Risico" was written. Beefeaters Gin is probably closer to the spirit Bond would have imbibed back in 1960.
As for the sweet vermouth, there are a couple of excellent options. I'm a fan of Cocchi Vermouth di Torino. It's rich and well rounded with a prominent fruity character that contrasts beautifully with the sharp bitterness of the Campari and the herbal bite of the gin. If you can't find Cocchi, Cinzano Rosso is another solid alternative. Just make sure you invest in a high quality red vermouth; you might have to pay a few bucks more, but it can really make or break this drink.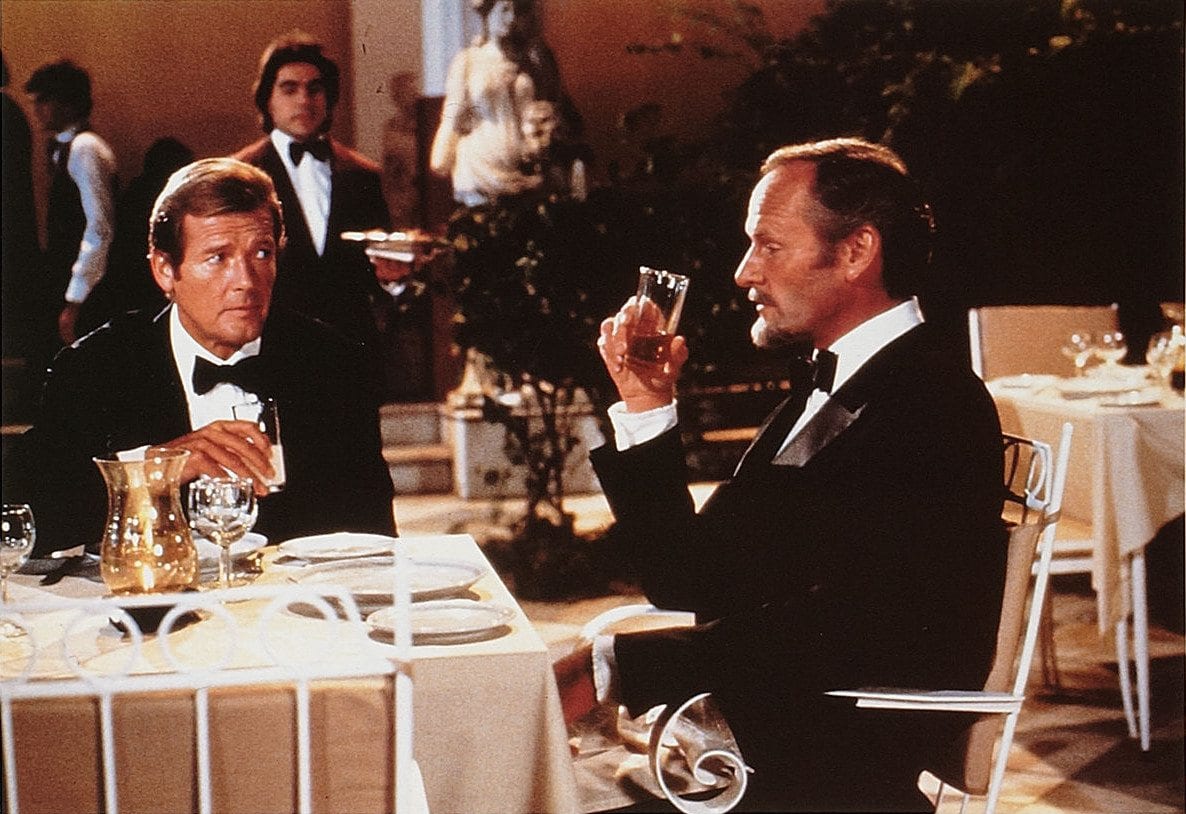 Negroni
1 oz of Gin (Beefeaters or Gordon's)
1 oz of Sweet, Red Vermouth (Cocchi Vermouth di Torino or Cinzano Rosso)
1 oz of Campari
Orange Peel
Directions
Pour the gin, vermouth, and Campari into a rocks glass and add a large ice cube. Stir gently to mix and achieve a light dilution. Then cut a thick slice of orange peel, twist it over the drink, rub it along the rim of the glass, and drop it in.
INTERMISSION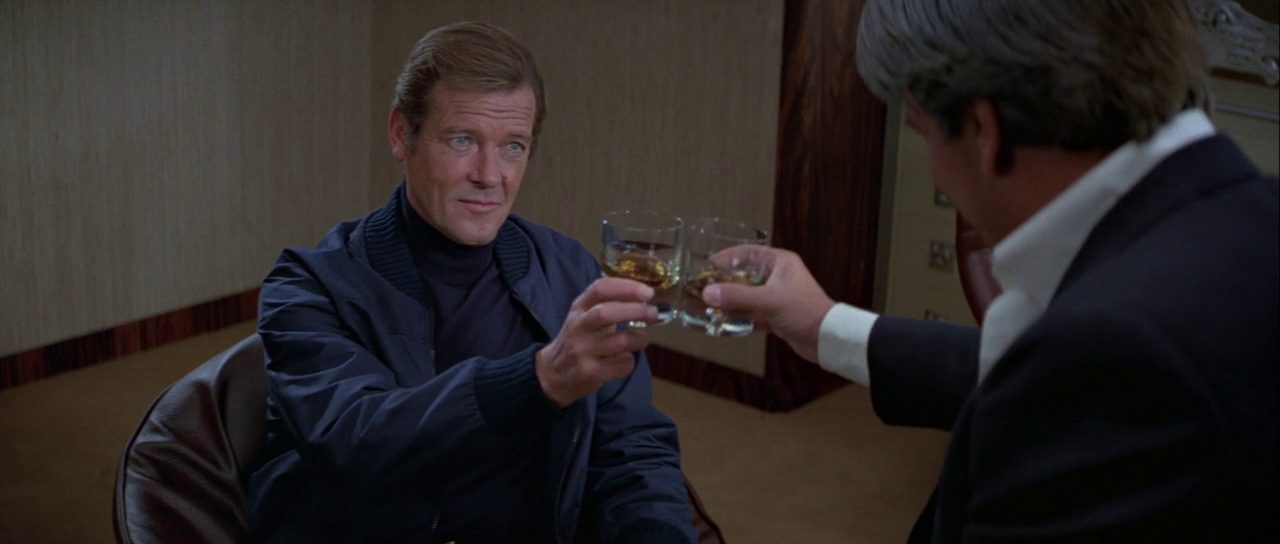 Pause the film at 1:14:30 or right after James Bond responds to Columbo's "Cheers" with "Yassou." As you stir up another helping of Negronis for your friends, you can tell them that, actually, "Yassou" means "Hello" in Greek, not "Cheers." Hopefully, armed with the new round of cocktails, you and the gang can come up with a legitimate reason for Bond's language gaffe.
For Your Eyes Only – VERDICT
For Your Eyes Only is the film that even the most ardent Moore haters will likely concede is "pretty good." While there are still a plethora of zany visual puns, eye-roll inducing double entendres, and some outrageous 80s music cues from film composer Bill Conti, Eyes definitively answers what a more grounded, gritty Roger Moore James Bond film looks like.
Turns out, it looks pretty great.
At least, that was the consensus of my Bond Night gang, and it was one of the most ardent and enthusiastic consensuses our opinionated group reached over the lifespan of the series marathon. While one friend had been down with Roger Moore since the first appearance of his safari suit in Live and Let Die and my other friends had warmed considerably to him by the time The Spy Who Loved Me reached their eyeballs, For Your Eyes Only cemented Moore's legacy.
A large part of their admiration revolved around Moore's ability to evolve in the role and offer a more reserved, serious take on the character. It's a subtle, surprisingly understated performance at times, with just hints of Bond's regret, world-weariness and pain shining through. One of my friends even saw a little of Daniel Craig's technique foreshadowed here and contended that For Your Eyes Only would make an excellent double feature with Skyfall. As crazy as that sounds, he might be on to something.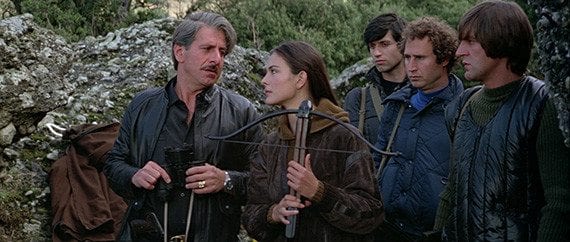 For Your Eyes Only is responsible for a couple of important "firsts" in the franchise, and the biggest of these is the film's acknowledgement of James Bond as an older man. By this point, Moore's advanced years were starting to show, but rather than ignore them as they did in Connery's later films, they're used to good effect here, contrasting 007 with far younger characters like Bibi Dahl, a precocious figure-skating female Bond actually refuses to sleep with (another first for the series!) and the beefcake henchman Eric Kriegler, who looks at least twenty years younger than Moore.
The effect is two-fold: we simultaneously worry for Bond's wellbeing because he appears outmatched by younger opponents, and also find his eventual victory all the more satisfying, a comforting reassurance that at least in the world of 007, experience tops youth.
Bond's advanced age also gives the character an added gravitas, his past adventures forming a cumulative backstory that impart a weight to his interactions and conversation. When he speaks to crossbow-wielding Bond broad Melina Havelock about the dangers of revenge, for instance, we know his concern comes from a place of experience… of loss and heartache, injuries and setbacks. Moore absolutely nails this scene, imbuing in the character a paternal concern that humanizes Bond even as it contradicts the ageless superhuman we've seen in previous installments.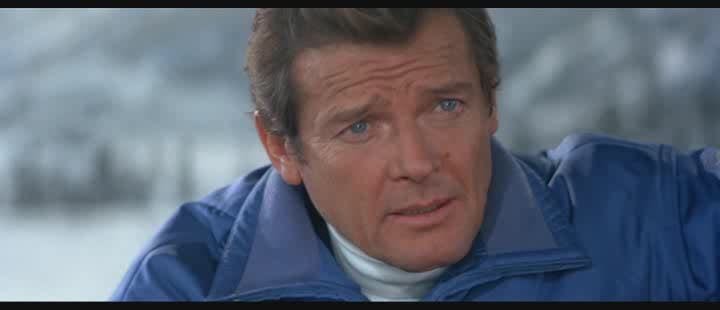 From this point on in the series, James Bond would be played as an older character, no longer a man in his mid-30s, but frequently a character well into middle age. Moore would only be the first actor to portray Bond as such, with Dalton, Brosnan, and especially Craig leaning into the interpretation and the screenwriters and directors crafting stories that reinforced it. While it would be most obvious in films like GoldenEye and Skyfall, both of which lean on Bond's history and past, it's prevalent in many other 007 films as well, including Licence to Kill, The World is Not Enough, and Die Another Day.
One of my friends was curious if Moore had specifically requested this approach, or even just a more serious and sober story, perhaps tired at this point of the silly excesses of the franchise; the answer to that is an emphatic "no." In fact, Moore had some reservations about the script's portrayal of Bond and whether it was in character with the persona he'd established in previous films.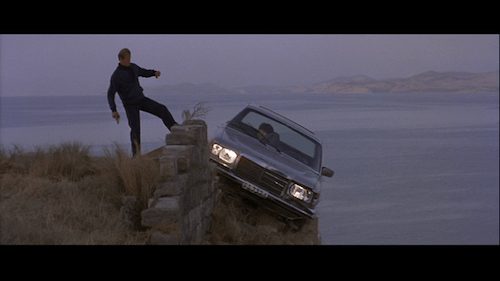 He was especially reluctant about one particularly memorable sequence in Eyes. In that scene, Bond kicks a car containing an injured, helpless killer off a cliff to his death. Despite his reluctance, he eventually agreed to shoot the scene as written, and to his credit, he sells the moment perfectly. Watching Moore's usually unshakeable, good humored Bond resorting to such a violent, vicious act is a cathartic thrill. At least among the Bond Night gang, it went over like gangbusters, resulting in boisterous cheers and wild applause.
Of course, it's not just Moore who's responsible for a solid movie from top to bottom. Director John Glen's editing background serves him well in his Bond directorial debut. He's a master at building a scene, slowly increasing the threat to near maddening levels of suspense and tension, forcing our hero to squirm in discomfort along with his audience just before diving headfirst into a riveting stunt-laden action sequence.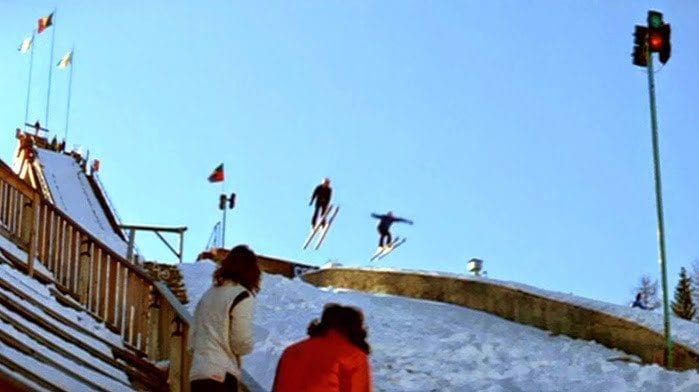 The scene where Bond is surrounded on the ski jump is one of the best examples in the franchise's history of how stunts and action need not be separated from story and character; the execution of this scene proves that action can seamlessly blend into the narrative and even enrich the audience's understanding and appreciation for the characters.
RANK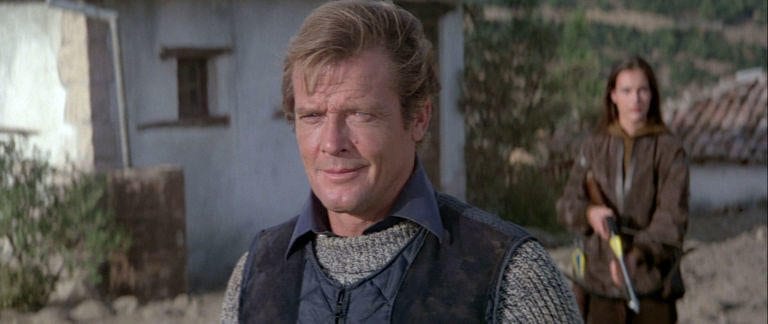 For Your Eyes Only is an often overlooked and underrated gem of a Bond film and is certainly one of Roger Moore's finest efforts. It may not have the classic, mainstream appeal of The Spy Who Loved Me, but it is top shelf 007 nevertheless, and its compelling narrative, emotional performances, and jaw-dropping stunts should remain a secret no longer. Declassify this adventure with your Bond Night group before this entry gets redacted!
For Your Eyes Only
---
Bond Night Will Return with Octopussy and Never Say Never Again…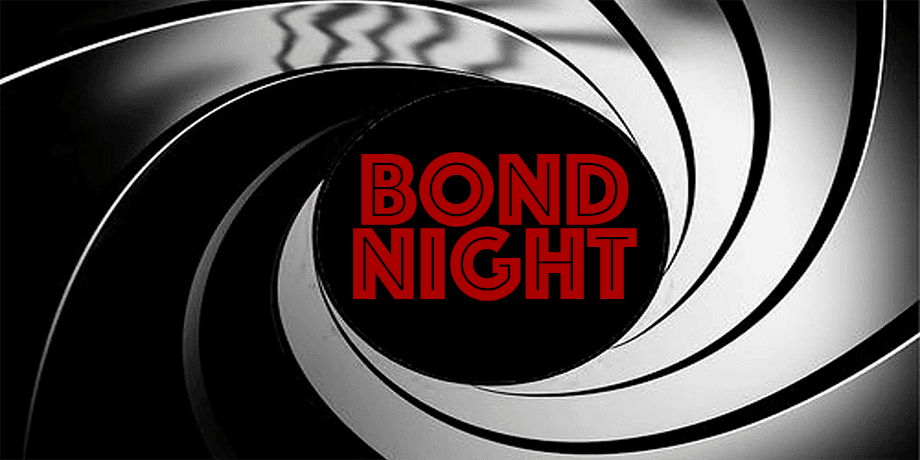 Bond Night is a tradition started by myself, a bonafide Bondian, and friends whose exposure to the James Bond film franchise was limited. One film a month is paired with a region-appropriate cuisine and cocktail, and spirited discourse about each film's merits and shortcomings. The goal of this column is to translate that experience here, walking newbies and Bond-experts alike through fifty years of the British superspy's cinematic history (from Dr. No through today) and declassifying all the secret intel necessary for you to host your own Bond Night with friends and family.
Bond Night: For Your Eyes Only (1981)
Michael O'Connor is a writer, filmmaker, and designer with a deep affection for film, literature, comic books… and craft beer. You can read his musings, check out his stories and watch his films at OCONNOBLOG. You can also check out his apparel company, George Shot First, and pick up a one-of-a-kind t-shirt or hat in honor of Star Wars creator George Lucas! Follow him on Twitter and Facebook at the links below.