Dive into Thunderball with us as we explore behind-the-scenes drama, jetpacks, soporific underwater scenes and James Bond's first and finest femme fatale!
By Michael O'Connor //  Welcome back to Bond Night as we dive deep into 1965's Thunderball! Coming off the huge success of Goldfinger, the James Bond franchise was sitting pretty. It had already captured the zeitgeist and conquered the imaginations of audiences all over the world. But how could the next installment be even bigger than the last? Reuniting with Terrence Young who directed the first two Bond films and Sean Connery in the role of James Bond, the producers tackled the SPECTRE saga head-on and spared no expense.
Join us now as we talk all things Thunderball, detail the perfect seafood cuisine to pair with your viewing and mix up a Rum Collins or two for your imbibing pleasure.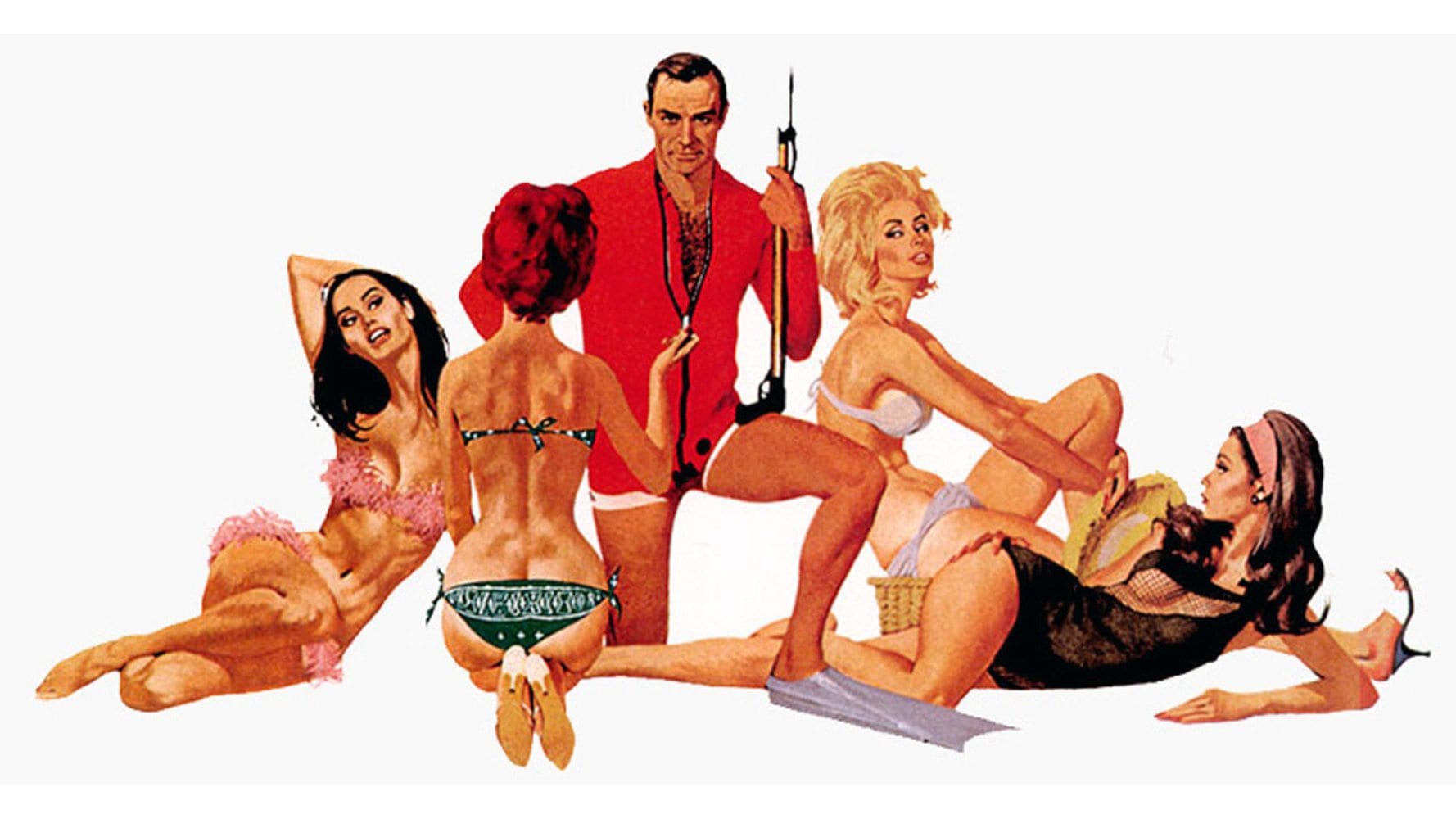 HISTORY
The behind-the-scenes story of Thunderball may actually be even more interesting than the film itself. Author and Bond creator Ian Fleming had been trying to move his character from the literary realm into the medium of television and film for years when he met with film producer Kevin McClory and screenwriter Jack Whittingham. Together they developed a rough treatment for a premiere James Bond film. Unfortunately, creative disagreements led to the three going separate ways, and the dream of a cinematic Bond appeared to be on hold. So Fleming returned to his typewriter to write his next Bond novel, Thunderball, and in the process of writing it, elements from the treatment found their way into his manuscript.
According to McClory, those elements included the broad outlines of the plot, as well as characters like Largo and Ernst Stavro Blofeld and the evil organization known as SPECTRE. Apparently a court agreed with the producer, because McClory won a suit against Fleming and inserted himself and his ownership over these characters and ideas. When Fleming eventually sold the film rights to Harry Saltzman and Albert Broccoli, there was a caveat: McClory and Whittingham owned certain elements of the Bond canon.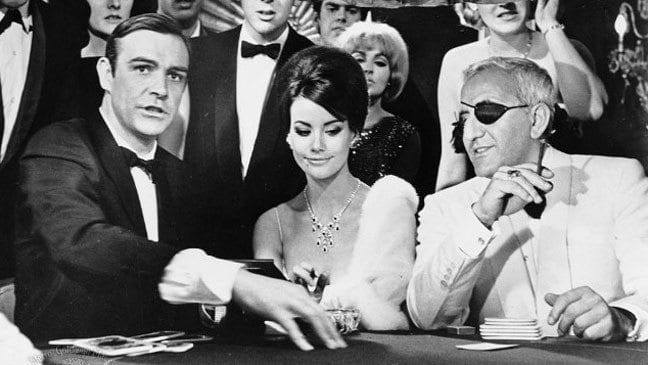 And that led to all kinds of conflict. In fact, the only reason Thunderball wasn't the first Bond film instead of Dr. No is because negotiating with McClory was no easy feat. When Broccoli and Saltzman finally secured the rights, they had to give McClory a producer and story credit on the film and agree to several other demands during shooting. As the years progressed, McClory leveraged his partial ownership of Blofeld and SPECTRE against the Bond producers, threatening to block their attempts to use the material and to spin-off his own brand of Bond films to compete against theirs.
Frustrated with McClory, Broccoli and Saltzman eventually decided to abandon both Blofeld and SPECTRE altogether and pivot Bond into conflicts against lone megalomaniacs unconnected to far-reaching criminal organizations. Meanwhile, McClory attempted for decades to mine his partial ownership of James Bond by creating a parallel film series but only succeeded in bringing one film to fruition: 1983's Thunderball remake: Never Say Never Again.
But that's a story for another time.
Despite the troubled production and the legal challenges to come, Thunderball was an enormous success at the box office. Although any comparison to the modern-day is a bit like comparing vodkas to bourbons, it certainly says something that when adjusted for inflation it held the record for the highest grossing Bond film until 2012's Skyfall. If the previous three Bond films hadn't already cemented Bond's stature in pop culture, this film was the final bullet in the chamber to ensure the character and his legacy would outlast us all.
DINE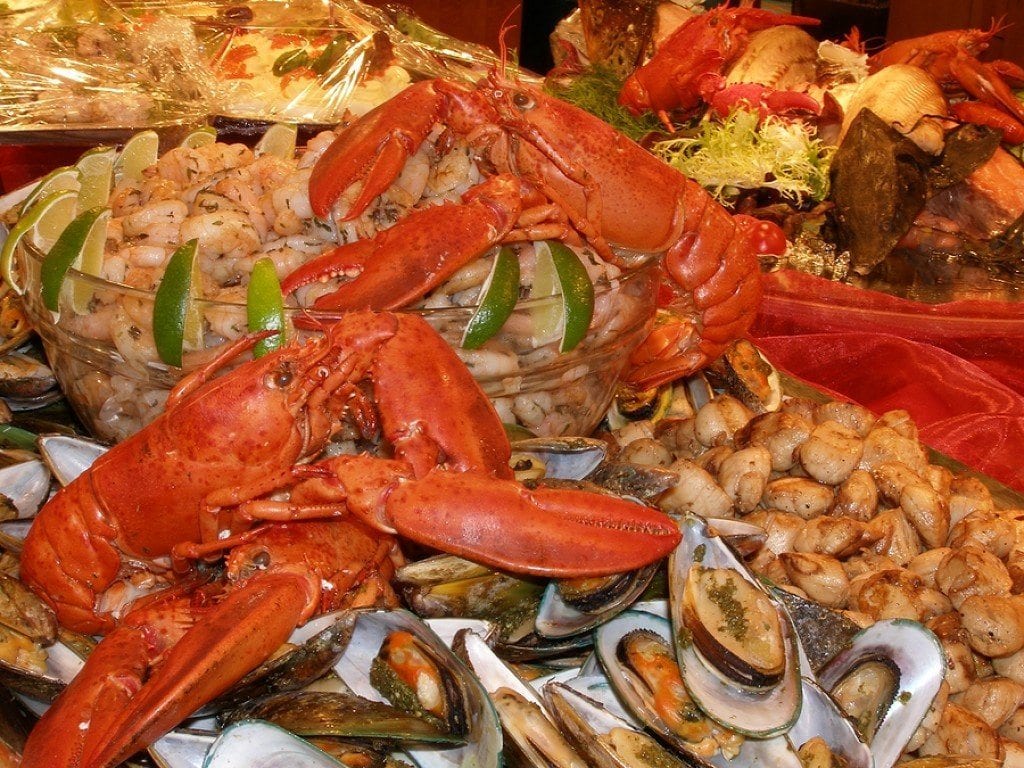 There's no better Bond film than Thunderball for indulging in some savory seafood. With all the underwater denizens you're likely to spot lurking in the film frames, you'll want to make sure at least a few of them end up centered on your dinner plate. To keep it regional and in keeping with the philosophy of perfectly pairing your Bond film du jour with particular kinds of dishes, you might look specifically to the cuisine of the Bahamas. Specifically, shellfish like crawfish, shrimp, and crab. Extra bonus points if you can track down some conch chowder, a regional favorite in that part of the world.
If some of your crew has shellfish allergies you can always pivot to sharing a plate of fried grouper and some side dishes of grits, macaroni and cheese, potato salad, peas and rice.
Generally, you can find these kinds of dishes at any good local Cajun restaurant, although most seafood joints will work in a pinch.
DRINK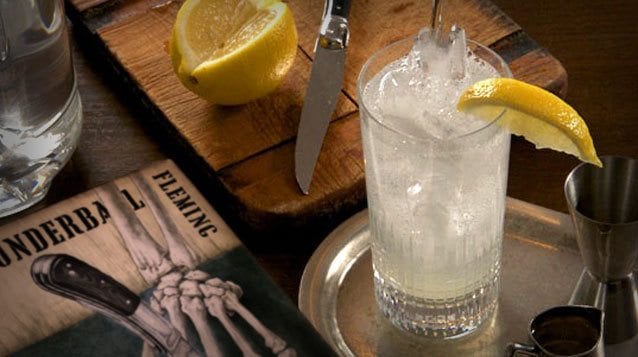 When Bond visits main villain Emilio Largo at his private retreat, he's greeted by the fetching image of Claudine Auger's character Domino emerging from a swimming pool in a swimsuit and Largo handing him a Rum Collins. While we can't guarantee that your Bond Night will be visited by a beauty as transcendent as Ms. Auger's, we're pretty certain that after a few Rum Collins, just about anyone–or anything–will start to look pretty good.
The Rum Collins is a takeoff on the Tom Collins, a gin-based classic cocktail that dates back to at least 1876, and simply substitutes the gin for light rum. Its cultural significance and enduring legacy owes a little something to this particular film, making it yet another obscure cocktail ala the vodka martini that would gain a boost in popularity after seen in the company of Mr. Bond.
Refreshing, zesty and effervescent, this is the perfect drink for a hot day lounging by the pool or shooting skeet with a megalomaniacal mastermind.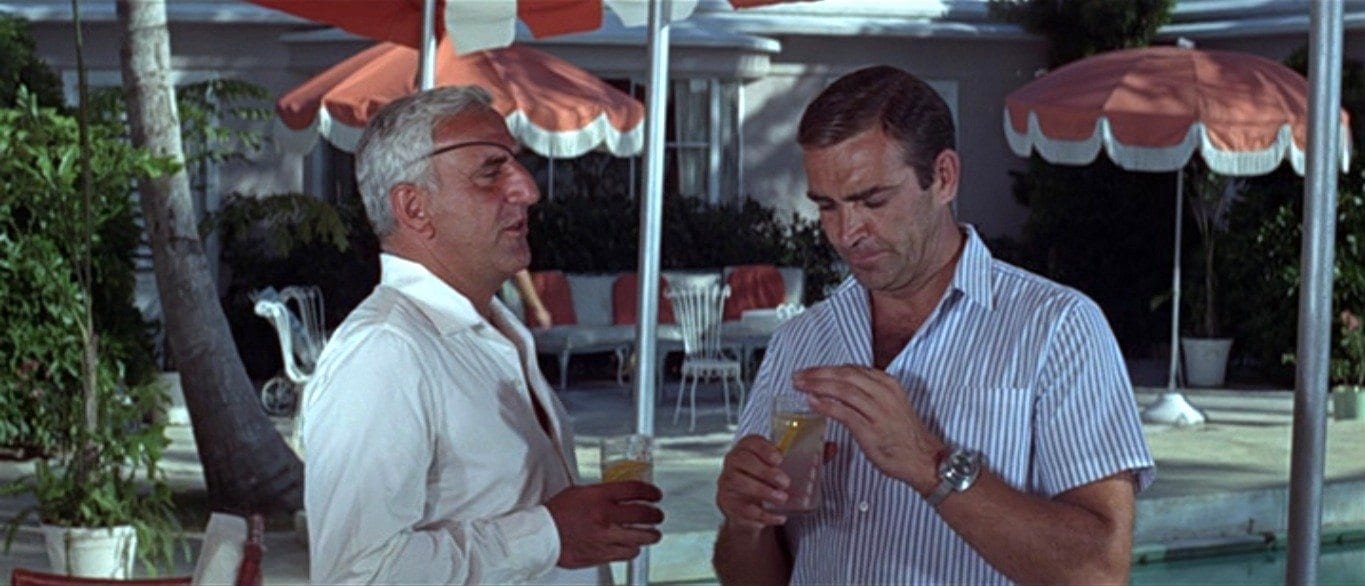 Rum Collins
2 oz Denizen White Rum
1 oz of lime juice
1 teaspoon of simple syrup
Perrier soda water
Slice of lemon
Directions
Use a citrus juicer to squeeze the juice of an entire lime into a small bowl. Measure out an ounce and transfer the lime juice into your shaker with the rum, simple syrup and ice. Shake.
Then strain into a tall, thin glass filled with ice. A Collins glass is obviously preferred. But really any glass that holds 10-14 oz of liquid ought to do the trick. Fill to the top with soda water and gently stir using a long bar spoon to mix. Drop in a thick slice of lemon.
PRO TIP
If you plan to entertain a large group, it can be a real pain juicing limes while your thirsty friends wait. A half hour before your guests arrive, squeeze your lime juice into a small pitcher or bowl covered with plastic wrap and then store it in the fridge.
INTERMISSION
Pause the film right after Bond says, "Some men just don't like to be taken for a ride" at the 1:08:43 mark. Then take your friends back to the bar for another Rum Collins and wake up anyone who might have fallen asleep during the prior underwater sequences.
VERDICT
Well, it had to happen. After three stellar adventures, Thunderball is the first film in the Bond franchise where you can start to see the cracks. It's remarkable that it took this long, frankly. With a frenzied production schedule that saw a new Bond adventure released every year, it's little wonder time would eventually catch up.
The first three films are seamless and sharp presentations backwards and forwards, inventive and innovative and yet still dependably consistent in every category from performances to technical achievements. But Thunderball is an example of ambition overshadowing ability and the need for spectacle hobbling the integrity of the storytelling.
This became obvious to my friends almost immediately when a badly edited (but still badass) fight sequence between a SPECTRE agent and Bond transitions to 007 strapping on a jetpack to make his escape. Yes, a jetpack. A few films ago, Bond's only gadget was a new handgun and a geiger counter. A corner has suddenly been turned.
Similarly, the end sequence promises us another dependable boat romance scene brought to you by your favorite light beer that's also f*cking close to water, but that's no longer good enough. So instead Bond sends an inflatable balloon into the sky and affixes himself and the girl to the other end. A moment later, a plane swoops in from out of nowhere to carry the two flying through the air. Necessary? Of course not. Spectacle? Almost certainly.
But for my friends, there was one travesty that couldn't be forgiven and would not be forgotten. Those iconic underwater sequences. I don't know if the seats in my home theater are just too comfortable or the Rum Collins were flowing a bit too readily. But, without fail, my guests fell asleep at least once during one of the many extended scuba diving scenes. Dr. No and From Russia With Love might have engaged in more leisurely pacing, but at least characters are moving at regular speed and can converse with one another. The soporific effects of watching someone slowly moving through water is probably the reason why I can't think of many other films since this one that spend lengthy periods of time in H2O.
In every Bond Night since, my friends have called out the Thunderball underwater sequences as the nadir of the franchise; personally I think they're overstating things a bit. They're often beautifully filmed. Some of the scenes are pretty cool, especially the final battle between Largo's men and the military. But I will concede that they may be easier to appreciate than enjoy; they're symptomatic of a larger issue with the film and blockbuster filmmaking in general. The desire to focus on technical spectacle at the expense of coherent storytelling.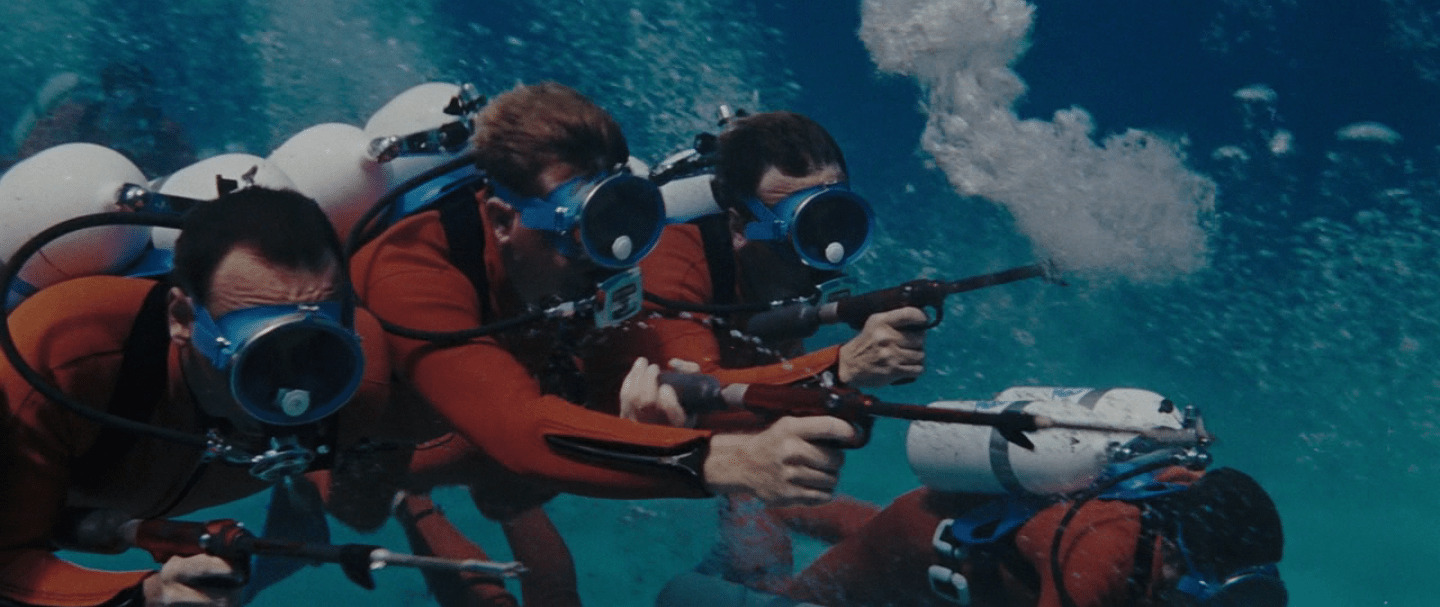 My largest criticism is actually aimed at the editing. Whether it's clumsy fight scenes, unnatural or jarring cuts, or the absurdly sped-up fast forward finale aboard the Disco Volante, it's hard to believe Peter Hunt had a hand in this mess. For the record, Hunt was the same editor behind the masterful Goldfinger and the future director of On Her Majesty's Secret Service, arguably the best edited of any Bond film.
All that negativity aside, my friends and I enjoyed the film. While Adolfo Celi's Emilio Largo comes off as a limp second banana to true mastermind Blofeld and pales in comparison to previous Bond villains, Luciana Paluzzi's femme fatale character Fiona Volpe is a striking standout. It's insane to consider just how few villainous women exist in the span of the Bond franchise. Volpe may well be the best of that exclusive bunch. Her one-on-one scene with Connery is stellar. The following sequence in the Kiss Kiss Club was a particular highlight for my screening party.
My friends also appreciated the plot, with the threat of the nuclear warheads and the clever plan to steal them. It received a callout for being particularly ingenious and far more gripping than previous films' setups. Also well-regarded were the scenes in which Bond recuperates at the health spa and gets into all sorts of hijinks with the staff and other patrons. And of course Connery, with tongue firmly in cheek by this point in his career, delighted once again.
Simply watch him chewing the scenery with Largo at his estate to get a taste of his skill. In that scene he's cocky and charming. His timing couldn't be better whether he's calling out Largo's masculinity for carrying around a lady's rifle or blasting a skeet out of the air in mock surprise.
RANK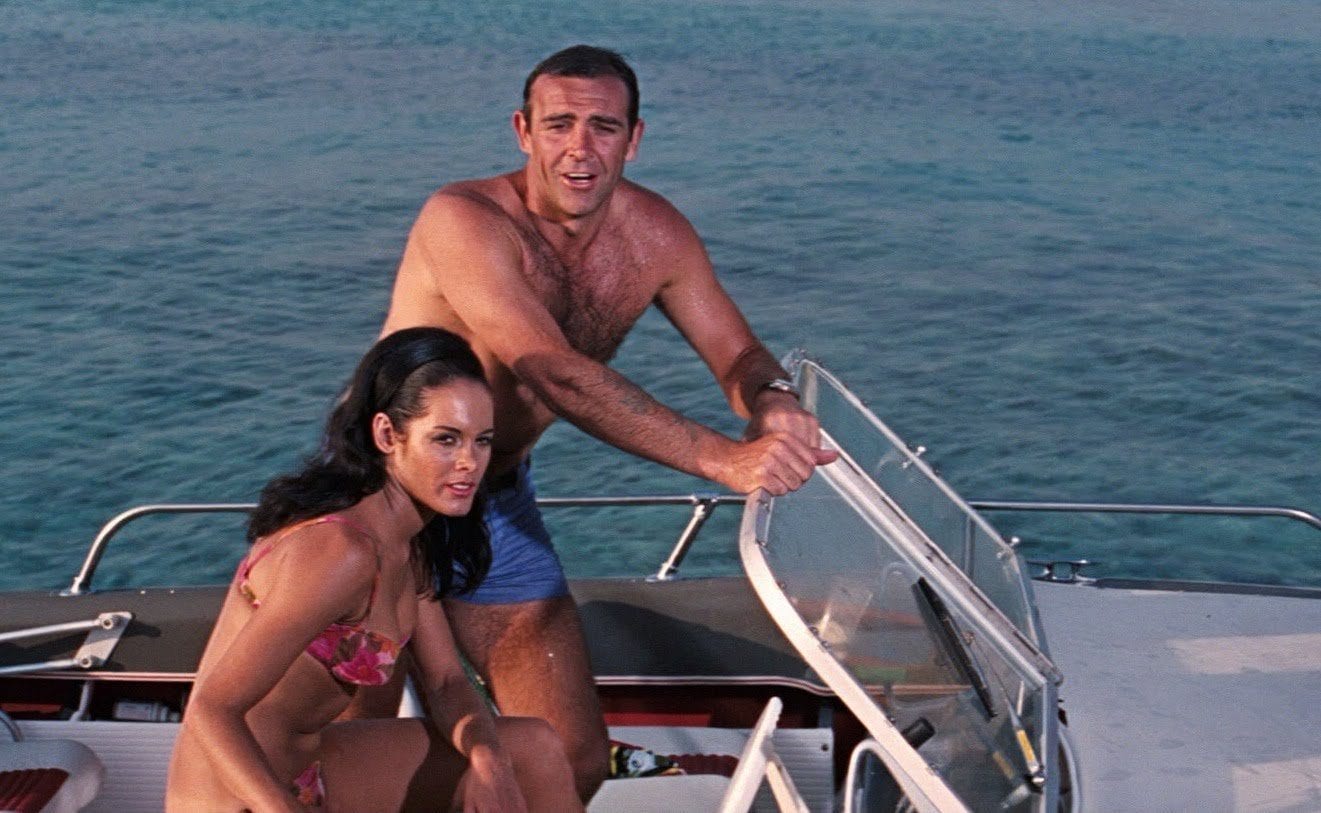 Thunderball is certainly not a bad Bond film. It's colorful, it's fun, it's got an amazing John Barry soundtrack and another solid performance by Sean Connery. But compared to the previous three Bond films, there's a lot of fat on this bone. Several unnecessary touches show the producers leaning into camp and spectacle at the expense of the grounded stakes of the previous entries. There would certainly be worse Bond films to follow. But, at this point in our Bond Night rankings, Thunderball sinks to the bottom.
Thunderball
Bond Night Will Return with You Only Live Twice…
About Bond Night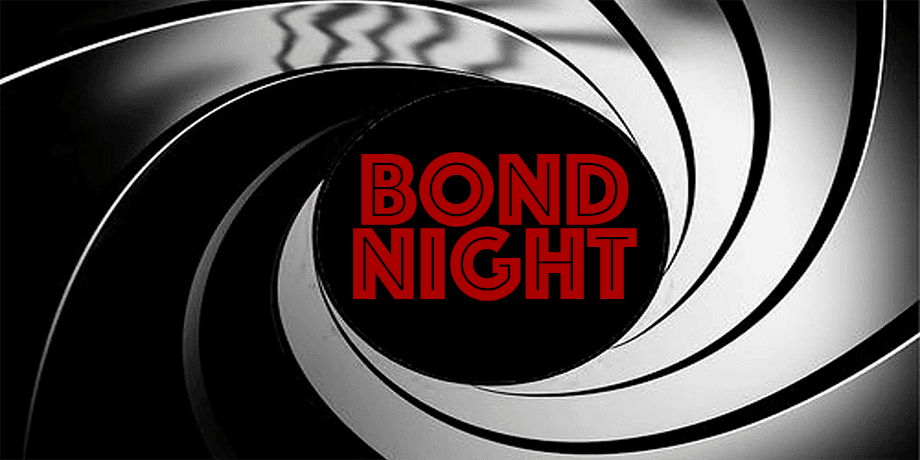 Bond Night is a tradition started between myself, a bonafide Bondian, and friends whose exposure to the James Bond film franchise was limited. One film a month is paired with a region-appropriate cuisine and cocktail and spirited discourse about each film's merits and shortcomings. The goal of this column is to translate that experience here, walking newbies and Bond-experts alike through fifty years of the British super-spy's cinematic history (from Dr. No through today) and declassifying all the secret intel necessary for you to host your own Bond Night with friends and family.