1963: The second full year of The Complete Marvel! Come along for a journey through every Marvel Multiverse story ever published. Character analysis, story overview, and socio-cultural impact abound! The Marvel Comics of 1963 are where famous teams form and character motifs are molded!
The Marvel comics of 1963: As Marvel powered into its second year of publication, the characters continued to grow more dynamic, the stories more full, and the lineup more diverse. The introduction of new heroes such as The Wasp, Iron Man, Doctor Strange, and the entire original X-Man clan brought new colors, locals, personalities, and issues to readers everywhere. The Amazing Spider-Man finally brought Peter Parker into the spotlight, imparting Steve Ditko's art-driven style onto the comic industry forever after. Spider-Man, as well as the new Doctor Strange stories from the back half of Strange Tales #110 and onward, would forever change the way artists and writers interacted.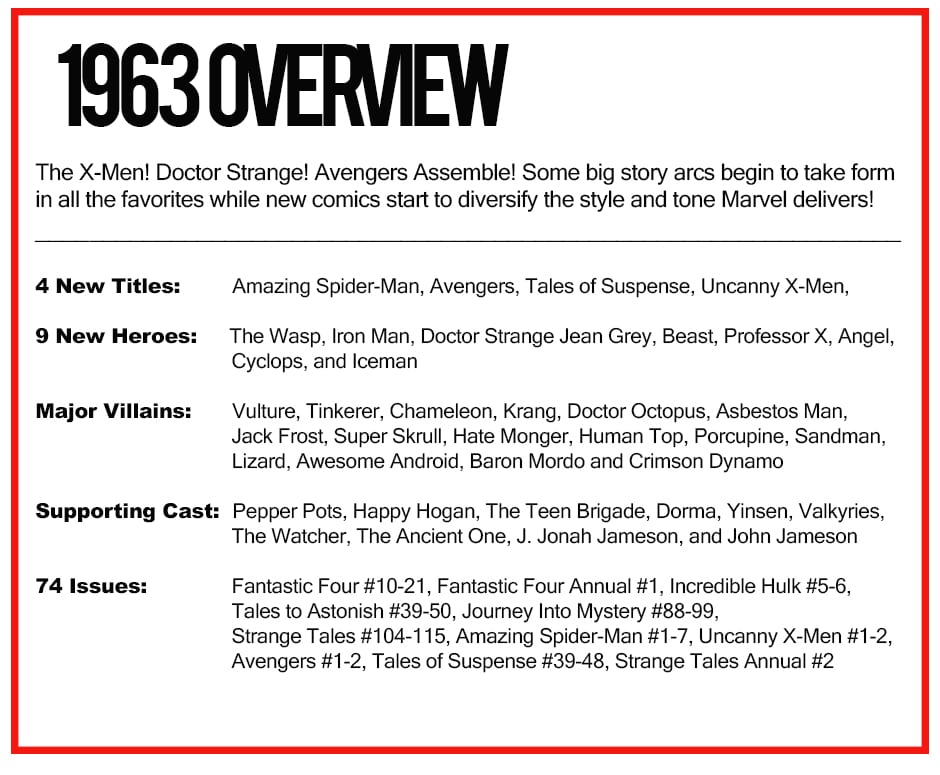 1963: Year Two
The Marvel comics of 1963 had a lot of origin stories and just as much expansion upon the characters fans had already grown to love. The Thing and Alicia's relationship blossomed in the Fantastic Four while Sue's struggle to decide between Reed and Namor came to an unexpected head. The Incredible Hulk came to an end, but not without later becoming a founding member of the Avengers. Spider-Man antagonized his antagonizer and boss J. Jonah Jameson while trying to keep his secret safe from his Aunt May. Thor pleaded with his father Odin to allow him to marry Jane Foster only to be met with complete rejection. Hank Pym tried Giant-Man of for size in late 1963 while Iron Man, The Wasp, and Doctor Strange were all born, each out of their own tragic circumstances. Iron Man was captured by Communists and had to build the Iron Man suit alongside Ho Yinsen to save himself from the terrorists and his heart from failure. Janet Van Dyne had to learn her father was killed by an alien substance and became the Wasp to avenge his death and prevent anybody else from becoming a victim. Steven Strange was a selfish, wealthy doctor who destroyed his hands in a car accident. He turned to the mystic arts as a means of not only trying to try to heal his hands but also to humble himself to the possibilities beyond physical science.
1963 also saw the dawn of two of Marvel's most popular teams: the Avengers and the X-Men. The Marvel comics of 1963 are sometimes accused of ripping-off DC Comic's team-based series for their similarities. The Avengers comic certainly was a direct response to DC's Justice League comic that began several years earlier, both seeing a diverse group of pre-existing heroes band together to defend the world from threats too large for any one to take on alone. Uncanny X-Men, however, was a very different kind of team. It was closer in concept to the Fantastic Four, a solid, almost family-like group rather than an amalgam of several disparate characters. They train together, live together, and fight together. Heat is given to the X-Men comic for its uncanny similarity to DC's Doom Patrol team that debuted a few months earlier, though proof that the X-Men were an intentional rip-off is scant. Nonetheless, the final months of 1963 delivered the company's most exciting content yet. Avengers and Uncanny X-Men marked the arrival of a bigger universe to the pulpy pages while books like Journey Into Mystery and Strange Tales ended December on the company's first dramatic cliffhangers. Nothing would be small scale in the Marvel Multiverse again.

Making Things Up As They Go
One of the beauties of writing the Marvel comics of 1963 was that there were no rules yet. As much as the characters were beginning to take shape around certain personality traits, their powers were still open to broad interpretation. With no long-standing history to abide by and the comic medium standing as a whimsical affair more so than a terribly serious one, the artists and writers had no qualms with constantly giving new powers to their heroes. In part, this was a handy plot device: new powers could serve as a deus ex machina in an endless number of scenarios. However, beyond just a writing shortcut, these frequent additions to a character's repertoire helped add excitement to the pages. The trope of dawning a new ability just in the nick of time was not trite yet; it was just surprising and fun.
The comics that implemented this practice the strongest were the Fantastic Four and Journey Into Mystery, but in two different ways and for two different reasons. In Fantastic Four, almost all of the cool new abilities were given to Human Torch. Johnny was the most popular of the four main characters, as evidenced by his entire own side series in Strange Tales and his frequent crossovers or mentions in other books like Amazing Spider-Man. For Stan Lee, Jack Kirby, and the rest of the team working on Fantastic Four comics, giving Torch new powers every few issues and making him absolutely essential to the team was likely all about continuing to boost his popularity. The character himself sometimes struggled with whether he was important enough and a valuable member of the team, so to prove that he was, the creators made sure to really prove it. Johnny was given the ability to create a vortex that sucked his team into its vacuum, instantaneously delivering them to the Baxter Building whenever trouble had arisen. He also could make flame mirages that fooled people into believing they saw him while he sneaks off in another direction. Most impressively and most importantly, however, was when the Torch was shown to be able to absorb a nuclear blast. In Strange Tales #110, Johnny nearly sacrifices his life to prevent a nuclear explosion from going off by absorbing all of the energy himself. While this might not have happened in the main Fantastic Four series, it surely would have been exciting enough of a feat to draw attention to this side comic where readers would henceforth expect to continue seeing their favorite Fantastic Four member performing miraculous feats.
While Fantastic Four used frequent new powers to boost the excitement levels and readership of their already popular magazine, Journey Into Mystery used it eponymously. The ever-present possibility of Thor revealing a new ability led to mystery and suspense. Readers knew he would always make it out of a tough spot, but could never quite be sure how. At different points in the Marvel comics of 1963 and 1962, Thor, without any reason for the audience to anticipate it, used his hammer to fly, generate storms, arrive in Asgard, and travel through time. He also showed himself capable of communicating with Odin on a whim from Earth and was granted the temporary use of other magical, godly items when in dire straights such as Megingjord, a magic belt that grants Thor extra strength. Most importantly, it was revealed that only Thor had the power to lift his hammer Mjolnir. The continuous addition of powers and abilities to Thor's arsenal allowed him to remain an exciting and versatile character in spite of his godly invulnerability and strength. It also kept the stories fresh so that the encounters with villains were not the same every time.
The Women Of The Marvel Multiverse: What Went Right, What Went Wrong
Art created in 1963 cannot be judged solely by modern standards, nor can the true intentions of the artists be surmised simply by observing it, or even by the artists' own biased recollections. The Marvel comics of 1963 introduced and expanded on several female characters, leaving much to be observed and discussed about their treatment and utilization in the stories. There was a lot of good done and a lot to learn from. By the end of 1963, there were many female characters throughout Marvel's lineup of superhero comics. The awesome heroes themselves included Sue Storm, aka Invisible Girl, Janet Van Dyne, aka The Wasp, and Jean Gray, aka Marvel Girl. Amongst the many supporting characters included Jane Foster, Pepper Potts, Aunt May, Betty Brant, Liz Allen, Betty Ross, Dorrie Evans, Alicia Masters, and Dorma. Every single one of these characters, main and supporting, had a single trait in common save for Aunt May: they were somebody's love interest.
Being a love interest is not inherently problematic by any means, even if that is a character's only significant trait, such as in the cases of Betty Ross and Dorrie Evans. Amorous relationships are natural parts of most people's lives. Not every character that appears on the pages of a comic book is going to have their whole life's story fleshed out to completion. Were the constant trend for the female characters of Marvel comic books to be relegated to mere objects of desire with no other components to their beings, there would undoubtedly be a problem. So far, in the Marvel comics of 1963, the female characters are, overall, fleshed out. At least, to varying degrees. Janet, Jean, and Sue are objects of desire to different extents each, there is no denying this. The men in their lives ogle over them; in the case of Jean, to a frustrating extent. A significant portion of each characters' dialogue is spent discussing a man's desire or the desire for a man. Still, Janet, Jean, and Sue are much more realized each than just their relationships to men. They are outright heroes with consistent character development and opportunities to shine. Alicia, Pepper, Betty Brant, and Dorma too, while more minor characters are each individuals that can be separated from their love interests and stand as interesting characters with desires, skills, and concerns.
In Fantastic Four #11, Sue Storm goes through a brief crisis of confidence. In a self-referential episode, Sue receives letters from Fantastic Four fans claiming that she does not contribute enough to the team. This instance is really positive on the surface with the way the Reed reassures Invisible Girl of her absolute importance to the team. It does also provides two potential problems worth discussing, both spawning from Reed's rebuttal to the upset readers. The first is the fact that he becomes immediately defensive. While kind, thoughtful, and honest in his response, the mere fact that people have taken the time to write and express their concern that Invisible Girl might not contribute enough to the team makes it worthy of consideration. By responding defensively and not considering that perhaps readers do not see her role as large enough compared to the other characters, Stan Lee as the writer is presenting an unwillingness to consider that he and his team had not given the character enough spotlight. Whether empirically the accusation is true or not, it would benefit both Lee and Reed to at least consider the question. On the other hand, the passionate defense Reed gives of Sue's contributions are strong and loving. He questions the premise of the letters themselves by invoking the notion that not every vital contribution to a team is always seen; sometimes the most important work is behind the scenes. He then also defends the details of Sue's service to the Fantastic Four by bringing up several instances where she was the lynchpin of the team's success. Whether the response Reed gave to the concerned fans was adequate or appropriate is interpretable. What is not, is the creators' attempts to show their intention was never to underrepresent her importance. Intent to underrepresent a character's importance and outright underrepresenting it are two completely separate measurements, both of which are important and should be considered by readers in forming their opinions on Lee and Kirby's writing of the character. Of course, Ben Grimm, in his lumbering way, ends the discussion with a crude remark about how "if you readers wanna see women fightin' all the time then go see lady wrestlers." This certainly detracts from the entire argument Reed was trying to make and raises even more questions about the authors' voices versus the characters' voices and how much those can be separated and distinguished.
Another attribute of female representation in the Marvel comics of 1963 was the damsel-in-distress-syndrome that many female characters in to. Being captured by the bad guy and needing the superhero to rescue you is a right of passage for a lot of female characters. Betty Ross and Jane Foster go through the ringer, as well as Invisible Girl on multiple occasions. Their captivity is frequently a plot device in the service of emotional growth for their male counterparts, particularly Sue as she finds herself caught in a love triangle between her partner Reed Richards and the enigmatic sometimes-villain-sometimes-friend Prince Namor. However, being kidnapped by a villain was not a role exclusively reserved for women in the Marvel comics of 1963. In Amazing Spider-Man #5, it is none other than manly-man and Peter Parker's nemesis Flash Thompson who finds himself kidnapped by Doctor Doom. In a fit of hysterics far more demeaning than any of Sue Storm's turns in captivity, Flash is embarrassed, albeit without being outright emasculated. This not insignificant attribute of his story arc is another piece of evidence that may indicate that the creators' intentions were not malignant in the repeated use of the damsel trope. Ultimately, how any reader may interpret the trend today is not independent of either the creators' intentions or their practices. All of these factors should be considered in judging the Marvel Comics of 1963 and in helping understand what the expectations might be today for writing female characters.
As the years of the Complete Marvel continue on, the presentation and representation of women on their pages will inevitably evolve and change in a myriad of directions. The positive and negative attributes will be ample each, but what will be undeniable is the size of the female roster and the endless opportunities for readers to appreciate, connect to, and even loathe the many women of the Marvel Multiverse.

The Marvel Method And Raised Stakes
As alluded to in the introduction to the Marvel Comics of 1963, this was invariably the year that the famous Marvel style for collaborative comic book creation was cemented. Originated by Stan Lee and Jack Kirby and codified by Lee and Steve Ditko, the Marvel Method was a means of comic book writing where the artist would draw the comic fully before the writer ever wrote a word. The process was the reverse of traditional comic book writing and required not only a deep collaboration between the two creators prior to beginning a new book, but also a strong synergy between the two that would inevitably prove far more difficult to achieve than anticipated.
When Jack Kirby came to Marvel Comics full-time in 1958, he was already a highly esteemed artist with a history, and beef, with Stan Lee. For some time, Kirby was the only artist Lee trusted with working in the Marvel Method until Steve Ditko came along with his work on Amazing Spider-Man and the Doctor Strange stories in Strange Tales that Lee began to trust another partner with this unorthodox and risky method. The risk would mostly pay off, with no readers able to tell when the creators were at odds with each other and only enjoying the miraculous result of an art-driven comic book.
The Marvel Comics of 1963 also raised the stakes a notch above 1962. Fantastic Four Annual #1 brought a massive pack of revelations and gravity to the pages as Namor invaded the dry world with his Atlantean throne restored. The epic battle between the army of the deep and the Fantastic Four was beautifully drawn in a fantastical way not yet seen in a Marvel Comic, full of colors that spoke of a deep ocean world. The story was given extra suspense too through Namor and Invisible Girl's intriguing relationship. Additionally, the first true multi-issue story arcs find their ways into Journey Into Mystery and Tales to Astonish in December of 1963, not to be concluded until their next issues in January. Leaving readers in suspense over how the stories would end was captivating, especially since it was the first times, even though that is the standard today.
Ending The Villain Dearth
Amazing Spider-Man was the only of the Marvel comics of 1963 to have instantly classic villains in every issue. The Chameleon, the Vulture, Doctor Octopus, Sandman, and the Lizard were back-to-back-to-back hits, each creative and menacing in their own different ways. These villains, of course, would be only the first in an enormous and probably the biggest rogues gallery in Marvel. The strongest reason for the stand-out nature of these characters, foremost, was their uniqueness. The characters were first drawn as completely unique looking weirdos by Steve Ditko. Having huge wings or eight large, metal arms was far more interesting, especially compared to the very generic, pulpy villains of the Fantastic Four and Thor's early outings.
More than just appearance though, and possibly more importantly, was the fact that every Spider-Man villain had a background. By giving the bad guys stakes of their own, Ditko and Lee pulled Amazing Spider-Man into a standard practice of masked villains over generic baddies that would not only make Spider-Man one of Marvel's most popular books but would also become the standard for the company's success.
The Lizard, perhaps the strongest example from 1963, debuted in Amazing Spider-Man #6. While not the first Marvel villain to be shown to have a family whom he loves, Curt Connors has the tragic distinction from the Puppet Master of Fantastic Four or Elias Weems of Tales to Astonish in that he has no control over the damage he does to his family. When Doctor Connors transforms into the Lizard, he scares away his son and almost hurts his wife. He transformed into the Lizard by accident in an attempt to grow back a missing arm, but instead, became a menace. When the Lizard first emerged, he was still mostly Connors, crying and scared that he may never have his family's affection again. It is only when provoked by Spider-Man that Connors loses himself and goes mad. The ending of the issue with the return of Curt Connors to his family leaves the reader not just satisfied that Spider-Man won the battle, but grateful that the Connors family is back together.
Issue Spotlight: Marvel Takes Stances

Fantastic Four #13
The trend begun in 1962 of Marvel characters fighting Communists did not desist in 1963. In April, Fantastic Four #13 took this trend in a new direction though. The issue was not content simply to demonize the Reds per usual and let the heroes win the day. The team is engaged in battle against a Russian threat on the moon when The Watcher, an alien being sworn to observe the ongoing of the galaxy but never to interfere, breaks his path. The Watcher simply is incapable of standing idly by while the United States and Russia are on the brink of mutually assured destruction.
Yes, the story culminates in the Fantastic Four's victory and The Watcher being satisfied knowing that ultimately the "force for good" the United States will end the victors in this global struggle. It is completely in line with Marvel's propagandist take on the Cold War to this point. The absolute stakes of this chapter in the ongoing saga with The Watcher breaking his oath in such a serious way compounds the gravity of the message. However, what sets this piece of U.S.-Soviet competition apart from the rest is that it goes out of its way to condemn it.
The Watcher makes it very clear that he is not interested in the Cold War for any political reasons. He simply wants to ensure that Earth does not destroy itself. The issue takes the stance that the Cold War is simply absurd and that the warring nations should strive to end their fighting rather than annihilate one another. It may not have been the most complex overly controversial stance to take, but it was a progressive, politically motivated statement nonetheless. This would not be a blip in the history of Marvel. In fact, it was not even the Fantastic Four's explicitly political issue that year. Fantastic Four #21 saw the team squaring off against a clone of Hitler masquerading as the Hate-Monger and subjecting people to his hate ray. The issue, like the others, is not controversial by any means in its stance, but very politicallly charged simply for taking on the subject of hate in such a specific way. These stories would just be some in a long history of political statements by the company, some strong and overt, some more quiet and subtle, but all thought-provoking in their own ways.
Tales to Astonish #43
In this particularly touching issue of Tales To Astonish, Elias Weems wants nothing else except to earn the admiration of his grandson. He is foiled, unfortunately, when he is fired from his job on account of being too old. Becoming unhinged by the cruelty of his fortune, Elias invents a day that will instantly cause any living thing in its path to age. Going on a rampage with this weapon, he not only ages Hank Pym significantly but accidentally, his grandson as well. Upon robbing his greatest love of his youth, and being stopped by Ant-Man, Elias understands the tragedy of his invention and how wrong he was to lash out at people as he did.
The touching turn is that in spite of all he went through, after reversing the ray to make people young again, Hank defends Elias and insists that not only should he be let go of his crimes, but that he also be reinstated in his job. All of this on account of the unfair agism Elias's boss employed that caused the whole debacle in the first place.
While slightly outside the realm of how law and order operates, this issue of Tales to Astonish was another in the trend of the Marvel comics of 1963 making political statements. Like the message of peace and understanding in Fantastic Four #13, the message was not big, bold, ground-breaking, or exceedingly controversial. But, it was a political statement nonetheless and is worthy of special note.
Solicitations: The Marvel Comics of 1963
Uncanny X-Men

The opening act for the X-Men was not very exciting. The characters had cool powers, sure, but very little personality, unlike the other characters of Marvel's ongoing lineup. Most of their time not engaged in battle or training was spent making inappropriate comments and gestures towards Jean Grey. For as famous and popular as the X-Men would become, their start was rough. Quite possibly, the fact that each character wore full face masks that were identical to one another took away from their abilities to stand out as people beyond their powers. Perhaps too it was their arrogance and confidence that was disarming; Marvel comics of 1963 were developing a knack for being real people underneath their masks. The connection between Jean and Professor X is intriguing, but not expanded upon too much by the end of 1963, and the foreshadowing of romance between Jean and Scott is obvious in light of the buffoonery the other men partake in while Scott abstains. Unfortunately, so far, little stands out for these characters aside from their mutant status. But, even that is given no consequences of interest besides the powers it bequeaths each hero and the knowledge that they were born that way.
The X-Men were kind of just there. The first issue did debut the X-Men's most famous villain, Magneto, whose superpowers were quite cool, both as an idea and in illustration, but whose motives were very typical. Magneto's desire to eliminate humans so that only mutants remained had the potential to be epically dastardly but fell short in the execution by never being expanded upon. This world domination idea he had was ultimately no different than the world domination sought by any other villain before him. No conflict between humans and mutants seemed to be apparent aside from that which Magneto was creating himself, so the plot just comes off as mundane. X-Men #2 takes a big step backward when its villain and plot are even more run-of-the-mill than the first issue.

Avengers
The Avengers comic was most certainly the winner as far as team-ups went for the Marvel comics of 1963. Bringing together nearly every one of Marvel's heroes to take on a single threat was almost inevitable given the popularity of DC Comic's Justice League. What Marvel did excellently in its first Avengers issue was how the entire scenario was set up. In an attempt by Loki to wreak havoc on earth, the Hulk was implicated in an accident that he, in fact, was trying to prevent. The Earth's mightiest heroes thought at
first that the Hulk was the enemy they needed to confront. They were called together accidentally by none other than Rick Jones and the Teen Brigade to find Hulk and bring him in. While Ant-Man, the Wasp, and Iron Man fought the Hulk, Thor went off to Asgard to investigate whether Loki had anything to do with this strangeness. Upon realizing it was, in fact, Thor who was the real enemy, the five stopped fighting and agreed to become partners should the need ever arise. Wasp suggested the name "The Avengers," and thus, the team was born.
The story, in spite of its several characters and concurrent plots, was paced perfectly and gave each character their own moments to shine. It also gave fans something that is always being asked for, a hero-on-hero fight to find out who is the strongest. This wish was truly fulfilled in Avengers #2 when a body-snatching alien caused the Avengers to each trade turns thinking one another has turned bad and needed to be taken down. This creative use of characters in new, different ways instantly made Avengers a fun read for in between the ongoing adventures of the individual characters. Hulk quit the team at the end of the series's second issue, but he would certainly continue to appear in this and other books going forward.
Strange Tales
Steve Ditko struck gold twice in a row with the introduction of Doctor Strange to the back half of Strange Tales #110. His three outings during this year were short but so dramatically different than anything else going on at the same time in the other Marvel comics of 1963. The colors and imagery were dream-like and fantastical in ways that had never been done to date in Marvel superhero comics. The stories, while only a few pages long, were mystifying and captivating as they explored the occult in ways that seem unimaginable only just before reading. This was Steve Ditko's greatest opportunity to flex his creative muscles yet and he truly delivered.
Sticking to just a few characters, Doctor Strange, the Ancient One, and Baron Mordo kept the out-there concept compact and digestible for readers who would be new to the genre. Doctor Strange's stories, possibly because of their mystical nature, truly felt like epics battles of good and evil in the mythical kind of way that not even Journey Into Mystery did as a comic based on preexisting ancient mythology. Even without knowing much with regards to Strange and the Ancient One's beliefs or backgrounds, the stories screamed of primordial, opposing forces. Packaging this archetypal struggle in as non-traditional a package as possible proved to be a winning combination, because Doctor Strange found his way back into Strange Tales by popular demand after two back-to-back stories and essentially, never left after that.
Journey Into Mystery
The tales of the mighty Thor began to pick up the pace in 1963. While not every issue was riveting thanks to the continued mismatching of Thor against worthy foes, the dual identity that beleaguered his first year became one of his greatest assets. By leaning heavily on Thor's torn heart between loving Asgard and loving Jane Foster, the book did more than just humanize the god, it gave him passion. Thor, in this way, was perhaps the first hero from the Marvel comics of 1963 to truly be impassioned by something other than a strong set of morals. The whole latter half of the year was dedicated to Thor's constant struggle between his duties to Asgard and his mores to Midgard. The arguments between Thor and his father Odin were Shakespearean. To boot, each issue beginning at the end of the year had a few additional pages of comic strip style storytelling an epic tale from Norse mythology, like Thor's childhood and Odin's fight with Ymir.
Tales of Suspense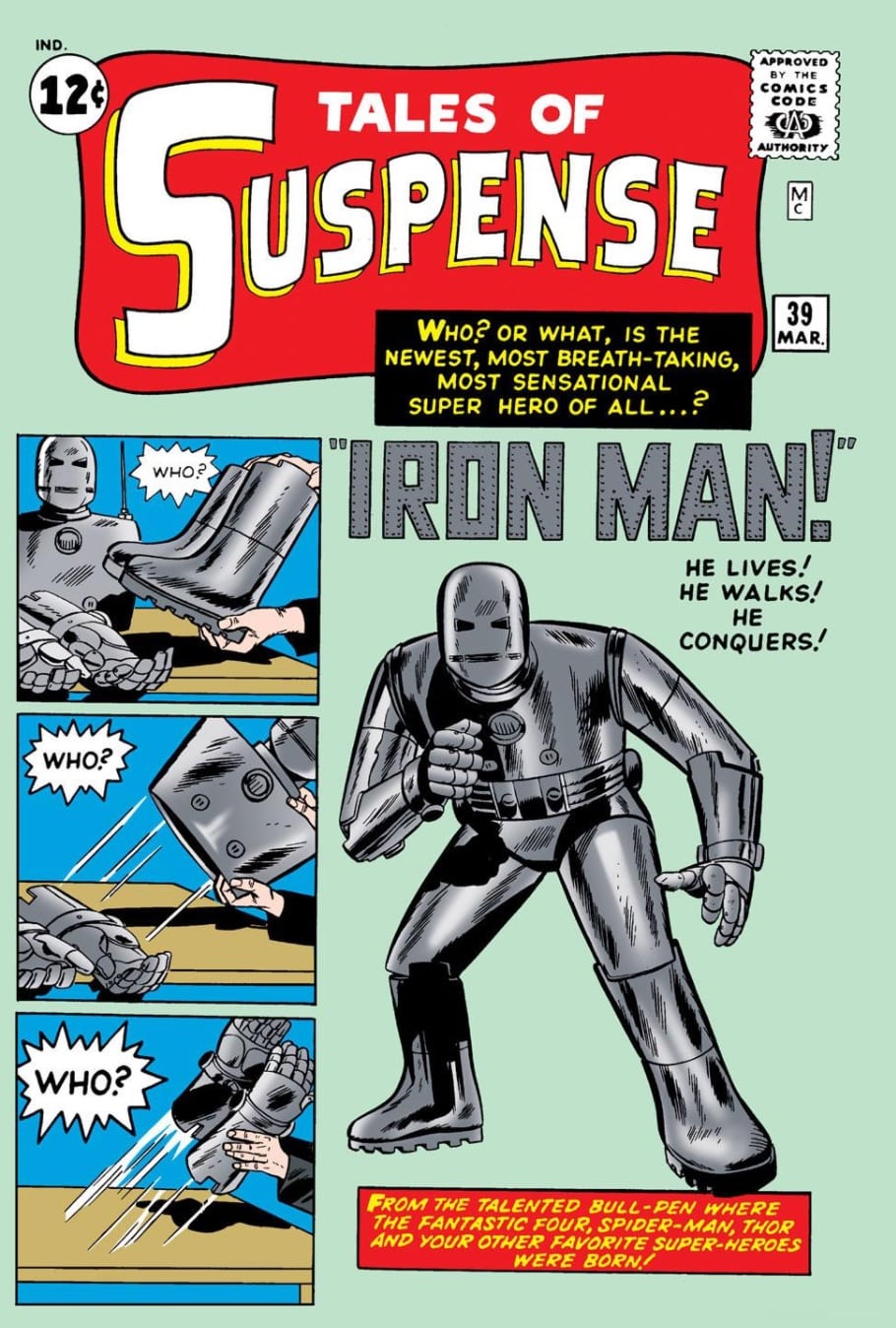 Iron Man was not a popular hero until 2008 when he initiated the Marvel Cinematic Universe. At his humble origin, he looked completely different as well as his powers. He was a cumbersome fellow clad in gold with none of the projectile, explosive weaponry that the films made him known for. Instead, he is just a rich weapons manufacturer who hates Communists, loves fast cars, and knows how to spring into action whenever the need arises. Like every other man in the Marvel comics of 1963, Tony Stark is a genius, He builds his first Iron Man suit to save himself from captivity and continues to use it frequently as his own personal bodyguard when his munitions are at risk. Stark is really the first Marvel character where the superhero side of his dual identity seems to be the less important one to him.
In Tales of Suspense #48 though, a suit much more recognizable is born again, out of necessity. Iron Man is very resourceful and adaptive. When he gets his suit rusted over, he makes a new one that will not rust. When he needs a decoy, he makes a decoy suit. He can also spring traps with new abilities like flying and magnetism without warning because he is always tinkering with his suit to make improvements, such as transportability. Unlike the Hulk, as the character evolves to fit with how the creators grow to envision the character working successfully, they have an in-universe reason they can always turn to in Stark's constant upgrades.
Cancellations: Marvel Comics of 1963
The Incredible Hulk
The highest likely contributing factor to The Incredible Hulk's cancellation was likely the confusion his constant change of powers must have caused. How Bruce Banner turned to and from the Hulk and what level of control and memory Banner had during his turns as the Hulk changed at least every other issue for the series whole six-issue run. It was often either explained poorly or not at all. Plus, the comic itself was just boring. The Hulk was a really cool idea for a character for sure. A man who turns into a giant beast and, while he is totally a hero, the government he works for and loves hates and distrusts the Hulk completely. Unfortunately, the Marvel team was not able to capitalize on this ingenious. The hulk was never matched up against what seemed like equal masses. Rarely were his foes other lumbering beasts. Instead, they were often just Communist nimrods.
Stan Lee did not want to forget about the Hulk outright though, and thankfully so. He would continue to appear in the Fantastic Four as a misunderstood villain and equal match for the Thing as well as star in the Avengers comic at the end of the year. The Hulk was too good a concept to abandon, the Marvel team simply needed to pause and come up with better ways to tell his stories in the future. The cancelation of The Incredible Hulk was an opportunity to learn how to go about retroactive continuity in a non-confusing way for the future as well as a lesson in villain pairing.
---
Thanks for being a part of The Complete Marvel! The Marvel comics of 1963 added 74 new issues to the total read so far, with a total of 101 issues of Marvel superhero comics read. Start back in Year Zero – 1961 to partake in The Complete Marvel from the very beginning, and continue along as 1964 gives Giant-Man some room to grow, brings Captain America back from the past, and fearlessly introduces Daredevil to the world!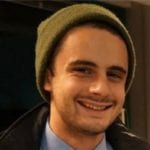 Jason wants to tell you about his current job, but he's afraid that it might be more trouble than it's worth. When not writing, Jason works on food justice and sharing music with communities throughout the region. Or he's unlocking Xbox achievements.