1962: The first full year of The Complete Marvel!  Come along for a journey through every Marvel Multiverse story ever published. Character analysis, story overview, and socio-cultural impact abound! The Marvel Comics of 1962 began it all!
1962 was the first full year of the Modern Age of Marvel Comics. Superhero-centric comic books were still not being published on a monthly basis for much of the year. Most of the super-powered stories being told were not in their own independent titles either, sharing the pages of long-running anthology series like Journey Into Mystery and Tales to Astonish. The year saw the introduction of several iconic heroes and villains as well as continued to establish the Marvel brand of storytelling: narratives driven by characters the readers could relate to and aspire towards at the same time. The Marvel comics of 1962 were a spectacular beginning to a fantastic interconnected universe unlike any other!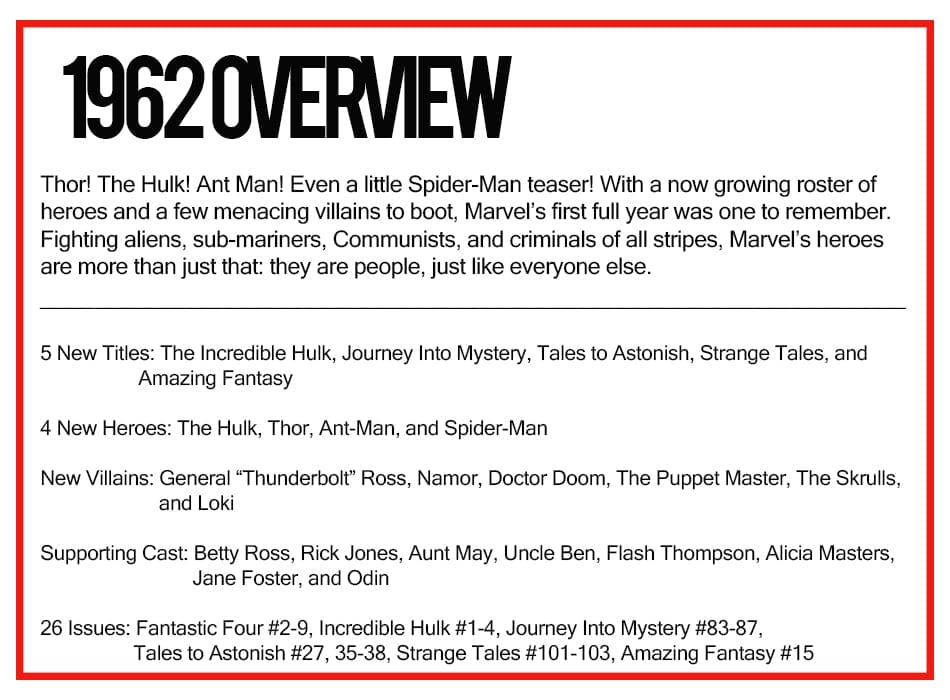 Year 1: 1962
The Incredible Hulk, the Mighty Thor, the Astonishing Ant-Man, and the Amazing Spider-Man all made their debuts in 1962. Each hero was colorful, unique, and from a different walk of life. Bruce Banner was a reluctant genius scientist who contracted with the U.S. Military. Donald Blake was a shy and mild doctor, Hank Pym was a more confident scientist with too much time on his hand and a penchant for solving mysteries, and Peter Parker was an average, ordinary high school kid that made mistakes almost more than he fixed them. Even the bigger antagonists were full characters with motives beyond merely seeking world domination or wealth. General Ross was a patriot and a loving, albeit overbearing father. Namor wanted to restore his lost kingdom and his hatred of humans was thanks to the destruction they caused to his oceans.
The humanization of Marvel's characters was seemingly the foremost goal much more than a surface-level exercise. In Fantastic Four #8, Alicia Masters, the stepdaughter of a supervillain and future romantic partner to The Thing was left to believe she had accidentally killed her stepfather. Her complicated relationship with the evil man made the ordeal emotionally complicated in an unprecedented way. Peter Parker death with something similar and more extreme in his Amazing Fantasy #15 debut. He made a decision out of frustration that lead to his Uncle Ben being murdered. Not only was this origin story shocking, Peter's reaction to it was as well. The hero was questioning whether he was truly a hero after all and whether he should continue to be Spider-Man at all. In a less tragic but deeply relatable scenario, the Fantastic Four went bankrupt in Fantastic Four #9 and echoed the financial hardships that so many readers could relate to. In spite of the vast power, privilege, and wealth the group seemed to possess prior to this issue, this story took the heroes onto everyone else's level by adding an unexpected dynamic everyone is potentially vulnerable to.

Clinging To The Pulpy Past
Many, if not most of the early Marvel comics were fastened to several old and increasingly tired vehicles for delivery. Chief among these narrow models for structuring comics was the multi-part framework. Unlike most modern comics, the Marvel comics of 1962 would have several, usually 5 for a full 24-page issue, distinct parts with their own names and splash images. While the partitioning of the story did not usually affect the flow of the story, it is an odd editorial decision that detracted from the sense of a singular, fluid story that Marvel was seeking to use to distinguish itself in the medium. The several-part structure was also in part a reflection of the often only three-page-long stories found in the ongoing anthology books by the Marvel Comics of1962
The pulpy nature of the early Marvel comics extended into the antagonists in an unfortunate way as well. There were generally three modes the comics of 1962 took on: pulp fiction reminiscent of the anthology-style comics Marvel had been writing the past 10 years, Communist bashing, and supervillains. The Incredible Hulk had its Toad Men, Journey Into Mystery had its Stone Men From Saturn, The Fantastic Four had its Planet X, and Strange Tales had the Fifth Dimension. These stories were very bland and generic and could just as well have been found in any other pulp fiction magazine of the time. Even the Skrulls, having appeared in Fantastic Four #2 would fall under this category were it not for their eventual canonization as classic Fantastic Four enemies.
Of course, reinventing the comic book medium required trial and error and none of these stylistic or character choices were disheartening to readers of the time. If anything, they were somewhat familiar and that served to carry the new comic books along until they soon found their unique voice and style. Not very many classic villains were introduced during this time, General Ross from The Incredible Hulk, Namor, Doctor Doom, and Puppet Master from The Fantastic Four, and Loki from Journey Into Mystery were the only immediate staples. Instead, the heroes burgeoned and these popular antagonists were given ample opportunity to become more and more interesting to readers. Marvel's foremost goal with villains that stuck was to endear them to readers by humanizing their stories. Sticking to only a core few at first fulfilled this goal by limiting the number of characters readers had to sympathize with at a time.
All Superheros Are American Patriots
Even Thor, the Norse god of thunder and very distinctly not an American citizen spends his time fighting Communists and assisting the United State's Military in conducting weapons tests to that same end. The Cold War was at a full boil in 1962 and Jack Kirby was far from a stranger to Americanism propaganda in his work. Having jump-started his career during WWII drawing Captain America comics designed specifically to bolster American confidence in the war effort, that same sense of patriotism continued to serve well in another era of hyper-nationalism. Constantly making everything about the United States' superiority to Communism was by no means a feature exclusive to the pages of comic books. The connection seems obvious, though. If the strongest, most courageous, most good-doing people in the world were American patriots on the side of Democracy everywhere, then they could not only be trusted as heroes but also be seen as more relatable to the readers.
With the Marvel comics of 1962, the entire modus operandi was designing characters that readers could see as their friends, neighbors, and even selves. It was what set them apart from other comic book companies and what drew so many readers to become fans who would pick up issue after issue about their favorite characters. Drawing these parallels to the ongoing sentiments of the readers did not stop at fighting Communist foes and a blanket sense of patriotism; direct parallels were frequently employed between current events and the books that came out shortly after them.
The Journey Into Mystery comics featuring Thor were the most direct about these parallels. While the choice may seem odd, given that Thor was the markedly least American character of the time and the character with the power of a god, it had its reasoning. Pitting Thor up against meager Communist goons was not the most exhilarating way to introduce the character, but it helped to make him more relatable and "human" as a character. Fighting Communists meant, as stated before, Thor was a good patriot, just like the comics' readers. This otherwise odd choice for a character was instantly more gripping simply because he tapped into the psyche of average America. In his second issue, Journey Into Mystery #84 in October 1962, Thor fought against The Executioner; a clear parallel to Fidel Castro down to the stars on his shoulder blades. In real life, only months earlier, Castro had declared himself a Communist and was a major target of American anti-Communist thought. The resemblance would be lost on few. In the November issue of Journey Into Mystery directly following the Cuban Missile Crisis the month prior, Thor helps the U.S. military conduct anti-missile tests. Also, in The Incredible Hulk #5, the Hulk fights Chinese soldiers in the Himalayas, only a few months after China invaded India via the Himalayas a few months earlier in the real world. These were not likely uncanny coincidences, but rather, fully thought out plans to endear readers to these otherwise alien characters.
Solicitations: The Marvel Comics of 1962
Tales to Astonish
Pym's debut in Tales to Astonish #27 was missable amongst the other stories in the anthology it originated in. The character's premiere was more in line with the horror genre the rest of the book danced around than the mystery/action stories they would quickly become. Ant-Man did not come into existence until Tales to Astonish #35. When he did though, he did so with no supporting cast. Ant-Man's adventures revolved entirely around being thrust into an adventure that required him to shrink down to the size of an ant and solve a mystery.
The mystery style was unique for Marvel's superhero suite and allowed the stories to simultaneously appeal to two audiences: the mystery fans and the long-underwear-hero fans. The initial Ant-Man stories were very formulaic. The villain would seemingly trap the hero until Pym revealed either that his ant friends had been communicated to outsmart the villain, or Ant-Man would reveal he was wearing spring-shoes, for example, and escape. Deus ex machina was a huge theme in Tales to Astonish, although to a believable degree, not an outlandish one.
This was one hero though that lacked in personality in his first few issues. Tales to Astonish #27 showed Hank as really afraid and remorseful for having stepped on anthills after having learned of the lives of the ants below. In the issues thereafter though, Hank really was more of a flat character who if any personality trait had to be ascribed to him, it would be a know-it-all. Not quite to the point of pompous (yet), but just enough to come across as an everyman who could do no wrong. This was perpetuated by the fact that he was a genius doctor which did little to distinguish his personality and character from most of Marvel's other leading men thus far.
Fantastic Four and Strange Tales
The Fantastic Four series did really well in its first full year; introducing side characters, providing character elements for each of the main characters, and establishing strong villains by repeating the same ones several times instead of a new one every single week. Alicia Masters was immediately different from the other love interests in the Marvel comics of 1962. She was more emotionally dynamic thanks to the depth of her backstory. Alicia was also instantly endearing for how her being blind helped her see through the Thing's tough exterior, physically and emotionally. It was a strong balance with Ben's constant internal, and sometimes external conflict over whether he wanted to be turned back to his old self or stay as the Thing. Their relationship helped push readers to understand that the Thing was coming to terms with his mutation, even if he couldn't admit it out loud.
Ben and Reed's misunderstanding rivalry was also well written. The two are clearly best friends, and so as the Thing comes to grips with his condition and slowly realizes that Reed feels deeply sorry for having brought him along after insisting he not come on account of the huge danger. The Thing and Johnny's rougher rivalry provided great comic relief while also feeding the Human Torch's personal insecurities. While Stange Tales was not especially exciting in the plot department, its opportunity as the first "spin-off" stories to illustrate Johnny's desire to prove to the rest of his team his worth and to himself that he can be successful without them. It also helped to further exemplify Human Torch's naivety and teenage nature. Sue Storm also got ample time to shine in these eight issues as she repeatedly was an integral component of thwarting the enemies by becoming invisible and dumping them completely. While she was often shown as entirely calm in the face of danger, she was also too frequently relegated to a plot device through being kidnapped repeatedly. She was also heavily objectified by Namor in his Fantastic Four #4 debut as he tried to coerce her into becoming his wife for pages straight.
However, the love triangle between Sue, Reed, and Namor was more than just exploitation. Her open infatuation for Namor was, in part, an opportunity for Invisible Girl to be seen as an independent human being capable of making her own decisions over romance. Miraculously, in a scenario unexpected given the cultural context and the all-American vibe Reed Richards exudes, he accepts that Sue may not reciprocate his feelings and is free to love whomever she loves. Allowing one of the heroes to have such an affection for one of the Fantastic Four's primary enemies also made Namor's character more complex. Just as Sue could not quite figure out how to feel about him, neither could the audience, who was left constantly asking whether he was truly an enemy at all. This was in stark contrast to the menacing an intriguing Doctor Doom. He was clearly pure evil and the supernatural element to him only compounded that.
Journey Into Mystery
The Mighty Thor got his start in 1962 fighting mostly really meager enemies. Loki was a nice menace, but even he was more a nuisance than a true threat. For a Norse god, Thor's potential was largely squandered in this first year. This is not to say his appearances were bad. They were not. They just did not capitalize on the opportunity presented by writing about an all-powerful being. Fighting against Communists may have been logical for the time period, but it could not have been a sustainable practice.
Tying Thor to the meager Donald Blake also kept the character back. Dr. Blake had very little character of his own, spending most of his time either wishing he was close enough to his hammer to turn into Thor or wishing he was brave enough to court his nurse, Jane Foster, in his mortal form. While the plots are bleak, the colors in Journey Into Mystery are some of the brightest of the Complete Marvel so far. Something about reading Thor's less than thrilling adventures is forgiven by the brighter aesthetic and complete willingness to forgo explaining Thor's powers in detail.
Unlike in Fantastic Four or Tales to Astonish, and most of the rest of the Marvel comics of 1962 which all work hard to explain the science and design behind as much as possible, Thor has new powers and abilities in every issue. This is done to the point of never being able to predict how he might get out of a situation. Thor may be granted a gift from Odin or make up a new power on a whim. Of course, this is in an attempt to set Thor apart as other-worldly and god-like in that he is capable of more than any mortal can imagine. It comes across as both scatterbrained, whimsical, and epic at the same time, mostly dependent upon the issue and whether Thor's foe is captivating or not.
Character Spotlights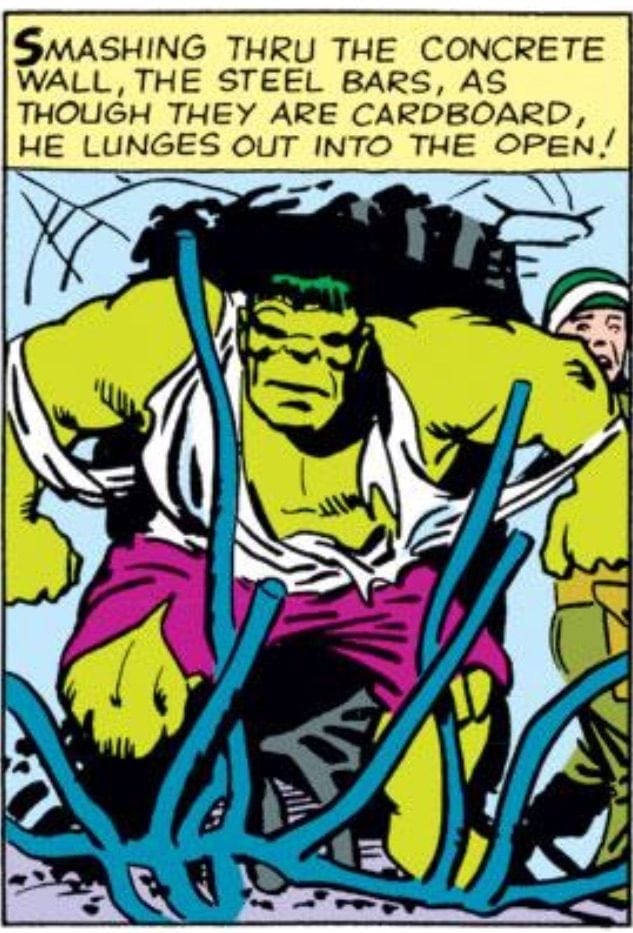 The Hulk (The Incredible Hulk)
The Hulk's origin has changed several times over from his debut in 1962 through today. Between several popular film and television renditions of the character in addition to multiple runs in comic books, few in the common culture know the original story of The Incredible Hulk. In May, 1962, Bruce Banner was a genius scientist working for the United States Military under the supervision of the orotund General Thaddeus "Thunderbolt" Ross as an expert in the field of gamma radiation. This part of the Hulk's story is well known. However, on the day a gamma bomb was meant to be tested, a boy with nothing to lose, Rick Jones, accidentally drove out onto the testing range. After asking his partner, a Soviet spy named Igor Starsky to delay the test while Banner escorted the teen off the premise, Starsky set off the test anyway. Bruce pushed Rick out of the way just in time to avoid gamma radiation from the fallout while Bruce was struck with the brunt of it. Upon arriving at the nearest hospital, Bruce suddenly turned into a menacing, grey giant with little of Banner's brain and nothing but an instinct to get home.
The original six-issue run of The Incredible Hulk was the story of a man who was turned into a monster by his own invention. At first, every night when the sun went down was when Banner turned into Hulk. It was a combination between a Frankenstein's Monster and a Werwolf. Over the course of the issues released in 1962, so many changes were made to the Hulk's powers and appearance. In The Incredible Hulk #1, Hulk was grey and blocky. By #5, he was his traditional green, wore his purple pants, and had a bit more of a distinct face than just a simple Frankenstein ripoff. Instead of only changing into the Hulk at night, Bruce developed a way to change back and forth at will, albeit with enormous detriment to his health. Perhaps having learned from the confusing change from grey to green, the creatives behind The Incredible Hulk opened the doors forevermore to other writers and artists to change the nature of characters at-will with any random plot point or deus ex machina they choose.
The most impressive part of The Incredible Hulk is how it took a monster and made it relatable. The Hulk was not especially large compared to the humans being drawn in the Marvel comics of 1962, nor were all of his adversaries equal in monstrosity. What was spectacular was reading the struggle between Hulk and Banner; Bruce consistently recognized he needed to become the Hulk to help others, even though it hurt him a lot to do so. In addition to the enormous fatigue and complete reliance on Rick once he turned back to a human, the Hulk hated humans, had no love for Banner, and very badly did not want to turn back into a human. Bruce found a way to retain his brain while the Hulk, but it only worked to a certain degree. Sometimes, the Hulk's aggression, fear, and rage seeped through and take over. Watching the struggle between Banner's desire to do good and save those in need against the Hulk's desire to run away and cease to be a scourge on humanity is a great drama to engage with. No other comic at the time gave quite the peak into the head of the hero as The Incredible Hulk did.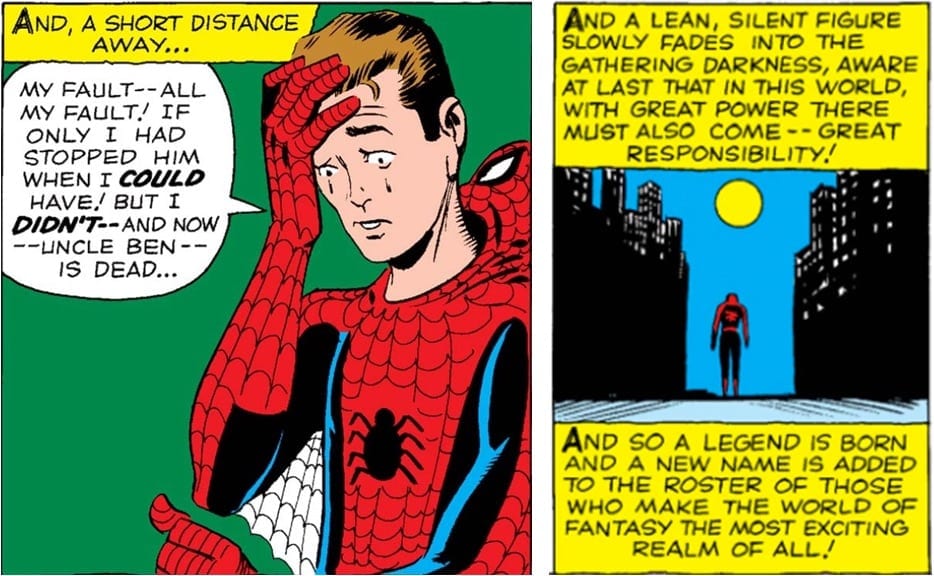 Peter Parker (Amazing Fantasy)
The first year of Marvel's Modern Age saw three teenagers introduced: Rick Jones, Johnny Storm, and Peter Parker. Rick was a plucky, orphaned kid who was in the wrong place at the right time when Bruce Banner saved him from the fallout of a gamma bomb the U.S. military was testing. Johnny Storm was the heartthrob, all-American boy who chased girls and fixed hot rods when he wasn't saving the day as the Human Torch. While both characters were written as teenagers, little distinguished them as such in this first year. It could be easily forgotten that Rick was only 16, and the occasional mention of school or friends was all that kept Johnny on the teenage side of young adulthood. Peter Parker, however, was very clearly a teenager right from the beginning. He attends high school, gets bullied there, has crushes, lives with his aunt and uncle, and even gets a bit bratty now and then.
Peter's character is entirely unique compared the rest of the Marvel stable thus far. Not only is he in a different place in life than his heroic compatriots, he and his compatriots are noticeably drawn differently from the characters of the other Marvel comics of 1962. Their faces are shaped differently and the color pallet is distinct. The recently departed Steve Ditko is to thank for this welcomed change of pace from the usual Jack Kirby artwork of Jack Kirby found in most of the rest of the year's books. Peter Parker also has an entirely different arc to his character. Peter may receive his powers in just as reluctant a way as the rest, but he is not nearly as quick to use his abilities for good. There is no oath of good he takes like Fantastic Four did. There is no immediate danger to his bodily health like with the Hulk. Thor is a God; Peter Parker is very much not. The teen from Queens never asked to be bitten by a radioactive spider and at Spider-Man's inception, Peter is only looking out for himself. He wants to win fight money with his unfair advantage and appear on the Ed Sullivan show to boost his ego. In his debut, Peter is a total selfish teenager who, after being put down for so long, simply wants to get ahead.
The Marvel comics of 1962 were working towards Marvel finding the company's stride and unique voice. Amazing Fantasy #15 was a significant moment in Marvel's discovering its voice of strong morality through real human experience. Spider-Man's rise to heroism is the result of one of the most human qualities there is: a mistake. His selfish, naive decision not to stop the robber after the Ed Sullivan show led to his Uncle Ben's murder. It was a moment that forever changed not only Peter's life, but also his perspective. He understood, finally, that with great power came great responsibility. Thrust, suddenly, into a life of great power, Peter Parker showed in just one simple issue that everyday, ordinary people can be heroes too. The power they possess does not have to be super strength or high-tensile string. All that Spider-Man had to do to save Uncle Ben was trip or hold the robber for a mere moment. The real power is bravery. So long as any person can be brave, they too can be a hero.
---
The Complete Marvel is a daunting task that should not be endeavored alone! Do you think you are brave enough to journey into mystery? To read the hundreds and thousands of tales of suspense and astonishment? We are looking to assemble a team of individuals who, like the Earth's Mightiest Heroes, bring different powers to the table. If you fit that description, let us know! Have any thoughts or memories of the Marvel comics of 1962? Let us know those too!
Thanks for being a part of The Complete Marvel! The Marvel comics of 1962 added 26 new issues to the total read so far, with a total of 27 issues of Marvel superhero comics read. Start back in Year Zero – 1961 to partake in The Complete Marvel from the very beginning, and continue along as 1963 brings some favorites, such as The Wasp, The Avengers, Iron Man, and the X-Men!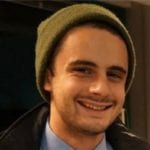 Jason wants to tell you about his current job, but he's afraid that it might be more trouble than it's worth. When not writing, Jason works on food justice and sharing music with communities throughout the region. Or he's unlocking Xbox achievements.