The Complete Marvel! Come along for a journey through every Marvel Multiverse story ever published. Character analysis, story overview, and socio-cultural impact abound!
Welcome to The Complete Marvel, a complete reading of every Marvel Multiverse comic ever published! There is no saying how long the journey will take, but the knowledge, insight, and fun gained along the way will surely be worth the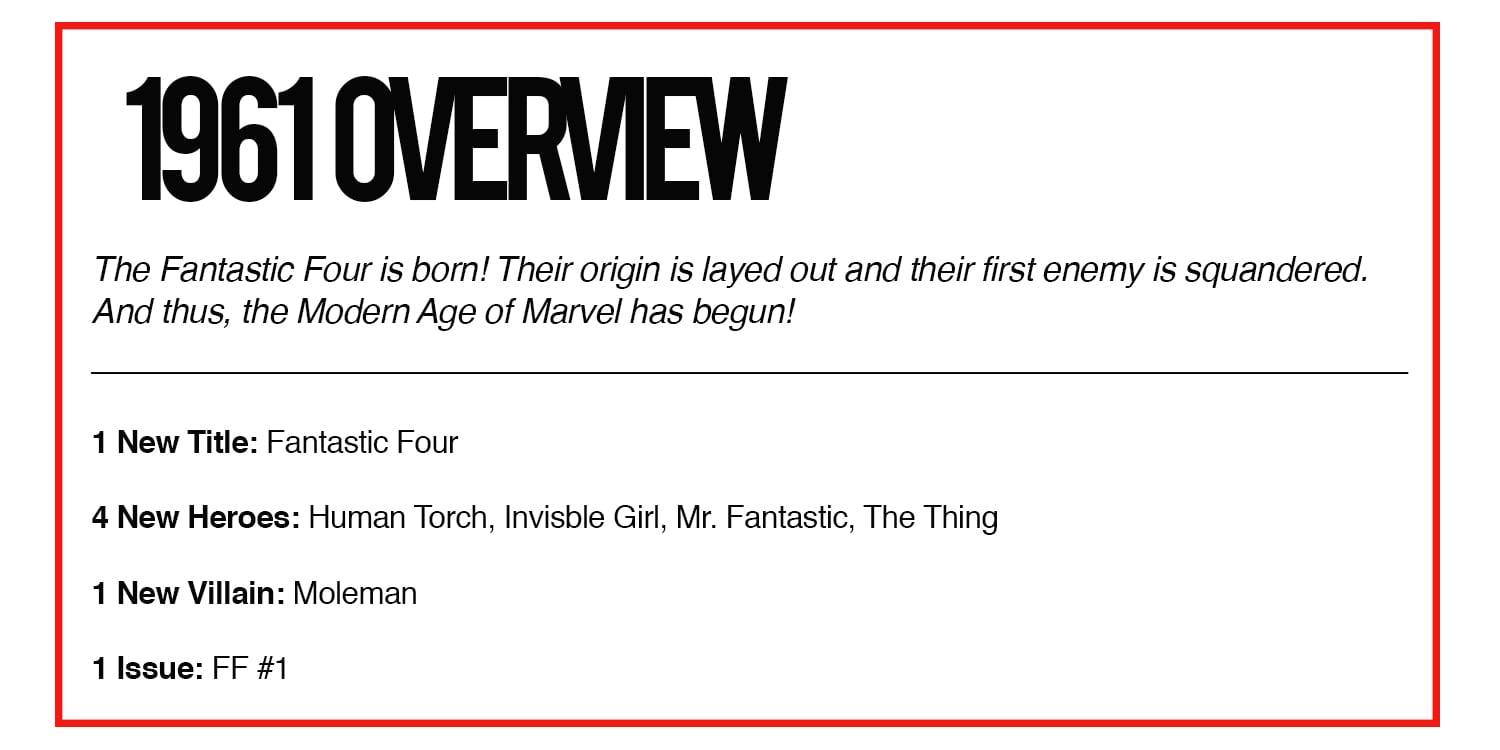 The Modern Age of Marvel was ushered in by a colorful group of heroes in November of 1961 when a disgruntled Moleman attacked New York City. The comic book medium would never be the same the moment the Fantastic Four jumped into action to defend the world. From that fateful day forward, thousands of comic books would be printed under the Marvel banner, spanning countless galaxies, universes, reboots, and retcons; making up a thrilling multiverse enjoyed by millions for generations. Enter: The Complete Marvel!
The Marvel Age of Comics
The once-vogue superheroes of the 30s-40s' Golden Age of Comics had all but died out by the Fall of 1961. Only the DC Comics cornerstones really remained. From the onset, Marvel was determined to usher in the Marvel Age of Comics with something new and bold. Marvel comics would be more than just dazzling tales of powered folk squandering other powered folks. The pulpy pages of Marvel comic books would make their characters relatable. Whether a spider-themed teen, a wacky alien, or a sinister villain, Stan Lee, Jack Kirby, Steve Ditko, and the bunch made certain to provide readers with relatable motives and everyday problems.
From the very first issue, Marvel set itself apart in the art department with panels that were full, sharp, and detailed as well as characters that were unique and distinct. The main competition, DC Comics, felt flatter by comparison, in spite of its long-running characters and fleshed out world. The early faces of Marvel's unmasked heroes suffered from appearing rather similar, but the entirely distinctive, unique, and sometimes outright outrageous design Jack Kirby gave to his co-creations was enough on its own to bring superheroes back into public affection. His and Stan Lee's co-stewardship of many of Marvel's original characters were designed to stand out, and between the personalities and designs, they most certainly did.
Fantastic Four #1 (1961) established this formula from the onset. The heroes have fears. The villain has a tragic backstory. They were each unlike anything most readers had seen before. The reader was just as enthralled by the spectacle of a super-powered family fighting giant monsters as they are by the characters themselves. Surely, when Issue Two of Fantastic Four hit shelves, those that flocked to spend their dime wisely would be seeking to learn what happens next to their heroes. The allure of Marvel Comics was more than just the episodic action of the Golden Age. Marvel comics would be largely serialized from the getgo, constantly referring to previous issues and working hard to retain a consistent continuity across and within its titles.
Year 0: 1961
1961 saw only one publication. In November, Fantastic Four #1 the origin of the Fantastic Four was established. The first issue provides a rich cold open, showing off the powers of each main character and previewing some of their personalities. Susan Storm is shown as a bit materialistic, though entirely respectful and nice. Ben Grimm has a bit of a temper but a propensity for doing what is right and just. Johnny Storm, Susan's brother, is clearly the kid of the bunch, not thinking everything through so carefully or being as secretive with his powers as he probably thinks he is. Lastly, Dr. Reed Richards is evidently the leader of the bunch with an All-American aura to him. He's a scientific genius, though a bit overconfident and certainly not the only one with brains or skills. His anti-Communist penchant has clearly rubbed off on his significant other Susan.
The book quickly jumps into the origin of the group's powers from there. Three friends joined Reed Richards on a space flight that resulting in their crashing back to earth thanks to some dastardly cosmic rays. Upon surfacing, Reed, Susan, and Johnny found themselves with the powers to stretch, become invisible, turn into a flaming man respectively. Meanwhile, Ben Grimm was turned into a gruesome rock-man, a tragedy he bemoans even in this first issue. Without even the slightest hesitation, Reed has the bunch swear to become superheroes after even Ben cites that their newfound powers essentially require them to use them for good. They give themselves new names: Mr. Fantastic, Invisible Girl, Human Torch, and The Thing. Then, adventure awaits.
The comic books of the early years were often split into five shorter parts with a big, engrossing image to begin each one. After relaying the First Family's origin to the audience, the immediately proceeds to the actions. The villain in this first issue is not particularly memorable. Moleman has a personable backstory though and while the action sequences are a bit short, the long descriptions and appeal of giant monsters make up for it to the point of barely noticing. This perhaps less than completely enthralling approach was seemingly deliberate in an attempt to focus on the characters above all else.

The Complete Marvel!
1961 produced only one comic book in the Marvel Multiverse, but it was the most consequential of them all. Fantastic Four #1 began the Modern Age of Marvel and rapidly, in the months and years to follow, many of the most popular and famous characters in the franchise would be born as well. Each year in the history of Marvel Comics publishing holds cool characters, lavish locals, sensational stories, as well as many disappointing duds. The goal: read them all. Save for any movie or television tie-ins, The Complete Marvel is a project to read every comic ever published within the Marvel Multiverse. It will dive deeply into the story, writing, art, and socio-cultural context of the books published one calendar year at a time.
There is a lot to read and nobody can know how long it will take to do so. Can it even be done? Surely, it is worth the try! In Year One: 1962, prepare for more of Marvel's First Family, the introduction of some gods, and more than one bug-themed hero. There will be anti-Communist aggressions abound and
This is, however, a daunting task that should not be endeavored alone! Do you think you are brave enough to journey into mystery? To read the hundreds and thousands of tales of suspense and astonishment? We are looking to assemble a team of individuals who, like the Earth's Mightiest Heroes, bring different powers to the table. If you fit that description, let us know!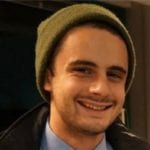 Jason wants to tell you about his current job, but he's afraid that it might be more trouble than it's worth. When not writing, Jason works on food justice and sharing music with communities throughout the region. Or he's unlocking Xbox achievements.