Some of the galaxy's best sidekicks and side characters find the spotlight when Maz, Holdo, and BB-8 are highlighted in Star Wars: Age of Resistance – Special #1.
Warning: This article contains plot points for Star Wars: Age of Reistance – Special #1.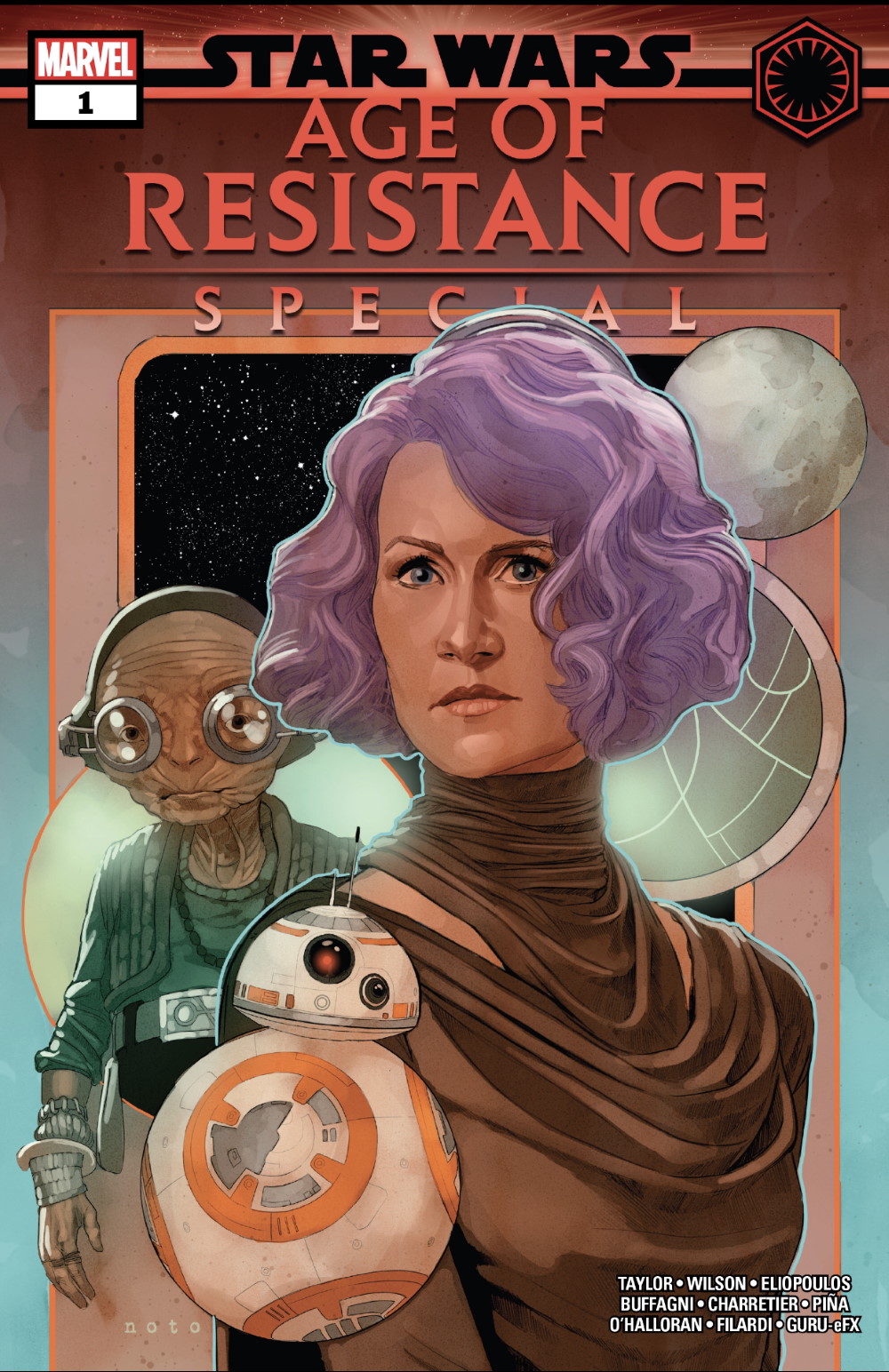 Age of Resistance – Special #1
Lettering: VC's Travis Lanham | Cover Artist: Phil Noto | Production Design: Anthony Gambino | Editor: Mark Paniccia | Assistant Editor: Tom Groneman
The Age of Resistance anthology series continues with its special issue. Just like the special for Age of Republic and Age of Rebellion, Age of Resistance – Special #1 tells three stories written by three different collections of writers and artists. As with the issues concerning Finn and Captain Phasma, all three stories focus on characters from the sequel trilogy: Maz Kanata, Vice Admiral Holdo, and BB-8. There are a few classic characters mixed in for good measure.
Maz's Scoundrels
Writer: Tom Taylor | Artist: Matteo Bffagni | Color Artist: Chris O'Halloran
"Maz's Scoundrels" is the first story of Age of Resistance – Special #1 and predictably features Maz. The diminutive pirate lord and proprietor of Maz Kanata's palace on Takodana hired Han and Chewbacca to help her retrieve an artifact stolen from her by Baron Somareeva. Much of this story appears to originate in the one line from The Force Awakens in which Maz expressed affection for Chewbacca and referred to him as her boyfriend.
"Maz's Scoundrels" is a tidy story, but quite fun. It contains perhaps the best panel in the entire issue and features Maz atop Chewbacca's shoulders as the pair decimates Somareeva and his minions. The conclusion of the story reveals that Maz recovered an ancient Sith helmet. Although she doesn't name the Sith, she mentions that it is important because the recovery of such artifacts permits the light to shine brighter.
For those interested in chronology, the story doesn't have a definitive spot in the canon. However, Han is clearly younger than he appeared in The Force Awakens, and one might guess that this occurs prior to A New Hope and Han and Chewbacca's entanglement with the Rebellion.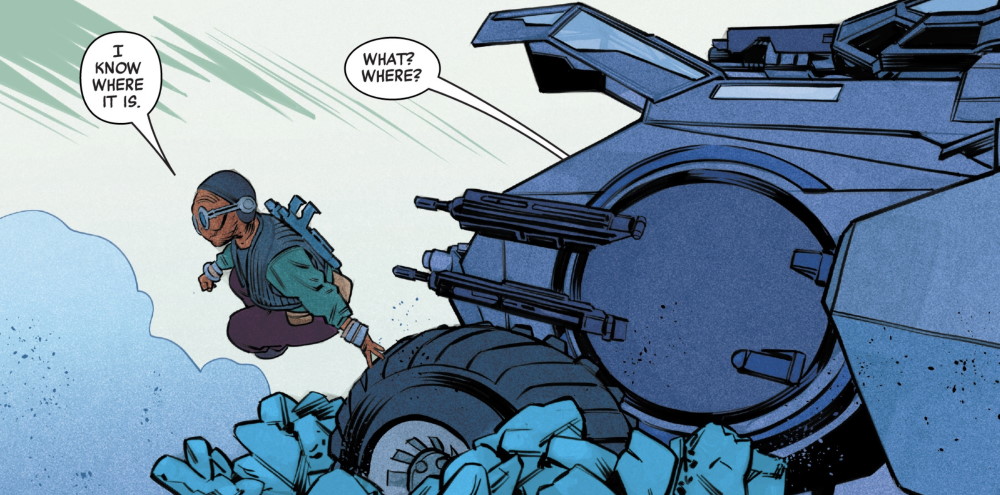 The Bridge
Writer: G. Willow Wilson | Artist: Elsa Charretier | Color Artist: Nick Filardi
The second story of Age of Resistance – Special #1 features Vice Admiral Holdo before she was known as Vice Admiral Holdo. Minister Amilyn Holdo found herself aboard the Rebel Alliance smuggling vessel Candor when it was attacked by an Imperial Star Destroyer moments after she finished dying her hair purple. Holdo didn't garner much respect from the crew, but that changes after she assumes command once the ship's captain perished. Her quick thinking and surprise maneuver saved herself, the crew, and the ship. In addition, she earned the respect and loyalty of the crew.
This too is a tidy story. If it was intended as a story with a morale, that morale is pretty clear. The crew didn't believe in Holdo and wrote her off as a former Apprentice Senator. When she assumed command, their hesitation to obey orders almost cost additional lives. Therefore, don't judge a book by its cover. Plus, Holdo recognizes that she hadn't yet earned their trust, and she is prepared to forgive their hesitation. That seems beyond gracious of her given that she was the senior office on the ship, and under a military protocol, her orders simply should have been obeyed.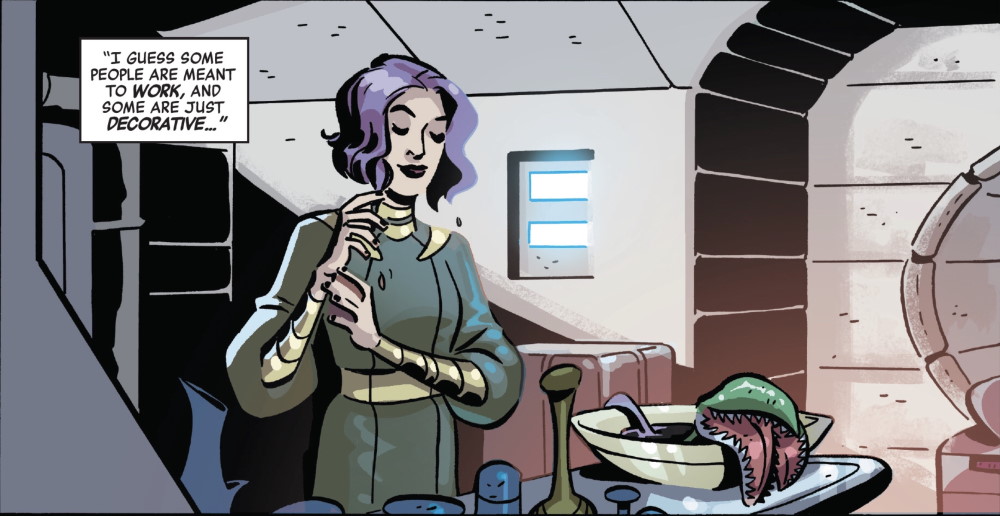 Robot Resistance
Writer: Chris Eliopoulos | Artist: Javier Pina | Color Artist: Guru-eFX
The final story of Age of Resistance – Special #1 is written by Chris Eliopoulos, and it is exactly the type of story you would expect him to write. In the past, Eliopoulos contributed several backup stories to issues of various Star Wars comics that feature a short story featuring a droid. "Droid Dilemma" from Star Wars #25, "Probe Droid Problem" from Darth Maul #1, and "No Good Deed" from Darth Vader #1 are a few examples. In each of these stories, a droid features in a very short tale that generally isn't to be taken too seriously.
Eliopoulos takes a different approach with "Robot Resistance." This story features BB-8. After Poe Dameron smuggles him to a First Order base, BB-8 is given the assignment of stealing some intel on troop movements from the base's central computer. Although BB-8 sets out on his mission, he is quickly distracted by a First Order stormtrooper torturing a small collection of droids. Despite Poe's instructions to move on, BB-8 intervenes and saves his fellow droids. Those droids then repay the favor later when BB-8 is cornered by stormtroopers himself. They then go above and beyond by triggering an explosion on the base and later join the Resistance.
As with the previous two stories, this is a tidy little tale. Again, the morale is obvious. BB-8 couldn't turn his back on the injustice he saw. Following the Golden Rule, the droids he rescued later saved him.

Final Thoughts on Age of Resistance – Special #1
Age of Resistance – Special #1 is a fun collection of stories. Of the three, only "Maz's Scoundrels" feels like it has a larger story to tell. Perhaps the story of that Sith mask will make its way to comic book store shelves someday. These stories could have been told within the pages of IDW's Star Wars Adventures series as they are mostly kid friendly with a fairly obvious moral present at the end of each.
Dennis Keithly is a graduate of the University of Missouri, North Texas attorney, husband, father of two, and co-host of Starships, Sabers, and Scoundrels. In addition to Star Wars, Dennis is a fan of science fiction, fantasy, and super heroes in general. When not engaged in fictional universes, Dennis is reading a good book or watching the NHL, football, or studying the NFL draft.