Captain Phasma explains the cost of survival and success in the First Order in Star Wars: Age of Resistance – Captain Phasma #1.
Warning: This article contains plot points for Star Wars: Age of Resistance – Captain Phasma #1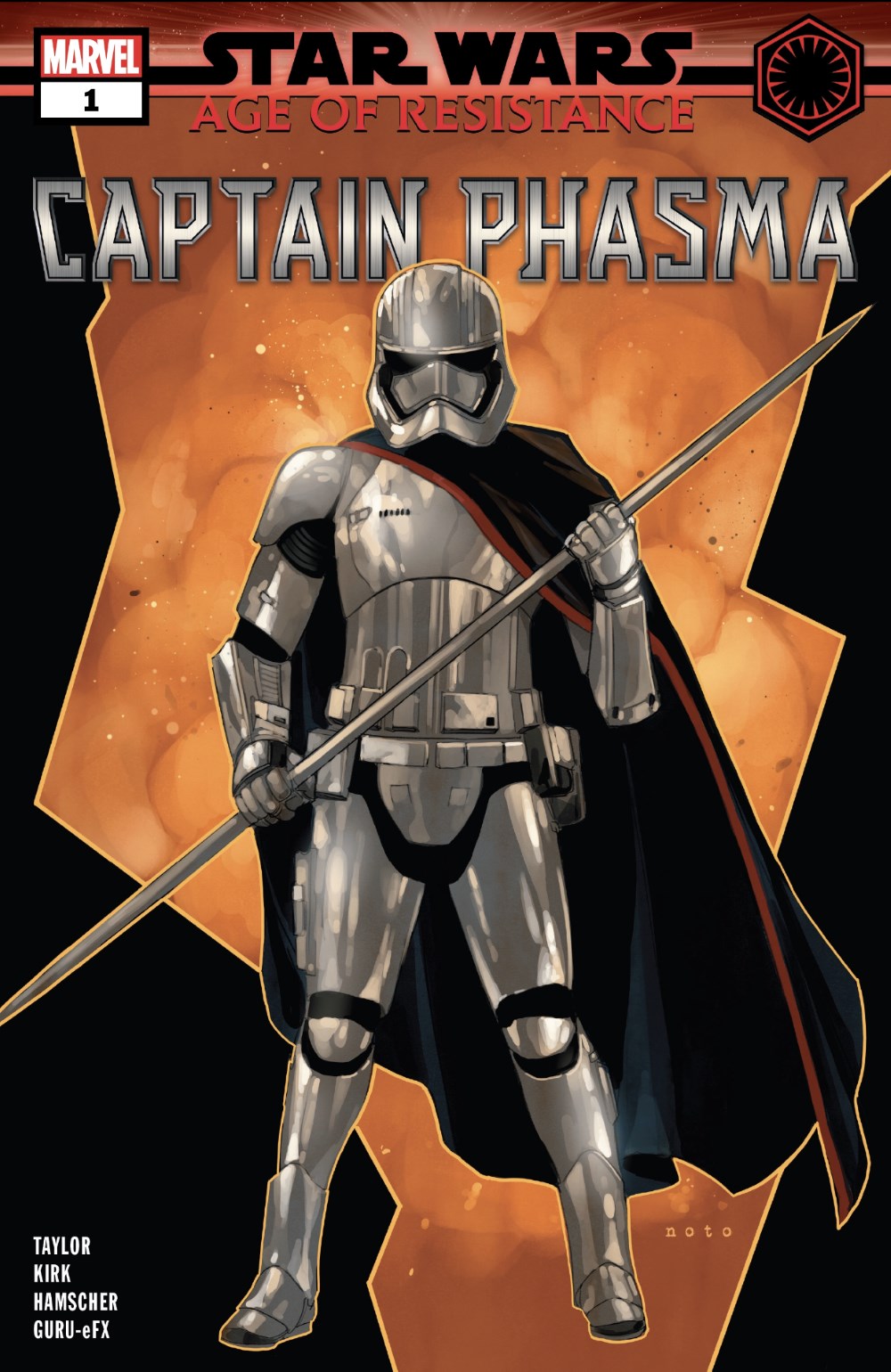 Star Wars: Age of Resistance – Captain Pasma #1
Story: Tom Taylor | Pencils: Leonard Kirk | Inks: Cory Hamscher | Color: Guru-eFX | Lettering: VC's Travis Lanham | Cover Artist: Phil Noto | Assistant Editor: Tom Groneman | Editor: Mark Paniccia
Captain Phasma is similar to Boba Fett in that she didn't get an opportunity to do a lot on screen during the Star Wars movies. Like Fett, she had a mystique. Her background and origins have been the stuff of the current expanded universe. Delilah S. Dawson first described her origins and motivations in Phasma. Dawson expertly described Phasma as a survivor willing to sacrifice anything as she advances her own glory and career. The First Order essentially became a vehicle for her to achieve her goals. Kelly Thompson doubled down on Phasma's character in Captain Phasma #1, as she described how Phasma and her reputation survived the destruction of Starkiller Base. Now, Tom Taylor takes the baton and furthers her character study with a tale of how she uses her soldiers for personal glory and gain in Age of Resistance: Captain Phasma #1.
The Tools of Tyrants
Phasma has the First Order handbook on leading soldiers into battle memorized. In Captain Phasma #1, she motivates her troops with rousing battle cries ("For glory! For the First Order!"), and then couples their success with her own celebrity and reputation. They are her weapons, and if they fail, they aren't a weapon worthy of her. As Darth Vader might say, she finds new ways to motivate them.
Eventually though, Phasma reveals her greatest secret. Although Captain Phasma #1 is ultimately about the chrome armored officer of the First Order, its story is told through the eyes of KM-8713, a stormtrooper under Phasma's command. KM-8713 idolizes her commanding officer, and one day hopes to follow in her footsteps and get a name of her own.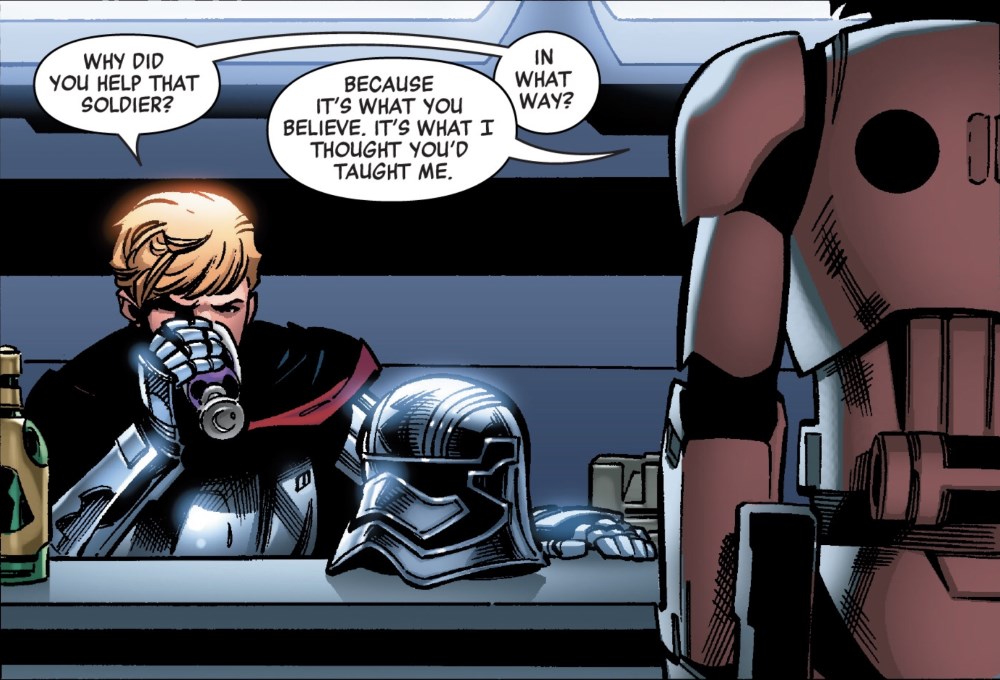 First Order Values
KM-8713 makes a mistake in Captain Phasma #1 though: she shows compassion for a fellow stormtrooper and Phasma catches her in the act. In Phasma's word, stopping to carry a fallen comrade along only weakens the army. They don't have time to tend to the fallen. During Phasma's reprimand of KM-8713, an enemy soldier takes aim at Phasma. Although KM-8713 shoots the enemy combatant, it drops a thermal detonator at their feet. Phasma thinks fast and uses KM-8713's comrade as a human shield from the detonation. As she said earlier, the stormtroopers of her command are her weapons. If they are injured, they are of no use to her and are disposable.
Later, in her quarters, Phasma asks KM-8713 if she could afford to carry every fallen soldier. The lesson is clear: compassion is weakness. Compassion slows a soldier down. Compassion can get the fallen and their saviors both killed. KM-8713, freshly promoted, vows to take this lesson to heart.
There is one more overall lesson in Captain Phasma #1 though. With her promotion to officer under her belt, Phasma sends KM-8713 and a small army to assault a fortress. It was all a tactic. After KM-8713's unit draws out the enemy, First Order TIEs bomb the battlefield, including the stormtroopers. KM-8713 is outraged and confronts Phasma as she departs and accuses her of being a coward and a traitor.
Phasma's response is that she is neither a coward nor a fool or a zealot. Instead, she does what all great leaders have done, she leads from behind a disposable shield of patriotic idiots. The stormtroopers of the First Order are expendable and fungible. That is why they have numbers and not names. Phasma underscores this point by noting that her armor is more valuable than KM-8713's life. Not only does Phasma have the First Order handbook memorized, she added a few chapters herself.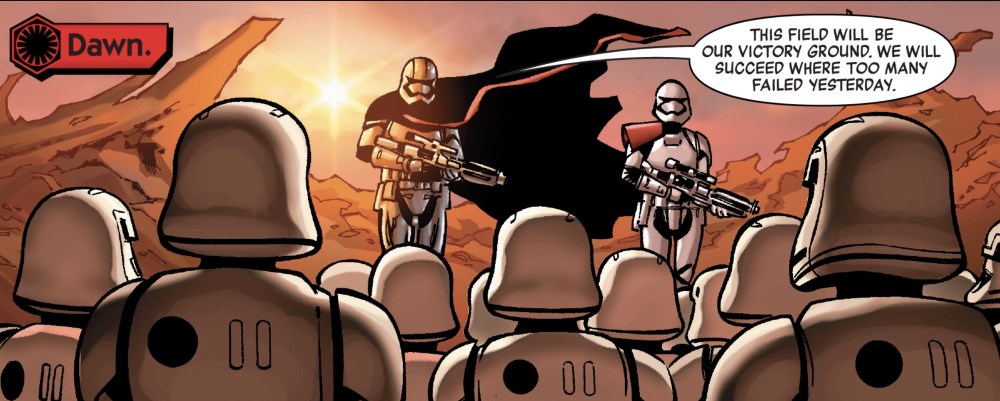 Final Thoughts on Age of Resistance: Captain Phasma #1
Captain Phasma #1 is a great companion piece to Finn #1. Phasma is the living embodiment of the First Order directive and values:  everything is expendable in service to the goals of the First Order. In addition, for Phasma, survival is prized at the cost of all else. The First Order thrives on the backs of its nameless soldiers. Despite the praise of their troops, the stormtroopers proved to be expendables unit only valuable in so much that it can be used to achieve the goals of the First Order. Finn saw through that. He realized that the First Order discarded anything, no matter its worth, if it got in the way of conquest. Eventually, it drove him to flee the First Order.
Leonard Kirk outdid himself with the art in Captain Phasma #1. Of course, art in comics isn't a solo effort, and Guru-eFX and Cory Hamscher brought his pencil work to life with outstanding color and ink work respectively.
There is one last tantalizing aspect of Captain Phasma #1. The Captain's full face has never been seen on screen or in portrait. Of course, Star Wars fans know that Gwendolyn Christie portrayed Phasma on screen. However, despite a moment at the end of The Last Jedi where her cracked helmet reveals one eye, her face is never seen. Captain Phasma #1 reveals more of her features, but still doesn't give her entire visage to fans. The tease plays out over several panels with a glass of wine conveniently concealing most of her features. Well played.
Dennis Keithly is a graduate of the University of Missouri, North Texas attorney, husband, father of two, and co-host of Starships, Sabers, and Scoundrels. In addition to Star Wars, Dennis is a fan of science fiction, fantasy, and super heroes in general. When not engaged in fictional universes, Dennis is reading a good book or watching the NHL, football, or studying the NFL draft.