Solo #4 focuses squarely on Han and Beckett's raid on Kessel as select character moments are highlighted.
This article contains plot points for Solo #4.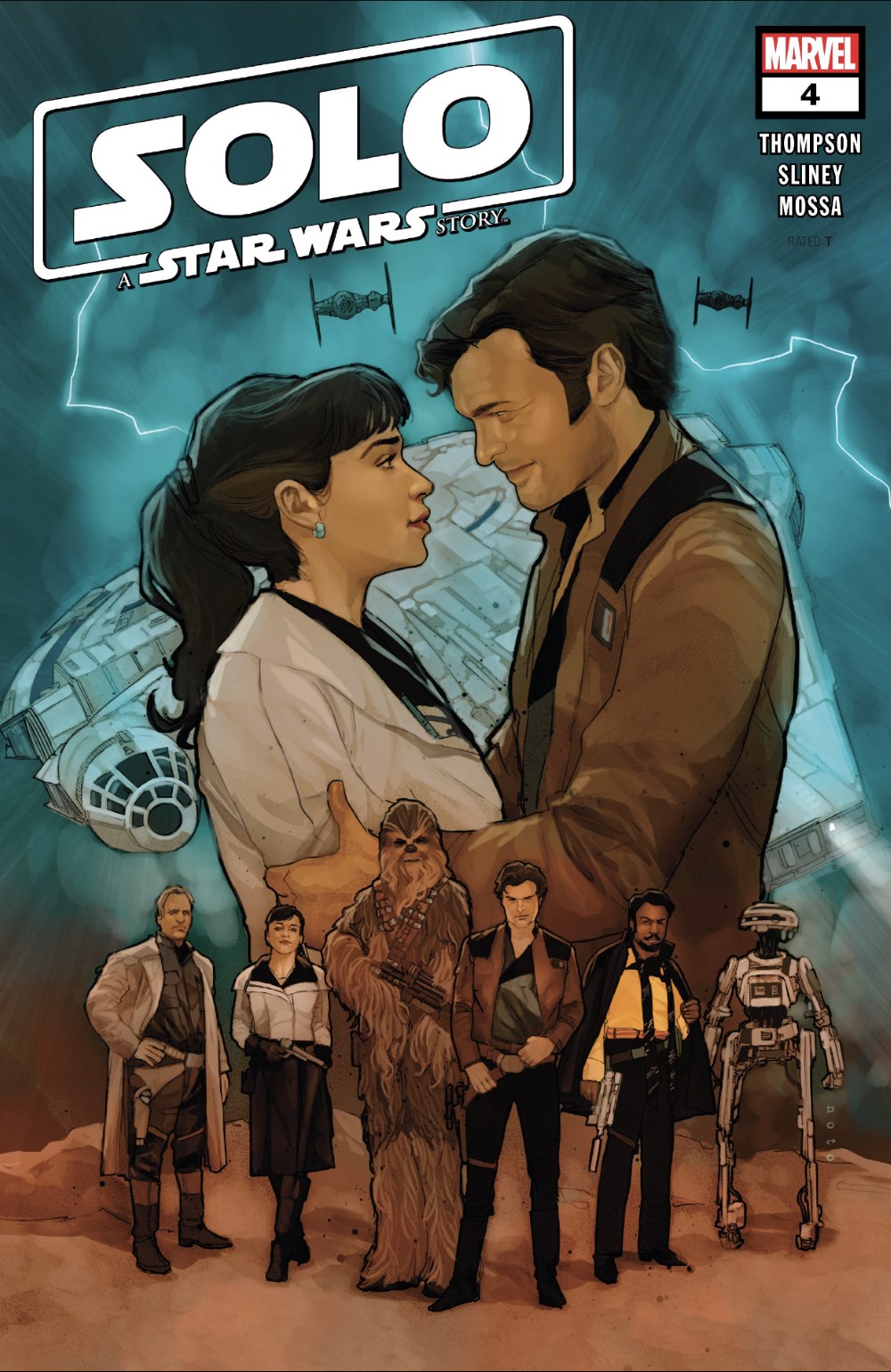 Solo #4
Writer: Robbie Thompson | Artist: Will Sliney | Color Artist: Andres Mossa | Letterer: VC's Joe Cramagna | Cover Artist: Phil Noto | Assistant Editor: Tom Groneman | Editor: Mark Paniccia
The adaptation for Solo: A Star Wars Story shifts its focus squarely to Kessel with Solo #4. Han, Beckett, and Qi'ra added the final piece to their heist team when they recruited Lando in Solo #3. Readers expecting additional material that enhances the story will be disappointed, but fans of the movie will be delighted with Robbie Thompson and Will Sliney's take on familiar scenes with an eye towards reactions and character moments. In particular, Solo #4 provides an excellent opening bar to the requiem for L3-37.

The Character Moments of Solo #4
Solo #4 features the jump to hyperspace that brings Han and the crew of the Millennium Falcon to the maw that surrounds Kessel, the infiltration of the spice planet, and the droid and slave rebellion. It concludes with the escape from the planet as the Falcon encounters an Imperial star destroyer approaching. Throughout these scenes, Solo #4 features a number of intriguing character moments.
For instance, once the crew settles in for their trip through hyperspace, Han wanders off in search of Qi'ra. As in the movie, he finds her in Lando's cape closet. After professing how much he missed her and how he wants to tell her everything, Qi'ra responds with hesitation. Her fear is that Han wouldn't look at the same if he knew all the things she had done (including murder). Han cuts through the longing and hesitation with a kiss that is highlighted in a panel that fills the bottom half of the page.
Similarly, Solo #4 features another such moment when Chewbacca races to the rescue of his people in the mines of Kessel. Despite his loyalty to Han, he elects to fight against the slavers. Unfortunately, Solo #4 doesn't give Han the emphasis he deserves when he clearly realizes Chewbacca needs to aid his people. His change of heart and encouragement is almost an afterthought. However, a panel featuring Chewbacca charging into action at the bottom of the page fills the void.
A third such moment arrives just two pages later. Lando's recitation of The Calrissian Chronicles is interrupted by droids and slaves escaping from the mines. This scene must seem eerily similar to a droid rebellion in the Lando: Double or Nothing series. L3-37 was at the forefront then. Therefore, it is natural that Lando would wonder what L3-37 did, and then remark, "That droid…" as he paces off the Falcon. It is another well captured moment that fills nearly half the page.
Loss of a Companion
Although the heist and subsequent rebellion on Kessel are exhilarating, L3-37's demise is perhaps where Solo #4 shines. Solo: A Star Wars Story is all about the loss and creation of partnerships and who and when to trust. Beckett cautions Han earlier in the issue, "Trust no one. Assume everyone will betray you and you'll never be disappointed." Of course, he recently just lost Val and Rio, the people closest to him, in Solo #2. Regardless, friendships and relationships dominate Solo. It is no surprise then that the loss of a friend coupled with regret might be the most notable image from Solo #4.
L3-37 takes a fatal shot as she leads the droid rebellion on Kessel. Although Lando rushes to her aid, there is nothing he can do. While L3-37 pleads for help, Lando assures her he can fix her. Then she falls silent. Even though she was a droid, Qi'ra, Chewbacca, and Beckett all look on with sympathy and sadness. Thompson and Sliney made an excellent choice in concluding her demise with a silhouette of Lando holding her remains and quietly apologizing. It is beautiful storytelling.
Concluding Thoughts on Solo #4
As mentioned earlier, Solo #4 doesn't include any new dialogue or scenes that were omitted from the movie. Perhaps that is for the best. Rather than focus on the new, Solo #4 highlights the relationships of the film with particular focus on Han and Qi'ra and later on Lando and L3-37. Qi'ra reluctance to lose Han's adoration makes way for Lando's grief over actually losing L3-37. Qi'ra doesn't want to tell Han about her past for fear of rejection for who she is. To the contrary, L3-37 proudly wore who and what she was on her sleeve. Lando feigned annoyance at the time. Despite Lando's insistence that he doesn't wipe L3-37's memory in Solo #3 because of her navigational skills, he genuinely mourns for the loss of a friend.
Solo #4 also does a great job portraying the heist and following rebellion. Chaos reigns supreme as droids, wookiees, and other slaves pour out of the mines. Solo #4 captures all the emotion, urgency, and action of the film and is a fun companion to Solo: A Star Wars Story.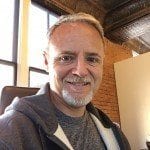 Dennis Keithly is a graduate of the University of Missouri, North Texas attorney, husband, father of two, and co-host of Starships, Sabers, and Scoundrels. In addition to Star Wars, Dennis is a fan of science fiction, fantasy, and super heroes in general. When not engaged in fictional universes, Dennis is reading a good book or watching the NHL, football, or studying the NFL draft.