Poe Dameron #27 makes an adventure out of a passing line of dialogue from The Force Awakens. Dennis reviews Snap and Karé's mission.
This article contains plot details for Poe Dameron #27.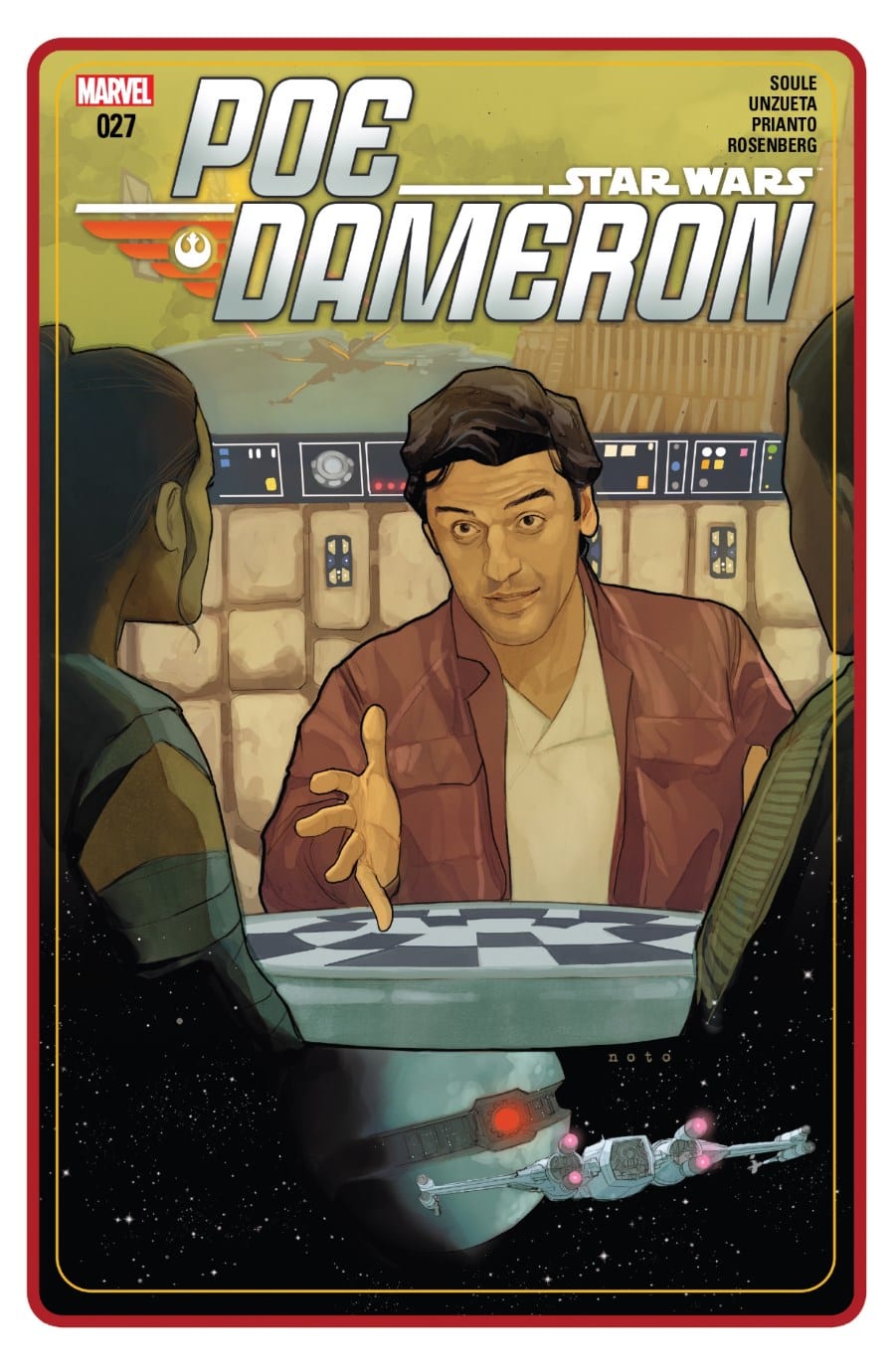 Poe Dameron #27
 Writer: Charles Soule | Artist: Angel Unzueta | Colorist: Arif Prianto & Rachelle Rosenberg | Letterer: VC's Joe Caramagna | Cover Artist: Phil Noto | Assistant Editors: Heather Antos, Tom Groneman, & Emily Newcomen | Editors: Jordan D. White (with Mark Paniccia)
Poe Dameron #27, "The Awakening Part II," continues an adventure started in Poe Dameron #26 told after The Last Jedi but during The Force Awakens. In the prior issue, Poe explained to Finn and Rey how he escaped from Jakku while they were killing time aboard the Millennium Falcon after their escape from the Battle of Crait. Poe has more stories to tell his new friends as their trip continues. Charles Soule crafts another story that when paired with Angel Unzueta's art hits all the right beats to tell a wonderful Star Wars story.
Leia's Loss and the Resistance Family
Leia is mourning as Poe Dameron #27 begins. She sits in the co-pilot's seat next to Chewbacca and can't help recalling a younger Han addressing her with his usual swagger. Of course, Chewbacca experienced Han's death as deeply as anyone considering his long-standing partnership with the smuggler turned Rebel war hero. Naturally, Leia and Chewbacca comfort each other like old friends do in a rather touching scene. Considering Han's death is relatively recent (remember The Last Jedi occurs almost right after The Force Awakens), it is only natural they should both grieve at this time.
Further enhancing the family dynamic is Nien Nunb. Leia gladly relinquishes the co-pilot's chair to him and notes he has as much a right to it as anyone, which is a nod to the role he served aboard the Falcon during the Battle of Endor in Return of the Jedi. Once Leia has departed, the two aliens give one another a knowing look and a salute to their camaraderie with a fist bump.
Charles Soule once again demonstrated not only his writing chops with this scene, but his understanding of the emotion of Star Wars. Angel Unzueta's art blends with his script to provide a moving scene that recalls just enough nostalgia, adds just enough humor, and a perfect amount of friendship to create a genuine Star Wars moment.

Poe and the Force
The story turns to Poe's recollection of the Battle of Takodana. There are several noteworthy details of his telling. First, he notes this was the first open battle between the Resistance and the First Order. While his prior service included conflict with the First Order, those fights were always in the background away from the prying eyes of the galaxy. However, at the Battle of Takodana the patrons at Maz's castle witnessed the Resistance fighting for them. It was empowering.
Second, Poe tells Finn and Rey that he felt as he had tapped into something as he blazed through nine TIE fighters in a single run. Poe's narration of the Battle of Takodana is told over a double page spread and culminates with his celebratory cry of "Woo-hoo!" In response, Rey notes this sounds almost like the Force. In a nice touch and nod to Han Solo's line from The Force Awakens, Finn chimes in with a question if that is indeed how the Force works.
Charles Soule then works in a reference to Shattered Empire. He explains he is no Jedi but grew up under a tree. He is referring to a tree strong with the Force that his mother, Shara Bey, recovered with Luke Skywalker. It was planted on Yavin where Shara and Poe's father, Kes Dameron, settled. It is at this moment that Leia interrupts and interjects that everyone has the Force. Furthermore, Leia explains that the Force is "life's music. The song we make."
Just like the prior scene in the cockpit of the Falcon, everything about this conversation was just perfect. In addition, Soule has subtly created chemistry between Poe, Finn, and Rey. Prior to this, Poe had chemistry with Finn, and Finn had chemistry with Rey. Now, all three of them are coming together as the sequel trilogy version of the "big three."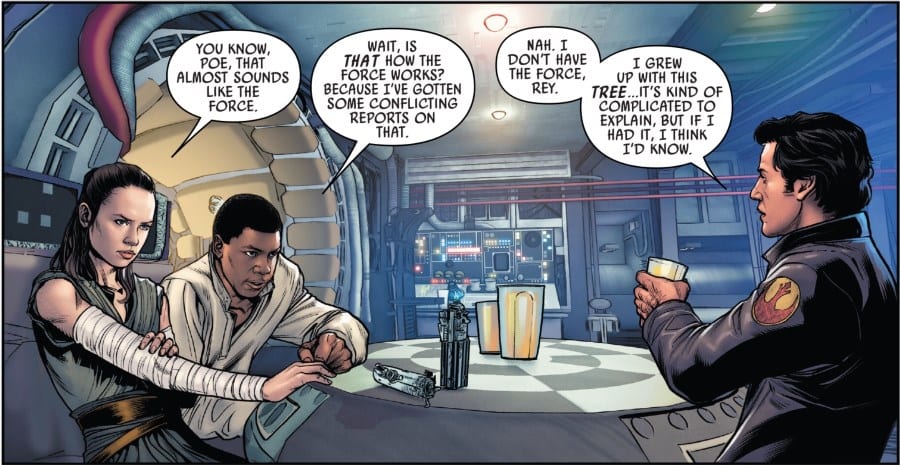 An Adventure Sprung from Passing Dialogue
In The Force Awakens, when the Resistance plots their attack on Starkiller base, Poe notes that Snap ran a reconnaissance mission on the First Order base. The First Order managed to track him and then learned the location of the Resistance base on D'Qar. It was just a couple of lines of dialogue. They achieved their purpose of explaining 1) how the Resistance came up with the plans for Starkiller base, and 2) how the First Order knew where they were. However, Charles Soule managed to turn these few lines into an adventure worth telling.
After Finn excused himself to check on Rose's condition, Poe explains to Rey that Black Squadron concocted the reconnaissance plan. To add intrigue, Snap and his new bride, Karé, ended up running the mission even though Jess Pava designed the reconnaissance craft and planned the mission. In summary, the mission doesn't run smoothly. Snap's craft has no propulsion of its own in order to evade detection. After several tense moments in which it appeared Snap's craft would fall apart, Karé conceived a rescue and pulled it off. This issue concludes with them making their escape.

Concluding Thoughts on Poe Dameron #27
"The Awakening" story arc is surprisingly captivating considering that is largely covers known territory. However, Soule found a way to capture some of the details from The Force Awakens and enhance the movie with this supplemental material. Plus, although this story doles out post The Last Jedi details in small pieces, it is a tantalizing glimpse of the future of Star Wars with the developing relationships between Poe, Finn, and Rey. Even the porgs get a cameo in this issue. Despite the greatness of Poe Dameron #27, one moment seemed a little odd. Poe and Rey bond over the fact that they were both tortured by Kylo Ren. They even go so far as to dub themselves, "torture buddies." It seemed at least a little cringe worthy. Regardless, it is a small blemish on an otherwise amazing issue of Poe Dameron.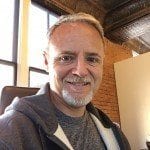 Dennis Keithly is a graduate of the University of Missouri, North Texas attorney, husband, father of two, and co-host of Starships, Sabers, and Scoundrels. In addition to Star Wars, Dennis is a fan of science fiction, fantasy, and super heroes in general. When not engaged in fictional universes, Dennis is reading a good book or watching the NHL, football, or studying the NFL draft.