The "Legend Found" story arc concludes with a mission to rescue Lor San Tekka in Poe Dameron #25.
This article contains plot details for Poe Dameron #25.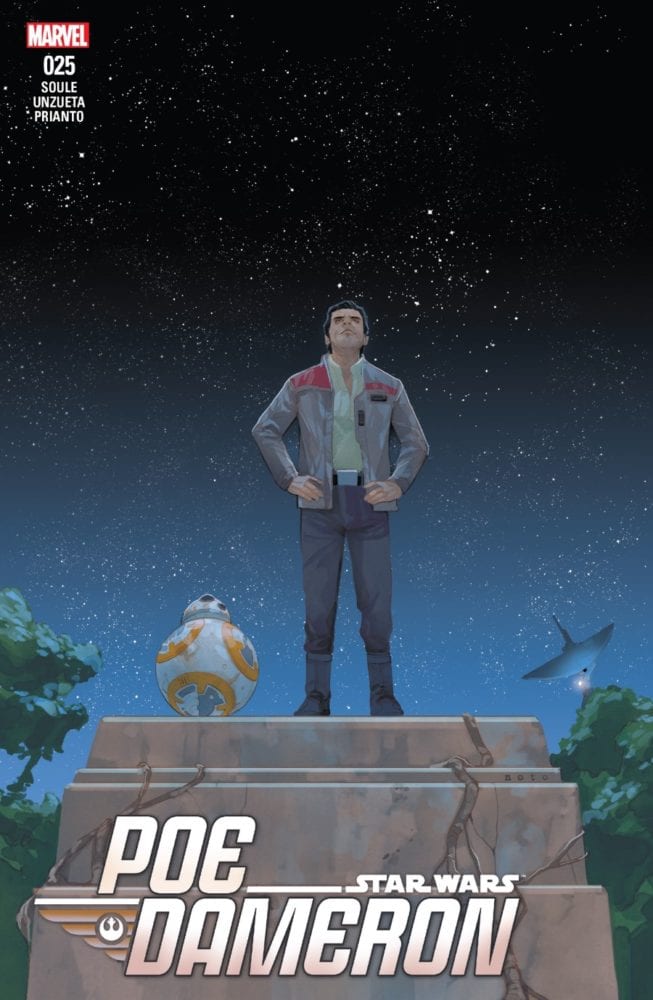 Poe Dameron #25
Writer: Charles Soule | Artist: Angel Unzueta | Colorist: Arif Prianto | Letterer: VC's Joe Caramagna | Cover Artist: Phil Noto | Assistant Editor: Heather Antos | Editor: Jordan D. White
In the past five issues of Poe Dameron, General Organa, Poe, and Black Squadron have worked harder than ever to rescue and retrieve Lor San Tekka. Unfortunately, the First Order and then Agent Terrex interfered in their mission, and Poe Dameron #24 ended with Lor San Tekka floating helplessly in an EVA suit in space with his oxygen in short supply. In Poe Dameron #25, Black Squadron and the First Order catch up to Lor San Tekka and fight for the custody of a man whose knowledge could determine the fate of the galaxy. Charles Soule's conclusion to the "Legend Found" story arc provides a satisfactory resolution to several storylines while including a few surprises along the way.
Lor San Tekka Found
Perhaps most surprising of all is that Black Squadron found and retrieved Lor San Tekka at all. In addition, San Tekka actually met with Leia Organa. This development is surprising because The Force Awakens left many with the impression that is when Poe Dameron finally caught up with San Tekka for the first time. It turns out not to be the case.
The First Order didn't make things easy for the Resistance. TIE fighters and a Resistance cruiser turned out and made the Resistance work for their victory. Possession of Lor San Tekka changed twice before the Resistance successfully recovered their man. In addition, they lost a transport in the process. If it weren't some technical knowledge about a defect with the cruiser that Poe exploited, they may not have been successful at all.
Many readers presumed that series would end once Poe Dameron caught up to San Tekka. However, when Poe brought him back to the Resistance base on D'Qar, San Tekka informed Leia that he didn't know where Luke was. But, he had his suspicions where he might find out. After a brief meeting with Poe, he left to do just that. This development adds a lot of potential life to this series. Poe and Black Squadron can have all sorts of adventures while Lor San Tekka locates a map to Luke Skywalker.

Other Developments
Poe Dameron #25 concluded a few other storylines as well. First, Snap and Karé made a final decision on their relationship. After taking a break to focus on the war, the pair finally decide they are better off together. They don't stop there either. Indeed, they elect to make their relationship permanent as are married in a ceremony presided over by General Organa.
The Resistance also suffers a loss. During their mission to rescue Lor San Tekka, Jess Pava's fighter takes a hit that disables many of its systems. Her droid, IVEE, begins repairs, but alas, the First Order cruiser launches a missile at her X-Wing. All seems lost, but at the last moment IVEE ejects herself from the X-Wing and intercepts the missile. In a testament to Soule's writing, a subsequent scene features BB-8 and Jess consoling each other. IVEE had become something of a girlfriend to BB-8. Plus, IVEE took a chance and consented to serving as Jess's astromech droid so many other droids refused. IVEE's final message was that her fate wasn't Jess or BB-8's fault. It is a testament to Charles Soule's writing that the loss of a droid comes off so emotional.

A Comment on the Force
Lor San Tekka makes some wonderful observations about the Force over the course of this issue. The very first pages focus on him as he floats in space. Lor believes he won't survive, and he begins recording his last words. He starts by admitting that he cannot touch the Force, but he knows that it touches him just as it touches all beings. Without saying so precisely, he describes the Force as something with its own will that alternately recedes and exerts itself. Furthermore, the Force is in a phase of expansion, and he believes the galaxy is about to exert itself and the light and dark will battle again. This is very prophetic and describes precisely what happens in The Force Awakens and The Last Jedi.
The second set of observations comes as the issue concludes. Lor finds Poe relaxing with BB-8 outside the reception following Snap and Karé's wedding. After Poe rescued him as many times as he did, Lor didn't wan't to leave without chatting first. He ends up providing Poe with two lessons about the Force. The first of which is that while Luke and the Jedi are important, but fate does not entirely depend upon them. The next part of the lesson comes when Lor direct's Poe's attention to the heavens and remarks that the trick is not to focus on the void in the galaxy, but to focus on the light. Poe gets the lesson immediately. The Force is there, and more importantly the Force is all of them.
Final Thoughts of Poe Dameron #25
The art in Poe Dameron #25 stands out once again. Angel Unzueta and Arif Prianto's work continues to impress. Space always looks majestic. Of particular note is how amazing the reflections off the visors and face shields in space look throughout the issue. Their art also adds a real sense of urgency to the battle in the Great Forveen Nebula as the Resistance and First Order clash. Plus, the reaction shots of both Jess and Karé convey dismay while they attempt to retain their focus when the Resistance transport is destroyed. The action is crisp and easy to follow, which is not something that can be said for every Star Wars comic.
If Poe Dameron #25 were the final issue of the series, it would have been a fitting conclusion. However, it is not, and instead it provides the series the opportunity to tell any manner of new stories. For instance, neither Agent Terex nor Commander Malarus make an appearance. There are plenty of stories to tell with them left. In addition, Karé does not appear in The Force Awakens. Is her story resolved in the pages of Poe Dameron, or is that left open? Snap didn't seem to be grieving in the movie. The opportunities for Poe Dameron are numerous.
Charles Soule wrote another stand out issue. The pacing of the story arc for "Legend Found" was nearly flawless. None of the six issues particularly felt like a bridge issue. In addition, although they work best together, each issue capably told an isolated story. Finally, this final issue of the story arc was a very fitting and well-timed conclusion.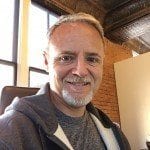 Dennis Keithly is a graduate of the University of Missouri, North Texas attorney, husband, father of two, and co-host of Starships, Sabers, and Scoundrels. In addition to Star Wars, Dennis is a fan of science fiction, fantasy, and super heroes in general. When not engaged in fictional universes, Dennis is reading a good book or watching the NHL, football, or studying the NFL draft.