Poe Dameron #26 breaks new ground for Star Wars by retelling an old story.
This article contains plot details for Poe Dameron #26.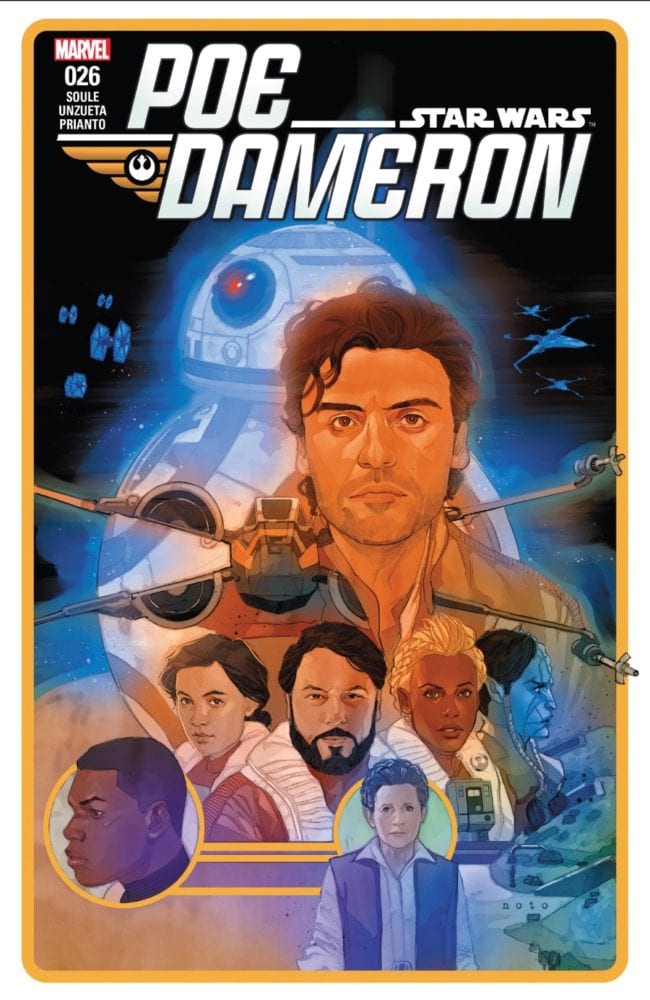 Poe Dameron #26
 Writer: Charles Soule | Artist: Angel Unzueta | Colorist: Arif Prianto | Letterer: VC's Joe Caramagna | Cover Artist: Phil Noto | Assistant Editos: Heather Antos & Christina Harrington | Editor: Jordan D. White & Mark Paniccia
The Poe Dameron series began with Poe and Black Squadron completing missions on behalf of the Resistance. Poe and his team reported to General Organa, and their missions lead them to Lor San Tekka. The hope was he would help them find Luke Skywalker. In Poe Dameron #25, Poe and his companions finally found Lor San Tekka and the series caught up to the events of The Force Awakens. So, what is the Poe Dameron series to do? The answer is in Poe Dameron #26, which breaks new ground for Star Wars comics.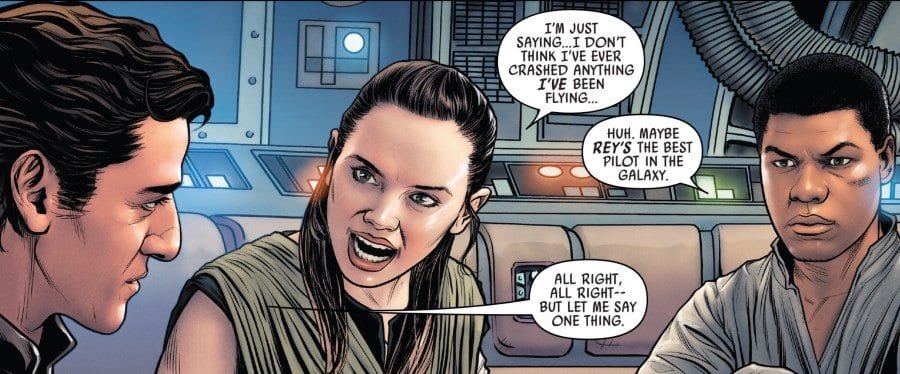 Beyond The Last Jedi
The Last Jedi is still a recent Star Wars film. After The Force Awakens, Marvel didn't tell any Star Wars stories that occurred after that film. In fact, most of the Star Wars material released around that time period and since told stories occurring before or during the events of The Force Awakens. Therefore, most readers wouldn't expect Marvel, and Lucasfilm for that matter, to tell new stories occurring after The Last Jedi. However, Poe Dameron #26 – The Awakening Part I – does this. Kind of.
Poe, Rey, and Finn find themselves around the dejarik table aboard the Millennium Falcon after escaping from Crait. They have time to kill as they travel through lightspeed to an unknown destination. Poe reflects that had things gone differently, he and Rey might have met "a long time ago." It seems that Poe's sense of time might be a bit distorted. The events of The Force Awakens and The Last Jedi really only happen over the course of a couple of weeks at most. Also, this might be an inside joke to the reader. In Alan Dean Foster's novelization of The Force Awakens, Poe and Rey actually meet at the end of the story. The Last Jedi overwrote that development and they meet for the first time at the end of that movie.
Retelling an Old Story
To kill some time, Poe agrees to tell the story of how he escaped from Jakku. Readers might recall from the film or the comic adaptation of The Force Awakens, the Poe and Finn's escape from the First Order resulted in Finn waking up alone on Jakku after the TIE fighter they stole was shot down. The fighter itself sunk into the sand and exploded. Finn believed Poe perished in the crash, but eventually learned he survived and escaped Jakku on his own.
Poe tells the story of exactly how he survived in Poe Dameron #26. The discussion around the dejarik table is really the framing device for this older story. In a beautiful two page spread, or double truck, Poe succinctly relates his mission to Jakku, capture by the First Order, and escape with Finn. He did indeed crash with the TIE fighter due to his jacket jamming his release. After that, he found a Blarina, an example of this species is Wollivan (who was scene in Maz's castle on Takodana),  scavenger named Naka Iit. Poe bartered for passage on Naka's speeder and the pair outran bandits. From there, Poe managed transport back to D'Qar and the Resistance.
This story might sound familiar to some readers. That is because it is not wholly original. The tale of Poe's escape was first told in the novelization of The Force Awakens. However, this retelling is much more succinct and is an overall improvement.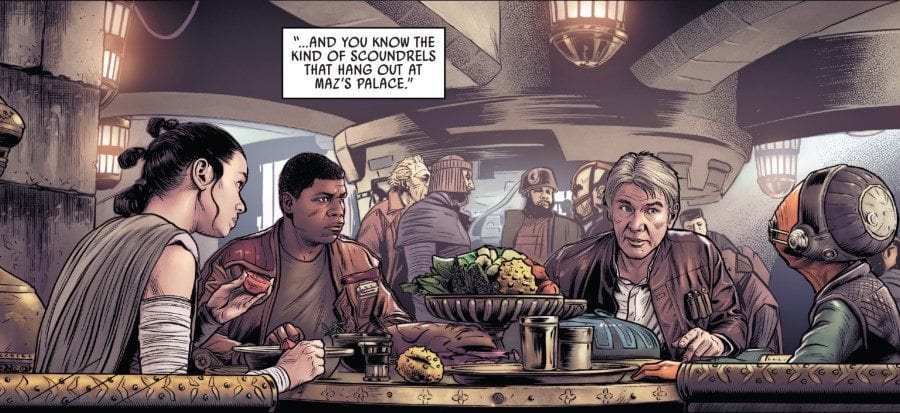 Final Thoughts on Poe Dameron #26
Angel Unzueta and Arif Prianto combined for some wonderful art in this issue. The aforementioned double truck where Poe recounts his part of the adventure leading up to his escape is amazing. Kylo Ren features prominently in one corner of the spread, and he looks dark and menacing. Unzueta also draws a great Finn and Rey.
It seems that there are only so many stories that tie-in to the events of The Force Awakens and The Last Jedi that Poe will be able to tell Rey and Finn. Eventually, he will need to move on to other things, or the story will need to end. Perhaps Poe can tell more stories of his mother and father's (Shara Bey and Kes Dameron respectively) adventures. In the meantime, this is a fun way to fill in some of the gaps. Upcoming stories in this line will include what the rest of Black Squadron (Shap Wexley, Jess Pava, and Karé Kun) were up to during The Last Jedi. One thing is for sure, it is good to see Poe with Finn and Rey.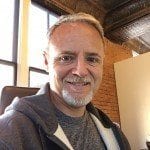 Dennis Keithly is a graduate of the University of Missouri, North Texas attorney, husband, father of two, and co-host of Starships, Sabers, and Scoundrels. In addition to Star Wars, Dennis is a fan of science fiction, fantasy, and super heroes in general. When not engaged in fictional universes, Dennis is reading a good book or watching the NHL, football, or studying the NFL draft.