All facets of Star Wars publishing made their way to New York Comic Con, and they shared details of ongoing and upcoming stories and projects. Here are some of the highlights.
Like its counterpart in San Diego, New York Comic Con brought plenty of publishing news concerning various Star Wars properties. Unfortunately, at least one popular story is ending. However, there was plenty of other announcements for fans of Star Wars comics and books to get excited about.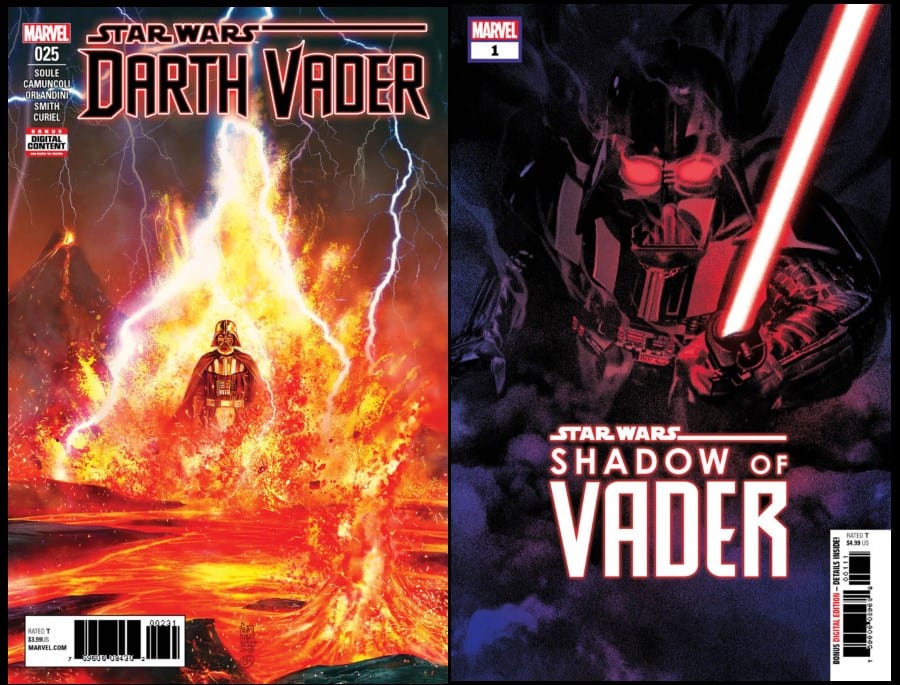 The End of Darth Vader
There is good news, and there is bad news when it comes to Star Wars comics. The bad news first: Charles Soule's acclaimed Darth Vader ends with issue #25 in December, which also ends the "Fortress Vader" story arc. This is the second series by Charles Soule that ended recently. In the past few weeks, Poe Dameron ended with issue #31. Considering that Charles Soule is one the more highly regarded authors of Star Wars comics, this is something of a blow to readers.
Before New York Comic Con even ended, Soule tweeted about the end of Vader. He stated:
"As announced at #nycc, Darth Vader #25 is the conclusion of both FORTRESS VADER and the series – as planned from the start. I'll miss writing 'Lil Ani, but you guys have made this an incredible experience. THANK YOU."
However, fans need not get too concerned. The good news is that Soule isn't done with Star Wars. In the same tweet, Soule concluded, "And no, I'm not done with Star Wars. Exciting things to come." One might expect, and hope, that Soule has a new Star Wars comic series in the works. However, he recently released his first novel, The Oracle Year: A Novel. Therefore, it is possible his next project might be text heavy.
Vader Returns
Even though Soule's Darth Vader ends soon, he isn't leaving the pages of Marvel's comics. Announced and the convention was a new miniseries focusing on the Dark Lord of the Sith by Chuck Wendig. This five issue series begins in January of 2019 and is entitled Vader's Shadow. This series examines Darth Vader from the point-of-view of other characters across the timeline of the Star Wars saga and the effect Vader had on each of them.
Wendig is no stranger to Star Wars. He wrote the Aftermath Trilogy, which told the story of Norra Wexley and her team of Rebels as they fought the Empire in the years after Return of the Jedi. He has also worked in the comic realm with Marvel. Wendig wrote the adaptation for The Force Awakens.  Wendig also has direct experience writing Darth Vader. In fact, his most recent contribution to Star Wars was Darth Vader Annual #2. Wendig knows his way around a Star Wars series, and his take on Vader's influence should be interesting.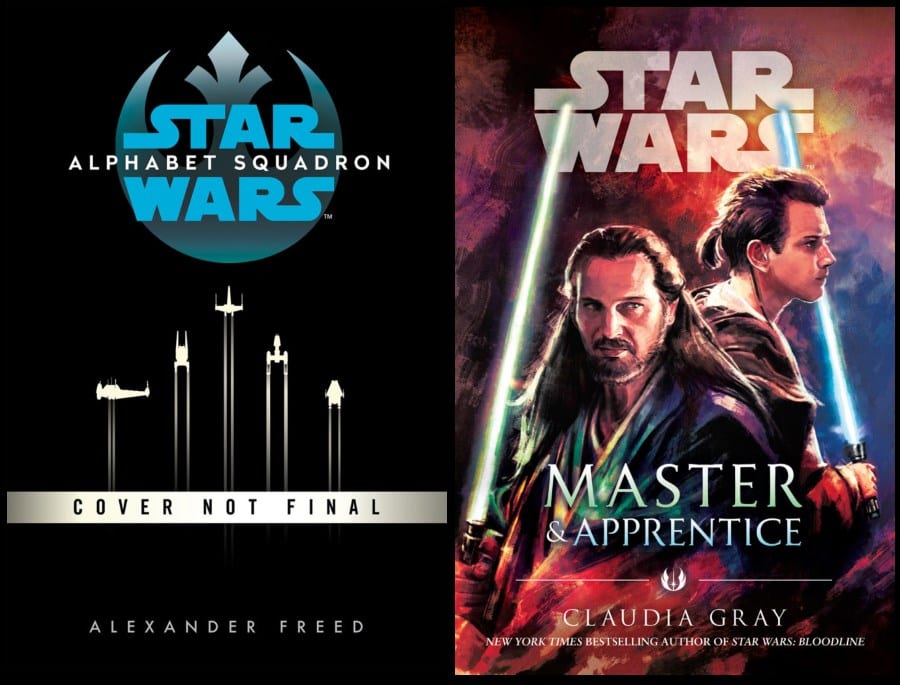 Star Wars Novels – Alphabet Squadron
The news from New York Comic Con didn't just concern Marvel. Del Rey participated and had plenty to share. Perhaps their most exciting announcement was a new novel by Alexander Freed. Due out in June of 2019, Freed's new novel is titled Alphabet Squadron. They shared very little about this novel, but it is set in the time after Return of the Jedi. Alphabet Squadron tells the story of a team of pilots. The hook is that they each fly a different class of starfighter. The cover, which isn't final, includes the silhouette of a B-Wing, U-Wing, X-Wing, Y-Wing, and A-Wing.
The post Return of the Jedi era is popular. Marvel first explored this era with Shattered Empire. As mentioned earlier, Chuck Wendig further explored the fight against the Empire by the Rebellion with the Aftermath Trilogy. Jon Favreau's new live action series takes place in the years after the destruction of the Second Death Star. Unlike the era between Revenge of the Sith and A New Hope, this time period is still ripe for plenty of Star Wars stories.
Other Book News
Also revealed during the panel was the cover for Master & Apprentice by Claudia Gray. The cover features Qui-Gon Jinn and Obi-Wan Kenobi. Del Rey announced this book prior to New York Comic Con. This novel is eagerly awaited by many readers. Gray wrote some of the most highly regarded Star Wars novels of the new canon, including Lost Stars, Bloodline, and Leia: Princess of Alderaan.
The publisher panel also featured a first look at some of the art from Amy Ratcliffe's book, Star Wars: Women of the Galaxy. Some of the images included art highlighting Jyn Erso, Phasma, Leia, Rose Tico, and Enfys Nest to name a few. This book is scheduled for release in October of this year.
The panel included the announcement of a new pair of books by Christian Blauvelt. The first of these books is Be More Like Vader. The author teased that this book is useful when starting a new job. The other book is Be More Like Yoda. It is described as "looking at mindfulness lessons that all of the saga's heroes can teach us."
Other Comic News
Robbie Thompson was also on hand to discuss the previously announced Han Solo: Imperial Cadet. This is a tie-in comic series to Solo: A Star Wars Story, and features Han's time in the Imperial Academy, which was left out of the film itself. Thompson described the pitch for this series as Full Metal Jacket meets Stripes. This limited series debuts on November 7, 2018. Thompson has previously written for Marvel's Star Wars comics with Poe Dameron Annual #1.
This winter also sees the debut of Marvel's maxi-series that spans three eras of Star Wars including Age of Republic, Age of Rebellion, and Age of Resistance. Jody Houser is writing Age of Republic. The first stories feature Qui-Gon Jinn and Darth Maul. Grek Pak takes over with Age of Rebellion. Some of those stories will include Princess Leia and Darth Vader and begins in April of 2019. Finally, Tom Taylor assumes control of the series with Age of Resistance in July 2019.
Concluding thoughts on the Publishers Panel from New York Comic Con
New York Comic Con gave Star Wars readers and fans a lot to look forward too. Whether your taste lies with comics, novels, satire, or analysis and criticism, there was something for everyone. Although it is difficult to let beloved series like Darth Vader go, it is exciting knowing that so much other content is on the way.
Dennis Keithly is a graduate of the University of Missouri, North Texas attorney, husband, father of two, and co-host of Starships, Sabers, and Scoundrels. In addition to Star Wars, Dennis is a fan of science fiction, fantasy, and super heroes in general. When not engaged in fictional universes, Dennis is reading a good book or watching the NHL, football, or studying the NFL draft.