The Dark Lord of the Sith and Tarkin engage in a little rivalry while investigating the sabotage of the Empire's biggest project in Darth Vader Annual #2.
This review discusses plot points of Darth Vader Annual #2.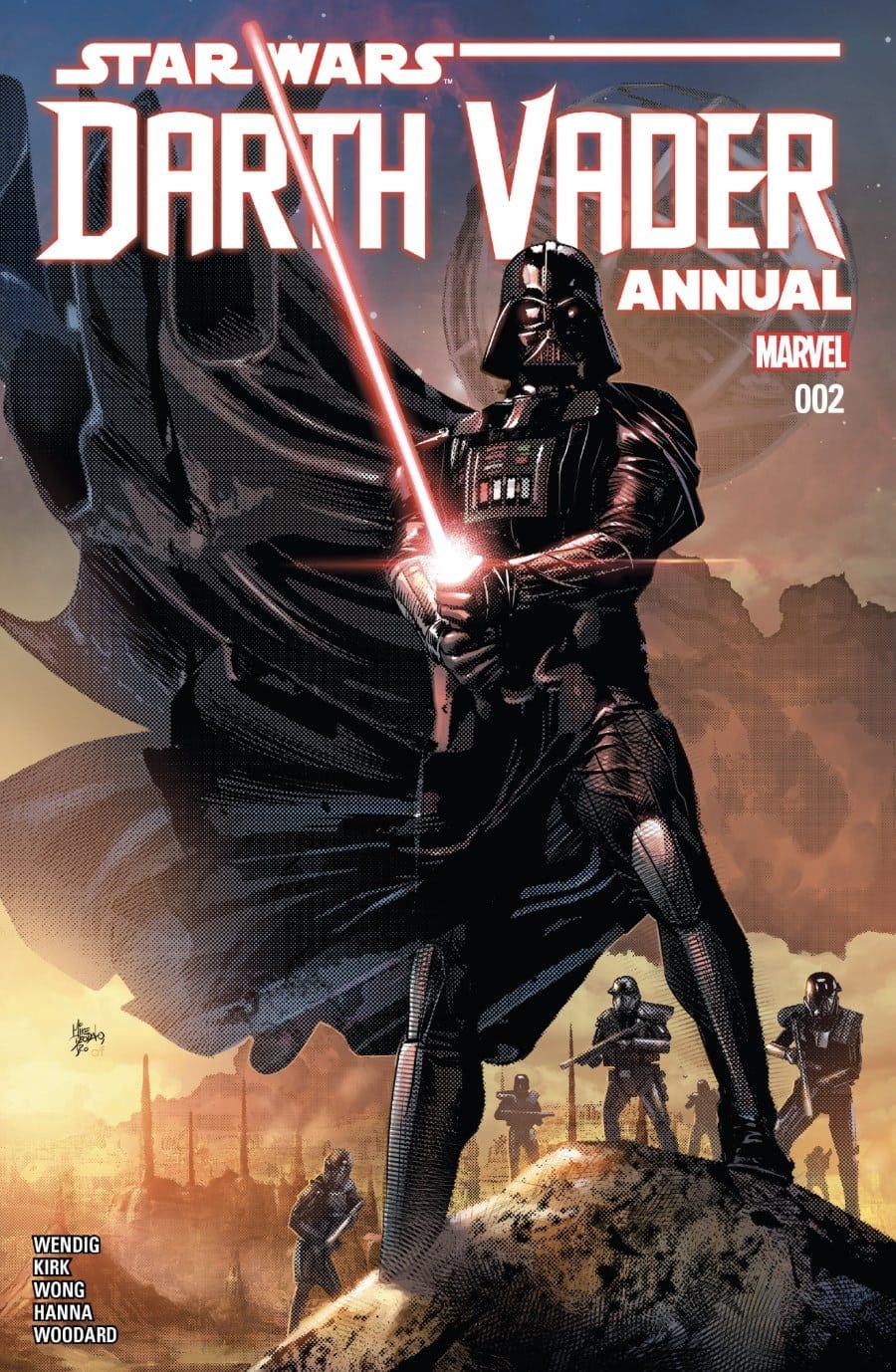 Darth Vader Annual #2
Writer: Chuck Wendig | Penciler: Leonard Kirk | Inkers: Walden Wong; Scott Hanna | Colors: Nolan Woodard | Cover Artists: Mike Deodato Jr. & Arif Prianto | Letterer: VC's Joe Caramagna | Assistant Editor: Tom Groneman | Editors: Heather Antos & Mark Paniccia
If Star Wars has an abundance of anything right now, it is great Darth Vader stories. Recently, Charles Soule told an amazing story focusing on Vader's need for a challenge and his relationship with Grand Moff Tarkin in Darth Vader #18. Now, Chuck Wendig tells another story of the Emperor's top two lieutenants in Darth Vader Annual #2. The Empire is growing. Vader and Tarkin's roles are evolving with it. In addition, Vader confronts another threat to his authority. Darth Vader Annual #2 highlights the rivalries for power in the Emperor's galaxy.
Galactic Connections
Darth Vader Annual #2 tie-ins with several other Star Wars stories. As previously mentioned, the Tarkin and Vader relationship received attention in Darth Vader #18. There the rivals for the Emperor's favor hunted each other on a barren world and earned each other's respect. Their relationship also is explored in James Luceno's novel Tarkin. In that novel, Vader assisted Tarkin in recovering his personal ship, the Carrion Spike. Finally, the prequel to Rogue One, Catalyst, also written by Luceno, which touches on the development of the Death Star. There is a chilling reference to Attack of the Clones later in the issue.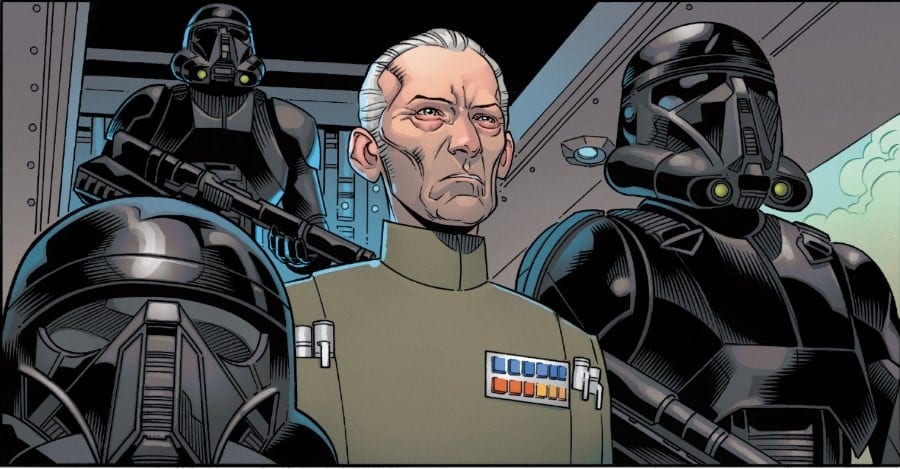 Demotion
The issue begins with Tarkin arriving unexpectedly on Scarif. Vader is there. This annoys Tarkin because Vader is digging through Project Stardust. When Tarkin demands that he stand down, Vader responds that isn't under Tarkin's command. Tarkin gleefully disputes this and calls the Emperor to set things straight. This is a recent change. During the subjugation of Mon Cala, Tarkin expressly recognized that Vader wasn't his to command. He asked for a personal favor. Now, the Emperor has placed Vader at Tarkin's disposal. This rankles Vader. While the Moff dresses him down, he envisions ending Tarkin's life multiple ways.
Tarkin and Vader come off as rivals in Darth Vader Annual #2. It isn't a professional rivalry, and they don't seem to like each other much. This seems like a new sentiment that contrasts with their relationship as established in Tarkin and volume one of the Darth Vader series. In fact, Tarkin expressed a great deal of admiration for Vader at the conclusion of Darth Vader #18. However, personal power is at stake, and these two alpha males are battling for position.
Krennic and the Investigation
Tarkin tasks Vader with investigating acts of sabotage of Project Stardust on Geonosis. Once he arrives, he meets with Director Krennic. In fact, Vader saves them both from a bomb mere moments after his arrival. In Darth Vader Annual #2, Krennic is as narcissistic as he was in Rogue One. He too has a rivalry with Tarkin, but Vader is not his ally. Regardless, Vader later learns that Galen Erso is at the heart of a tug of war between Krennic and Tarkin and shifts his investigation to Galen's home on Coruscant. There he discovers evidence that rogue Geonosians are behind the sabotage. He deals with them most severely.
The Ghost of Anakin
Once the Geonosians are dealt with, Vader reports back to Tarkin. He lays out the evidence confirming the Geonosians as the saboteurs. He spared no mercy for them as he cut them down. Tarkin asks how exactly Vader dealt with them. He has a chilling response: "They were animals. So, I slaughtered them like animals." Star Wars fans will remember this as a call back to Anakin's darkest moment from Attack the Clones when he explains how he killed all the Tuskens after his mother's death. This was brilliant writing and a stunning reference by Wendig.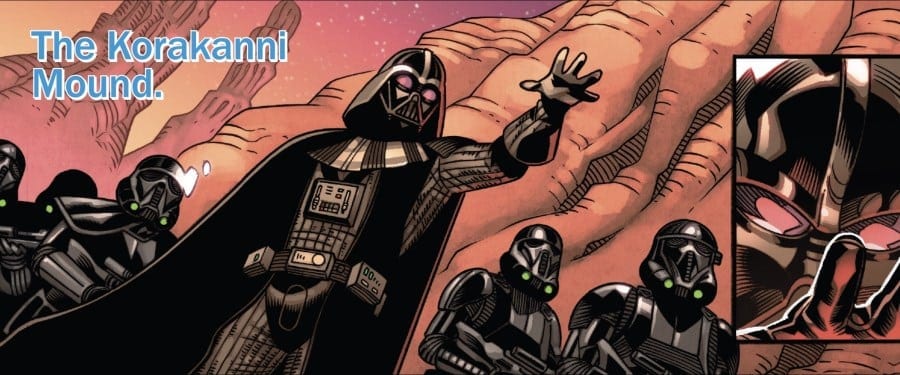 Technological Terrors
Before Vader takes his leave of Tarkin, he confronts the Moff with the truth of the Death Star. He knows its true purpose. Although Krennic and Tarkin have carefully hidden its true nature, the Kyber crystals in Galen's office provided Vader with he missing link. Of course, the Death Star is a planet-killer. The Kyber crystals magnify its destructive output.
Tarkin rather enjoys taunting Vader with the prospect of the Death Star becoming the most terrifying thing in the galaxy. It will supplant Vader for the title. He can't help but rub it in Vader's face. After all, Tarkin is the man in charge of the Death Star. Therefore, he will be the most terrifying man in the galaxy.
Vader cautions Tarkin. At first, it is a gentle rebuke. Vader took the taunting from Tarkin because the Emperor ordered Vader's subservience to the Moff. However, Vader warns Tarkin that too much is invested in the Death Star. Furthermore, Vader predicts Tarkin's demise with the prediction it will be Tarkin's tomb.
An Unexpected Warning
After Vader and Tarkin's confrontation concludes, the scene shifts to Lyra Erso on Alpinn. There, Lyra is collecting Kyber crystals for Galen. Her work is interrupted by an unidentified droid sent by an unidentified master. The droid has a warning. In short: Galen's work is for a superweapon. Countless lives are at stake. Plus, what would Jyn think of Lyra and Galen if she knew? Then the droid self-destructs and Lyra rushes to warn Galen.
Although unspoken, the inference is that Vader sent this droid to Lyra. This is very curious. Certainly, Vader appears to be jealous of the new superweapon. But, Vader relentlessly tracked down the plans for the Death Star in A New Hope after they slipped through his fingers in Rogue One. Something about this move seems inconsistent for Vader.
Concluding Thoughts on Darth Vader Annual #2
Overall, Darth Vader Annual #2 is an entertaining story. It ties multiple stories from the books and movies together. The art by Leonard Kirk, Walden Wong, Scott Hanna, and Nolan Woodard suits Star Wars perfectly. Vader and Tarkin's relationship is very thought provoking. Even though they are at odds in this issue, they come to some understanding by the time of Rogue One. The most puzzling part of this issue is the inference that Vader sent the droid to warn Lyra Erso. Perhaps he was protecting his position in the Imperial hierarchy. Or, maybe he hated Tarkin and Krennic that much. This simply seems like an extremely drastic measure to take, and one that he must have regretted later. Annual issues frequently set up later stories. This one potentially set up a major conflict for later.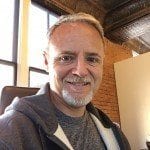 Dennis Keithly is a graduate of the University of Missouri, North Texas attorney, husband, father of two, and co-host of Starships, Sabers, and Scoundrels. In addition to Star Wars, Dennis is a fan of science fiction, fantasy, and super heroes in general. When not engaged in fictional universes, Dennis is reading a good book or watching the NHL, football, or studying the NFL draft.