Vader's motivation behind his palace on Mustafar dominates Darth Vader #21 – Fortress Vader Part III. Plus, an old mysterious artifact returns to comics.
This review contains plot details for Darth Vader #21 – Fortress Vader Part III.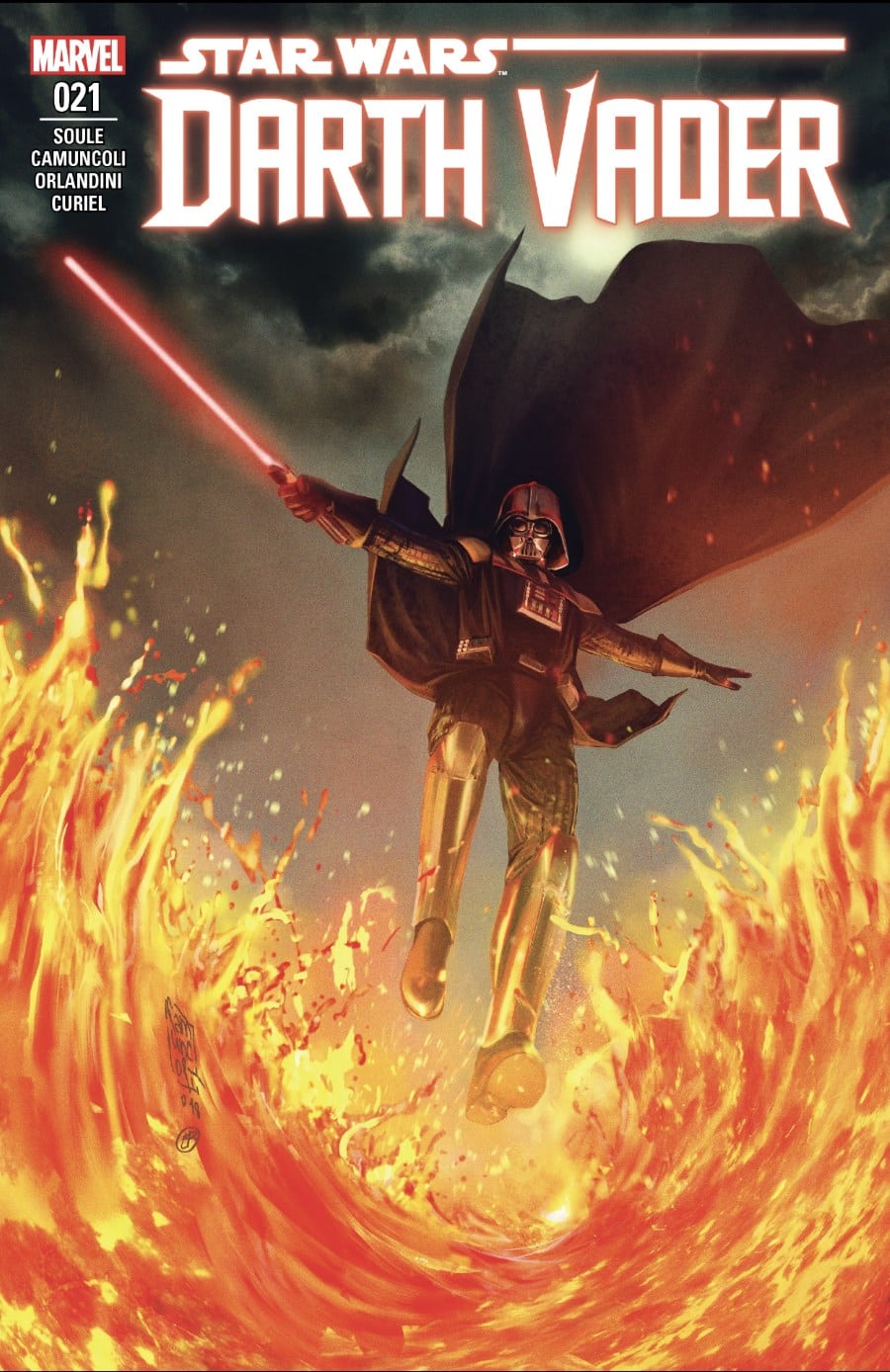 Darth Vader #21 – Fortress Vader Part III
Writer: Charles Soule | Layouts: Giuseppe Camuncoli | Finishes: Daniele Orlandini | Colors: David Curiel | Letterer: VC's Joe Caramagna| Cover Artists: Giuseppe Camuncoli & Elia Bonetti | Assistant Editor: Tom Groneman | Editor: Mark Paniccia
In Darth Vader #21 – Fortress Vader Part III, Vader arrives on Mustafar with a design team for his new fortress. Vader is a tough customer, and his unspoken requirements make the architectural design a challenge. Colonel Brenne and her assistant, Lieutenant Roggo, are tasked with designing Vader's new headquarters on the lava moon. Making things additionally difficult was a final gift Palpatine presented Vader before he left Coruscant. Fortress Vader Part III provides some answers about an artifact that has a recurring role in Star Wars comics while offering readers insight into Vader's state of mind and being.
The Mask of Lord Momin – A Mystery Solved
Sith artifacts with the power to possess or influence those around them have become an interesting part of Star Wars storytelling in the comics. In this issue, the Emperor presents Darth Vader with the Mask of Lord Momin before he departed for Mustafar, a Sith from times past. The Mask of Lord Momin first appeared in the original Lando miniseries. There, just as here, it influenced those around it. Many of Lando's companions fell prey to its power and they turned on each other. Ultimately, Lando destroyed the ship carrying this Sith treasure, and it is presumed the Mask of Lord Momin perished with it.
Similarly, the lightsabers of Darth Atrius exhibited an extreme influence on those who wielded them. In Star Wars Annual #4, these sabers subtly pushed Luke Skywalker towards the dark side, and they even provoked another level of aggression in Darth Vader. Keep in mind that the Annual occurred after the events of A New Hope, and Vader's interaction with the Mask of Lord Momin occurs well before then. Perhaps, Vader learns a lesson from the mask that he applies to the sabers. At the end of that issue, Luke and Vader each individually destroy a saber rather than risk further exposure to the influence.
The Mask of Lord Momin does its dirty deeds in Darth Vader #20 – Fortress Vader Part III as well. Lieutenant Roggo falls prey to its influence and kills Colonel Brenne. Vader immediately kills Roggo upon discovering the influence of the Mask.
The Influence of the Mask
As in Lando, the Mask of Mimon influences those that are near it or wear it. Lando's crew became aggressive and power hungry. In Darth Vader #21 – Fortress Vader Part III, Lieutenant Roggo killed Colonel Brenne under its influence. However, the mask seemed to inspire him. He developed a plan for Vader's fortress that Vader seems to find appealing. This is in keeping with what Sidious tells Vader about Momin when he presents the mask to him. Mimon was unusual among the Sith. Instead of establishing a legacy through destruction, he created a legacy through creation.
The question is whether this mask is influencing Vader or if it is capable of doing so. Sidious learned of Mimon's history directly from the mask. The story of Mimon had otherwise been suppressed by the Sith due to his heretical nature. Therefore, Sidious seems immune to his power. The beginning of this issue depicts Vader meditating on and studying the mask. In his vision, Vader sees a young Anakin looking upon Mimon's mask. Anakin turns to face Vader, and when he does, Anakin's face is distorted to look like Vader's mask. This vision might have been influenced by the fact that Vader was on Padmé's royal starship as well.
The Meaning of Vader's Vision and Why Mustafar
What does Vader's vision of his younger self mean? Perhaps it is some sort of encouragement from the Mask of Lord Mimon. Alternatively, it may be what Vader is searching for on Mustafar. Although Palpatine believes Vader is looking for Padmé there, perhaps Vader is looking for some way to regain his humanity. The vision could also be telling him his condition was fate.
Before Palpatine sent Vader on his way to Mustafar, he demanded to know why Vader chose Mustafar over any other world. Vader breaks a long silent pause to finally answer Palpatine. When he bled his crystal at the locus of dark side power there, he saw deeper into the Force than ever. Vader believes things are possible on Mustafar at this nexus that are impossible elsewhere.
Palpatine interprets Vader's response as a Vader's desire for his dead wife Padmé. He compliments Vader as the perfect Sith that let's nothing go. It is unclear that is exactly what Vader had in mind, but keep in mind what he did to Padmé's former starship.

The Fate of the Royal Starship
In addition to the Mask of Lord Mimon and Mustafar, the Emperor bestowed Padmé's former ship, the J-Type Nubian, as a gift up on Vader. In the prior issue, Vader forcefully prevented a droid from completing repairs. In "Fortress Vader Part III," Vader further wrecks this ship. When they approach Mustafar, he takes the helm. To the crew's horror, he elects not to put up any heat shielding on the craft as it lands. Although Vader safely lands the ship, the exterior is a wreck. Colonel Brenne takes this a clue as to Vader's favored aesthetic.
Perhaps the ship reminds Vader of his former life. Once he ruined the ship, it is more like him: burned by the lava and fire of Mustafar. That might also explain his vision of a young Anakin at the beginning. He can't think of himself as somebody else anymore. In Timothy Zahn's latest novel, Thrawn: Alliances, Vader thought of Anakin, his former self, as "the Jedi." He wasn't fond of those memories.
Concluding Thoughts on Darth Vader #21 – Fortress Vader Part III
Darth Vader #21 – Fortress Vader Part III elevates the tension and mystery of this story arc. Although there isn't a lot of combat, there is plenty of action. Soule has embedded a lot of symbolism in this story, particularly in this issue. Much of it seems incapable of complete interpretation until the story concludes. However, it successfully creates plenty of intrigue and anticipation for the next issue.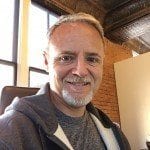 Dennis Keithly is a graduate of the University of Missouri, North Texas attorney, husband, father of two, and co-host of Starships, Sabers, and Scoundrels. In addition to Star Wars, Dennis is a fan of science fiction, fantasy, and super heroes in general. When not engaged in fictional universes, Dennis is reading a good book or watching the NHL, football, or studying the NFL draft.