Wanna hear about Star Wars? Let's go: Ralph McQuarrie. Chicken in the Pot. SDCC Exclusives. Mungo Baobab. Star Wars Jedi Fallen Order. Throw in a couple of chimichangas, some finger sandwiches, and maybe some fine bourbon, and you know you've found the Star Wars party.
Chris and Joe are here to party! After smashing a couple of chimichangas, the guys pour a little bourbon and get down to business! We're celebrating Ralph McQuarrie's birthday. We're talking about new Star Wars video games (Star Wars Jedi Fallen Order). We're talking Celebration Chicago, Hayden Christensen, Chicken in the Pot, and SDCC Exclusives. You know what time it is, so let's GO, Warheads! The Star Wars Party starts NOW! It's time for Brews and Blasters.
---
Brews and Blasters 172: Get the Kenners Get the Exclusives
Also in this Episode
Welcome to Brews and Blasters—the original Star Wars party!
The boys took their wives out for Mexican food.

Joe had chicharones for the first time.

Yoda impressions get into some deeper talk on the Empire Strikes Back
We got Broom Boy!
We got a surprise package in the mail!
A story about Joe's niece and action figures
Remembering Ralph McQuarrie and some of our favorite
Hayden plays soccer/football for charity
Chris' Celebration ticket sale experience
E3/EA Play Star Wars Video Game Announcements

Star Wars Jedi Fallen Order
Oppo Rancisis is clearly in this game.
Other characters in the game include: Depa Bilaba, Mungo Baobab, Bilobalabo, Bill and Bob's Roast Beef.

Serious discussion on Chris' favorite Collectors Hutt t-shirt
NeedEm GotEm:

SDCC Exclusives have been announced!

Rey Starkiller Centerpiece w/Kylo Black Series figure
Empire Strikes Back Han Solo w/Mynock
Vintage Collection Aphra, 0-0-0 & BT-1

Toys R Us Canada Exclusive Battle Damage Stormtrooper

Email

Discussing "Chicken in the Pot" (frog-guy and the lady song)
Similarities to the Narcos theme?
Credits at the beginning of old movies

Listen to the very end.
Subscribe: Apple Podcasts | Spotify | Stitcher | Google Play | Soundcloud | iHeart Radio | TuneIn | RSS
RetroZap Podcast Network: Apple Podcasts | Google Play | RSS
Social:  BrewsAndBlasters.ninja | Facebook | Facebook Group | Twitter | Instagram
Email: [email protected]
Voicemail: (978) 219-6688
Support the Show
If you like Brews and Blasters, the best way to support the show is to leave us an iTunes review. We know it's a pain, but it helps, honestly, because more people will find the show. If you take the time, we'll really, really appreciate. Plus, you'll win an Oppo Award!
Sa'Kalla!
Support These Things!
First, you have to subscribe using the podcast app of your choice. Then, Go to JediNews and Fantha Tracks for ALL your Star Wars information! Finally, for the best Star Wars podcast reviews out there, head over to Roqoo Depot.
If You Like This Episode, Check out this previous one!
---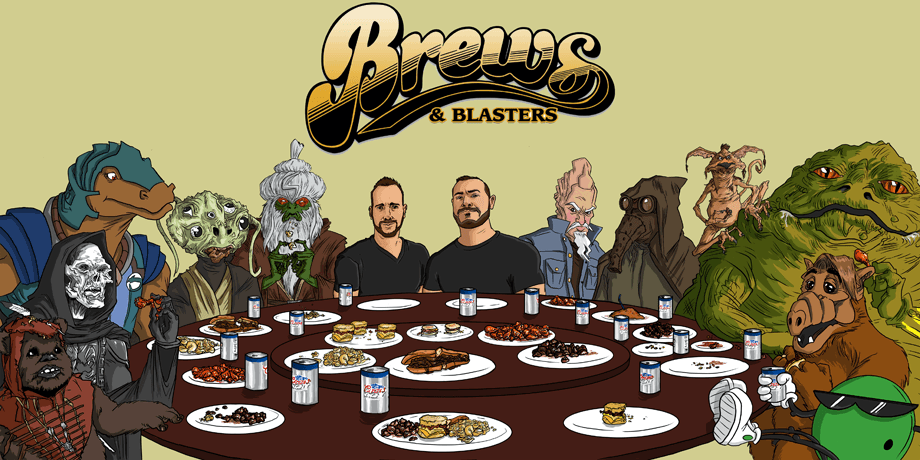 click the banner for all episodes and homepage
Born from the discussions between two friends at a local pub in the historic town of Salem, Massachusetts, Brews and Blasters is your chance to kick back, relax and then enjoy everything about that galaxy far, far away. Your hosts, Chris Salton (founder, The Collectors Hutt) as well as Joe Tavano (founder and editor in chief, RetroZap!) sit down every week to do what would be doing anyway–talk about all things Star Wars, tell some stories, and of course, have a good time.
Join Joe and Chris as they share their love for Star Wars, the most obscure Star Wars characters, Boston's North Shore, 1980s pop culture and delicious food, and occasionally talk to fascinating people–and friends, like an anthropomorphic packet of crystallized lime.
Brews and Blasters 172: Get the Kenners Get the Exclusives