Thrawn out maneuvers his comrades and sets the trap for his current nemesis in Thrawn #5.
This review includes discussion of plot points of Thrawn #5.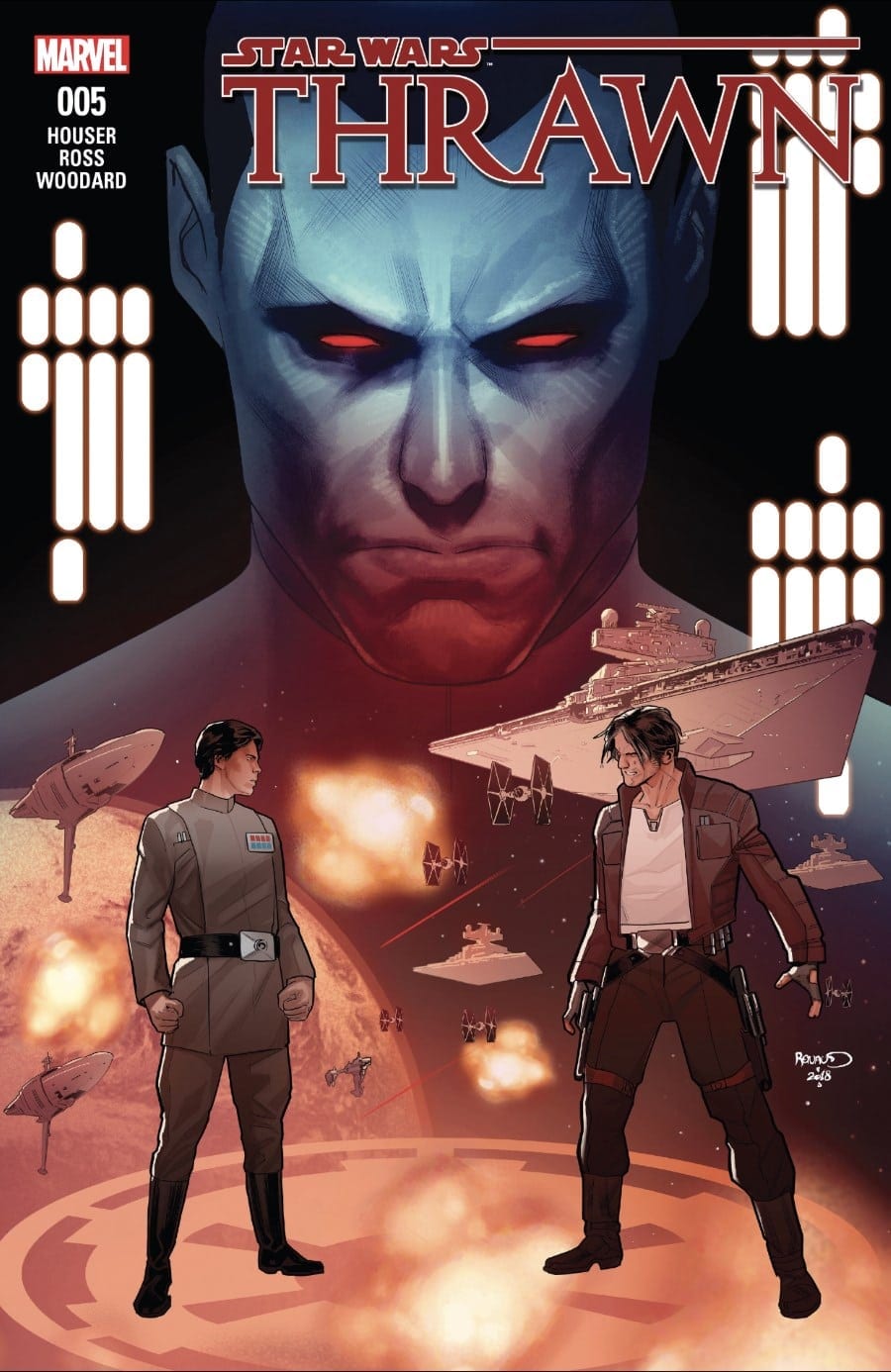 Thrawn #5
Writer: Jody Houser | Artist: Luke Ross | Colorist: Nolan Woodard | Letterer: VC's Clayton Cowles | Cover Artist: Paul Renaud | Production Design: Anthony Gambino | Assistant Editor: Tom Groneman | Editors: Heather Antos & Mark Paniccia | Based on the novel by Timothy Zahn
Thrawn #5 continues the adaptation of the Timothy Zahn novel that retold Thrawn's origins within the Empire. Despite the Empire's prejudice against aliens, Thrawn clawed his way up the ranks and achieved the rank of admiral. In the prior issue, Thrawn deftly refused an assignment he felt was unwise. However, it was all a ruse. After preparing his fleet for their current assignment, Thrawn and his aide, Eli Vanto, snuck back to the battle at Btonn aboard a smuggled freighter. There, Thrawn enacts his latest scheme to defeat the Empire's enemies.
A Doomed Attack
As Thrawn predicted, the attack on the captured garrison on Batonn goes poorly for the Empire. Thrawn and Vanto watch from afar as the insurgents bombard a Star Destroyer with ion fire and an unexpected turbolaser. Using the intellect he is famous for, Thrawn sniffs out another freighter fleeing from the battle. Next, Thrawn has Vanto pose a fellow smuggler looking for an opportunity to buy or sell illicit goods. This opens an opportunity to interact with the smugglers and discover the identity of their employers. This scene of Thrawn #5 illustrates the folly of Imperial hubris. Many of its leaders believe too much in Imperial might. Through technological supremacy, they expect victory in any confrontation. This is reminiscent of colonial and imperial themes from other contemporary literature.

The Ruse
Thrawn has Vanto go to great lengths in order to pose as a smuggler disguised as an Imperial. They are clever, but subtle touches. First, Vanto wears an Imperial officer's uniform that is too large. This is designed to intimidate people. However, the "disguise" uniform is purposely too large and includes a blaster burn. This is intended to convey the idea that it is a disguise, and one the smugglers could see through. Finally, Thrawn gives Vanto a holdout blaster. It is the type of thing smugglers would look for, and it would be suspicious if he didn't have some sort of weapon. Although this scene isn't particularly dynamic, it is a well written display of Thrawn's skills of observation, interpretation, and infiltration. It is scenes like these where Thrawn earns his reputation for his powers of observation and deduction.
Nightswan Unmasked
Once aboard the smuggler's ship, Vanto quickly meets the captain, whom is none other than Nevil Cygni. This man was the pirate Thrawn and Vanto encountered in Thrawn #2. Cygni wastes little time in confirming that he is indeed Thrawn's nemesis, Nightswan. However, Cygni misinterprets what is happening and assumes that Thrawn sent Vanto to infiltrate his ship. Furthermore, he assumes that Thrawn commands the fleet at Batonn and that Thrawn will soon face defeat and humiliation within the Empire. Contrary to Cygni's conclusions, Thrawn initiates his attack, frees Vanto, and the pair escapes on one of Nightswan's ships. If this scene was intended as a dramatic reveal, it seems a little flat. Of course, many readers already read the novel, and therefore, it isn't a surprise at all. Regardless, the antagonists of this story now know each other's identities.
The Attack on Batoon
Once Thrawn returns to his ship, the high command meets via holoconference. Thrawn's fleet is reassigned to take the lead on the assault on Batonn after Admiral Durril's incompetence embarrassed the Empire . However, before he initiates his attack, Colonel Yularen and Governor Pryce arrive on the Chimaera. Pryce reveals that her parents are on Batonn. This presents an opportunity. Pryce offers to obtain intel on Batonn's defenses if she is permitted to retrieve her parents.
Meanwhile, Yularen pulls Vanto aside. The Colonel expresses concern with how Thrawn deployed his fleet. It makes no tactical sense to him. Furthermore, Yularen is concerned that Nightswan managed to get under Thrawn's skin. Therefore, he asks Vanto to keep an eye on his commander. Vanto suspects Thrawn is setting a trap, even if he doesn't fully understand how it will work. This is another fine scene. Yularen was traditionally a staunch supporter of Thrawn, but even he doesn't always understand what Thrawn is up to. These panels successfully illustrate how Thrawn's brilliance confounds even his supporters at times.

Pryce's Lies
Governor Pryce, in disguise, travels to the surface of Batonn with an operative to carry out their mission. Despite the story they use to gain access to Batonn's mines and the area of insurgency, Pryce creates a diversion to get her parents off Batonn without actually completing the reconnaissance mission. She reveals the truth of the matter to her parents. The Empire will bombard this area. Her parents are mortified that they can't rescue their friends, but Pryce offers them no opportunity to do so. Although Pryce's motivations are adequate, this issue is a little light in the background details that will get her into a predicament later. How the next and final issue handles that remains to be seen.
Arranging a Rendezvous
The issue concludes with Thrawn contacting Nightswan. Thrawn's communique surprises Cygni. Thrawn managed to find the frequency Cygni used on the freighter he and Vanto captured. Thrawn explains that he wants a face-to-face meeting with Cygni in the final panel of the issue.
Final Thoughts on Thrawn #5
Thrawn #5 continues a good adaptation of Zahn's novel. Unfortunately, some of the details from the book are missing, but the adaptation makes up for it with excellent artwork by Luke Ross. In fact, it is Ross's work that truly makes this a Star Wars story. The pacing in Thrawn #5 is perfect, and it highlights Thrawn's intellect in a way that many episodes of Rebels simply couldn't. There are some fun nods to other Star Wars material as well. For instance, the freighter Thrawn and Vanto stole is of the same make and model as Anakin's freighter, the Twilight, in the Clone Wars. By the end of this issue, everything is in place for the conclusion of the story in Thrawn #6.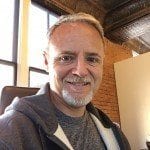 Dennis Keithly is a graduate of the University of Missouri, North Texas attorney, husband, father of two, and co-host of Starships, Sabers, and Scoundrels. In addition to Star Wars, Dennis is a fan of science fiction, fantasy, and super heroes in general. When not engaged in fictional universes, Dennis is reading a good book or watching the NHL, football, or studying the NFL draft.