Thrawn successfully resolves a territorial dispute to nobody's satisfaction in Thrawn #4.
This review includes discussion of plot points of Thrawn #4.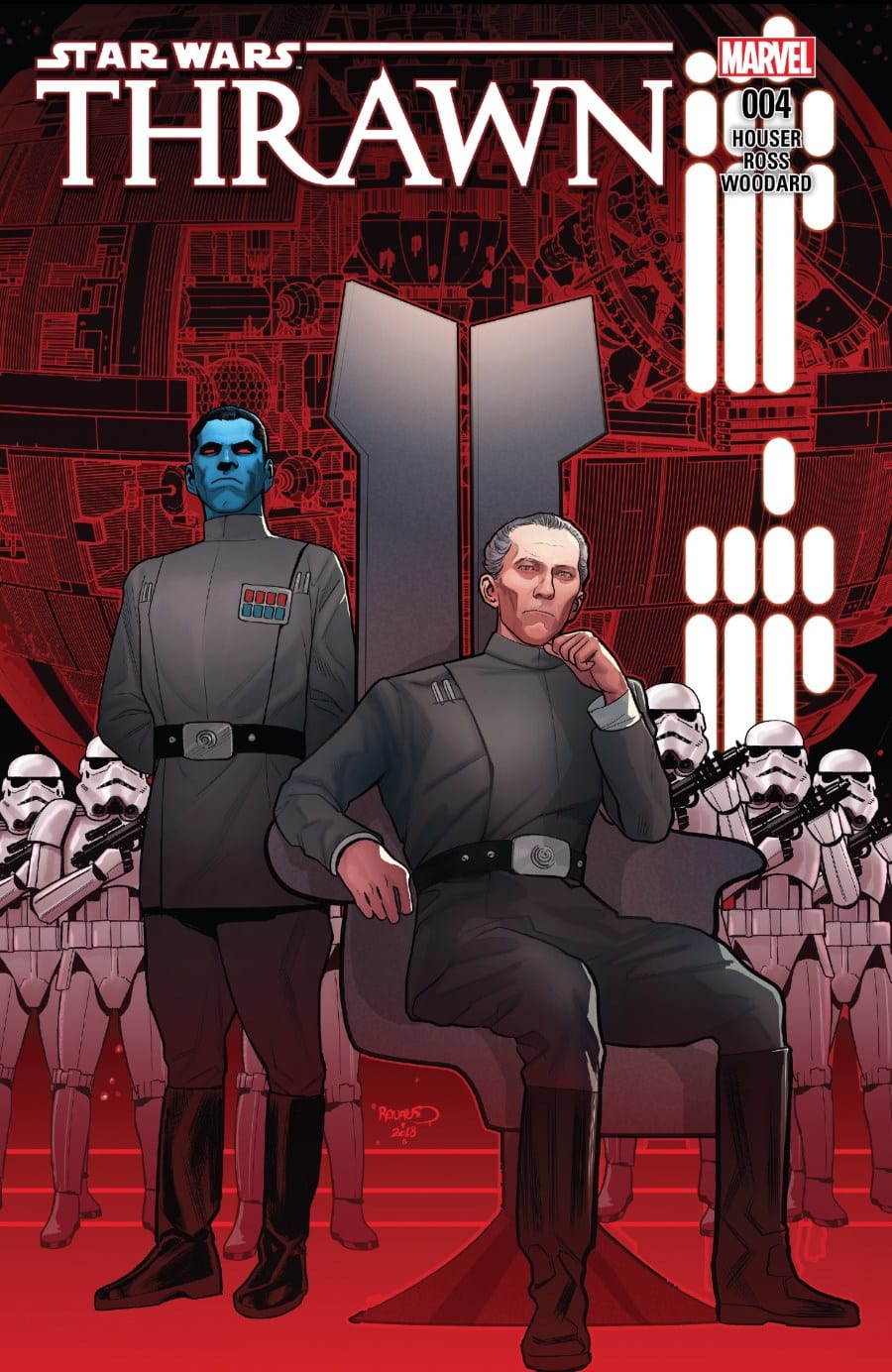 Thrawn #4
Writer: Jody Houser | Artist: Luke Ross | Colorist: Nolan Woodard | Letterer: VC's Clayton Cowles | Cover Artist: Paul Renaud | Production Design: Anthony Gambino | Assistant Editors: Tom Groneman & Emily Newcomen | Editor: Heather Antos | Supervising Editors: Jordan D. White with Mark Paniccia | Based on the novel by Timothy Zahn
It is sometimes said that in complicated negotiations, the best resolution is when nobody is happy. That is the case in Thrawn #4. Commander Thrawn arrives at Cyphari with a mission to resolve a land dispute. On one side is the Afe clan of the native Cyphari. On the other is a human colony. Thrawn and his aide, Ensign Eli Vanto, sniff out the interference and influence of Thrawn's rival Nightswan. Thrawn is uncertain exactly how many galactic incidents of smuggling, theft, and unrest over the past few months Nightswan played a part in, but he has no doubt Nightswan played a part in at least some of them. Now, he views the current dispute as an invitation by Nightswan to spar. After some investigation and careful planning, Thrawn overcomes Imperial prejudice and politics to get to the bottom of the dispute in Thrawn #4.
Imperial Prejudice
The human colony undoubtedly believed that an Imperial investigation would favor them. This is a natural belief given that the Empire is prejudiced against non-humans. The first three issues of Thrawn illustrated this. Thrawn had to fight this very prejudice when attending the academy. Therefore, the dispute committee was likely surprised when Thrawn showed up, an "alien" himself, and didn't immediately take their side in the dispute. Instead, Thrawn elected to investigate for himself.
Chief Joko of the Afe also expected Imperial prejudice. When Thrawn showed up, he remarked it was fortunate that the clan meeting house, which was rich with culture and history, was not damaged in the latest alleged human attack. Joko noted that few from the Empire would have noticed or appreciated that fact.

The Investigation and Trap
After consulting with both sides of the conflict, Thrawn quickly deduces a conspiracy. Some of the human colonists are raiding the Afe territory to secure spice developing under the Afe grain fields. Together with Vanto, they stage an ambush and capture the human raiders, including a member of the human's dispute committee. Once captured, Thrawn interrogates him and confirms Nightswan's involvement.
Nobody is Happy
Unfortunately, even after catching the human raiders, Thrawn has nearly nothing to charge them with. The possession of the pre-spice growing under the grain field is not a crime. The refined spice is safely hidden away. Therefore, Thrawn reaches for another solution. He has the spice vein marked by a TIE fighter and then bombed by his Arquitens-class light cruiser, the Thunder Wasp. This brings the conflict to a close. However, nobody is happy. The humans lost their source of the pre-spice. The Afe had their grain fields bombed. Despite Thrawn's successful resolution that ends the raids and saved lives, the Afe are most displeased.
So is the Empire for that matter. Joko appealed Thrawn's actions. Thrawn's superiors are furious. When Vanto expresses confusion about this, Thrawn explains why. The Empire doesn't want free thinkers. More accurately, the admirals above Thrawn want soldiers that will obey their authority and follow their procedures. Thrawn circumvented this and came up with his own solution. Thrawn is unpopular simply because he doesn't play the Imperial political game.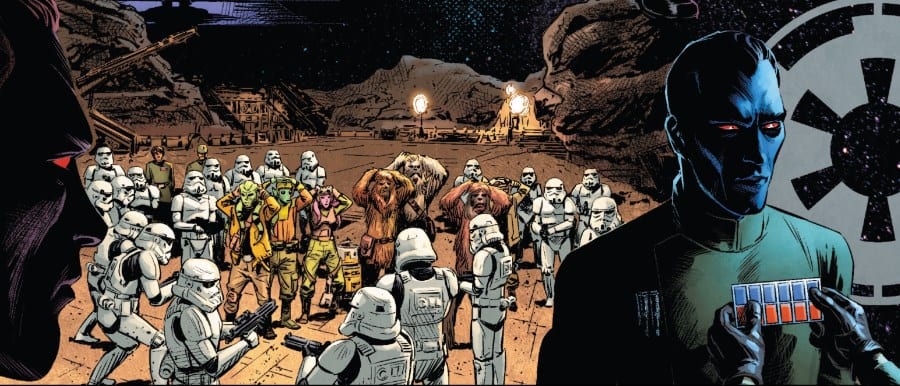 Friends in High Places
Thrawn gets away with ignoring the politics of the Empire because he has friends in high places. His allies recognize his brilliance. Among those allies are Colonel Yularen of the ISB and Grand Moff Tarkin. Thrawn found himself in Tarkin's good graces by assisting Governor Pryce in Thrawn #3. Although his actions are recognized as not politically astute, Yularen notes that one cannot argue with results. Some short time later, Thrawn is then promoted to Commodore, and Vanto receives a long overdue promotion to lieutenant commander.
Concluding Thoughts on Thrawn #4
Thrawn #4 concludes with Thrawn receiving a transfer to his famous flagship, the Imperial Star Destroyer Chimaera. At some point, he receives another promotion to admiral. Thrawn then disputes the wisdom of a proposed assault on an Imperial garrison taken over by insurgents. When he argues with his superior about the wisdom of assaulting the garrison he is reassigned. However, he leaves that mission to a subordinate so that he and Vanto might plan an alternative attack on the captured garrison as Thrawn #3 concludes.
Overall, Thrawn #4 as an adaptation is a superior to the corresponding portion of the novel. Thrawn's investigation and resolution of the dispute on Cyphari is more succinct, and that coupled with Luke Ross's art gives the tale much more of a Star Wars vibe. This issue flows much more quickly than the prose in Thrawn. In addition, this condensation of dozens of pages of the novel effectively highlights the prejudice and ridiculous political games of the Imperial military. Thrawn's struggle against these two facets of the Empire is much clearer and more impressive. Thrawn cuts through the bureaucracy by getting things done. It helps that he made powerful allies along the way.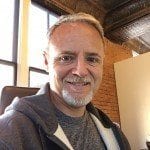 Dennis Keithly is a graduate of the University of Missouri, North Texas attorney, husband, father of two, and co-host of Starships, Sabers, and Scoundrels. In addition to Star Wars, Dennis is a fan of science fiction, fantasy, and super heroes in general. When not engaged in fictional universes, Dennis is reading a good book or watching the NHL, football, or studying the NFL draft.