As the year is winding down the penultimate ReFlicktions episode of 2020 is massive featuring almost 50 movies discussed.
 The year is beginning to hit it's final notes of the terrible song 2020 has given us, but Mikey, Dave, and #TwitterlessDrEarl are here to give you the reviews on almost 50 films seen in the last few months.
Topics include… A Lolita Davidovich mention… More love for Jasper Mall… Dr Earl hates him some Taika… Dr. Earl loves him some Baumbach… Mikey's Murray doublefeature…  Rebecca vs Rebecca… Gerard Butler vs everything… getting a Holidate… Dr Earl channels his inner Garrison… Walten Goggins is awesome… the dangers of pica… the two film categories of Liam Neeson… and the dumpster fire that is "Cats", including the tripe that is Jennifer Hudson's "Memory"…
Where the movies discussed are streaming at time of recording
Scre4m (Hulu)… Wildlife (Netflix)… Blaze (2018 – Netflix)… Blaze (1989 – for rental)… Jasper Mall (Amazon Prime)… Playing with Fire (Amazon Prime; Hulu; EPIX)… John Bronco (prime)… The Trial of the Chicago 7 (Netflix)… Losing Ground (not available)… Roll Red Roll (Netflix)… Rebecca (1940 – not available)… Rebecca (2020 – Netflix)… Horror of Dracula (1958 HBOMax)… Fast Color (Amazon Prime)… Molly's Game (Netflix)… Swallow (Showtime)… The Squid & the Whale (Netflix; Amazon Prime)…  While We're Young (Showtime)… The Perfect Storm (HBO Max)… Western Stars (HBO Max)… Bruce Springsteen's Letters To You (AppleTV+)… The Hunt for the Wilderpeople (Netflix; Hulu)… Black Christmas (HBO Max)… The Dead Don't Die (HBO Max)… On the Rocks (Apple TV+)… The Wolf of Snow Hollow (for rental)… Cats (HBO Max)… The Hummingbird Project (Netflix)… The Art of Self Defense (Hulu)… Gonzo: The Life & Work of Dr Hunter S Thompson (Amazon Prime)… The Holidate (Netflix)… First Cow (Showtime)… Emma (HBO Max)… Memories of Murder (for rental)… The Current War (Showtime)… Geostorm (for rental)… Den of Thieves (Netflix)… The Vanishing (Amazon Prime)… Hunter/Killer (for rental)… Jiu Jitsu (in theaters)… Sideways (Starz)… Honest Thief (in theaters)… Let Him Go (in theaters)… A Serious Man (Netflix)…  Console Wars (CBS All Access)… Unbanned: The Legend of AJ1 (Hulu)… Jingle Jangle (Netflix)… Fireball: Visitors from Darker Worlds (AppleTV+)… Blow the Man Down (Amazon Prime)…
---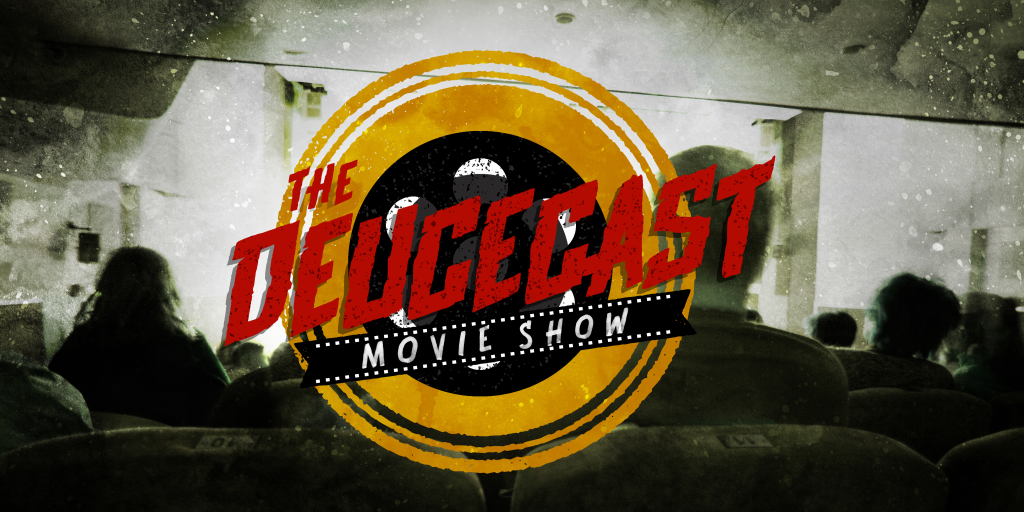 The Deucecast Movie Show is a podcast done by movie fans for movie fans of all kinds. Hosts Mikey, Dave, and featured friend of the show #TwitterlessDrEarl, along with a rotating cast of fun guests, discuss all sorts of movies–from new to old, fantastic to craptastic and everything in between.  Expect themed episodes, feature lists, favorite movies, and tournaments pitting movie against movie or actor against act because we love a good bracket. Play along with movie games like "Denzel" or "The Ryan Philippe Game," then participate in voting in the annual Deucie Awards and yell at us when someone defends a Damon Wayans movie as "nearly the perfect film." If you love movies, then you'll love The Deucecast Movie Show! We love to interact with our listeners so please subscribe to the podcast and send us an email, tweets, and comments as you listen at your leisure. The more the merrier, so thanks for tuning in!