On episode 71, the Scoundrels preview all the Star Wars events of 2019.
A new year is here, and 2019 is full of new Star Wars content and events. Dennis, Jay, and Darth Taxus look ahead with their Star Wars 2019 preview .
Welcome to episode 71 of Starships, Sabers, and Scoundrels: Star Wars 2019 Preview. On this episode, Dennis, Jay, and Taxus have said farewell to 2018 and now look ahead to the new year with their Star Wars 2019 Preview. However, there is plenty of news to get to first. Plus, the Scoundrels share their Star Wars related holiday experiences including a trip to see A New Hope in concert.
Star Wars News
With the holidays behind them, the Scoundrels get into the latest Star Wars news. This week's news includes a discussion of:
A new photo from Jon Favreau teasing the return of a bounty hunter in The Mandalorian,
The announcement of the composer for The Mandalorian,
Carrie Fisher footage available for Episode IX,
Recent Star Wars Celebration Chicago news, and
Sphero discontinuing their production of droids.
Star Wars 2019 Preview
2019 is shaping up to be one of the biggest years for Star Wars content ever. With their Star Wars 2019 Preview, the Scoundrels look ahead and preview:
Upcoming Star Wars novels, including a new Thrawn novel by Timothy Zahn, a new Qui-Gon and Obi-Wan novel by Claudia Gray, and more;
Star Wars comics in 2019, including Star Wars, Doctor Aphra, Darth Vader: Dark Visions, and others;
The 20th anniversary of The Phantom Menace;
Star Wars Celebration Chicago;
Star Wars television on cable and the new streaming service, Disney+ including Resistance, The Clone Wars, and The Mandalorian;
Star Wars Galaxy's Edge in Disneyland and Walt Disney World;
Video Games (Battlefront II, Star Wars: The Old Republic, and Star Wars Jedi: Fallen Order); and
Episode IX!
Silence Fools!
The show ends with a new edition of Silence Fools! Dennis, Taxus, and Jay share a review from RoqooDepot.com of Episode 70, and then discuss their last Twitter poll about their favorite portrayal of Obi-Wan. After that, they pose a new Twitter poll concerning Celebration Chicago.
Thanks for joining us for episode 70 of Starships, Sabers, and Scoundrels: Star Wars 2019 Preview. This year is going to be huge for Star Wars and the Scoundrels will be covering it all. Subscribe to Starships, Sabers, and Scoundrels on your favorite podcatcher so you don't miss a single show. Happy New Year, Scoundrels!
If you liked this episode, check out the previous one!
---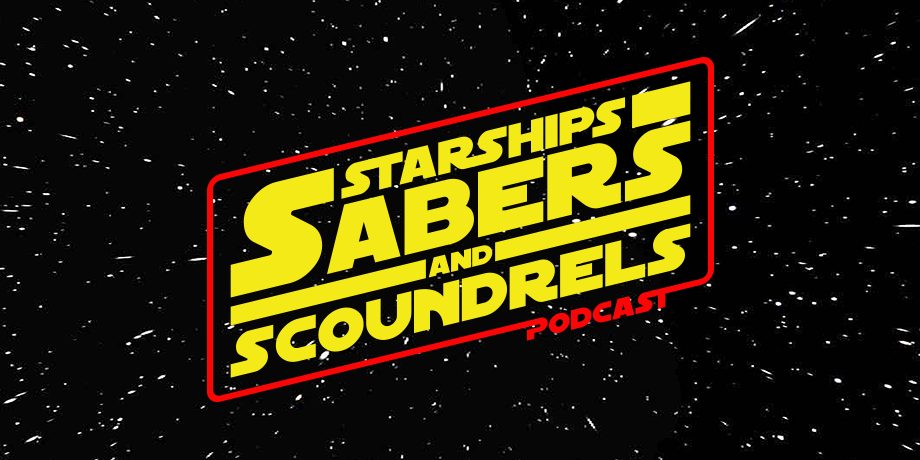 Click the banner for all episodes and homepage!
Starships, Sabers, and Scoundrels is a bi-weekly show that features three first-generation Star Wars fans. Each episode, RetroZappers Dennis Keithly, Jay Krebs, and Darth Taxus offer their thoughts and reactions on Star Wars news. Then, they engage in Star Wars discussion in the "Hyperthetical" segment. Top ten lists, book reviews, Resistance and television discussion, and interviews are all on the table. After the Hyperthetical, each episode features listener feedback with Silence Fools!
The Scoundrels on Twitter: Dennis Keithly can be followed @DJKver2, Darth Taxus is @DarthTaxus, and Jay Krebs is @JoyceKrebs.
SCubedPod thrives on listener feedback. Therefore, Dennis, Taxus, and Jay would love to read your email on the show. To reach them, email the show at SCubedPod@RetroZap.com. For instance, have an opinion on Star Wars comics, Rebels, or the novels? We want to hear it. Also, have a question about some Star Wars detail? Send it to us! It doesn't have to be Star Wars to make it on our show.
Starships, Sabers, and Scoundrels T-Shirts can be purchased here.
Finally, Dennis, Taxus, and Jay would appreciate an iTunes review for the show. Thank you.