Michael O'Connor senses much fear and division in our culture, our politics, and our fandom. What can we learn about tribalism through the lens of Star Wars?
"Wonderful! We are now a part of the tribe!" -C-3PO
"Just what I always wanted." -Han Solo
Sometimes it feels like battle lines are being drawn. Log onto Twitter or Facebook, read the news and talk with your politically active friends and you could be fooled into thinking that a second American Civil War is about to break out any moment.
Even on issues that have nothing to do with politics, it seems like our culture continues to encourage conflict and competition. We can't agree to disagree or find common ground on controversial topics, even when those topics revolve around something as seemingly trivial as which movies we enjoy watching. We ban, unfollow, or silence anyone who disagrees with us, and when we're getting really nasty, we badger and troll, pester and insult those who dare to see things differently.
It's tempting to say this is a new problem, that our discourse has deteriorated due to social media and the anonymity it provides. And to a certain extent, there's a truth to that, but the base issue is one humanity has been struggling with since the very beginning.
It's called tribalism, and Star Wars has a little something to say about it.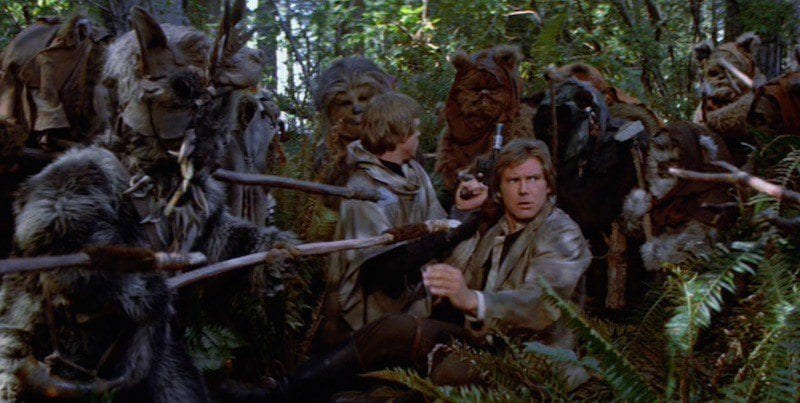 WHOSE SIDE ARE YOU ON?
For those unfamiliar with the term tribalism, it sounds exactly like what it is. It's human nature to form small groups based on mutual benefit and shared interest. It's also human nature to look at an alien tribe and feel nervous. What are those guys up to? Why do they look different? How can they believe those things they say?
Unfortunately, our desire to organize and form communities also means we look for ways to keep those communities separate from everyone else. For the wealthy, there are gated residential neighborhoods and private clubs; for the religious, churches and mosques; the political have their organized affiliated parties and media to match a particular bias; the sports fans have regional teams of every athletic flavor; and even for Star Wars fans, there are divisions between fans of the films, the novels, the animated shows, and the video games; between eras and directors and styles and ideas.
Tribalism is as natural an inclination as the desire to own things or mate. But it can turn ugly pretty quick, especially when it preys on and cultivates our feelings of fear. Without immersion or exposure to alternate ways of life, ideologies or cultures, our brains become dictatorial Galactic Empires, laying out decrees as to how we think people ought to live and treat one another. In each of us, there is a little Emperor Palpatine, certain that the world would be better off if it was more like us and our beliefs and less like everybody else's.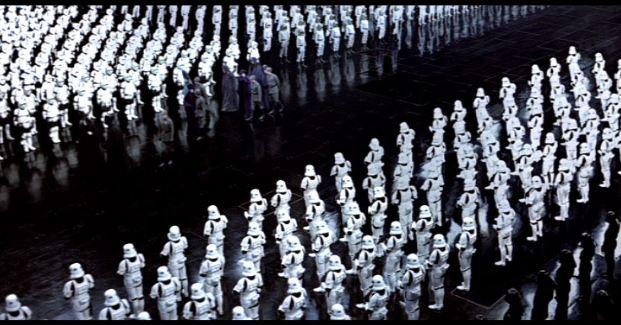 IDOLIZING THE CRUEL
The Star Wars films have a knack for holding up a mirror and showing us our individual dark sides. I find it genuinely disturbing that the Galactic Empire is idolized by so many fans, even as I hypocritically derive vicarious thrills from adopting the avatars of stormtroopers, TIE fighter pilots, or Darth Vader himself in a videogame like Battlefront 2.
There is a part of our brains that loves the boldness and certainty of the Sith and their Empire. Who hasn't fantasized at some point of force choking an antagonist or igniting a double-bladed Sith lightsaber just to intimidate those around you? Problems are simple for the Empire. No hemming or hawing or hand-wringing about the most ethical path forward. Is a tribe of strangers making you nervous? Just fire up the Death Star and be done with it already.
It's horrible that we could in some small way idealize that ruthless, amoral response to an opposing culture, to foreign peoples and ideas. But as Master Yoda reminds us, the Dark Side is quicker, easier. It's tempting because it offers a simple solution to life's complex problems.
PATHETIC LIFEFORMS
Now contrast how we feel about those badasses in the Empire to our feelings on the Ewoks in Return of the Jedi or the Gungans in The Phantom Menace. For many, the first instinct is to groan and roll their eyes. These groups are childish, silly, primitive creatures that don't resemble us as fully grown, serious adults; they resurrect embarrassing memories of goofy cartoons we outgrew years ago. In other words, the Gungans and the Ewoks aren't a part of our tribe. Not only can't we relate to them; we can't even look at them without being irritated and annoyed.
But that's the point, isn't it? It's not always easy to get along with those who don't resemble us, who hail from different cultures and play by different rules. Live in a neighborhood populated by people of a different race and you'll see what I mean. Not only is the food and music different, but so are the rules of engagement, of discourse and communication.
Our inner Palpatines respond with frustration and revulsion when exposed to people who don't play by the same rules. Whether it's how these strangers talk or the sound of their language or the way they eat or their style of dance or the way they dress or the things they believe in and the way they express those beliefs, there are an endless number of opportunities for us to engage either positively or negatively with these differences. To either laud variety and difference or to criticize behavior and style that doesn't coincide with our own preconceived notions.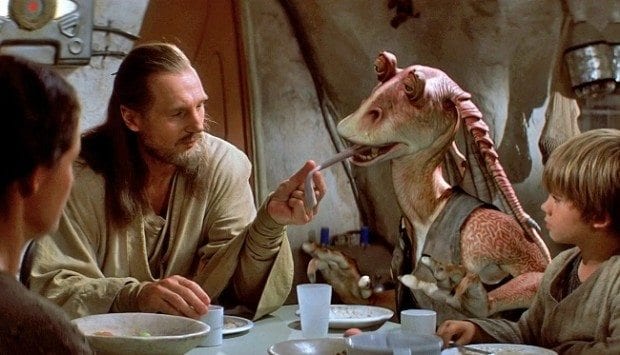 Only when we immerse ourselves in foreign tribes, whether that's a different country or merely a neighborhood with a different race and/or culture than our own, do we realize that our way isn't the only way. We can still prefer our style of life, but if we can come to terms with those who are different than us and allow them their differences, we dismantle some of our most dangerous tribal instincts.
In Return of the Jedi, even cynical badass Han Solo begrudgingly accepts the Ewoks' assistance, reasoning that "short help is better than no help at all." And in The Phantom Menace, the high and mighty Naboo kneel before the primitive Gungans and literally beg for their help. The Gungans used to being derided as lesser beings and the subject of arrogant discrimination are overjoyed by the display of humility.
Sometimes it doesn't take an enormous sacrifice to bridge the divide between your tribe and another–whether one of race, politics, region, or fandom. Sometimes just a small gesture, an acknowledgment of past biases or discriminations, a friendly plea or a helping hand can be all it takes to dissolve hostility and make friends of potential enemies.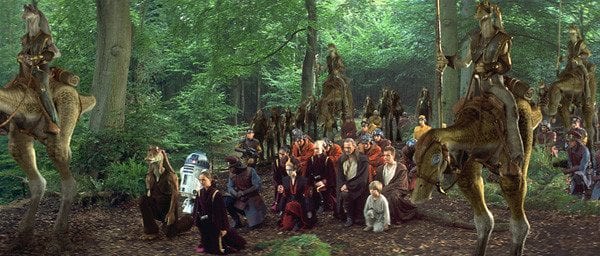 WE DON"T SERVE THEIR KIND HERE
The Gungans and Ewoks are perhaps the most obvious example of different tribes in the Star Wars galaxy, but it doesn't stop there. Every alien race–from the Kaminoans to the Geonosians, to the bevy of bizarre creatures inhabiting Jabba's Palace and the Mos Eisley cantina represent an exponential number of backstories and histories, cultures and identities.
The mere fact that Star Wars fans are often so hungry to learn about these aliens and the civilizations from which they hail, to encyclopedically catalog their entire backstories and obsessively hunt down every action figure, comic book or short story featuring them demonstrates a human desire to learn and appreciate different ideas and cultures. That quality differentiates us from tribalistic animals and provides evidence that we have the capacity to shrug off our real-world biases and discriminations.
But just as the Mos Eisley cantina scene demonstrates, we humans are hypocritical with our capacity for acceptance and tolerance. That scene encapsulates Star Wars' satirical commentary against tribalism and discrimination in a single line of dialogue. Luke Skywalker enters a bar with every variation of alien being in the galaxy, a place where everyone can at least get along long enough to share an alcoholic beverage and listen to some killer tunes. But when C-3PO and R2-D2 attempt to join Luke and Obi-Wan, the bartender angrily shouts "We don't serve their kind here!" pointing to the two droids.
The absurdity of the situation is the point, of course. As human beings, we draw lines in the sand on trivial matters of race, religion, sexual orientation and gender all the time. We devise rules that dehumanize others and award a higher status of living to those privileged to be in power. Outlawing droids in your alien bar makes as much sense as forcing black people to sit in a particular part of a bus or paying women employees less than their male counterparts. It's a method by which one tribe of individuals seeks to further differentiate and thus deepen the divide between themselves and another tribe.
TRIBALISM IN THE ORIGINAL VS. PREQUEL TRILOGIES
As the Mos Eisley Cantina sequence demonstrates, it's not just aliens that represent foreign tribes in Star Wars; all the characters of the Star Wars galaxy hail from different worlds and peoples. Even our protagonist heroes are a motley crew with different allegiances struggling to get along with each other.
In the original trilogy, A New Hope introduces us to a farmboy, a hermit wizard, a cynical criminal, and a member of royalty. The common link between these characters revolves around the circumstances that bring them together. In each case, the archetypal character has somehow been deprived of his or her tribe. Under such circumstances, they have no alternative but to work with strangers from a foreign tribe.
Consider: Luke's family is murdered; Leia's entire planet is destroyed; Obi-Wan has had his entire Order wiped out. Even Han and Chewbacca are ostracized and alone, not only on the run from the law but also from their own criminal fraternity thanks to Jabba's bounty.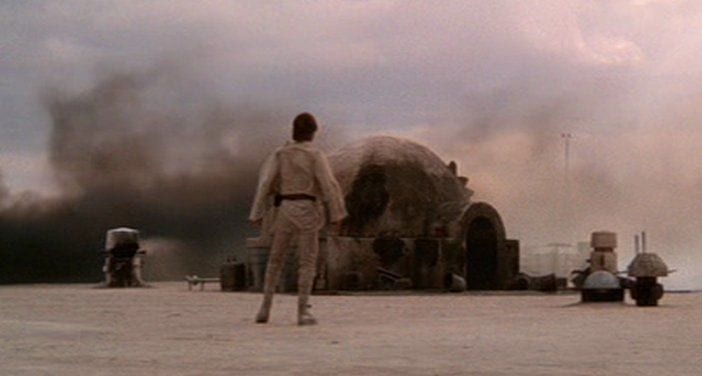 These characters have nowhere else to turn, no alternative but to struggle through the friction caused by interacting with members of other tribes. In the process, they grow and evolve, becoming better versions of themselves and creating a new tribe that is more inclusive and open to others.
But contrast these characters with the gang from The Phantom Menace and I think you'll see a crucial difference in how George Lucas used the prequels to explore tribalism.
Unlike the OT characters, the main characters of the PT all have tribes to which they can retreat. They have the option to stay safe and supported within their narrow worldviews and avoid exposing themselves to alternative perspectives. But instead, they each decide to abandon their tribes because they see an opportunity for greater success outside their parochial institutions.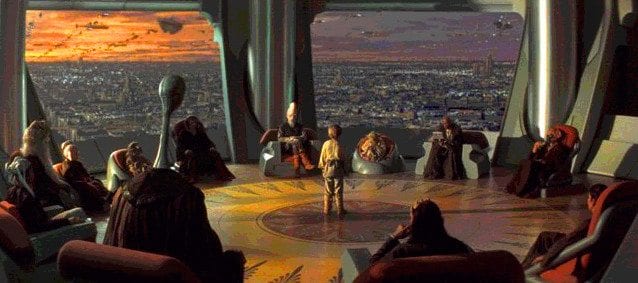 Consider: Qui-Gon could be a member of the Jedi Council, but he defies them because he sees how they're insulating themselves from the reality of the galaxy. In their hubris and arrogance, they don't even believe him when he brings back news of confronting a Sith warrior. He breaks their rules to train Anakin because he believes the boy represents a great hope for the Galaxy and an opportunity to bring balance to the Force. He even picks up "pathetic creature" #1 on Naboo, saving Jar Jar's life because he recognizes that even an obnoxious fool might have something to offer in the grand scheme of things.
Amidala similarly works within the confines of her privileged position as royalty. But after struggling through the familiar avenues of her royal power and finding them limited in their effectiveness, she reflects on her exposure to the alien cultures of Tatooine and the Gungans by way of Jar Jar Binks. Her perspective expanded by her eye-opening experiences, she recognizes that the best path forward involves the collaboration of alternate tribes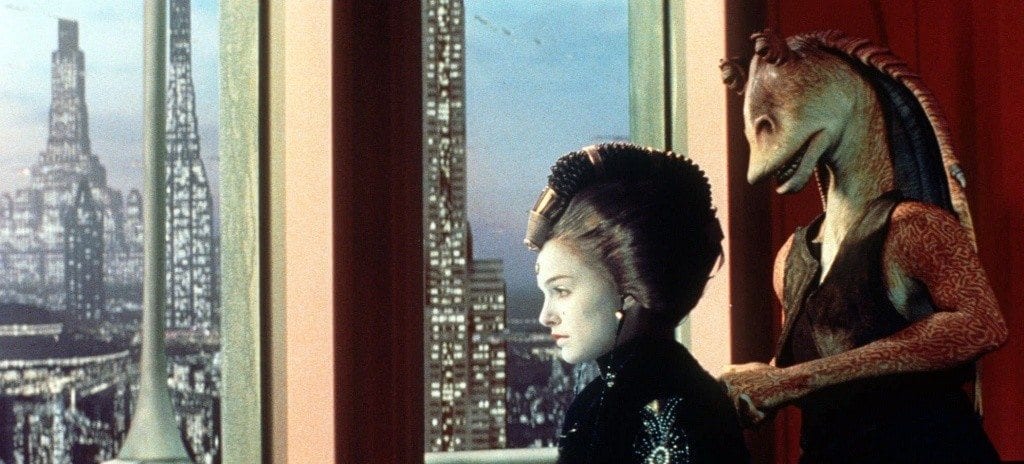 Even Anakin doesn't have to leave his life on Tatooine. He may be a slave, but he has friends, a loving mother, and a pretty killer podracer. He doesn't join up with the gang because he has nothing left for him on Tatooine like Luke; instead, he joins because he sees an opportunity to better himself and to help others. Anakin recognizes the chance to immerse himself in other worlds and cultures not as an ordeal to struggle through, but rather as an exciting opportunity of discovery and learning.
That same thrill that rushes through each Star Wars fan at the discovery of a new planet in the galaxy or a new race of aliens to learn about is the same anti-tribal instinct that young Anakin shares. As adults, we often close ourselves off to new opportunities and remain cautious about interacting with people from outside our own tribes; but as children, we look to the stars with the goal of visiting every system in the galaxy and making friends with strangers along the way.
FROM FEAR TO SUFFERING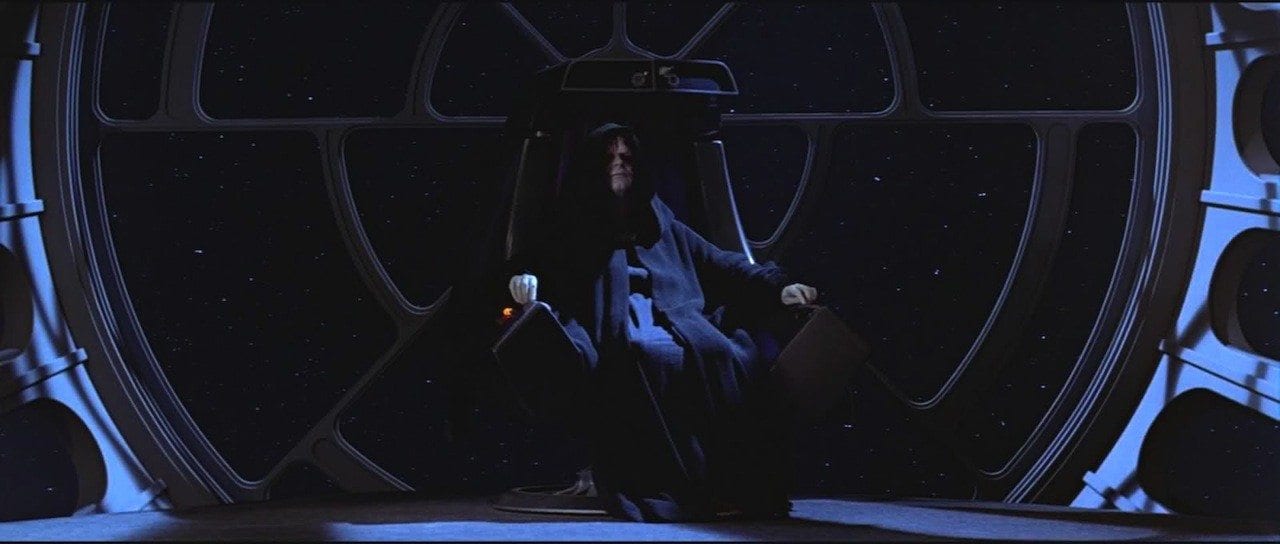 The openness and honesty of children like young Anakin are what we need more of, so why does it feel like our world is run by dictatorial, tribalistic Palpatines?
We live in an era where the word "compromise" has the connotation of defeat or unsatisfying irresolution, like a sports event that ends tied. Our political system has turned into an ugly game where even the concept of bipartisanship, of reaching across the aisle to make progress happen, seems like a naive notion for optimistic suckers. If you want to get things done, the contemporary wisdom goes, you have to be the Empire; you have to dominate and control and force your agenda on people who disagree with you. Numbers and might are all that matter. That is the only way forward, the only way to achieve success.
But consider the lessons of Star Wars and question whether that makes any sense. When we tear at each other and demonize our opponent, when we exert all of our efforts attacking and resisting and preventing their victory even at pyrrhic cost to ourselves, how is that helping ourselves? Is there a chance that we could consider our opponents and their aims, their opinions, and their cultures and find some common ground, that we could work in tandem rather than always at cross purposes?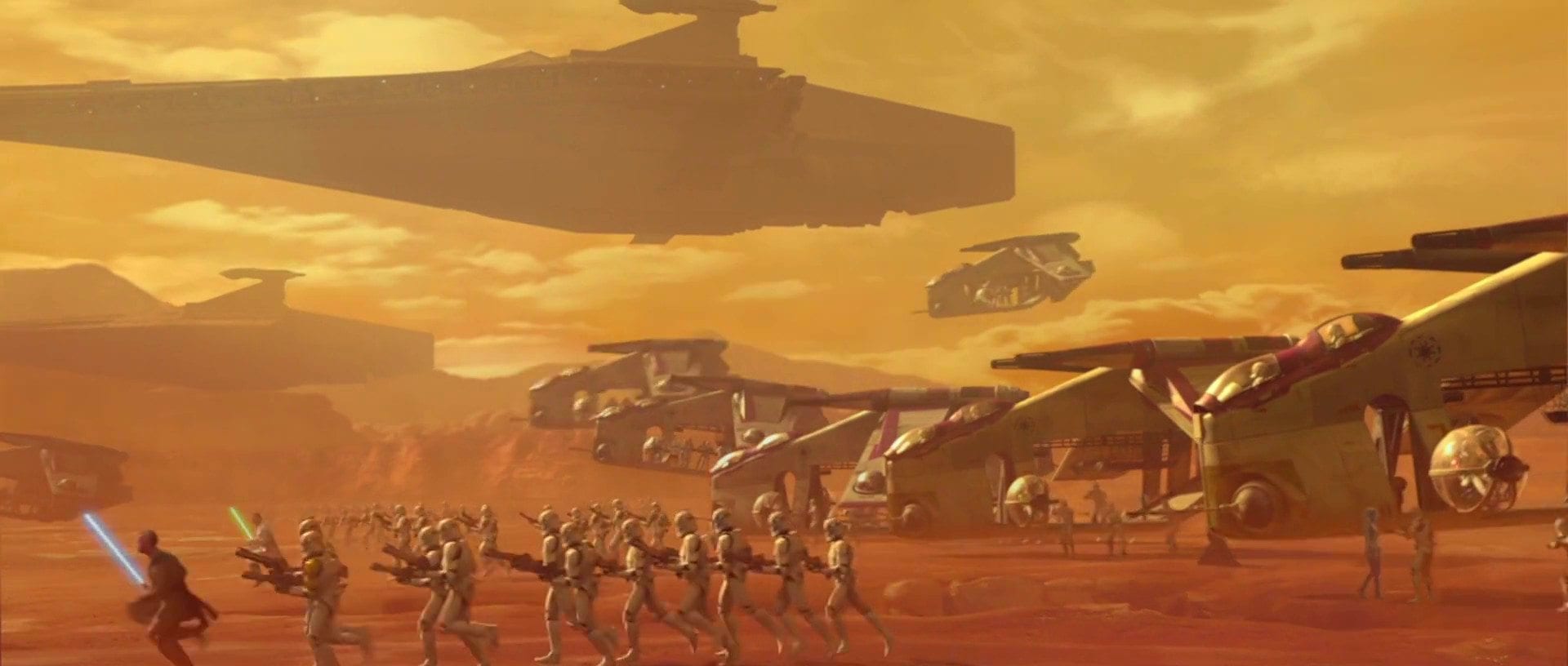 The Clone Wars represent a potential answer to these questions. The Republic and the Separatists are two separate tribes so diametrically opposed that they have entered bloody conflict. And yet, their conflict is inane. It proceeds from nothing more than rumor, fear, and conjecture. With Dooku stoking the embers on one side and Palpatine on the other, both tribes view their opposite from only the propaganda perspective: the Other as Enemy. Obi-Wan spies on the Separatists and sees exactly what the Sith inciters wants him to see: an enormous military stockpiling of battle droids. From the Separatist point of view, a secret military of clone soldiers is evidence of the Republic keeping secrets from its populace and enforcing its will.
Once a people start down the dark path of casting mere disagreements as battles and differing opinions as dangerous and treasonous statements, it's not long before the hyperbole and invective hit a fever pitch. If we can't talk to one another about our biases and our beliefs, our fears and our concerns without belittlement and judgment, we can't work together to see commonalities and break down the tribal barriers. With division and animosity, those barriers only grow and strengthen and our fears become ever more irrational and dangerous.
As Yoda said, "fear leads to anger, anger leads to hate, hate leads to suffering." No truer words are spoken in the Star Wars saga.
Except perhaps what Padme has to say in Revenge of the Sith about how the Clone Wars "represent a failure to listen." She might as well be talking about our own world, our own tribalistic struggles.
TRIBALISM IN FANDOM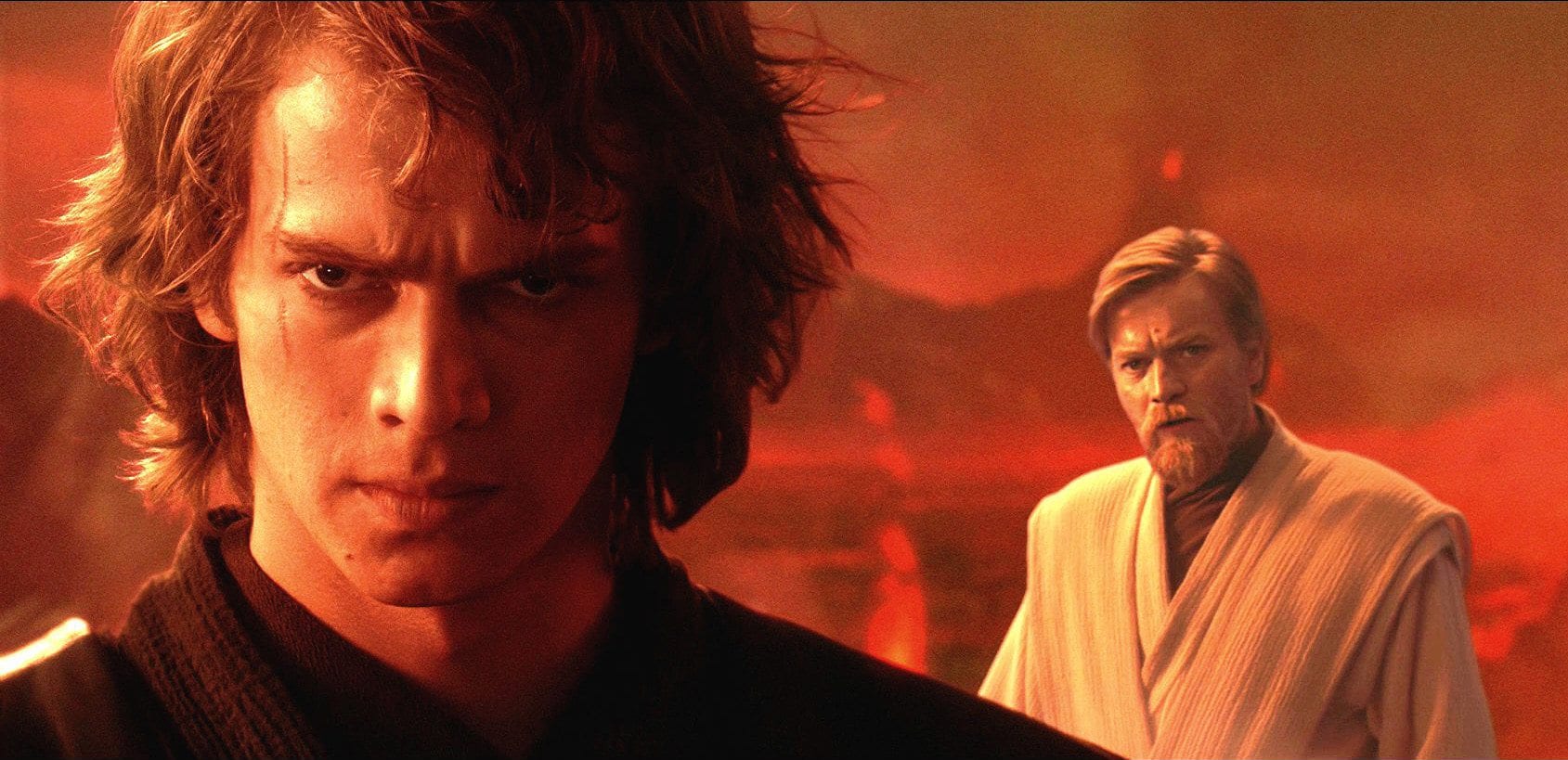 Tribalism doesn't just exist in politics or between different races or genders or sexual orientations. Now we see it bleeding into our entertainments and recreations. Areas that should offer escape from the horrors of the day to engage in comfortable discourse with our fellow fans have taken an ugly turn. Conversations often get heated and devolve into crude and antagonistic rhetoric due to a snarky comment or a wisecrack at the expense of a stranger.
As Star Wars fans, we are an opinionated bunch. We have almost forty years of content to absorb and critique, celebrate, cherish and lament. It has never been my aim to speak for all Star Wars fans or even all fans of the prequels; I freely admit to having my own biases and preferences when it comes to my favorite saga.
But how could it be otherwise? Surely, there isn't any fan out there that loves all of it. Every film, book, video game, graphic novel, television episode, or piece of merchandise. We all gravitate towards certain elements of the fandom and find meaning and community within.
But there are sections of fandom that don't believe people should think differently than they do. Some of these fans balk at those who love the prequels, don't care whether Han Shot First or dare to have a different favorite Star Wars film than The Empire Strikes Back. According to these fans, there is no room for debate, these are objective facts. Of course, that's as ridiculous as the Mos Eisley Cantina not allowing droids, but this is the effect of tribalism on our minds. Rationally, most of us understand that the entire point of art is its subjective, personal effect on an individual. And yet when we feel something strongly enough, we insist that everyone else must agree with us.
There is a strange sentiment going around that the problem with our world is that we're all too different, that nobody can agree on anything. But that's only a problem if, like Anakin, you believe that people "should be made to."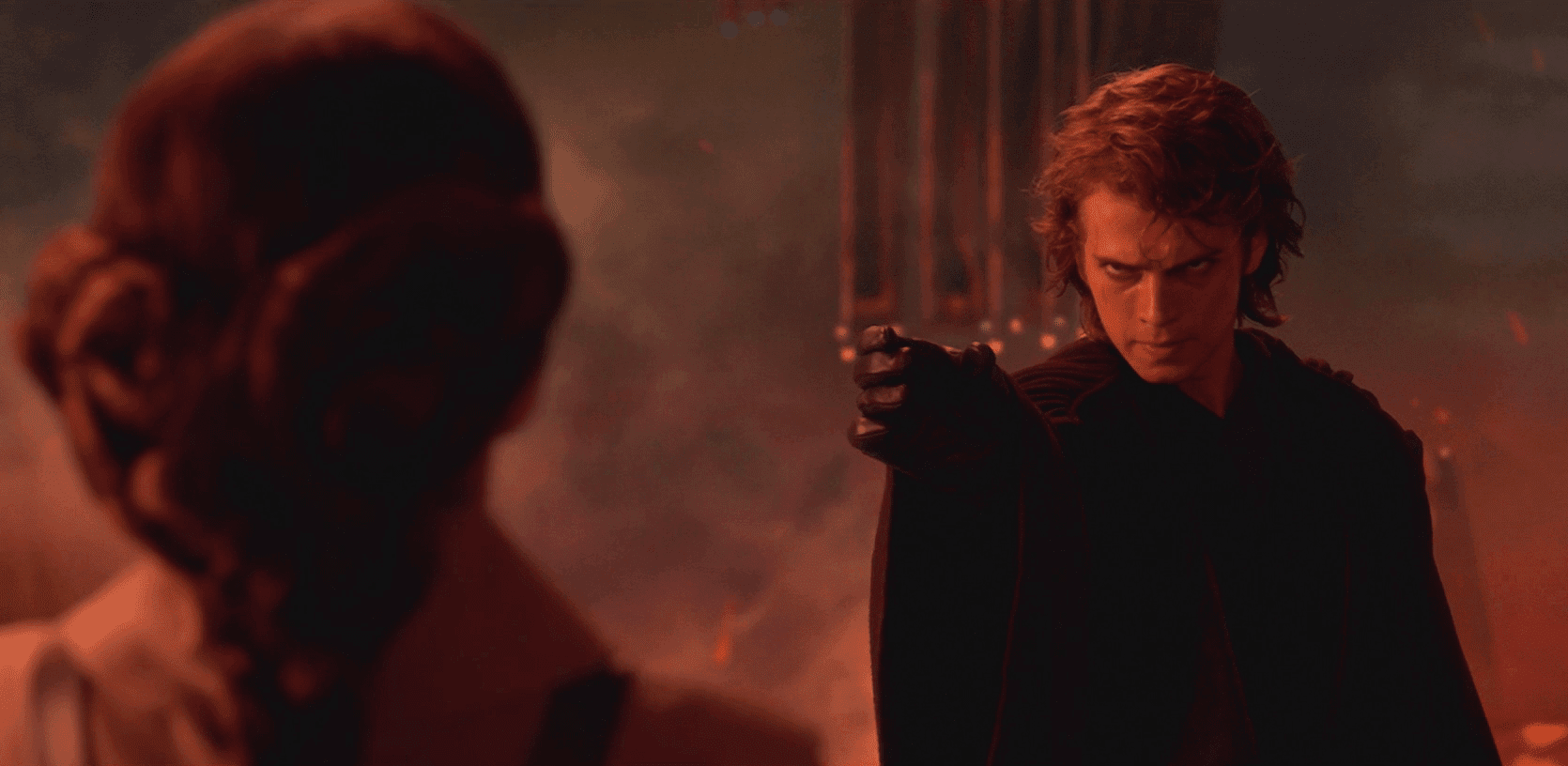 Every time we persecute a member of our fandom for not liking or disliking the same things we do, we show our ugly tribal tendencies. And in the process, we show that we've completely missed the message at the heart of Star Wars. It's not about anyone being better than anyone else or only one opinion being justified; rather it's about everyone working together and finding community in each other. We should be lifting each other up, not tearing one another down. And there should be room for a bevy of ideas and thoughts.
Instead, fandom turns ugly and antagonistic. We can't tolerate a dissenting opinion so we block and ban; we don't want to hear from anyone who doesn't agree with us so we attack and belittle. As a prequel fan, I see it from both sides. The irrational hatred and animosity that gets leveled at anyone for loving The Phantom Menace for instance, and the flip side of that reaction from some prequel defenders who seek to silence anyone who disagrees about the merits of their favorite films.
I understand the anger, the irritation and the frustration with the media and fandom for so often turning against these fine films, but you don't change hearts and minds by silencing contrary opinions. Neither do you strengthen your coalition by attacking fellow fans for sharing different interpretations of particular scenes or performances.
The point is we're all welcome to love what we love and to defend ourselves against people who are rude and disrespectful. But we should never close ourselves off from people who don't agree with us. We should never work to avoid alternative voices, ideas, or thoughts. We all need to be a little more like young Anakin and a lot less like old Palpatine.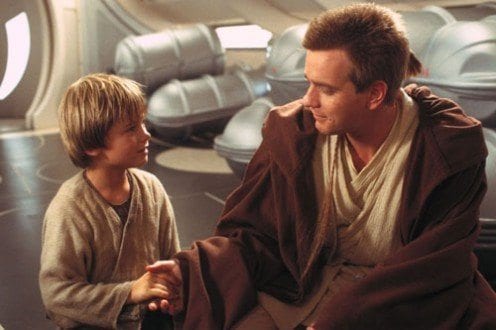 HEROES ON BOTH SIDES
Tribalism is a natural instinct, and it's not inherently evil. We sensibly look for common ground and people that we think we can get along with. But too often we close our eyes and limit our desire to stretch a hand to someone who acts or looks a little different.
Whether it's our fandom or our politics, our favorite sports team or our religion, we have to be willing to see things from "a certain point of view" that isn't our own. When we stubbornly cling to our understanding of the world at the expense of everyone else's we reveal our irrational fear.
If you spend your life angry and frustrated, fearful and incensed by the actions of others, take a moment to stop and reflect. What would you do if like Princess Leia, Luke Skywalker, and Obi-Wan Kenobi, your tribe was completely wiped out and you were forced to interact with people you generally try to avoid and find distasteful? Would you retreat further from the world? Or would you make an effort to not only teach your culture and views and lifestyle but also learn something about theirs?
And then consider this: what kind of problems could you solve not only for others but also for yourself by being proactive like Qui-Gon, Queen Amidala or young Anakin? What solutions might exist by reaching out rather than retreating inward, by voluntarily journeying outside the comfort of your tribe and introducing yourself to someone from a different group? Is there a chance that somewhere in between your way of doing things and my way, we might find a solution that's better for both of us?
Maybe, as the illustrious Boss Nass suggests, "weesa… being friends?"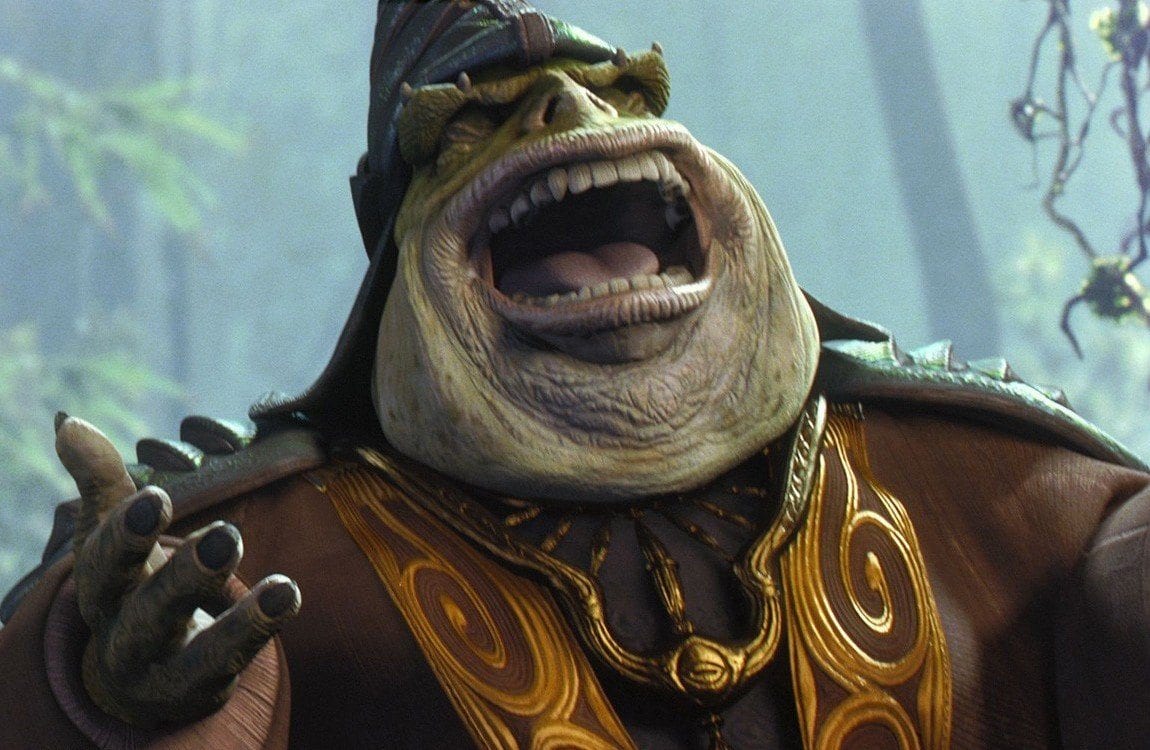 ---
About Power to the Prequels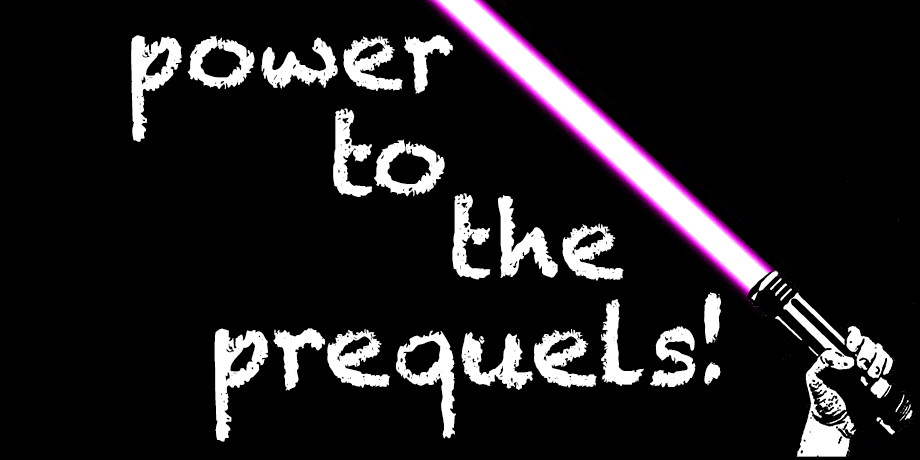 Power to the Prequels is an ongoing column that aims to critique and analyze the Star Wars prequels and demonstrate their worth as individual films and also as components of a larger saga. The goal is neither to blindly praise these films nor condemn them. Rather, the aim is to specifically and respectfully consider the artistic decisions made by director George Lucas and draw conclusions that may differ from the mainstream consensus.
Phantom Menaces: Star Wars Tribalism
Michael O'Connor is a writer, filmmaker, and designer with a deep affection for film, literature, comic books… and craft beer. You can read his musings, check out his stories and watch his films at OCONNOBLOG. You can also check out his apparel company, George Shot First, and pick up a one-of-a-kind t-shirt or hat in honor of Star Wars creator George Lucas! Follow him on Twitter and Facebook at the links below.