Darth Taxus and Dennis Keithly from Starships, Sabers, and Scoundrels took RetroZap to FAN EXPO Dallas. Here is their experience.
FAN EXPO Dallas returned to the Dallas Convention Center in 2018 on April 6. This year, FAN EXPO Dallas improved on an already great experience with a modified floor layout, additional incredible guests, and fantastic panels. Back to the Future, Star Wars, The Princess Bride, superheroes and more all had in impressive presence at this annual convention. This year's iteration of the convention managed to attract such celebrity heavyweights as Ben Affleck, Jeff Goldblum, and the cast of Stranger Things. And, RetroZap was there. Dennis Keithly and Darth Taxus, two of the three hosts of Starships, Sabers, and Scoundrels, attended this three-day event. Here are their impressions of FAN EXPO Dallas 2018.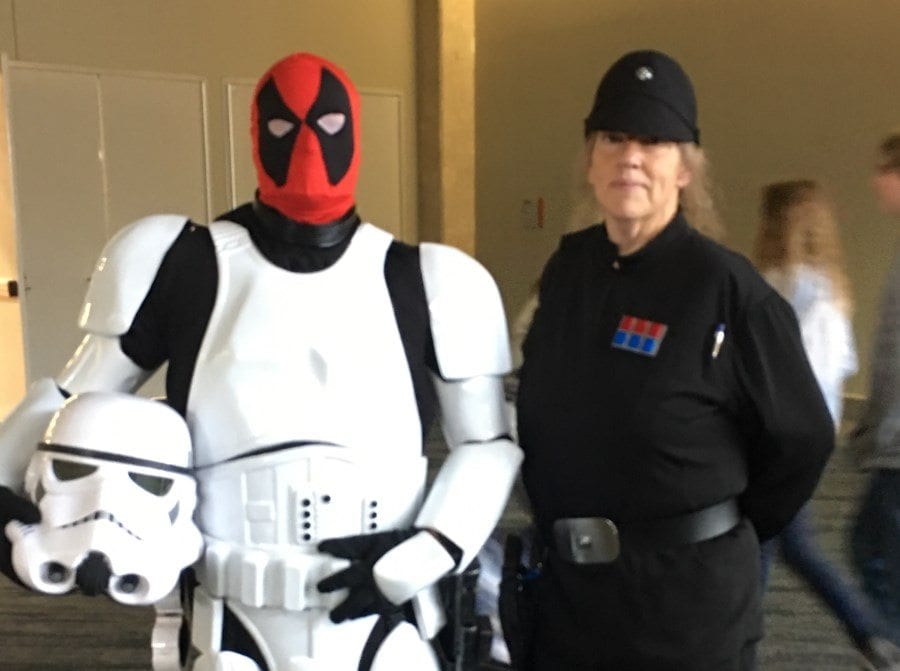 Improving an Already Great Experience at FAN EXPO Dallas 2018
The convention had an altered layout this year. In prior years, FAN EXPO Dallas was spread out over a larger portion of the Dallas Convention Center. The autograph hall, vendors, and exhibitors were at one end, and most of the panels occurred at the opposite end of the convention center. This meant that convention attendees found themselves frequently wandering from one end of the convention center to the other between panels and autograph sessions.
This year, FAN EXPO Dallas made a major improvement on this aspect of the convention. A main theater was constructed just off the floor the vendors occupied. This meant that attendees only had a short walk to reach the largest panels. Plus, additional rooms for panels were placed on the third floor of the Dallas Convention Center. Therefore, attendees only needed to catch an escalator ride to attend some of the smaller, although no less important, panels of the event.
FAN EXPO Dallas 2018 didn't end their improvements there. A pair of related complaints with prior occurrences of FAN EXPO Dallas concerned the lack of options when it came to food and places to sit and eat it. Those problems were solved with the addition of a dining area to the convention floor with plenty of adjoining seating. If there is one criticism of the dining, it is perhaps that it wasn't promoted enough. Regardless, it was a welcome addition to this year's FAN EXPO Dallas.
Another improvement to this year's convention was an improved app. Although prior iterations of the convention app were adequate for the average needs of an attendee, FAN EXPO Dallas improved the app with an easier to read schedule and better maps. As a whole, the app was more intuitive.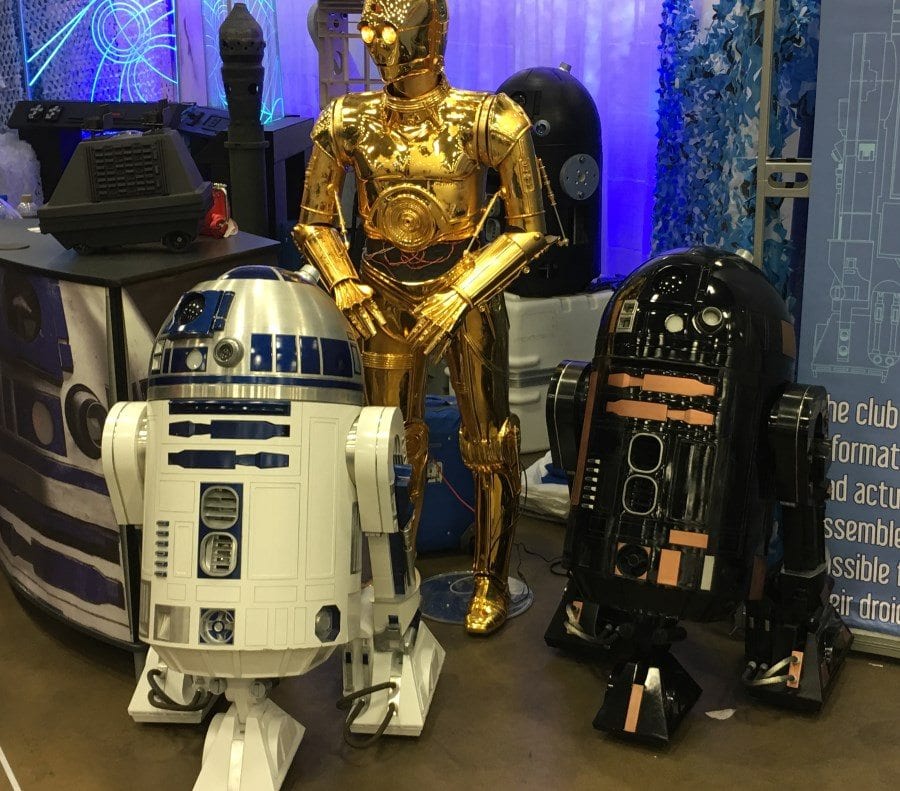 A Special Meeting with Anthony Daniels — Dennis
Sunday morning started off in an unexpected fashion. I arrived at the convention center ready for my FAN EXPO Dallas experience to begin and met up with Darth Taxus in the line for Billy Dee Williams. However, Mr. Williams was not expected for another two hours. To the right of his table were the tables for the other two Star Wars guests for the weekend, Joonas Suotamo (the new actor portraying Chewbacca) and C-3PO himself, Anthony Daniels. To my surprise, Mr. Daniels was at his table with practically no line.
I quickly jumped in the line and waited for a couple of gentlemen looking for multiple autographs of comic books to complete their interaction with Mr. Daniels. Then it was my turn. Mr. Daniels could not have been more gracious. I introduced myself and told him how excited I was to meet him. I also explained that Star Wars was the first movie I ever saw in a theater, that C-3PO was my first action figure, and that it was the droids that captured my imagination as a child. Up to this point, Mr. Daniels reacted politely and listened attentively, but I suspected he had heard all these types of things before.
Then I raised a new topic: Star Wars: In Concert. This concert series travelled Europe and North America from 2009 through 2015 and was narrated and hosted by Anthony Daniels. I was privileged to have attended a Dallas showing with my young son. Mr. Daniels was eager to talk about the concerts. He explained that they were the favorite thing he had done related to Star Wars largely because of the fan response he got on stage. That was something that was missing while filming the Star Wars films themselves. It was an incredible moment with Mr. Daniels, and we talked for a good ten minutes. If you have the opportunity to meet him at a local convention, take advantage of the opportunity.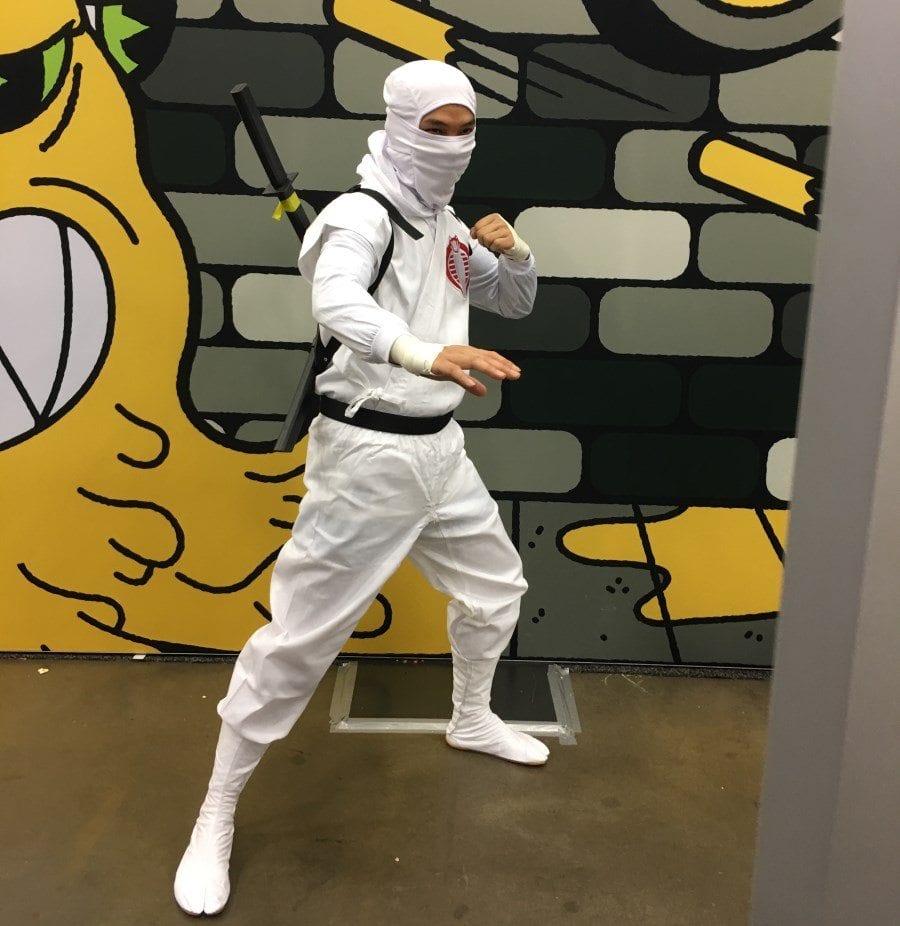 Billy Dee Williams – Darth Taxus
The major highlight for me this year was that Billy Dee Williams, Joonas Suotamo and Anthony Daniels were all appearing at the convention. I had set it in my mind that I needed to come away with at least a Billy Dee autograph, especially given his prominence in our show's celebrity appearance segment, but given the sheer crush of people on Saturday, I had to defer my quest until Sunday morning when I could strike fast, hard and early for a great spot in line. Regardless of that, I knew that Billy Dee had a Q&A panel that afternoon that I was excited about. And so, I along with the Scoundrels Social Media team were more than pleased to be seated very close to the main stage when he appeared. Billy Dee answered each fan's question with his archetypical smooth and soothing voice that only accentuated the wisdom he shared. The pinnacle experience for me was when I was able to ask him a question regarding his influence on Donald Glover on being "Lando cool," and on his son Corey's musical endeavors. If you have to opportunity to attend a panel with Billy Dee, you should take the opportunity to do so as you will not regret it.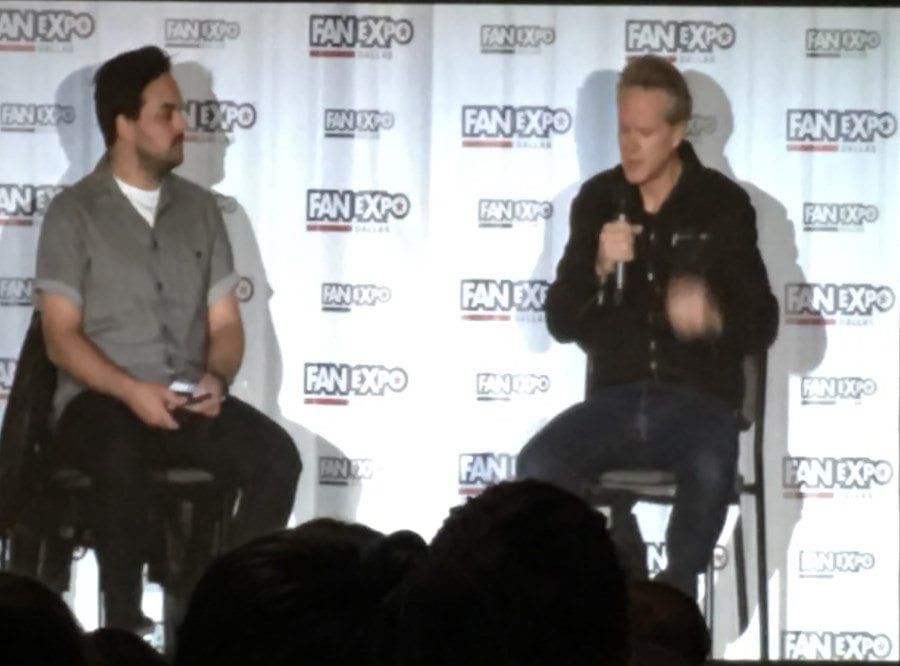 Cary Elwes's Panel – Dennis
Sunday afternoon featured a panel with Cary Elwes. The focus of the panel was Mr. Elwes's role as Westley/The Dread Pirate Roberts in The Princess Bride, a cult classic from 1987. Although there was a moderator for the panel, Mr. Elwes hardly needed one. He delighted the audience with stories from the filming of the movie. Andre the Giant featured prominently in his stories, and Mr. Elwes did a wonderful impression of the departed giant. In fact, Mr. Elwes did several wonderful impressions over the course of his panel ranging from Rob Reiner to Mel Brooks and Bill Paxton. Admission to Mr. Elwes's panel was included in the price of admission to FAN EXPO Dallas, and the experience was nearly worth the price of admission alone. It was one of the highlights of the weekend.
Cosplaying and Costuming Organizations
No fan convention is complete these days without cosplaying. FAN EXPO Dallas 2018 was no different. Cosplayers were plentiful. This year's cosplay featured many of the traditional favorites such as Princess Leia in her Huttslayer bikini, Rey, and Luke Skywalker from Star Wars, comic book characters such as Wolverine, Deadpool, Spider-Man, Superman, Batman, Wonder Woman, and other characters from shows such as Game of Thrones, Supernatural, and The Walking Dead.
In addition, costuming organizations were well represented. The Star Garrison of the 501st Legion, the Kessel Base of the Rebel Legion, and Clan Murraan of the Mandalorian Mercs all represented Star Wars. All three organizations are known for their charitable work regardless of which side they line up on in the films. Between the three organizations, plenty of stormtroopers, Jedi, wookiees, and pilots roamed the floor. Darth Vader himself was in attendance. Additional Star Wars elements were supplied by the R2 Builders Club. The combined organizations offered free photo opportunities with their members with suggested donations in support of charity. Plus, if attendees really wanted to get into the spirit, they could take a shot at a Jedi with a nerf gun.
Other costuming organizations in attendance included the DFW Ghostbusters and the DFW Cosplay Gallifrey. The DFW Ghostbusters brought an SUV decked out in all the appropriate props appropriate for a team of ghost hunters.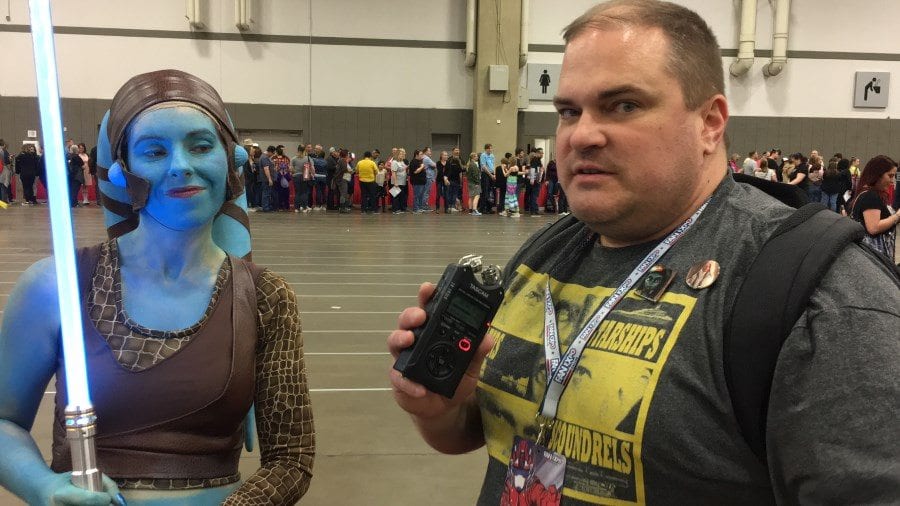 Milling with the Crowd – Darth Taxus
For most of FAN EXPO Dallas 2018, I milled about the crowd looking for interesting people, items or events to interact with. Highest on my list of priorities is anything relating to Star Wars and I love asking people about their costumes or involvement with charitable efforts. Some of the outstanding costumes I encountered included an amazing group representing the very popular game, Overwatch. I also met BritishPixie, a prominent cosplayer on Instagram, who donned an extraordinarily detailed Aayla Secura (from the Star Wars prequels) and was there to raise funds for the The Michael J. Fox Foundation for Parkinson's Research via the costuming group The Rebel Legion. I have a close friend whose father was diagnosed with Parkinson's, so I sincerely appreciate the redoubling of efforts to fight such a terrible disease.
Another wonderful charity I discovered was Extra-Life whose motto is "Play Games. Heal Kids." They are an organization dedicated to engaging the gamer community to fundraise for local hospitals affiliated with The Children's Miracle Network. Just to show that I am inclusive of other franchises that begin with the word "star," I had a fun exchange with the representatives, one of which was dressed in a Star Trek original series science officer uniform.
Back to the Future at FAN EXPO Dallas 2018
Back to the Future had a large presence at this year's convention. Doc Brown (Christopher Lloyd) and Biff (Tom Wilson) were both in attendance. In addition, a team of voice actors united for a live, and hilarious, script reading. The team included Jeremy Shada, Grey Delisle, Rob Paulsen, Maurice Lamarche, and Susan Egan. Plus, fans had the opportunity to get their picture taken with the Delorean time machine made famous by the movies. A great deal of the experience at FAN EXPO Dallas 2018 was planned around Back to the Future. Even though Michael J. Fox had to cancel for health reasons, Back to the Future still resonated in the convention hall.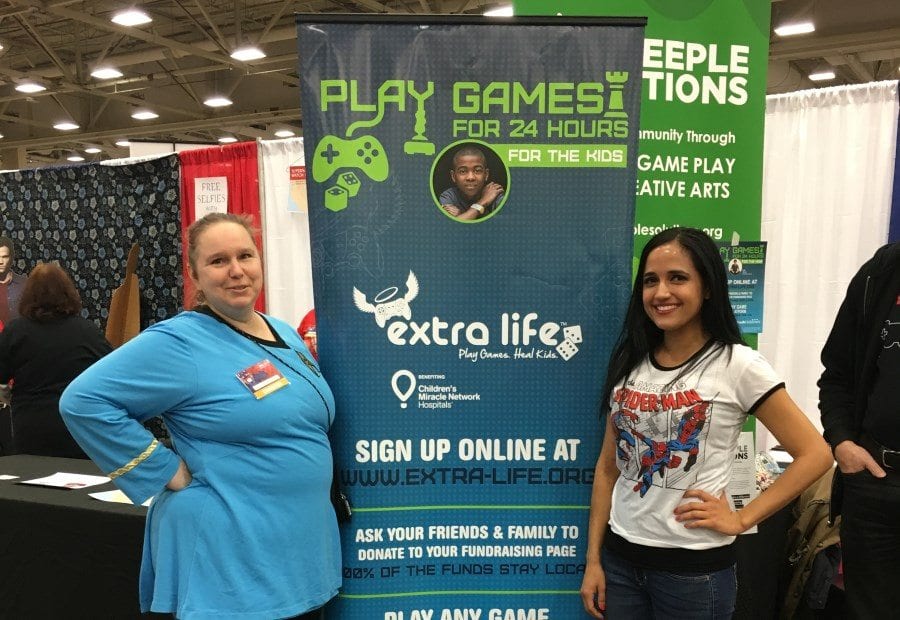 Final Day Experience – Darth Taxus
The last day I was able to get in line very early to get Billy Dee Williams's autograph. I had a great time chatting with other fans in line with me so the two and a half-hour wait flew by fast. I have to say it was quite worth it, and it wasn't quite a full wait because I was able to sneak over to get Anthony Daniels's autograph on a photo as well! After, the Scoundrels Social Media crew was able to get over to the voice actor tables and get some of their favorites from Overwatch and anime. The weekend culminated with a delightful panel with Anthony Daniels who delighted the crowd with his off-the-cuff improvisation and conversational skills. This is also a must-see for any Star Wars fan.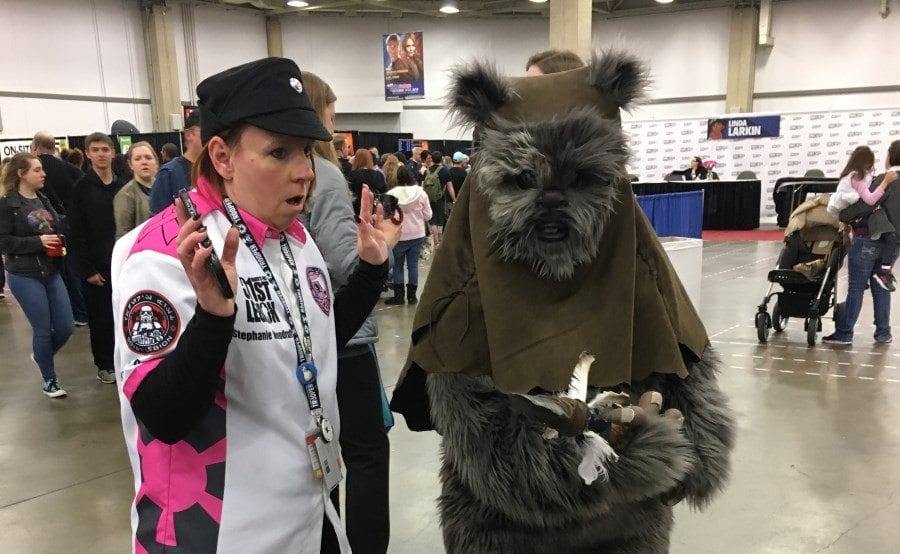 The Anthony Daniels Panel – Dennis
One of the last marquee events of FAN EXPO Dallas 2018 was Anthony Daniels's panel. After meeting Drew Struzan, a renowned artist, and Joonas Suotamo, the new Chewbacca, I headed for his panel with Darth Taxus. Mr. Daniels was aware that after forty years of Star Wars, many fans have heard most of his stories. With that in mind, he elected to forego the traditional panel format, and instead he wandered the stage and the audience taking questions from those in attendance. One of the early questions he answered concerned C-3PO's reaction to Luke Skywalker's appearance on Crait in The Last Jedi. He related how the script informed his performance as C-3PO muted his response as even the normally excitable and talkative Threepio understood the gravity of the situation. Mr. Daniels ended his panel by referencing the conversation I had with him earlier in the day about Star Wars: In Concert and what it meant to him.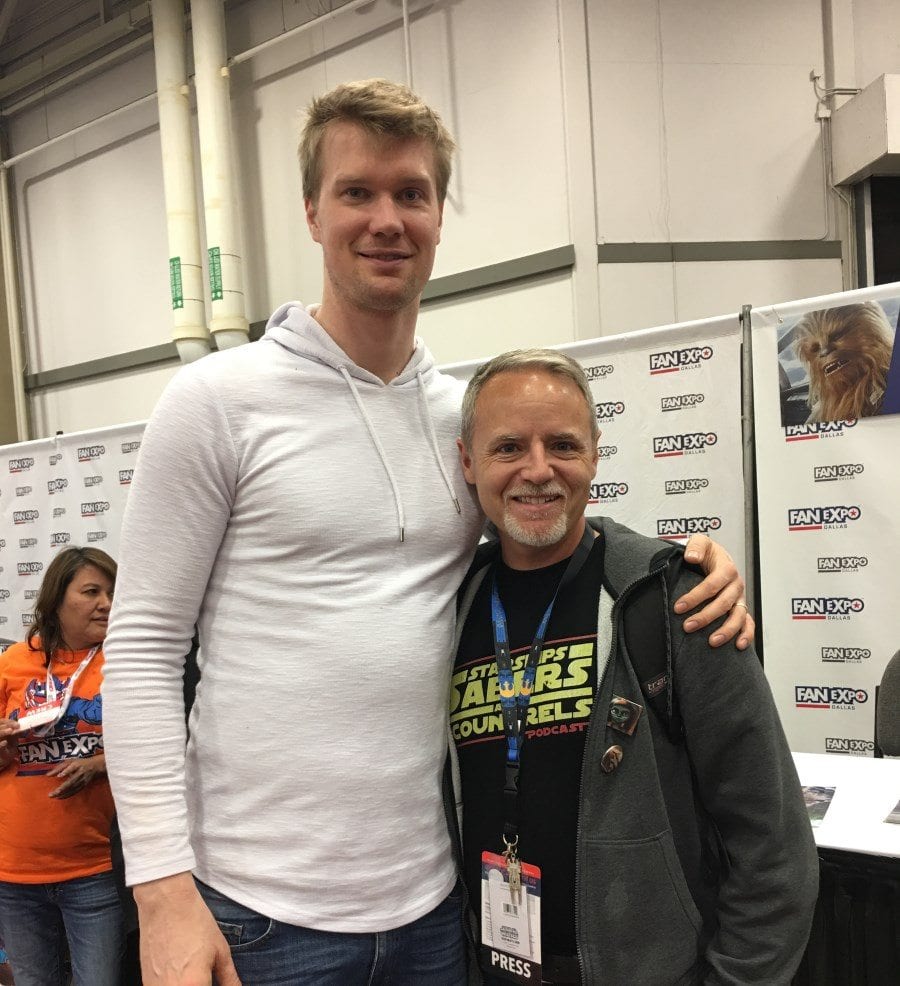 Concluding Thoughts on FAN EXPO Dallas 2018
Like it's predecessor events, FAN EXPO Dallas 2018 had something to offer fans of all pop culture genres. Whether attendees wanted to shop, meet celebrities, get autographs, attend panels, or cosplay, it was all there. The shopping experience included everything a geek could ask for including action figures, posters and other art, comic books, cosplay props, and more. The spectrum of celebrities included stars from movies, live action television, and animation. The comic industry was well represented too. Attendees got into the spirit of things with a wide variety of cosplay. This is an annual event that no fan in the Dallas – Fort Worth area should miss.
Dennis Keithly is a graduate of the University of Missouri, North Texas attorney, husband, father of two, and co-host of Starships, Sabers, and Scoundrels. In addition to Star Wars, Dennis is a fan of science fiction, fantasy, and super heroes in general. When not engaged in fictional universes, Dennis is reading a good book or watching the NHL, football, or studying the NFL draft.