Starships, Sabers, and Scoundrels's Dennis and Darth Taxus take in Fan Expo Dallas 2017.
Fan Expo Dallas kicked off on March 31 at the Dallas Convention Center. As with previous iterations of the Expo, the show filled the Dallas Convention Center with comics, merchandise, celebrities, and cosplayers. Dennis and Darth Taxus, hosts of Starships, Sabers, and Scoundrels had the pleasure of attending Fan Expo Dallas and taking in all the sights of this comic con event. From the panels and autographs to the merchandise and cosplayers, Fan Expo Dallas had something for everyone.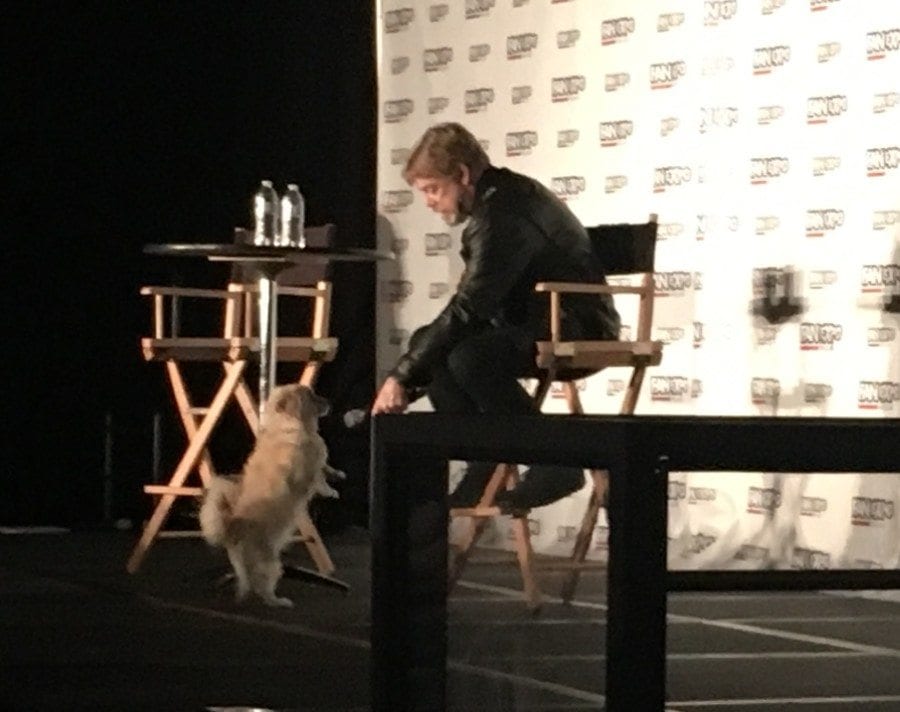 Mark Hamill Panel – Darth Taxus
---
I made sure to get a special event ticket for the Mark Hamill panel for Friday night. The room was absolutely packed with a mix of Star Wars, Batman, and other fans of his who erupted with cheers the moment Mark took the stage. The MC had asked everyone in the room to raise their sabers for Carrie Fisher earlier, and Mark spent some time discussing how her passing had affected him. Mark conducted the panel in a town hall style, alternating from questions shouted from the audience to ones provided by microphones. First, he discussed his role as the Joker at some length, emphasizing the interesting distinctions between all the actors who have portrayed the Dark Knight's arch-enemy. He especially enjoyed teasing Star Wars fans with coy statements about the relationship between Luke and Rey.
Mark was in perfect form, from anecdotes from his early years in television, to a slight mention of who might own the car from Corvette Summer, to jokes about Harrison Ford's luck in landing, all of which had the crowd enraptured. This panel was well worth the extra cost for an event ticket.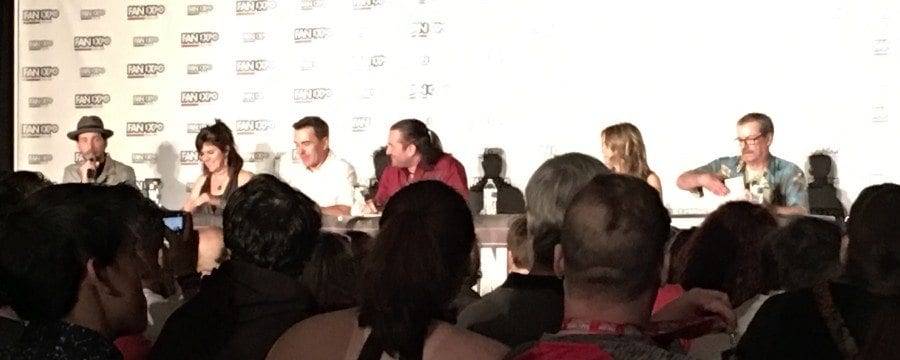 The Princess Bride, as read by voice actors – Dennis
---
My experience at Fan Expo Dallas commenced on Saturday. After exploring the floor, I made my way to Ballroom A for the Voice Actor Live Script reading of The Princess Bride. The panel featured Troy Baker, Roger Bumpass, Jennifer Hale, Ali Hillis, and Nolan North. Plus, Christopher Daniel Barnes, the voice of Eric from The Little Mermaid, was in the audience. He joined the cast on stage for a few segments. During each segment, the moderator would assign each of the cast member a role in the script and then a voice from their stable of voice roles to play that character.
For instance, the show opened with the introductory scene of Princess Buttercup and Westley discovering they had feelings for each other. Except this time, Nolan North was playing Buttercup as Mickey Mouse and Troy Baker was playing Westley as the Joker. It was hilarious and each of the actors delivered fantastic pefromances.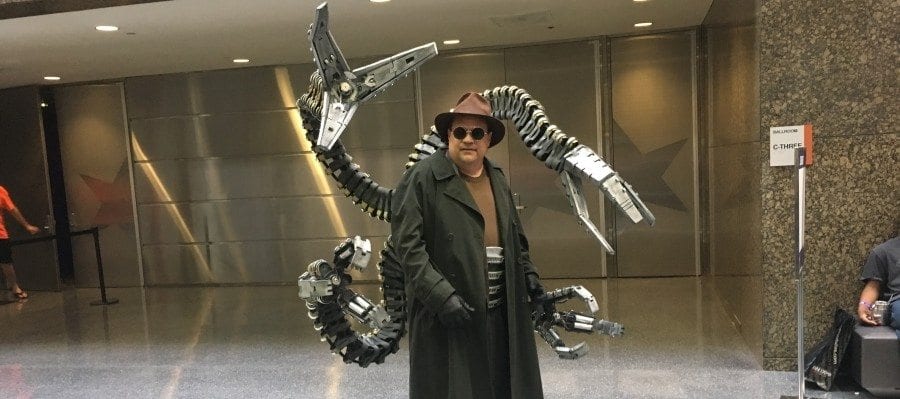 Cosplaying – Dennis
---
As with any comic convention, cosplaying was a huge part of the event. Last year, Harley Quinn cosplay was a common site in the aisles. However, her costumed presence was considerably diminished this year. Instead, many women chose Belle, from Beauty and the Beast, instead. The choice seemed natural given the recent live action release of the movie. As for the men, Logan, or "Old Man" Wolverine, was a popular choice. As with Belle, Logan benefited from a recent movie release.
Costumes aside, a particular prop prominently featured among the attendees whether they were in cosplay or not. Many attendees carried Lucille, the baseball bat wrapped in barbed wire, and wielded by Negan in The Walking Dead. Some cosplayers chose to go all out and dress up as Negan while others just carried the bat.
Deadpool was another favorite cosplay. In fact, Deadpool was a cross gender favorite. Men, women, boys, and even some girls all roamed the floor as everyone's favorite merc with a mouth. Perhaps one of the best cosplays present was another Marvel personality. One gentleman created a Doctor Octopus costume complete with four mechanical arms. His cosplay seemed inspired by Alfred Molina's costume from Spider-Man 2 and was easily one of the best in attendance.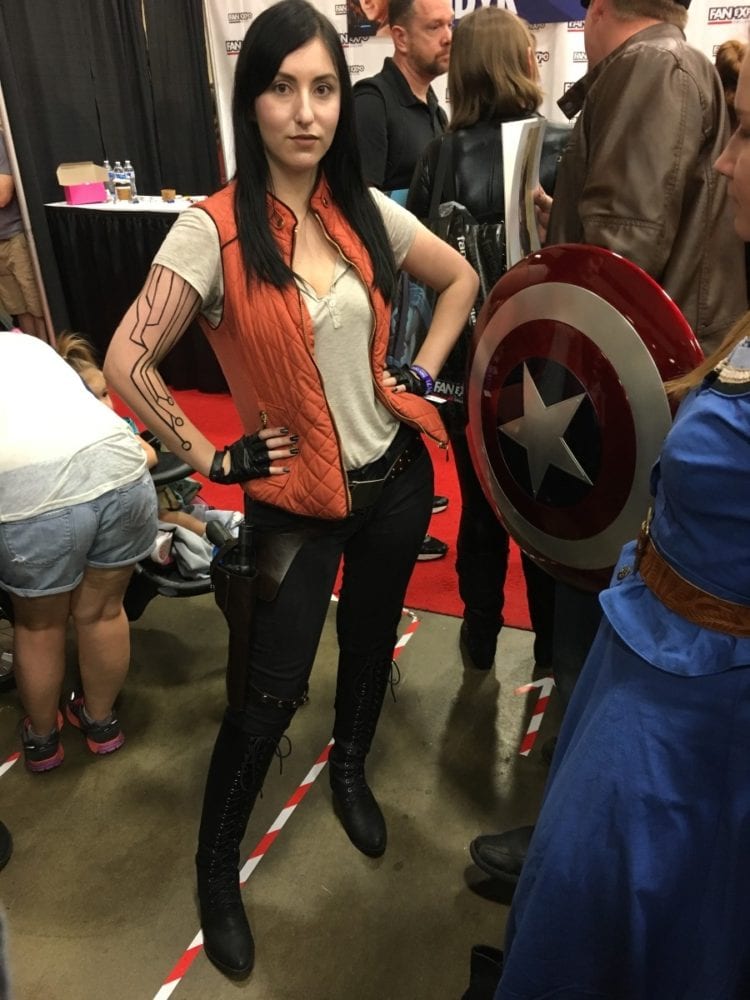 The Line for Tudyk – Darth Taxus
---
The convention center was packed to the brim on Saturday. It was difficult to find a parking spot, so I might try using the train or pre-purchasing a spot if available in the future. I had two main goals for Saturday, get Akan Tudyk's autograph on my K-2SO Black Series figure and get a signed poster from Drew Struzan. I had a great time talking Star Wars and all that entails with other people while we waited in line for Alan. It took me a while to realize that a lady in from of me was cosplaying one of my favorite characters from the new Marvel series, Dr. Aphra! After watching everyone in front of me, I could tell that Alan genuinely enjoys interacting with his fans and takes the time to listen to each of them.
After meeting Tudyk, I found Drew Struzan and was awestruck being in front of the man who formed so much of my pop-culture imagery. He took it in stride and even had a few jokes to tell me. It was absolutely great meeting him.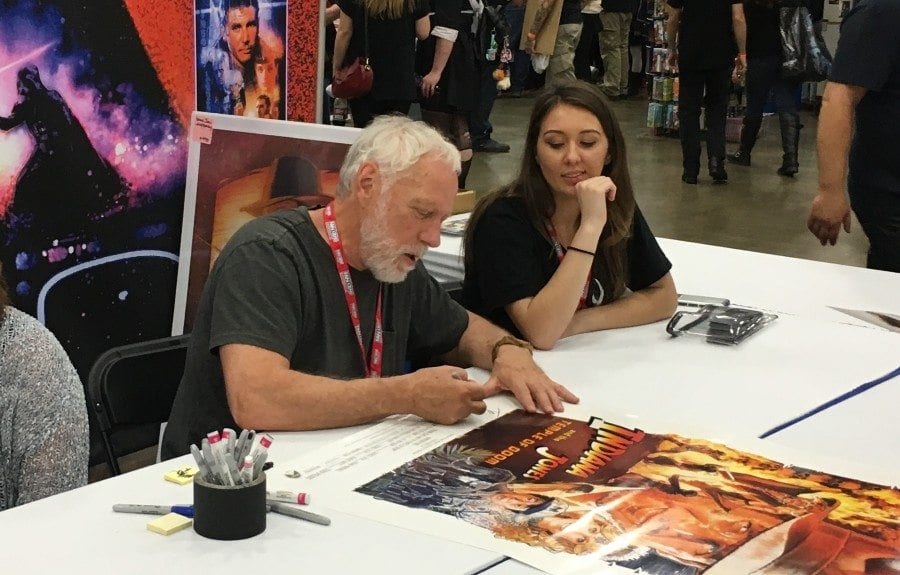 The 501st, The Rebel Legion, Droid Builders, and Mandalorian Mercs – Dennis
---
These days, conventions that have any Star Wars presence at all are incomplete with the various Star Wars costuming groups. Fan Expo Dallas was not incomplete. The 501st, The Rebel Legion, the Droid Builders, and Mandalorian Merc were all in attendance. They worked jointly in an area of the floor posing for pictures with fans while raising money for charity. They had two photo sessions available plus members wandering the floor in costume. In addition, they had at least one member available that fans could take shots at with a dart gun for charity. These Star Wars costuming groups always add some class and magic to conventions like Fan Expo Dallas, and this event was no exception.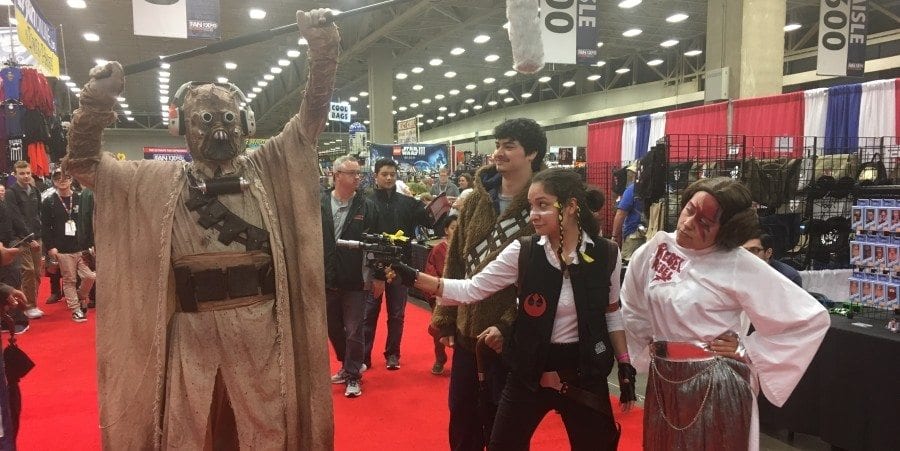 Merchandise and Exhibitors – Darth Taxus
---
Sunday was my fun day! I had the opportunity to shop the vendors and engage with other convention attendees. I found an absolutely wonderful shop, The Comic Shadow, that takes extra comics and converts the panels into coasters or the covers into three dimensional shadow boxes. In addition, I also had fun talking to people who worked the event speed dating booth and ran into a new Star Wars themed costuming group, The Dark Empire, who are establishing a group in North Texas. But all fun aside, I was hopeful to attend the Alan Tudyk panel that afternoon.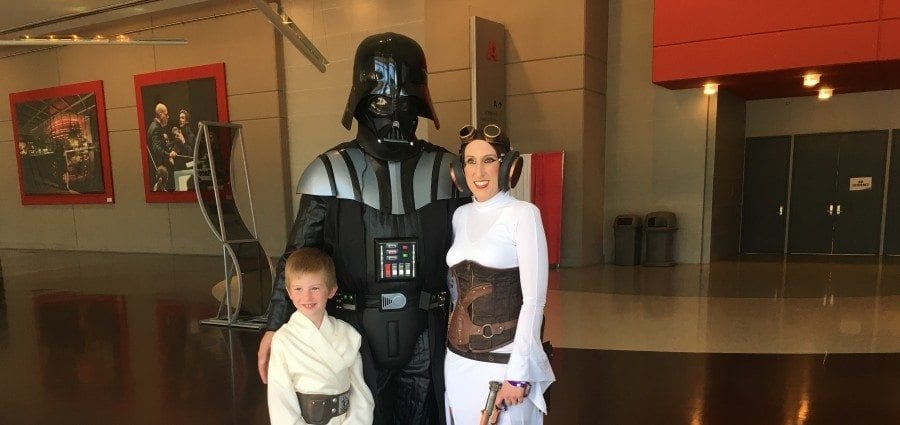 Celebrity Q&A with Batman Stars Kevin Conroy & Mark Hamill – Dennis
---
Unfortunately, I missed the Mark Hamill panel on Friday night. However, I had a second opportunity for a Hamill panel on Sunday. Mark teamed up with Kevin Conroy for a panel devoted to the Batman: The Animated Series from the 1990s. This was an unmoderated panel, and Mark did most of the talking. Mark discussed how he had always been a huge fan of Batman and leapt at the opportunity to participate in the show. In contrast, Kevin was aware of Batman, but was the fan that Mark was. In fact, Batman was his first voice acting job, and he landed the leading role of Batman/Bruce Wayne. Mark, on the other hand, was given the role of Ferris Boyle before auditioning and landing the role of the Joker. Mark recounted his anxiety at following up the likes of Jack Nicholson in portraying the Joker.
The show was informative, funny, and highly entertaining. Most of the show was Mark and Kevin talking, but it concluded with a question and answer session. Despite the Batman theme, many fans attempted to ask Mark about Star Wars. Although he would answer their questions, he always returned the conversation to Batman.
Alan Tudyk Panel – Darth Taxus
---
Much like Mark Hamill's panel, the crowd was energetic. Alan Tudyk remarked that he was Plano's own and had some funny school pride jabs against attendees from neighboring cities in which he owned the fans. He spent time discussing his various roles and how often he dies in those roles. Also, he had some interesting insights on creating your own show and how that can disrupt signing on to do a pilot series. He covered his career from his time in 28 Days to his role as Van Wayne in NBC's Powerless and his own show with former Firefly co-star, Nathan Fillion, on Con Man.
One thing I found especially funny was how he still can't believe he's become friends with Mark Hamill. He also convinced me to watch Con Man with a discussion of writing music for the fake musical portrayed in the series based on the novel Of Mice and Men titled I'm With Stupid. In it, Tudyk's character of Wray Nerely and Lou Ferrigno take on the roles of George and Lenny. So now I'll be addicted to yet another show with Alan Tudyk.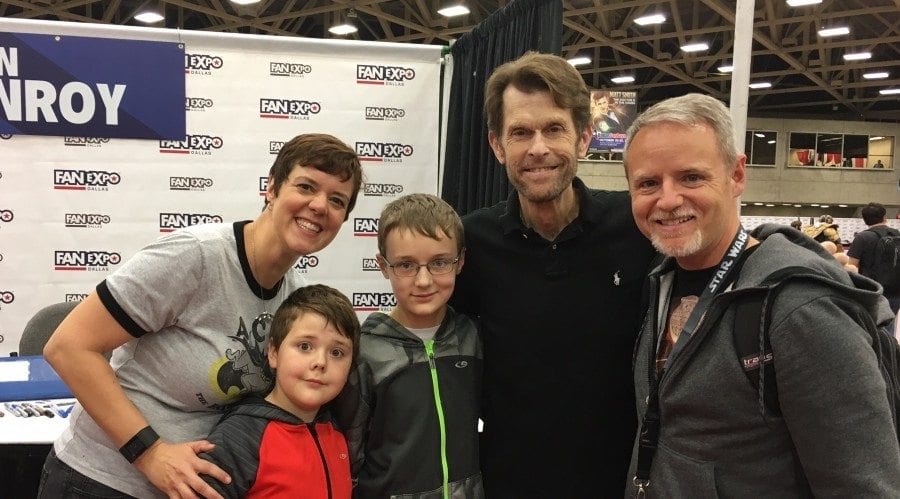 The Line for Kevin Conroy – Dennis
---
After experiencing the Batman panel, we had one last thing to accomplish for Fan Expo Dallas. My family had joined me for Sunday. My wife, and more recently my children, have become huge fans of Batman: The Animated Series. Therefore, they couldn't miss the opportunity to meet Kevin Conroy and get his autograph. Our opportunity arrived late in the day. Despite his busy schedule, Kevin continued to sign autographs and take pictures with fans at his table. Even after most of the celebrities had left, he was still there graciously listening to fan stories as he signed photographs and other memorabilia. Mr. Conroy couldn't have been more of a gentleman.
Concluding Thoughts on Fan Expo Dallas
---
Fan Expo Dallas was a huge success. As in past years, it had something to offer fans of many different properties. Whether your interest is in panels, merchandise, cosplaying, or meeting celebrities, there was something to please every fan. Fans looking to attend in the future should keep their eyes on FanExpoDallas.com and the Fan Expo Dallas app. This was a fantastic experience, and we're looking forward to next year already.
Dennis Keithly is a graduate of the University of Missouri, North Texas attorney, husband, father of two, and co-host of Starships, Sabers, and Scoundrels. In addition to Star Wars, Dennis is a fan of science fiction, fantasy, and super heroes in general. When not engaged in fictional universes, Dennis is reading a good book or watching the NHL, football, or studying the NFL draft.