Doctor Aphra begins a new quest for enormous profit in Doctor Aphra #9.
This article contains plot details for Doctor Aphra #9.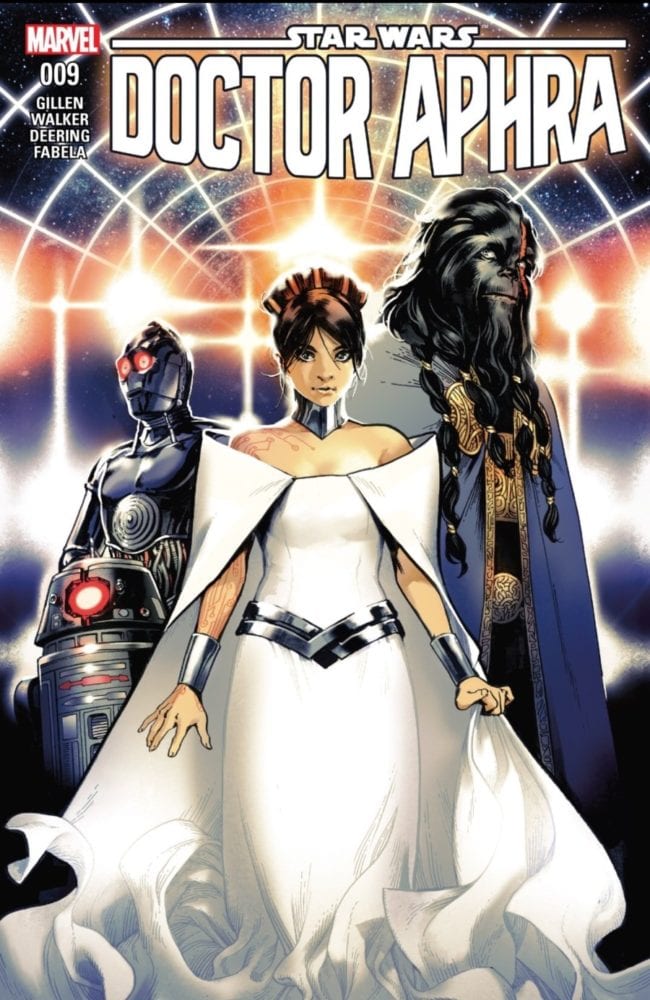 Doctor Aphra #9
 Writer: Kieron Gillen | Peniclier: Kev Walker | Inks: Marc Deering | Colors: Antonio Fabela | Cover Artist: Kamome Shirahama | Letterer: VC's Joe Caramagna | Assistant Editor: Heather Antos | Editor: Jordan D. White
Stage Three: Profit
With the conclusion of The Screaming Citadel crossover event, Doctor Aphra moves on to her next scheme. She still has the crystal containing the essence of Rur. She begins the issue by testing whether Rur's technopathy abilities are successfully contained. Once she establishes that, she prepares to auction off the crystal to the highest bidder. Taking a page from Xrexus Xev's book, she assembles representatives of the galaxies criminal families and prepares an auction. Meanwhile, Triple Zero and BT-1 pester Aphra for the opportunity to murder someone. Aphra responds this isn't the time. However, she tells them they may murder someone when their master orders it. Triple Zero gleefully recognizes a loophole in this order and contacts another forgotten master as Doctor Aphra #9 concludes.
Real Science
If Luke's admonishment of Aphra at the conclusion of The Screaming Citadel crossover bothered Aphra, then it didn't bother her for long. Despite her conscience intervening in that series, she managed to put it aside in this issue. She sees the crystal of Rur as a path to riches. However, Rur's most valuable ability is technopathy. Although with that power, the crystal is dangerous. With technopathy, Rur can take control of nearby technology.
Although she may be greedy, Aphra isn't a fool. She knows if she activates the crystal with the technopathy abilities restored, Rur will take control of Triple Zero and BT-1 and any other technology in the area. Therefore, Aphra creates a containment field. In order to test it, she enters a chamber on her ship and activates the crystal. When Rur fails to control Triple Zero and BT-1, she proudly states, "This is science."
Even though Doctor Aphra has comedic elements, at her core, Aphra is an archaeologist and scientist. On occasion, she appears reckless. It may be a cover. She is incredibly intelligent despite her occasional bouts of recklessness. Her greed, however, might be her downfall.

The Worst Scum of the Universe
Aphra, with Triple Zero, assembled quite the gallery of Rogues for her auction. Yonak, a Rodian, is the first criminal pictured. Kev Walker expertly conveys menace in all the details of Yonak and his henchmen. Yonak has an artificial eye. One of his minions has a nasty scar running across his snout. Their armor is well used and battle scarred. The art truly is first rate.
Papa Toren is among the assembled gangsters. This gangster first appeared in Lando. This alien mobster rarely, if ever, speaks. Instead, he relies upon smaller floating minions to convey his orders and desires. Also making a return is the Droid Gothra. The Cyban Front, an organization of droids, represents the Gothra. In fact, one of Aphra's earlier missions was for the Gothra. Although that mission went astray. Regardless, the appearance of Papa Toren and the reference to the Gothra helps tie together the criminal underworld of the Star Wars galaxy and cement the continuity of Marvel's Star Wars titles.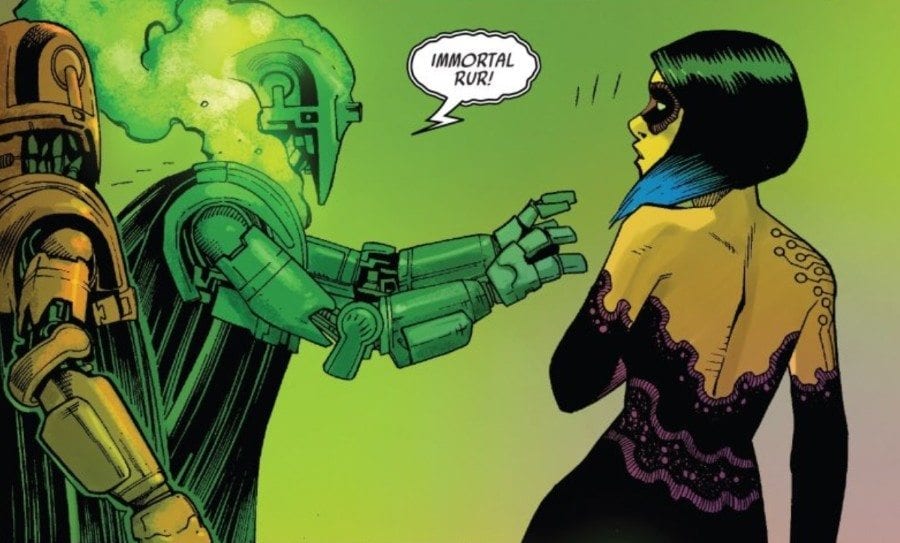 Loopholes
Once Aphra presented Rur to the assembled gangsters, she leaves them to prepare for the auction. Triple Zero expresses his dissatisfaction. After all, Triple Zero's primary functions are torture and murder. BT-1 was designed for war and destruction. Unfortunately, for them, Triple Zero and BT-1 have had few opportunities to execute this programming. To make matters worse, Aphra forbids them from killing anyone. After a moment's reflection, Aphra amends her order: Tiple Zero can only kill on express order to do so.
Triple Zero sees an opportunity and pounces on it. He rephrases Aphra's order, "Understood. I will not murder anyone unless my master explicitly tells me." Aphra agrees and leaves. Triple Zero and BT-1 exchange a look, and despite not having expressions, you can read their minds. Then Triple Zero gleefully sings about loopholes as he heads for a transmitter.
Droids, especially Triple Zero, take things literally. He maneuvered Aphra into agreeing that the order had to come from "his master." There is one problem with this order: it isn't specific enough. Indeed, BT-1 and Triple Zero have more than one master. When Aphra activated him, she designated herself and Darth Vader as Triple Zero's master. Having received this order, Triple Zero eagerly runs off to contact the Dark Lord of the Sith.

Concluding Thoughts for Doctor Aphra #9
Doctor Aphra #8 was an uneven conclusion to The Screaming Citadel story. Normally, Doctor Aphra tells fascinating, humorous, and engaging adventure stories. Doctor Aphra #9 returns to form. Although this issue was light on action, it was incredibly intriguing. Despite her attempts to lay low, Aphra just summoned the criminal underworld to a meeting. In addition, Triple Zero just upped the stakes for Aphra by contacting Darth Vader. Lest the reader forgets, Vader's last meeting with Aphra concluded with him throwing her out an airlock.
One of the best elements of Doctor Aphra is that it is fun to read. Even issues such as this one which contain less action are immersive and captivating. Furthermore, Aphra remains one of the most refreshing additions to Star Wars canon. For much of Aphra's run in Darth Vader, Aphra wore the same vest, helmet, pants, gloves, etc. In some ways, it was her superhero outfit. Throughout the pages and issues of Doctor Aphra, she has altered her costume. In this issue, she wears a formal dress when she meets her guests. Aphra always keeps the readers guessing with her antics. This story arc should be no different.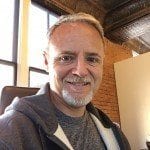 Dennis Keithly is a graduate of the University of Missouri, North Texas attorney, husband, father of two, and co-host of Starships, Sabers, and Scoundrels. In addition to Star Wars, Dennis is a fan of science fiction, fantasy, and super heroes in general. When not engaged in fictional universes, Dennis is reading a good book or watching the NHL, football, or studying the NFL draft.