Luke and Aphra team up for a visit to the Screaming Citadel.
Warning: This article contains spoilers for Star Wars: Screaming Citadel #1.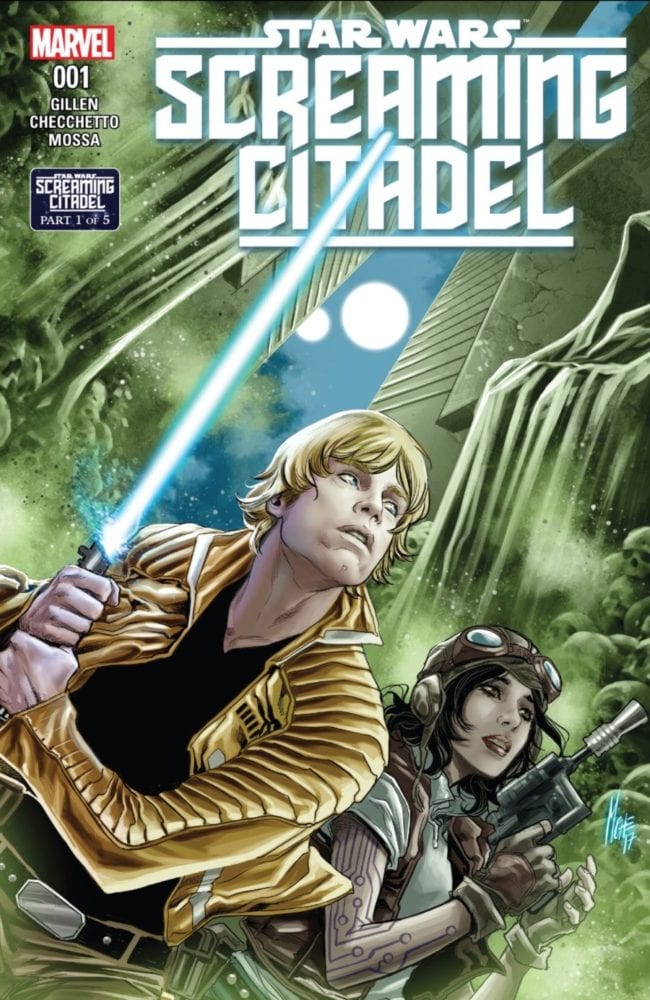 Star Wars: Screaming Citadel #1
Writer: Kieron Gillen | Art: Marco Checchetto | Colors: Adres Mossa | Story: Kieron Gillen & Jason Aaron | Cover Artist: Marco Checchetto | Letterer: VC's Joe Caramagna | Assistant Editor: Heather Antos | Editor: Jordan D. White
Aphra the Charmer and Manipulator
Dr. Aphra has a problem. She recently recovered an artifact containing the archived personality of an ancient Jedi master. However, she can't activate it. Aphra is nothing if not resourceful, and she has a solution. That solution is the Queen of Ktath'atn. The problem is Aphra has nothing that will interest and entice the Queen to help her. She has a solution to that problem too. Luke Skywalker. Through her time with Darth Vader, she deduced he was a Jedi in training. She tempts him with the prospect of the archived Jedi master completing his training. In exchange, he agrees to accompany her to the Queen's palace. So begins Screaming Citadel #1.

Luke and Aphra
It there ever was an odd couple in Star Wars, it might be Luke and Aphra. She is street wise and manipulative. Luke, on the other hand, is still relatively fresh off the farm. Aphra takes advantage of and is charmed by Luke's naivete. She finds it adorable.
Despite their differences, Luke overcomes his aversion to working with Aphra. She served Darth Vader after all. Luke knows that, and he still exhibits some of that "farm boy" inexperience and innocence. Aphra flirts a little by teasing him about his upbringing. In addition, Luke finds her attractive. Part of that is obviously a physical attraction. Another part is that Aphra is confident in herself. Whether it is her physical beauty or the confident nature with which she convinces Luke to assist her, she doesn't falter.
For instance, at the beginning of the issue, Luke exhibited some confidence when confronted by ruffians at a bar. However, Aphra walked in and proclaimed Luke was with her. Furthermore, she was "the Dr. Aphra." Although that didn't work, by comparison, Luke didn't, and probably couldn't, just state who he was with that degree of conviction.
Gillen created great chemistry between these two. It is natural to compare this relationship to Luke and Mara from the Legends universe. In both instances, the couple was a variation on the opposites attract motif. Granted, Luke and Aphra aren't a couple, and there is no indication the story will move that direction.
Abusing Old Relationships
Luke asked Aphra how she found him, which leads to an interlude with Sana Starros. In the past, she and Aphra had a relationship. Aphra knew Sana was keeping company with the Rebels, so she contacted Sana under false pretenses. She said she wanted to discuss old personal stuff.
Sana ends up chiding herself for falling for it. Indeed, Aphra only wanted her location. Despite this, it is a nice addition to Sana's character. She has largely been portrayed as guarded with her emotions. The emotions she did share were frequently some variation of irritated or annoyed. This adds a little depth to her character. Even though Aphra may have violated or betrayed whatever relationship they had in the past, Sana hoped to have that discussion. That is something to which many people can relate.
In any event, this is how Sana, Han, and Leia discover Luke is gone and that they might need to rescue him.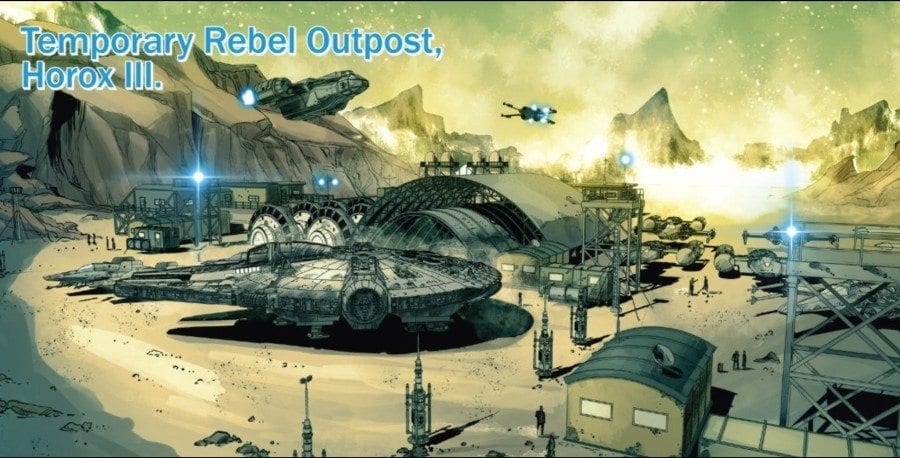 The Screaming Citadel
The Screaming Citadel is a translation of a much more difficult name. It is also this story arc's version of the cantina, at least for this issue. All manner of aliens fill the Queen's audience chamber hoping to win her approval. Duros, Bith, Quarren, Toydarians, and Twi'lek are among the many species present. With their prior introduction in other sources, there is no awe factor like the cantina in A New Hope. Despite that, the Queen's presence with her retinue make up for that.
The Queen silently overlooks the party from her throne. An advisor apparently receives her thoughts through some telepathic means. He screens those seeking the Queen's favor and informs each of the Queen's interest or lack thereof. Luke was Aphra's bait, and was immediately rejected. However, the next alien pushed things to far, and Luke outed himself as a Jedi with a Force push. The Queen was immediately intrigued. Aphra got her meeting for the next day.

Star Wars Takes on Horror
Through the audience scenes at the Screaming Citadel, this story seems like an average, entertaining Star Wars tale. Then the Queen and her servants prepare for their meeting with Luke with a "harvest." From the palace, the Queen's servants appear to suck some sort of life force or power from the residents of the planet. Once they have done so, they then feed that power to the Queen. Star Wars just received its version of vampires. Exactly what they did is uncertain, but it seems worse for Luke. The issue ends with the Queen eagerly looking forward to tasting Jedi.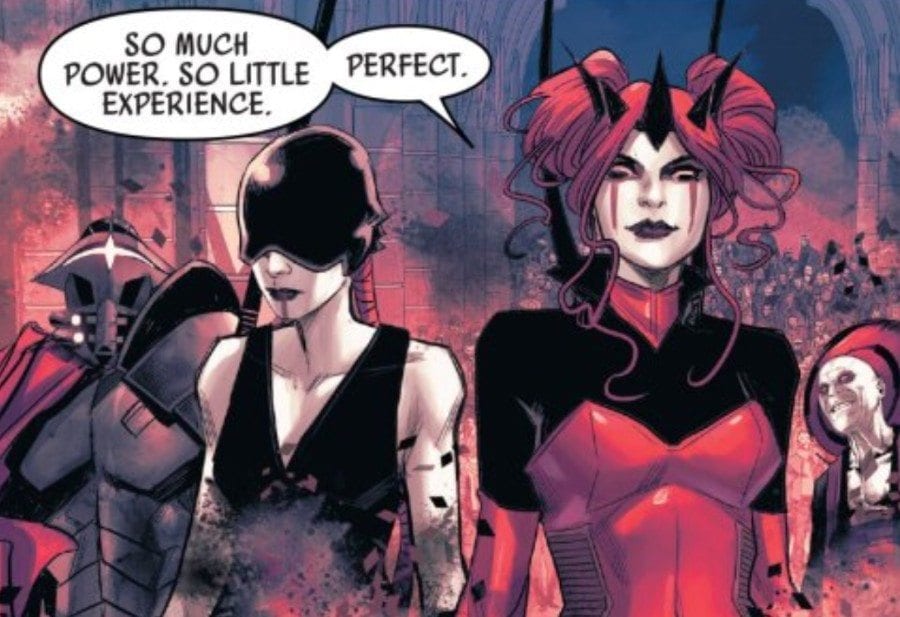 Conclusion
Screaming Citadel #1 is an excellent beginning to this cross over event. Luke and Aphra have incredible chemistry. The setting is both Star Wars and something unique to the galaxy. The horror elements introduced at the end are unlike anything Star Wars has seen with the exception of the Legends novel Death Troopers. One thing of note, the well being and whereabouts of R2-D2 and C-3PO are still unknown. In fact, they have been unknown since the beginning of issue #26. Although Star Wars fans are undoubtedly aware that they reunite with Luke, Han, and Leia by The Empire Strikes Back, it seems odd that no additional thought was given to the droids. Things should get even more interesting next issue as the Queen reveals her plot for Luke.
Favorite Panel of Screaming Citadel #1
Checchetto's work is amazing. Screaming Citadel #1 marks his return to Star Wars comics. He previously contributed art to the Shattered Empire series and Obi-Wan & Anakin. Marvel and Star Wars are fortunate to have so many talented artists working on their series. Checchetto does a fantastic job with Aphra. In addition, Gillen wrote a wonderful relationship between these two. Aphra flirts, teases, and tempts Luke to get what she wants. There are several great panels illustrating this relationship in this issue. I chose one as the favorite panel for Screaming Citadel #1.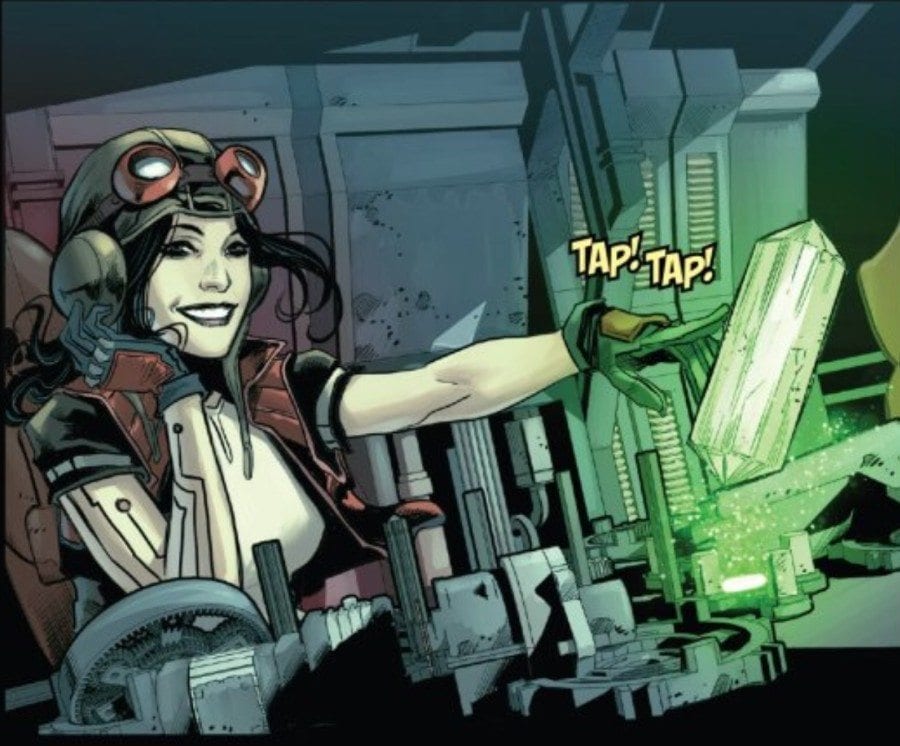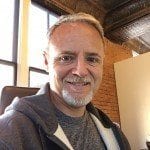 Dennis Keithly is a graduate of the University of Missouri, North Texas attorney, husband, father of two, and co-host of Starships, Sabers, and Scoundrels. In addition to Star Wars, Dennis is a fan of science fiction, fantasy, and super heroes in general. When not engaged in fictional universes, Dennis is reading a good book or watching the NHL, football, or studying the NFL draft.