In Doctor Aphra #27, Aphra looks for solutions while an obstinate droid inadvertently sabotages her efforts. Things go from bad to worse for Aphra in an issue with amazing writing and dialogue.
This review contains plot points for Doctor Aphra #27.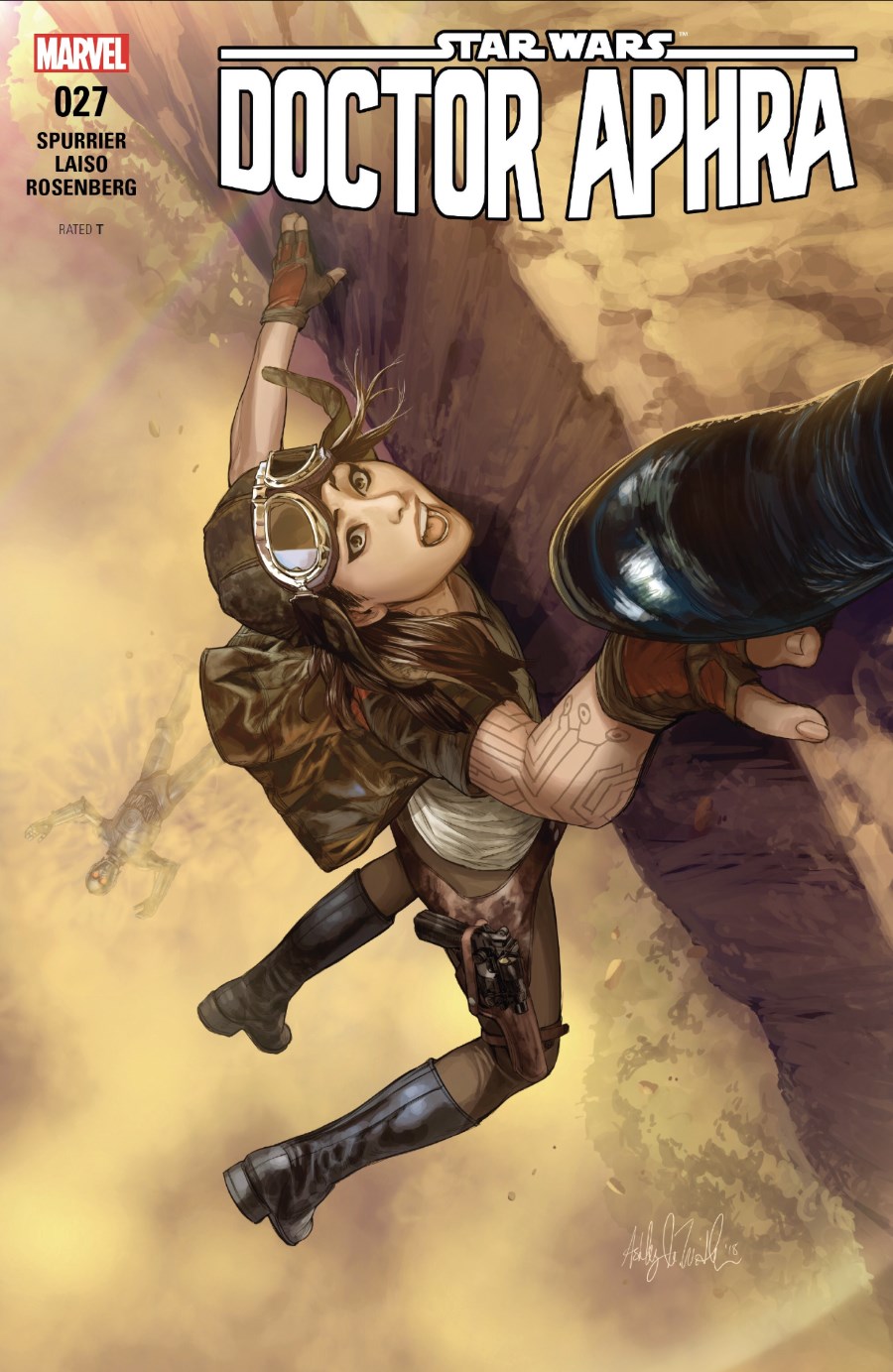 Doctor Aphra #27
Writer: Simon Spurrier | Art: Emilio Laiso | Colors: Rachelle Rosenberg | Cover Artist: Ashley Wittier | Letterer: VC's Joe Caramagna | Assistant Editor: Tom Groneman | Editor: Mark Paniccia
Doctor Aphra #27 continues Aphra's latest misadventure that began in Doctor Aphra #26. The stakes are higher now. Triple Zero killed the one person that could remove the explosives Dr. Evazan implanted in them. Granted, that very person swindled them. Now, the pair continue their desperate search for a solution for their mutual problem on the Imperial world of Milvayne. Doctor Aphra #27 may just be Si Spurrier's best issue of Doctor Aphra yet with the return of important characters from the past, snappy dialogue, and unexpected plot twists.
Winloss and Nokk
Doctor Aphra #27 integrates Winloss and Nokk into the "Worst Among Equals" story arc. These characters were initially introduced in Doctor Aphra Annual #2. At the time, their story, while amusing, appeared as a simple distraction to the main story. Not anymore.
Doctor Aphra Annual #2 provided these monster hunters with motivation. That motivation becomes important in a moment. As Doctor Aphra #27 begins, the husband and wife team (yes, a human male married a female Trandoshan), are taking a meeting with Princess Leia. The Princess from Alderaan offers them a job to track down and eliminate the Triple Zero matrix. Nokk immediately refuses. They don't hunt droids. In addition, they employ non-lethal measures, which makes Nokk a novelty among Trandoshans.
This scene is spectacular. First, the appearance of Leia was completely out of left field. Then, Leia makes several out of character moves. Her interest in Triple Zero comes from out of nowhere. She doesn't speak as the princess traditionally does. Also, when Nokk and Winloss appear determined to turn her down, she alters the deal: incapacitate the droid, but kill the woman (Aphra). They immediately accept. The reason for their eager acceptance of the revised mission comes from Doctor Aphra Annual #2. In that issue, Aphra subtly manipulated the husband and wife team into defeating a terrifying monster that previously swallowed her. More specifically, they set up a situation where Aphra could kill the monster. Of course, Nokk employs non-lethal means, so this didn't set well, not to mention the false pretenses behind the mission in the first place.
After the mission is accepted, the big reveal comes: Leia is really Evazan in disguise. His Rebel bodyguard is none other than Ponda Baba. A second reading makes this a little more obvious. The clues are there: the Princess Leia title contains a minor disclaimer, the Rebel bodyguard is missing an arm and his face is wrapped, and Leia's ship is suspect. Regardless, the setup was perfect. Evazan is a little more worried about Triple Zero taking revenge than he initially let on.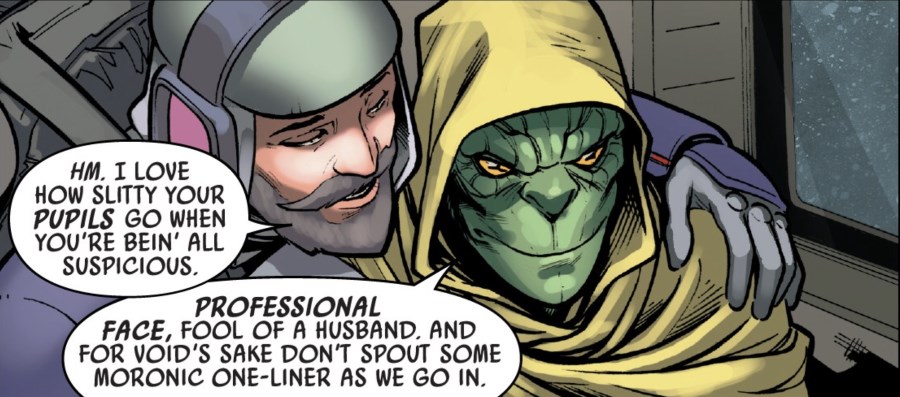 The Despair of Milvayne
As Aphra and Triple Zero plot their next move in Doctor Aphra #27, they discover the location of Professor Prexo across the Metromass. He is the man that might get them out of this mess. This isn't an easy trip. As they contemplate a solution, Spurrier provides some well-placed world building. Milvayne isn't the paradise the Empire promised. Sentient organic beings are pitched over the side of a cliff as punishment for their crimes, both large and small. Triple Zero finds this amusing and appealing until the same officials bring forth "defective" droids for the same punishment.
Later, Aphra and Triple Zero fail to secure passage on a transport on a conveyex largely due to Triple Zero's obstinance. Therefore, the look for alternative methods. A solution literally tries to eat Triple Zero. They meet a young woman named Vulaada Klam, a junk runner, who has a large pet qaberworm. Eventually, they barter passage on the worm to the location of the professor. Along the way, Vulaada tells her story. Her family relocated to Milvayne to pursue the Imperial promise of a better world. Once they arrived, trivial violations of minor Imperial laws lead to the family getting pitched over the cliff. Vulaada survived. Her family didn't. Such is the harsh life under the Imperial yoke.
Tam Posla Returns – Kind Of
Doctor Aphra #27 also see the return of Tam Posla. The bounty hunter with a strict moral code perished at the conclusion of the previous story arc. The hookspores that imprinted upon a Jedi claimed Posla's corpse and have hunted Aphra across the galaxy. Furthermore, these hookspores rebuilt BT-1, Triple Zero's previously destroyed companion. BT-1 looks a little worse for wear, but he appears as deadly as ever. Aphra's problems seemed insurmountable without Posla and BT-1's return, but more problems equal more potential solutions. Posla and BT-1 catch up with Aphra and Triple Zero as this issue ends.

Concluding Thoughts on Doctor Aphra #27
Doctor Aphra #27 keeps the clock running on Aphra and Triple Zero. It is a great follow up to the previous issue that increases the stakes, advances the story, cements some world building on Milvayne, and offers additional subtle commentary on Aphra. Aphra earns a lot of sympathy in this issue. She and Triple Zero are in for the same fate. While she works hard at overcoming the problem, Triple Zero lets his programming and minor indignities get the best of him time and again. When Aphra tries to placate him and reason with him, Triple Zero simply retorts with insults and unhelpful commentary on Aphra's life choices. This issue is another example of how Aphra never intends the tragic consequences of her conduct. Her desires may be less than noble to begin with, but she isn't actively trying to hurt anyone. Triple Zero may be on to something when he says she will sacrifice anyone to save her own skin. Those decisions are coming back to haunt her now.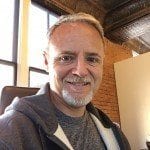 Dennis Keithly is a graduate of the University of Missouri, North Texas attorney, husband, father of two, and co-host of Starships, Sabers, and Scoundrels. In addition to Star Wars, Dennis is a fan of science fiction, fantasy, and super heroes in general. When not engaged in fictional universes, Dennis is reading a good book or watching the NHL, football, or studying the NFL draft.