Doctor Aphra's predicament with Triple Zero in Doctor Aphra #26 becomes reality television for one the galaxy's most despicable criminals.
This review contains plot points for Doctor Aphra #26.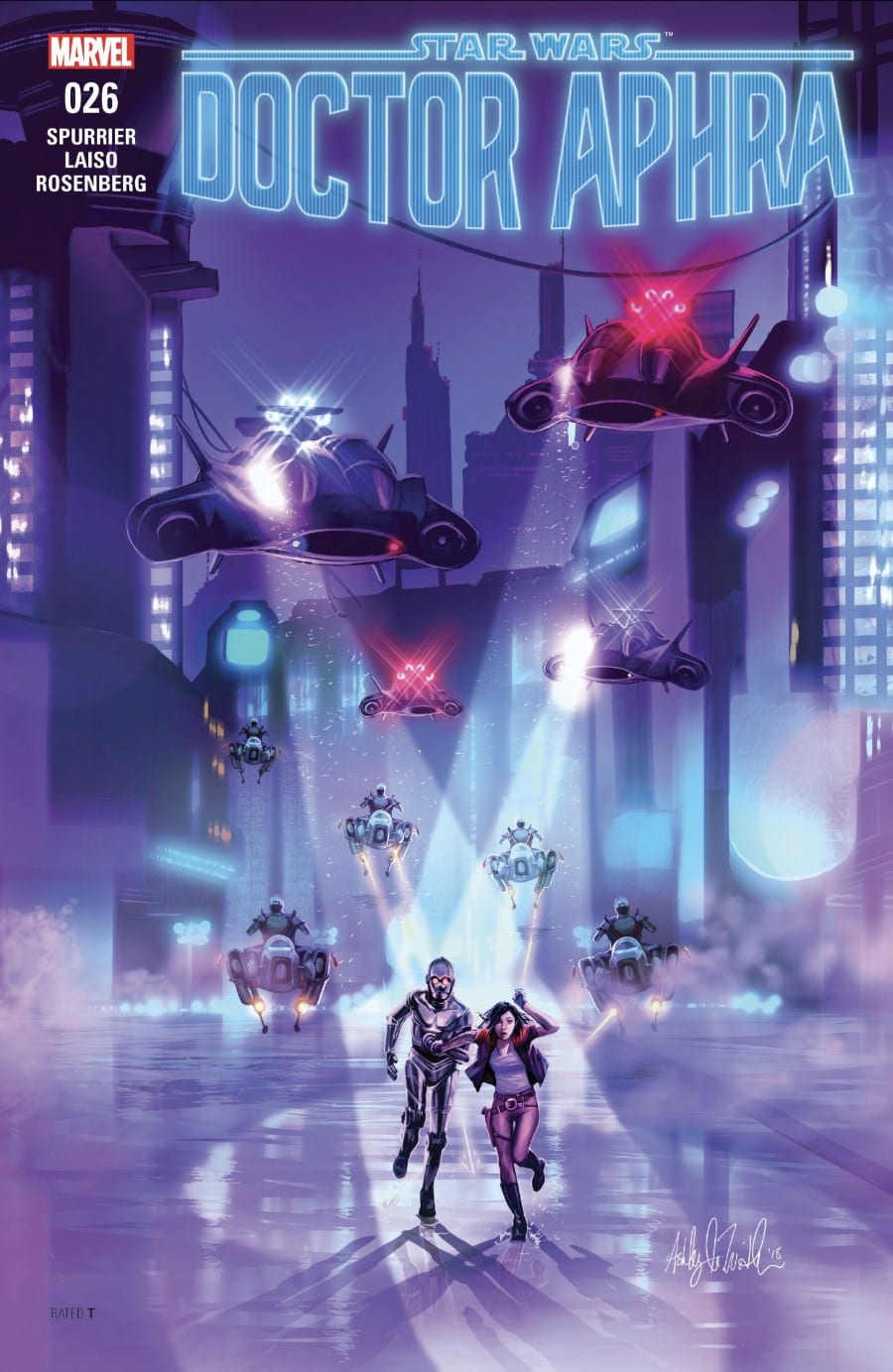 Doctor Aphra #26
Writers: Simon Spurrier | Art: Emilio Laiso | Colors: Rachelle Rosenberg | Cover Artist: Ashley Wittier | Letterer: VC's Joe Caramagna | Assistant Editor: Tom Groneman | Editor: Mark Paniccia
When Aphra escaped from Akkresker jail in Doctor Aphra #25, one would expect her life got a lot easier. One would be wrong. So, what could be worse than imprisonment on a ship headed for a collision course with a nerby inhabited planet? And, how could anything be worse than being stuck in a prison with Darth Vader in pursuit? Plus, there were sentient spores possessed by the spirit of a dead Jedi. Oh, and don't forget that her current flame and her ex-girlfriend were there. However, none of this quite compares to Doctor Aphra #26 when Aphra finds herself tethered to a psychotic droid with a proximity bomb.
Reality Television for the Deranged
Aphra finds herself in this predicament in Doctor Aphra #26 due to the events that concluded issue #25. Her fellow prisoner Lopset turned out to be none other than Dr. Evazan. He had disguised himself as a shape-shifter using some clever biotechnology. The man with the death sentence on twelve systems implanted both Aphra and Triple Zero with a proximity bomb for his own amusement. If they stray more than twenty meters from each other, they both blow up.
This is great entertainment for Evazan. He tells his one-armed companion, Ponda Baba, that this is all an experiment, but in reality, it is just funny to him. Evazaan and Ponda Baba have time to kill as they lie low. Aphra and Triple Zero's plight provides a distraction.

The Character of the Deranged
Doctor Aphra #26 does a wonderful job filling out Evazaan's character. From his brief appearance in A New Hope and later in Rogue One, Evazaan looked like little more than a thug. Perhaps his run in with Luke and Obi-Wan was nothing more than alcohol infused bravado gone wrong. Si Spurrier gives him life in this issue and turns that conception on its head.
Evazaan is conceited. He believes the galaxy trembles at his and Ponda Baba's infamy. In addition, he regards himself as the preeminent mad scientist of the galaxy. He has no fear that Aphra and Triple Zero will find them. In fact, when Triple Zero reveals he knows they are watching, it only takes a moment for him to regain his composure. Evazaan is a sadist. He describes decraniating a law man on Jedha as "good times." One can only hope that he gets his comeuppance somewhere in this story. In the end, Evazaan is far more complex than the brute that assaulted Luke in the cantina on Tatooine.
Not So Alike Afterall
The prior story arc pursued the theme of Aphra's character. Both Sana Starros, Aphra's ex, and Major Tolvan, Aphra's current flame, offered many opinions on what a disaster Aphra was for those around her. Throughout the course of this series, Triple Zero strove to prove to Aphra they were a lot alike. The conclusion of Doctor Aphra #25 featured Aphra altering Tolvan's memories. Aphra left Tolvan believing that she murdered Aphra. Although she didn't like it, and she justified it as the only way to end Vader's pursuit, it was a dire and despicable act. Triple Zero and Aphra's predicament in Doctor Aphra #26 proves they aren't exactly alike.
First, Aphra tries time and again to find non-lethal solutions to their problems. In contrast, Triple Zero is always ready to kill first, ask questions later. Aphra carries regrets. For one, she is concerned about Tolvan. In comparison, Triple Zero's closest companion, BT-1, met his doom at the hands of Darth Vader in the prior issue. Triple Zero claims his loss begins and ends with the fact that BT-1 carried his memories. However, Triple Zero's actions betray him. Earlier in the issue, Triple Zero stumbled when he realized BT-1 was gone after he tried to issue him a command. Aphra noticed.
Second, just as a cyberneticist is ready to remove the devices, Aphra and Triple Zero have a heart-to-heart discussion. Triple Zero confesses he thought he could "upgrade" Aphra. After all this time though, Aphra still regrets and invites guilt. Triple Zero can't abide by that and declare he'll have to kill her. In conclusion, Triple Zero is a machine bent on murder and mayhem. He delights in torture and death. Those are ends in and of themselves to him. Aphra doesn't choose those things, but she may not be above them if the circumstances call for it. The biggest difference is Aphra feels regret and has a conscience.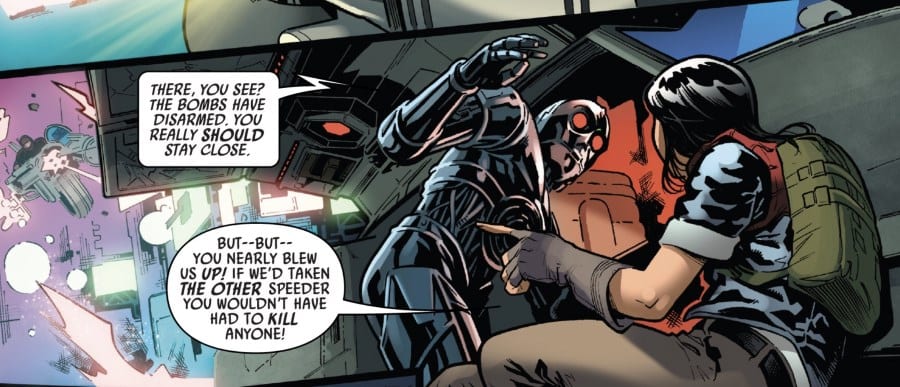 Concluding Thoughts on Doctor Aphra #26
Doctor Aphra #26 does a great job setting up Aphra's next mis-adventure. At first, it seemed as if her time tethered to Triple Zero was destined for a quick conclusion. Aphra's quick thinking saved her. Just as she was leaving they cyberneticist's lab, she thought to check her implant. She quickly discovered it was still there. Unfortunately, Triple Zero already killed the scientist. Even worse, their implants are now on a ten-hour countdown. There are plenty of shenanigans left in this story.
Doctor Aphra #26 also sees an artist change on the series. Emilio Laiso takes over for Kev Walker. Emilio previously worked on Doctor Aphra with the "Remastered" story arc that began in Doctor Aphra #14. He resumes his excellent work here. His work with Rachelle Rosenberg in using black and white imagery for flashback scenes of unpleasant moments works very well.
After one issue, "Worst Among Equals" seems like the perfect title for this story arc. Aphra, Triple Zero, and Evazaan's stories are all about to collide. This story arc provides an excellent opportunity to compare and contrast just who is the worst.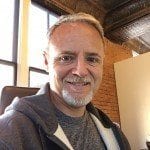 Dennis Keithly is a graduate of the University of Missouri, North Texas attorney, husband, father of two, and co-host of Starships, Sabers, and Scoundrels. In addition to Star Wars, Dennis is a fan of science fiction, fantasy, and super heroes in general. When not engaged in fictional universes, Dennis is reading a good book or watching the NHL, football, or studying the NFL draft.