Aphra's escape from Akkresker Jail proceeds at a complicated pace in Doctor Aphra #24. Aphra's problems are like the Hydra. Get rid of one and two take its place.
This review contains plot points for Doctor Aphra #24.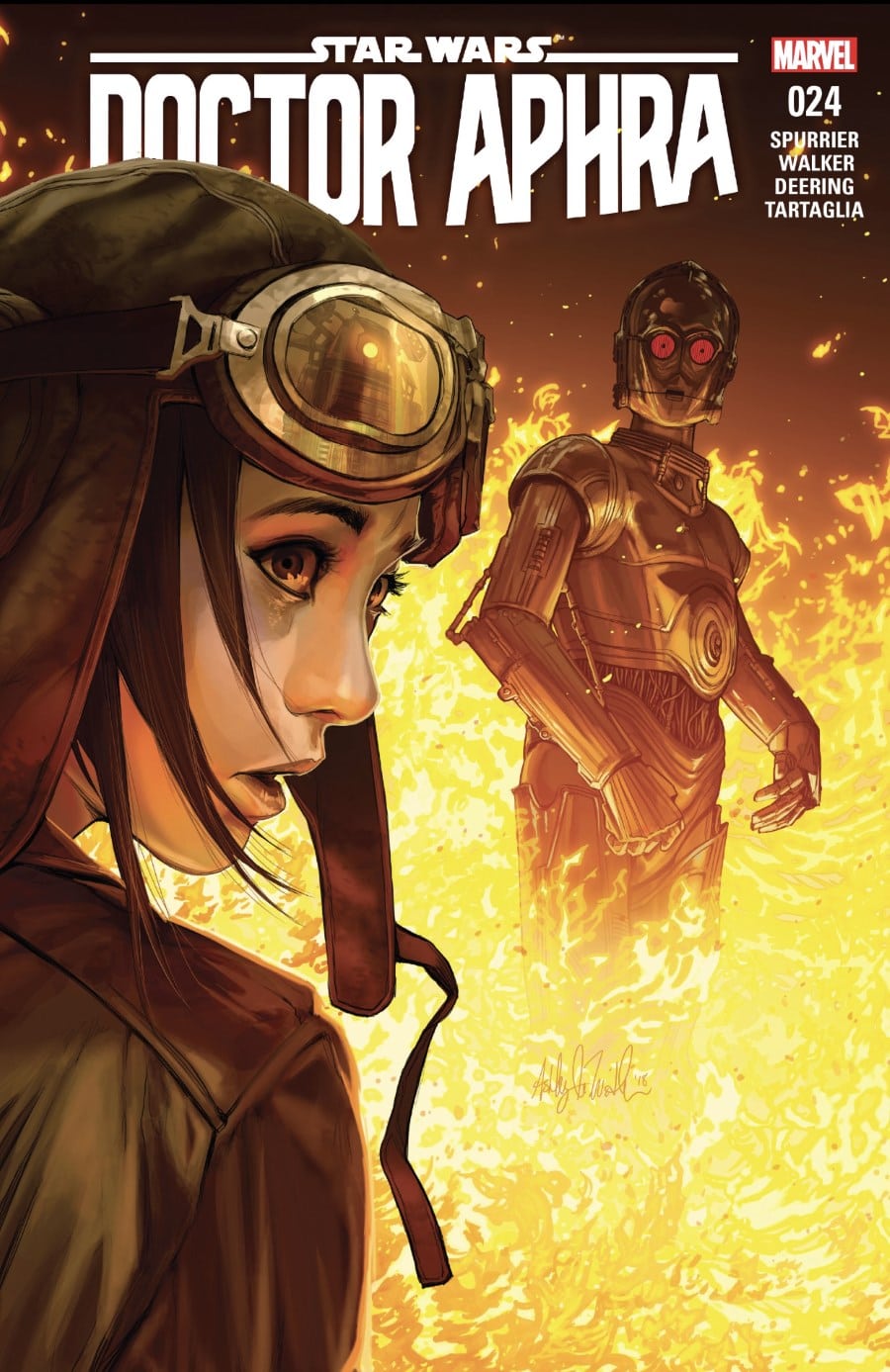 Doctor Aphra #24
Writers: Si Spurrier | Pencils: Kev Walker | Inks: Marc Deering | Colors: Java Tartaglia | Cover Artist: Ashley Wittier | Letterer: VC's Joe Caramagna | Assistant Editor: Tom Groneman | Editors: Mark Paniccia
Aphra's success and survivability is something of a conundrum. She often finds herself in difficult, if not impossible, situations, and she achieves a solution by sheer luck. Conversely, she frequently flips that script and surprises everyone around her with some brilliant escape. For her companions, it is often difficult to determine which is more infuriating. In Doctor Aphra #25, Aphra's luck and resourcefulness clash as her situation improves and declines over the course of the issue. Plus, is Aphra evil, or does she just seem that way at times?
A Complicated Situation
Aphra, her former flame Sana, her current flame Tolvan, and her prison ally Lopset need an escape from Akkresker Jail. As a refresher, Akkresker Jail is a collection of flotsam hauled around the galaxy by an Imperial cruiser. The Empire converted it into a make shift prison. Aphra finds herself incarcerated there. The Empire pressed Aphra, like all the prisoners, into service with the Penal Legion. Once assigned, soldiers in this legion fought wherever the Empire sent them under the watchful eyes of guard droids. Stray too far from your droid, and the droid executes you. It is no surrise that Aphra quickly set plans in motion for an escape.
Many of those plans went awry when Aphra discovered a sentient spore on the Akkresker prison ship that threatened to kill everyone. In addition, this sentient spore deluded itself into believing it was a long dead Jedi. This is complicated, for certain. Under interrogation by a Bor, Aphra revealed the presence of this deadly spore to the Empire rather than reveal Vader's plot to find Luke Skywalker and overthrow the Empire. Unfortunately, that was enough for the Empire to abandon the prison. They did so and set it on a collision course with a world sympathetic to the Rebellion.
Sana was sent by the Rebellion to retrieve Aphra. Tolvan arrived on her own accord. Now, Tam Posla, a rogue galactic lawman, Triple Zero, and Darth Vader are all on their way as well. Aphra needs to get off the prison ship before it crashes or all these adversaries arrive, whichever comes first.

Escape Isn't Easy
Complicathing Aphra's situation are all her friends and allies. She begins Doctor Aphra #24 ready to eject Sana and Tolvan in an escape pod. At the last moment, Tolvan jumps out of the pod. Aphra uses Lopset, by having him shapeshift into Dr. Evazan, to bargain an escape shuttle from Tam. Things are going well until Triple Zero arrives, and if that is not enough, Darth Vader is soon on his heels.
A Question of Alignment
Aphra's character has always been an issue. She is self-centered and profit driven. Plus, she has a scientific curiosity that frequently gets her into trouble. However, she doesn't intentionally act evil, or at least that is what she says. It seems as if she has an impulse control problem. Aphra knows she shouldn't do a thing, but she can't help herself.
Readers familiar with Dungeons & Dragon and other role-playing games are familiar with the concept of "alignment." This is a concept that generally describes how a character behaves. It has two components. The first part is divided into three classifications: lawful, neutral, and chaotic. Generally, these represent how trustworthy or law-abiding the character is. A lawful character can be taken at her word. A chaotic character doesn't really feel concerned about following the rules. A neutral character will obey and live up to his promise on a situation by situation basis.
The other half also has three classifications: good, neutral, and evil. Those don't need to much explanation. A crusader that fights corruption, is trustworthy, and obeys the law likely is lawful good. A vigilante that operates outside the law to capture criminals might be chaotic good. An individual that exploits the law to gain personal advantage at the expense of others might be chaotic evil.
Aphra's Alignment
So, where would Aphra lie on this scale? It is a difficult question to answer. Just looking at this story arc, she sacrificed dozens of prisoners for her and her companions' benefit. However, she went to great lengths to secure the safety of her friends. Granted, she had to trick them as well. They all knew they couldn't count on her word. For instance, Lopset knew Aphra was using him right before she froze him in carbonite after he assumed Dr. Evazan's form. Further complicating this was that she lied to Tam Posla about capturing Evazan in order to secure a shuttle.
All the evidence points to Aphra as being a chaotic individual. It is incredibly difficult to classify her as good. However, it is also difficult to call her outright evil. She chafed under Triple Zero's control and mentally struggled with casually killing the mercenaries under her command in the prior story arc. It was a shock to her conscience that Triple Zero was proving she was capable of this. Therefore, it seems there are lines she won't willingly cross unless under duress. In conclusion, it seems like she rests somewhere around chaotic neutral on the alignment scale.

Tolvan's Perception
Why is this important? In the overall scheme, it might not be. However, Aphra's companions find themselves frustrated by her frequently. Aphra has some sort of charismatic hold on them. Her behavior is often expected, but nonetheless confounding at the same time.
As of Doctor Aphra #24, Magna Tolvan is the character closest to Aphra. Even though she cares deeply for Aphra, she doesn't have the highest opinion of her. After she jumps out of the escape pod, Tolvan realizes Aphra stuck around long enough to make an attempt to recover a dead Jedi's lightsaber. This is shocking to Tolvan. She knows Aphra is greedy. Tolvan call her an "avaricious worm" and later calls her "awful." Even then, it still surprises Tolvan that Aphra risks her life just for a shiny toy, no matter how valuable it might be. Tolvan can't help herself though. She finds herself "stuck" with Aphra against her better romantic judgment.
The Raising Stakes of Doctor Aphra #24
It's hard to argue that Aphra isn't at least a little crazy. She had multiple opportunities to escape. Yet, she bypassed many of them in the name of potential riches. Every time she does that, a new danger emerges. This time it isn't just one danger. No, both Triple Zero and Darth Vader arrived at the Akkresker Jail. Both monsters are decimating the prison population. Even though Aphra had an escape shuttle, Triple Zero shot it down. If Aphra had only escaped when she had the chance, then she wouldn't have either the psychotic murder droid or the Lord of the Sith after her. Fortunately, she has Tolvan looking out for her. The question is whether that makes any difference.
Doctor Aprha #24 is another fine piece of storytelling by Si Spurrier. For every problem Aphra solves, a new one is waiting in the wings. Aphra pushes the envelope. Her charisma attracts her allies, but her behavior infuriates them. Everyone was willing to ride to her rescue, but many, if not all, of them are left wondering why they were eager to do so.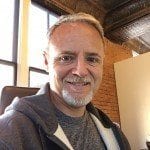 Dennis Keithly is a graduate of the University of Missouri, North Texas attorney, husband, father of two, and co-host of Starships, Sabers, and Scoundrels. In addition to Star Wars, Dennis is a fan of science fiction, fantasy, and super heroes in general. When not engaged in fictional universes, Dennis is reading a good book or watching the NHL, football, or studying the NFL draft.