When Aphra's old flame and her current flame both come to her rescue, things get awkward in Doctor Aphra #22.
This review contains plot points for Doctor Aphra #22.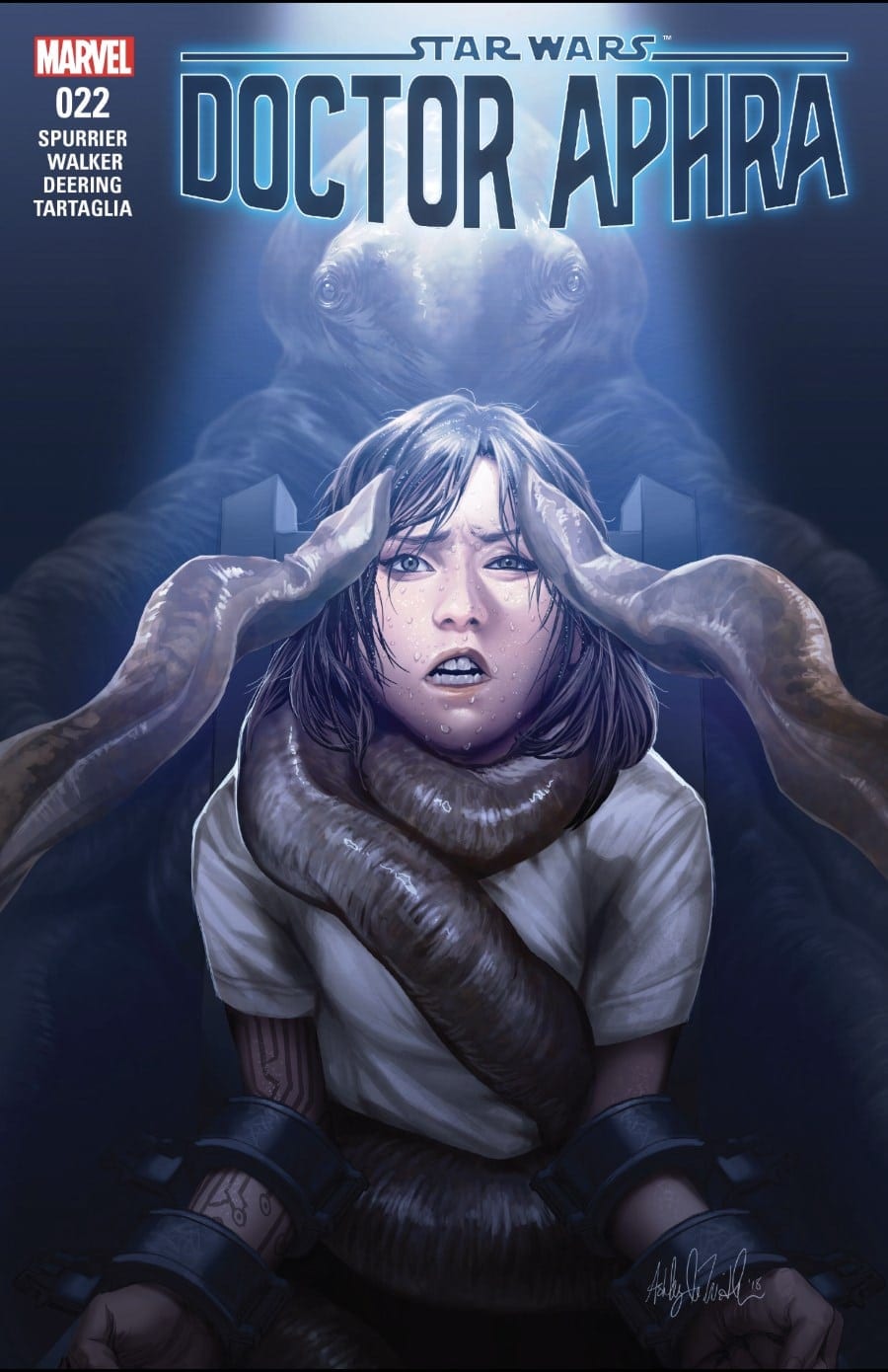 Doctor Aphra #22
Writers: Si Spurrier | Pencils: Kev Walker | Inks: Marc Deering | Colors: Java Tartaglia | Cover Artist: Ashley Wittier | Letterer: VC's Joe Caramagna | Assistant Editor: Tom Groneman | Editors: Heather Antos & Mark Paniccia
Aphra can't resist an opportunity to engage her scientific curiosity. That is especially so when the possibility for profit exists as well. That is the temptation she finds on the latest derelict the Akkresker jail visits. To compound matters, Aphra's current love interest, Magna Tolvan, an Imperial officer no less, is trying to rescue her. To further complicate things, Hera Syndulla sent Aphra's former flame, Sana Starros to retrieve her. The Rebellion has data Aphra encrypted, and they are hoping to trade her freedom for the key. In Doctor Aphra #22, Aphra's past and present collide as her escape plans go awry.
The Ghost
The mysterious ghost continues haunting Aphra in Doctor Aphra #22. This started a couple of issues ago, and things intensified when Aphra found an antique Jedi starfighter. There is no doubt a Jedi was around. Aphra found her lightsaber. The bigger issue is what this Jedi wants with her. For reasons unknown, this ghost adopted Aphra's mother's appearance. Either this ghost knows Aphra, has read Aphra's mind, or appears as someone close to the beholder as a matter of course. Plus, this Jedi ghost disassembled Dek-Nil with her power. Aphra isn't buying it one bit. She attempts to blast the ghost and then discovers an infestation of hookspores, which becomes important later. The ghost, however, is an ongoing mystery with no obvious clues provided.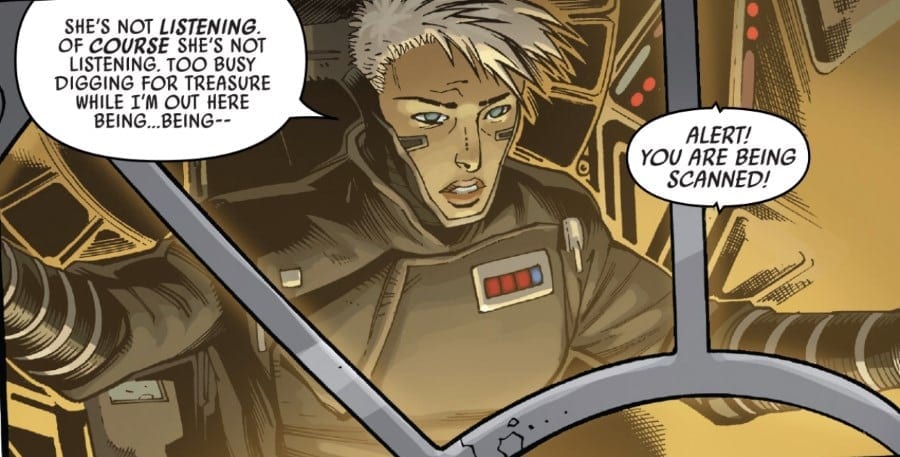 Bor Ifriem
Aphra escapes the latest Imperial assault target, hit her troubles are just beginning. Her Imperial captors subject her to Bor Ifriem, an octopus like creature, for interrogation. Like Bor Gullet from Rogue One, this Bor probes her mind while the Imperials threaten to rob her of her mind and memories if she doesn't tell the truth. Specifically, they target Aphra's memories of her mother and threaten to propagandize them. Very cold move. Although Aphra fights it, she breaks down and reveals the existence of the hookspores on the jail. In addition, the Imperials detect this as the truth.
Things Get Worse
Tam Posla, who readers may remember from the previous story arc, is hunting Dr. Evazaan. His secondary mission is locating Aphra and obtaining retribution for the death of his partner. While monitoring comm traffic, he learns that Aphra is on Akkresker Jail. That isn't all. Triple Zero supplied his ship. Guess who is listening in?
The homicidal droid isn't the only one interested. General Syndulla detected Sana's crash. She wants her agent back and Aphra. It seems likely the Rebellion is now headed to the jail.
Things get worse. The Imperials believed Aphra about the infestation whether she was telling the truth or not. Therefore, they terminated the penal program and are set to eject the entire prison into a Star with all the prisoners aboard. As if having a current and former flame in the same place at the same time wasn't awkward enough.
Tolvan and Sana don't realize each is there to protect and rescue Aphra. To the contrary, they each believe they are protecting Aphra for the other. This leads to an epic fight. Sana shoots down Tolvan's TIE fighter with the Volt Cobra. Then Tolvan retaliates by ejecting and shooting down Sana's ship with a missile.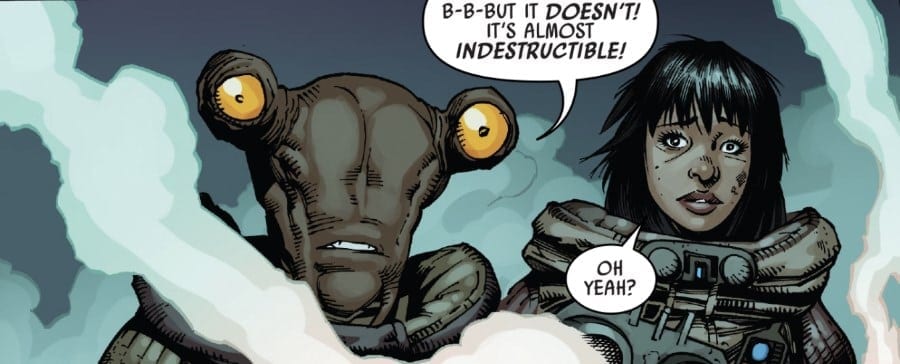 Concluding Thoughta on Doctor Aphra #22
Doctor Aphra #22 is a great Aphra story. It has the weird with Bor Ifriem. It has the crazy encounter with Sana and Tolvan shooting at each other before they both realize they want Aphra alive. Finally, it has that cursed Aphra luck. She might have saved her mind, but for the moment, the entire jail and all aboard are doomed. Not to mention the most dangerous murder droid in the galaxy is on his way. If there is a criticism, it is that this issue seemed like it wanted to clear up the issue with the ghost, but it is anything but clear whether the ghost actually is the hookspores or something else. The resolution of that issue awaits another issue. Regardless, Doctor Aphra #22 gets the Star Wars tone right while providing a weird but fun adventure. This is a recommended issue and story arc.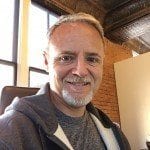 Dennis Keithly is a graduate of the University of Missouri, North Texas attorney, husband, father of two, and co-host of Starships, Sabers, and Scoundrels. In addition to Star Wars, Dennis is a fan of science fiction, fantasy, and super heroes in general. When not engaged in fictional universes, Dennis is reading a good book or watching the NHL, football, or studying the NFL draft.