Doctor Aphra's imprisonment on Accresker Jail get more complicated as her personality and relationships complicate her escape.
This article contains plot details for Doctor Aphra #21.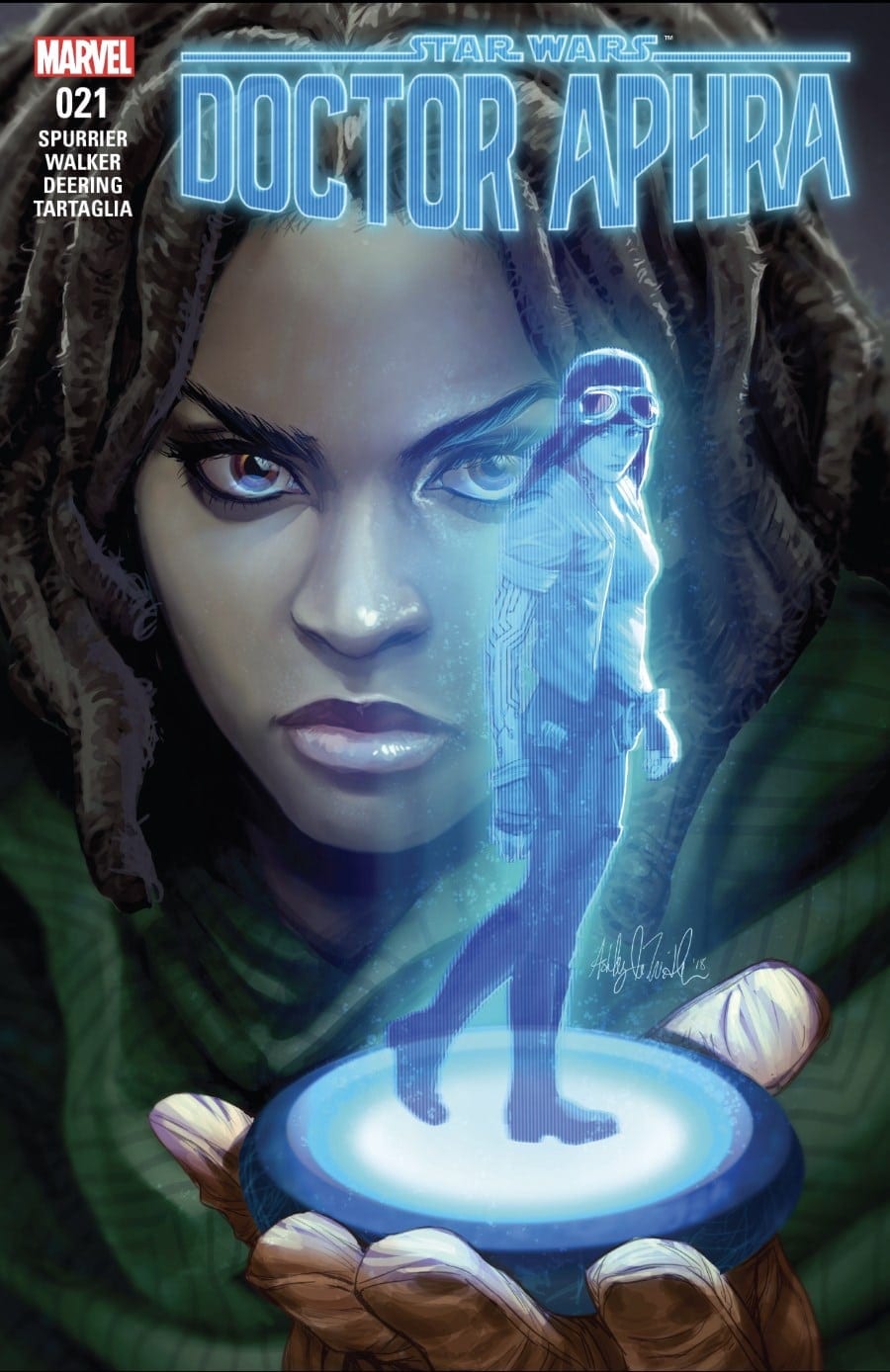 Doctor Aphra #21
 Writers: Si Spurrier | Artist: Kev Walker | Inks: Marc Deering | Colors: Java Tartaglia | Cover Artist: Ashley Wittier | Letterer: VC's Joe Caramagna | Assistant Editor: Tom Groneman | Editors: Heather Antos & Mark Paniccia
Aphra is aware that the quirkier aspects of her personality often get the best of her. After all, she is fairly introspective. At least, she is often introspective in the quiet moments when confronted with a truth. In addition, Aphra binds herself to people that always manage to complicate things. Plus, sometimes it is just the oddest things that surface to interfere with her life. All three of these factors have made her life complicated in the past. In Doctor Aphra #21, all three of these factors play a part again as Aphra attempts another escape from Accresker Jail.
Manipulation
Aphra doesn't set out to be evil, but she does manipulate people. It is almost a habit. Although Doctor Aphra #20 suggested Aphra was reaching out to Sana Starros for aid in her escape, that wasn't the case. Indeed, she was calling her latest fling, Inspector Tolvan. Despite Tolvan's reminder that she can't help Aphra get out of jail, Aphra snares Tolvan. She explains what she knows about Darth Vader. She knows Vader is looking for Luke.
This endangers Tolvan. Aphra knew by sharing what she knew about Vader, anyone who knew was at risk. Vader goes to great lengths to hide secrets. Anyone who knows this secret dies. So, Tolvan has no choice. Aphra was sneaky. Her conversation was set up as a problem. By explaining the problem, she ensnared Tolvan. However, Aphra feels guilty about it. The guilt is written all over her face. But, she can't help herself.

Other Secrets
Aphra isn't the only one with a secret. Her fellow conspirator has one of his own. Lopset is more than just an Abednedo. When Aphra finds him trapped, she notices that his form changes a little. Plus, his eye color changes repeatedly after she frees him. Lopset is a shape-shifter. Aphra lets this go for a bit. Then she springs it on him that she knows. Lopset explains that shape-shifters usually keep their talent hidden. Otherwise, people take advantage of them. It starts with a look. It is a look Aphra is giving Lopset at that moment.
Aphra notes that "Evil is just a measure of how much your choices take away other people's." It is one of these moments of introspection. Aphra's mom used to tell her that. At that moment, Aphra realizes she is taking away Lopset's choices. He called her on it. Furthermore, her actions took away Tolvan's choices. She sprung the news about Darth Vader on Tolvan without her consent. By doing so, she eliminated Tolvan's choices.
Old Grudges and Flames
In issue #20, Sana Starros received a holocall. Everyone assumed it was Aphra looking for help. In fact, it was Hera Syndulla. At the conclusion of Doctor Aphra #19, Aphra left the Rellion with an encrypted Imperial data core. The cost for unlocking it was astronomical. Now, Hera learned of Aphra's incarceration. She plans on bargaining Aphra's freedom for the encryption. There is just one problem. Hera needs someone to break Aphra out of Accresker Jail. Enter Sana Starros.
As Hera and Sana discuss the situation, Hera realizes Sana and Aphra have a past. It isn't pretty. Sana still has deep feelings for Aphra. Somewhere along the way, Aphra abused those feelings. Things is, Sana doesn't care. As she describes it, Aphra is a "vulnerable chunk" of herself. To make it worse, she can't protect Aphra. If something happened to Aphra, Sana would blame herself. And just when Sana got used to not looking after Aphra, she is back in Sana's life and all those old feelings return. Aphra can get under one's skin.

The Heart's Folly
Even though Aphra trapped Tolvan and forced her hand, Tolvan is motivated by more than that. The evidence is all over this issue. First, she acquired similar electronic tatoos on her arm. These tatoos apparently give her the ability to create some sort of mind link when they are in close physical proximity. Once Tolvan arrives at the jail, she speaks with Aphra this way while there is a guard in the room. Second, she actually admits to Aphra that she missed her during this encounter. Finally, when Tolvan engineers an escape, Aphra keeps putting the escape off in order to investigate an ancient Jedi relic (more on that in a second). Tolvan then has the revelation, "I'm in love with an evil idiot."
Old Ghosts
As if Aphra didn't have enough on her plate, she is also seeing a ghost. The ghost is actually haunting her. When she was ready to make good on her escape in the last issue, the ghost arrived and activated Dek Nil's (her droid) restraining bolt. Now, as Aphra and Lopset are about to escape with Tolvan, the ghost is back. It disables a sensor disruptor, which leaves them vulnerable to detection.
This ghost hast he appearance of a Jedi. In addition, it claimed the Force is justice in the prior issue. Aphra suspects this Jedi is her mom. The appearance of the Jedi ghost is straight out of a picture book she had as a child. However, the ghost lead her back to a "Penumbra-1 Shatterspire." This is an ancient Jedi ship. The mystery gets deeper without a real answer. Aphra is drawn to this ship because it might contain Jedi artifacts.
Concluding Thoughts on Doctor Aphra #21
Doctor Aphra #21 continues the excellent "The Catastrophe Con" story arc. This issue sets up an interesting confrontation. Sana has obvious feelings for Aphra. They may anger her, but they are there. However, Aphra has moved on. Tolvan arrived at Accresker Jail. Sana is headed there. Fireworks seem likely.
This story also builds nicely on prior issues. Hera's appearance is welcome. After her introduction to the series in Doctor Aphra #17, she could have easily disappeared from the series after issue #19. Instead, this series has utilized her well as a Rebel point of contact. In addition, this series does well contrasting various women throughout the series. Aphra is the rogue archaeologist looking for riches, but drawn to archaeological finds, and subject to her impulses. In contrast, Sana is a rogue as well, but she is much more calculating. Then there is Tolvan, the Imperial officer that has lived her life according to Imperial regulations, but she is now being drawn into Aphra's world and she can't help herself. Hera is the Rebel general that has her act together. Overall, this series explores a wide variety of women.
Finally, this issue sets up an intriguing mystery. Who is the ghost? What does she want? Why does she work to thwart Aphra's escape? The jail is a perfect background for this story. Doctor Aphra #21 highlights everything that made this series great from the beginning.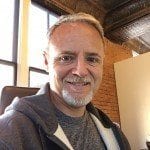 Dennis Keithly is a graduate of the University of Missouri, North Texas attorney, husband, father of two, and co-host of Starships, Sabers, and Scoundrels. In addition to Star Wars, Dennis is a fan of science fiction, fantasy, and super heroes in general. When not engaged in fictional universes, Dennis is reading a good book or watching the NHL, football, or studying the NFL draft.