Doctor Aphra finds herself in another fine mess and Plan A fails. Now, she has to formulate plan B.
This article contains plot details for Doctor Aphra #20.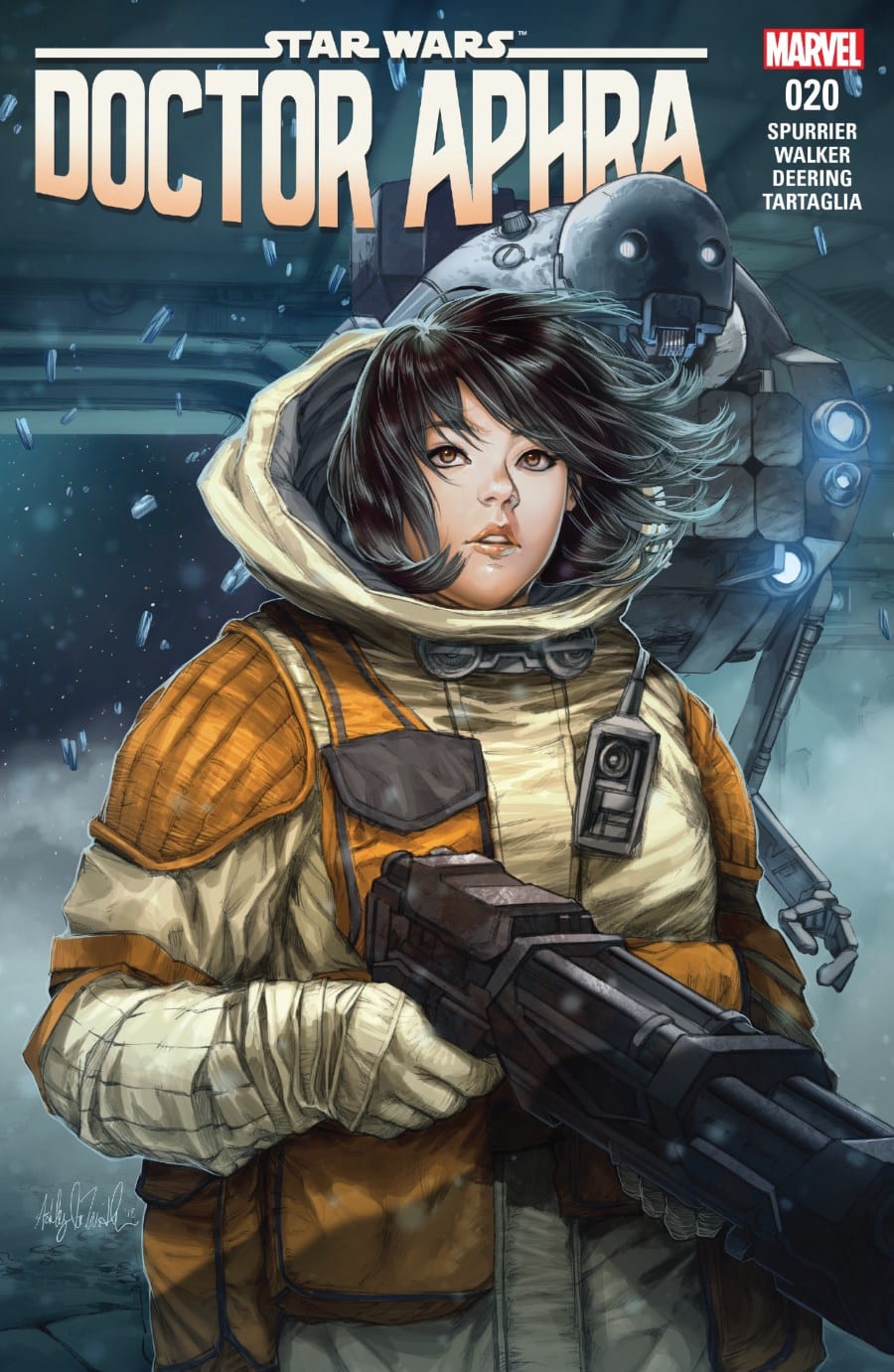 Doctor Aphra #20
 Writers: Si Spurrier | Artist: Kev Walker | Inks: Marc Deering | Colors: Java Tartaglia | Cover Artist: Ashley Wittier | Letterer: VC's Joe Caramagna | Assistant Editor: Tom Groneman | Editor: Heather Antos | Star Wars Group Editors: Jordan D. White with Mark Paniccia
Doctor Aphra once said she isn't the type of person that has a happy ending. With her latest predicament in Doctor Aphra #20, it's beginning to look like she is right. After the conclusion of her mission to recover Triple Zero's lost memories, Aphra finds herself a prisoner of the Empire. Concealing herself with her assumed identity of Joystick Chevron, Aphra is pressed into service in the Empire's Penal Legion. However, she had a plan of escape, but as they often do, things go wrong. Plus, she has no Plan B? Si Spurrier takes the helm as writer on this new story arc of Doctor Aphra and writes a compelling adventure for the galaxy's most notorious rogue archaeologist in Doctor Aphra #20.
World Building a Penal Legion
One of the most intriguing elements of this new story arc is the setting. The Empire imprisoned Aphra in Accresker Jail. Aphra notes there are "no cells, no curfew, [and] no spotlights." The inmates established their own pecking order. This is all possible because the prison is actually the wreckage of starships hauled by an Imperial cruiser. The cruiser hauls the jail to wreckage of enemy ships, and there the inmates, organized as the Penal Legion, attack the survivors and recover whatever the Empire wants. Each prisoner finds themselves attached to hubdroid. If the prisoner strays too far from their hubdroid, an implanted explosive kills them.
An Imperial interrogation of Aphra frames a large portion of this issue. During the interrogation, one of the Imperial officers notes that prisoners are expendable. Therefore, it was nothing of short of incredible when after Aphra's hubdroid exploded, another droid happened along and slaved Aphra and Lopset Yas, an alien (perhaps an Abednedo), to its own system. Of course, what the Empire doesn't doesn't realize is that this new droid is Aphra's companion, Dek-Nil.

Aphra's Ingenuity
There are several hallmarks of Aphra's personality that make her who she is. For instance, she is proficient in sarcasm and wit. Although she is a noted archeologist, she possesses talents in building and manipulating droids. She is also resourceful. All her talents combined in creating Dek-Nil, which is a salvaged amalgamation of an astromech droid and a droideka. Another hallmark of Aphra's character is her ever changing luck. In this instance, it turns bad at the wrong moment. Aphra, Lopset (who she insists on calling Flopso), find a surviving Rebel escape pod. After dispatching the Rebel droids hiding there, they are about to make their escape when Dek-Nil's programming is overridden by Imperial protocol. Alas, Aphra and Lopset are imprisoned again on Accresker Jail.
Additional Developments
There are a few other compelling details from Doctor Aphra #20. First, it appears the override Dek-Nil suffered might not have been random. As Aphra bemoans her fate and asks how this happened, a voice responds, "Justice." An apparent ghost then explains "Justice is the Force. And the Force is Justice." Might this be the disembodied spirit of Rur? Is it a Jedi at all or something else?
Readers may also remember that Aphra left her old master in a bind. She completed her mission and retrieved Triple Zero's memories. However, she encrypted them. In a brilliant piece of writing, Triple Zero explains he isn't angry to BT-1. After all, he is a droid and he doesn't get angry. He will certainly track Aphra down, but he isn't angry. Of course, he explains all of this with a decimated spaceport and countless bodies stacked behind him. The inference the reader to draw is obvious. It wasn't a long scene, but it managed to make Triple Zero even more menacing and frightening.

Concluding Thoughts on Doctor Aphra #20
With Doctor Aphra #20, Si Spurrier takes over the full time writing responsibilities for the series. Previously, he split those duties with Kieron Gillen, who is now the lead writer on Star Wars. His first story arc, "Remastered," altered the tone of the series towards the zanier. This story course corrects to the tone Kieron Gillen used in "The Enormous Profit." Aphra still wisecracks, but the humor is a little less goofy and more in line with traditional Star Wars humore.
In addition, Kev Walker returns to the art duties for this series. His work shines in Doctor Aphra #20. Along with Spurrier's writing, they create a convincing new facet for the Star Wars galaxy with Accresker Jail. It is a fine bit of world building. Rather than waste their prime troopers on salvage missions, the Empire sends in an army of prisoners that have no choice but to keep up and fight, or die. This is the type of cruel tactic for which the Empire is known.
This issue ends with another interesting development. Aphra's ally, Lopset, recovered a transmitter and fixed it. They can call one person for help. Of all the people in the galaxy, Aphra elects to contact her old flame, Sana Starros. This should be an interesting ride.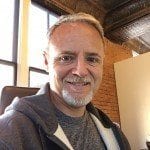 Dennis Keithly is a graduate of the University of Missouri, North Texas attorney, husband, father of two, and co-host of Starships, Sabers, and Scoundrels. In addition to Star Wars, Dennis is a fan of science fiction, fantasy, and super heroes in general. When not engaged in fictional universes, Dennis is reading a good book or watching the NHL, football, or studying the NFL draft.