Kaz agrees to watch Flix and Orka's shop in exchange for parts. But when a mysterious customer arrives, things quickly take a wrong turn in "Dangerous Business."
This article contains plot points for Star Wars Resistance S01E13, "Dangerous Business."
An early morning start on this week's episode of Star Wars Resistance, "Dangerous Business". Yeager assigns Tam and Neeku to work on the Fireball. Repairs are necessary because Kaz had borrowed the Fireball and according to Tam, "brought it back broken." This frustrates Tam because every time she wants to fly, this happens. But as Tam goes down the list of what's to be fixed, and there is nothing left. Kaz already fixed everything. He admits that he got the parts from Acquisitions and installed them himself because he knew Tam wanted to fly the ship. Tam points out that the coupling was connected wrong, but was impressed and touched by his thoughtfulness.
"Dangerous Business" continues the upward trend of Kaz's competency level. In "Bibo," Kaz showed off his knowledge of military history, this week his improving mechanical skills are on full display. Deep down, Kaz is just a good guy with a huge heart that just wants to do the right thing. Neeku, on the other hand, is so brutally honest (but in an innocent way) about everything that it's hard not to love him. Think of a child just saying whatever comes to mind regardless of how it sounds. Kaz's warm heart and Neeku's child-like attitude towards life, are great examples of how looking at life without over-analyzing can sometimes be beneficial.
Kaz Meet Bitey
Flix and Orka are quickly becoming fan favorites. In fact, the voice cast as a whole is really impressive. Jim Rash as Flix and Bobby Moynihan as Orka are certain to bring smiles to many faces just hearing the sounds of their voices. They sound like two really fun characters to play and it wouldn't hurt to feature them as much as possible. Considering how each character is starting to play off of one another, Star Wars Resistance could wind up having some of the best-loved characters in all of the saga. One aspect of the show that has yet to be featured as much as it ought to be is the pilots. Where are they?
One aspect of the show and in this episode, in particular, that does get some deserved attention is the animation. And it's not just the bright color scheme. It's the minor details that the animation team pays attention to. When the gorg, Bitey chops down on Kaz's hand, the way his face is animated is a level of detail and also love for the craft that is not seen everywhere. Whether it's the bar that Lucasfilm has set, and the want to maintain that level of excellence, or the love and respect the creative team has for Star Wars. Either way, when it comes to Lucasfilm, it's the best—or at least their best effort.
There is a cool nod to the Attack of the Clones when Kaz arrives at Loading dock 23 when he passes by a droid who sounds a lot like a rickshaw droid on Tatooine. One of many nods to not only the prequels and the original trilogy as well. It's nice to see so many references towards the prequels in Star Wars Resistance, which is finally bringing the entire saga together.
PHASED ORDER
There's a point in "Dangerous Business" when Kaz notices two First Order stormtroopers. He quickly deduces that Teroj and The First Order must be in league with each other. What repercussions this episode will have in future storytelling remains to be seen, but the seeds are definitely planted. Teroj never really comes off as all that threatening. Yes, he's the basic thief/con-man, but in the end is just another pawn for the First Order. Exclaiming after a botched theft that "there are days and there are days!" Nevertheless, he almost got away with it. Captain Pyre warns Teroj that Phasma will be disappointed in his failure, but honestly, what is she going to do? If the First Order maintains that they are different than the Empire then that means every criminal who failed to do the First Orders business would meet their doom. There wouldn't be anyone left. The Empire didn't punish the other five bounty hunters who failed to capture Han Solo in The Empire Strikes Back. It's a business after all.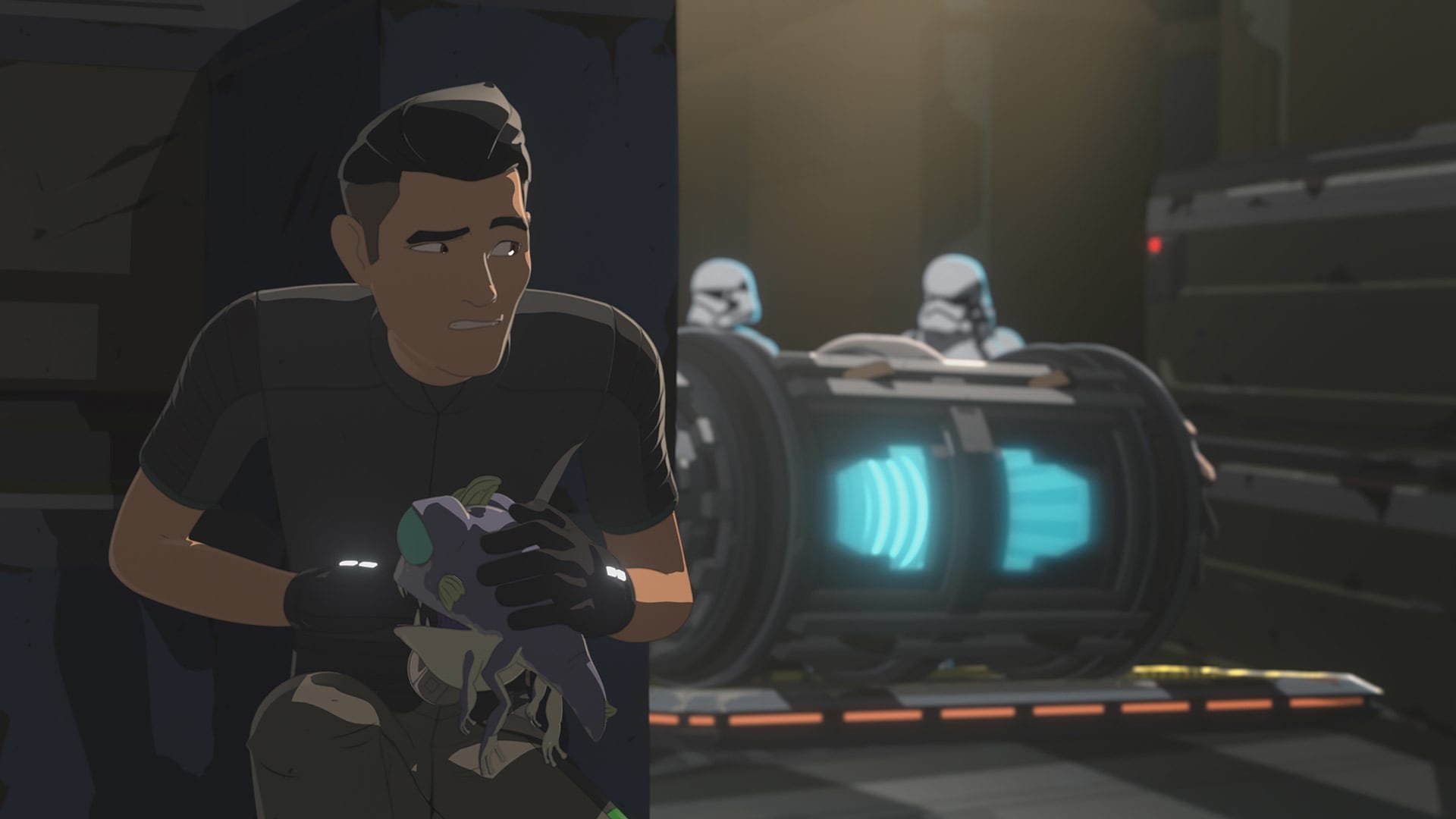 In true Star Wars Resistance fashion, the last ten minutes shift to high hear. Kaz overhears Teroj and a stormtrooper getting ready to launch. As the freighter begins to pull away from the Colossus, Bitey continuously tries to bite Kaz's fingers. One has to wonder if there's anything this thing won't eat. Once alone, Kaz is able to find a circuit breaker, which he recognizes from working with Yeager. Kaz ruminates about killing the power, bringing the whole ship down, but the cables are too difficult for him to pull out. Kaz tricks Bitey into chewing the power cables starting an electrical short which causes the freighter to nosedive into the ocean.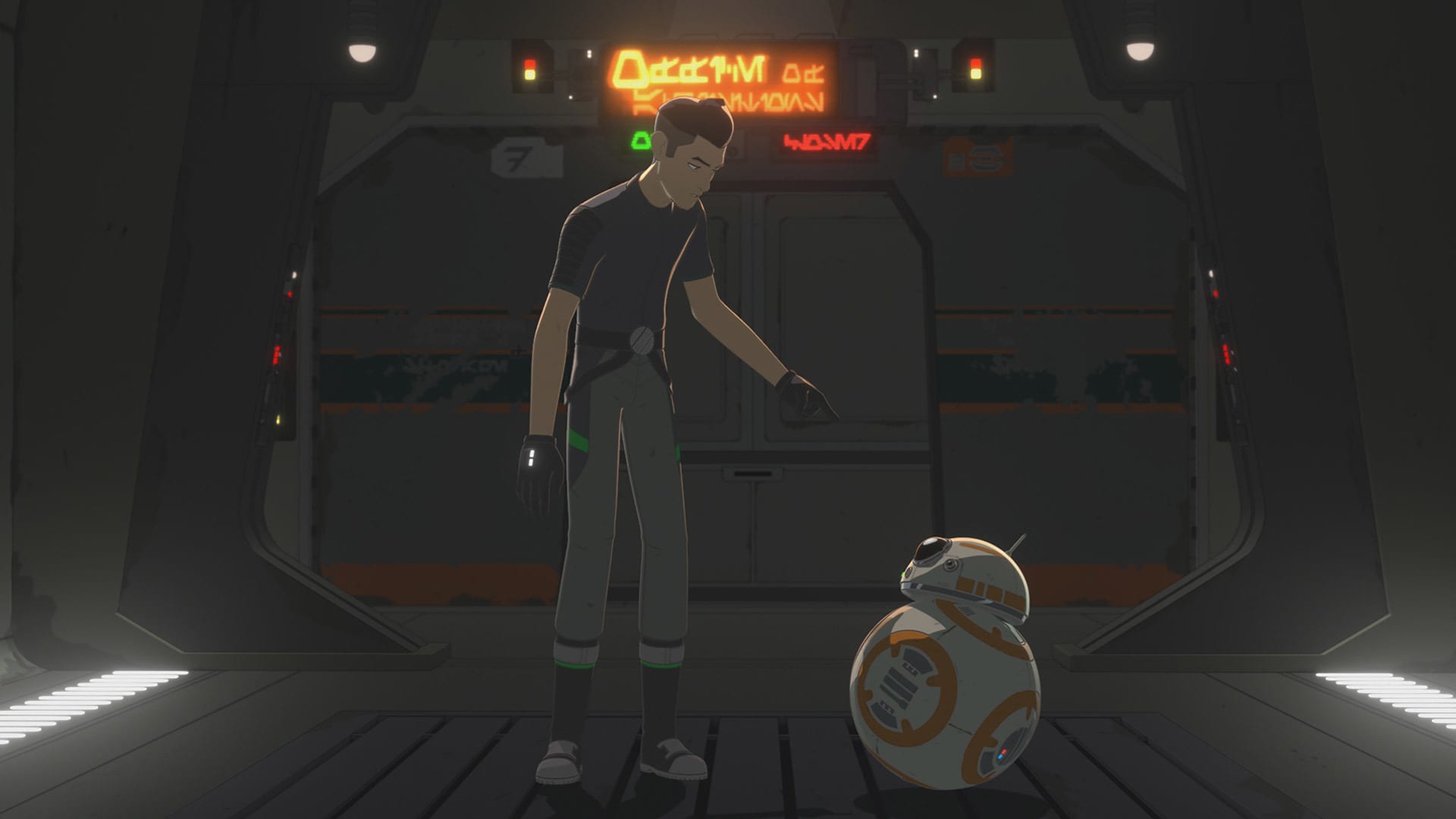 INTERLUDE
This week's episode of Star Wars Resistance "Dangerous Business" was limited to fewer regular characters, but high on the action and suspense. Kaz learns from Orka and Flix that a phase connector is a device used to crack open asteroids and small planetoids. It's easy to speculate that The First Order would want the phase connector drill into a planet to build Starkiller Base. Kaz wonders if they want to mine more dedlanite.  A mineral first mentioned in the Chewbacca comic book series. It's these small connections that take the Star Wars story to places not many other franchises are willing to go.