Neeku adopts a foul-smelling creature found aboard the Colossus. Meanwhile, the Aces defend the platform from a giant sea creature seemingly intent on causing destruction in "Bibo."
This article contains plot points for Star Wars Resistance S1E12, "Bibo."
This week's episode of Star Wars Resistance opens with Synara salvaging an old Clone Wars era fighter. She knew Kaz was looking for parts for the Fireball and wanted to help him out by finding a ship that could be used for its parts. Kaz shows off his knowledge of military history by quickly identifying the ship as a Z-95 Headhunter from Reaper squadron. Kaz also politely corrects Neeku by informing him that Z-96's were in fact, not used during the Clone Wars.  Seconds later, a small sea creature crawls out of the wreckage. Synara and Kaz immediately repulsed by its odor. Neeku, however, finds the beast cute and keeps it as his friend and names it Bibo.
For eleven episodes Star Wars Resistance has slowly been building Kaz's capabilities while maintaining his child-like qualities. This type of slow burn in building characters in Star Wars animation is not something new. But it's these little tidbits of dialogue that say, "hey, maybe there's more to meet the eye with Kaz." Synara is equally impressed.
Tam is another character that has been a target of criticism as well. Seemingly one dimensional and constantly angry from the start, Tam's relationship with Kaz has gotten off to a rough start. But when Neeku cracks that Bibo smells better than Kaz, Tam can't hold in a giggle. It's still very early to tell, but consider the close proximity of each of the characters (a landing platform instead of galaxy-wide adventures), there's potential for some of the best character development in any of the animated series'. Then again, with the events of The Force Awakens in the near future, that could change very quickly.
No Fluff Here
Despite "Bibo" starting out being about a smelly new pet, Star Wars Resistance is starting to hit its stride in terms of the voice acting. Scott Lawrence as Yeager and Josh Brener as Neeku do a magnificent job evoking emotion in their voices. When Yeager goes back and forth with Neeku about whether or not Bibo can stay, it makes the scene that much more enjoyable. Suzie McGrath as Tam is quickly building her character as someone who has a history. Somewhere behind her gruff exterior, there's a sensitivity to her voice when she asks Yeager to cut Neeku a break.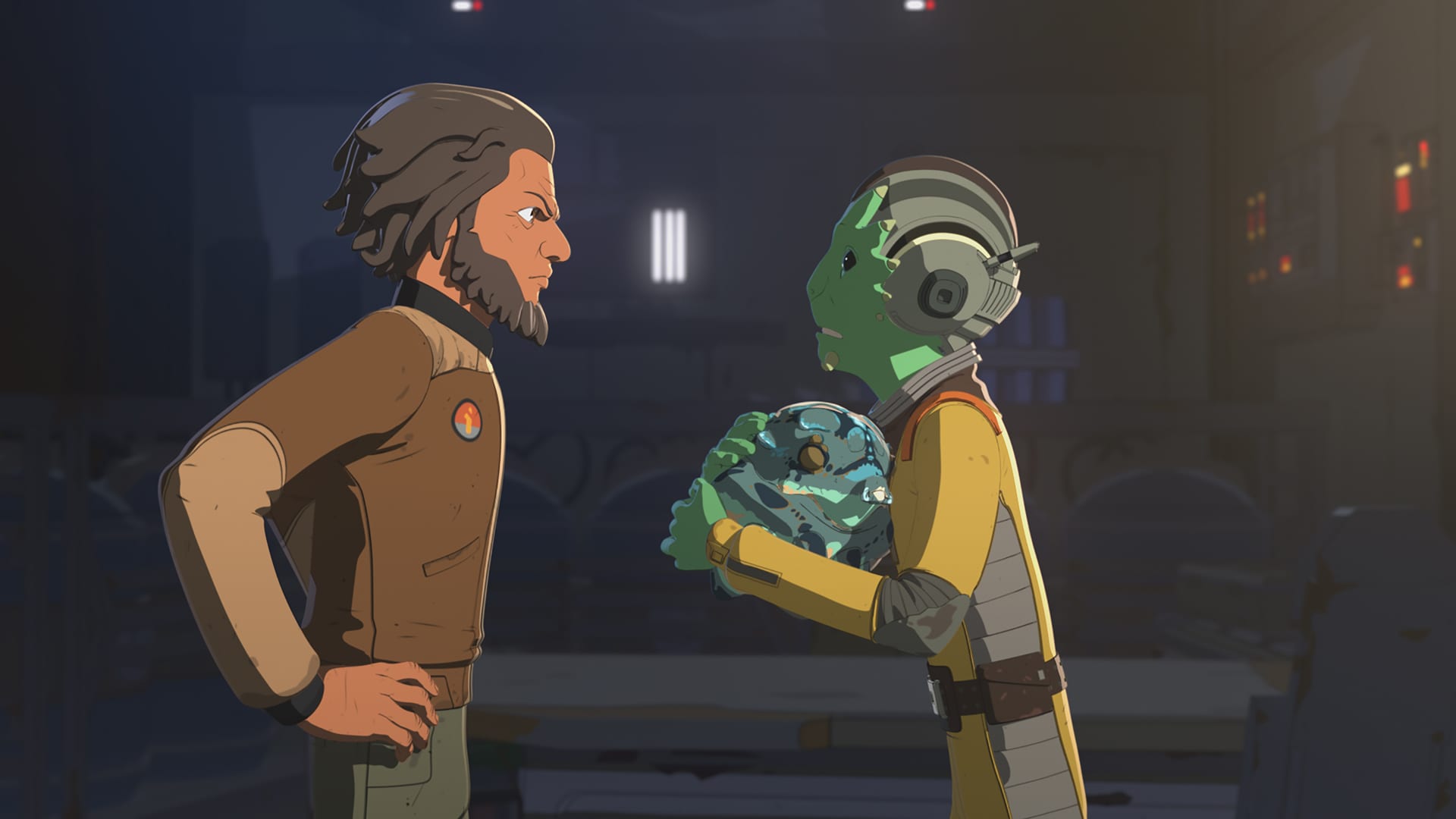 Bringing in a creature like Bibo continues the trend of monsters in Star Wars. A New Hope had the dianoga. The Empire Strikes Back had the wampa ice creature. The rancor debuted in Return of the Jedi. The Sando aqua monster featured prokinently in The Phantom Menace as did kouhuns in Attack of the Clones, and the rathtar in The Force Awakens. Tentacles seem to be a theme in the Star Wars sequel era.
Mother Knows Best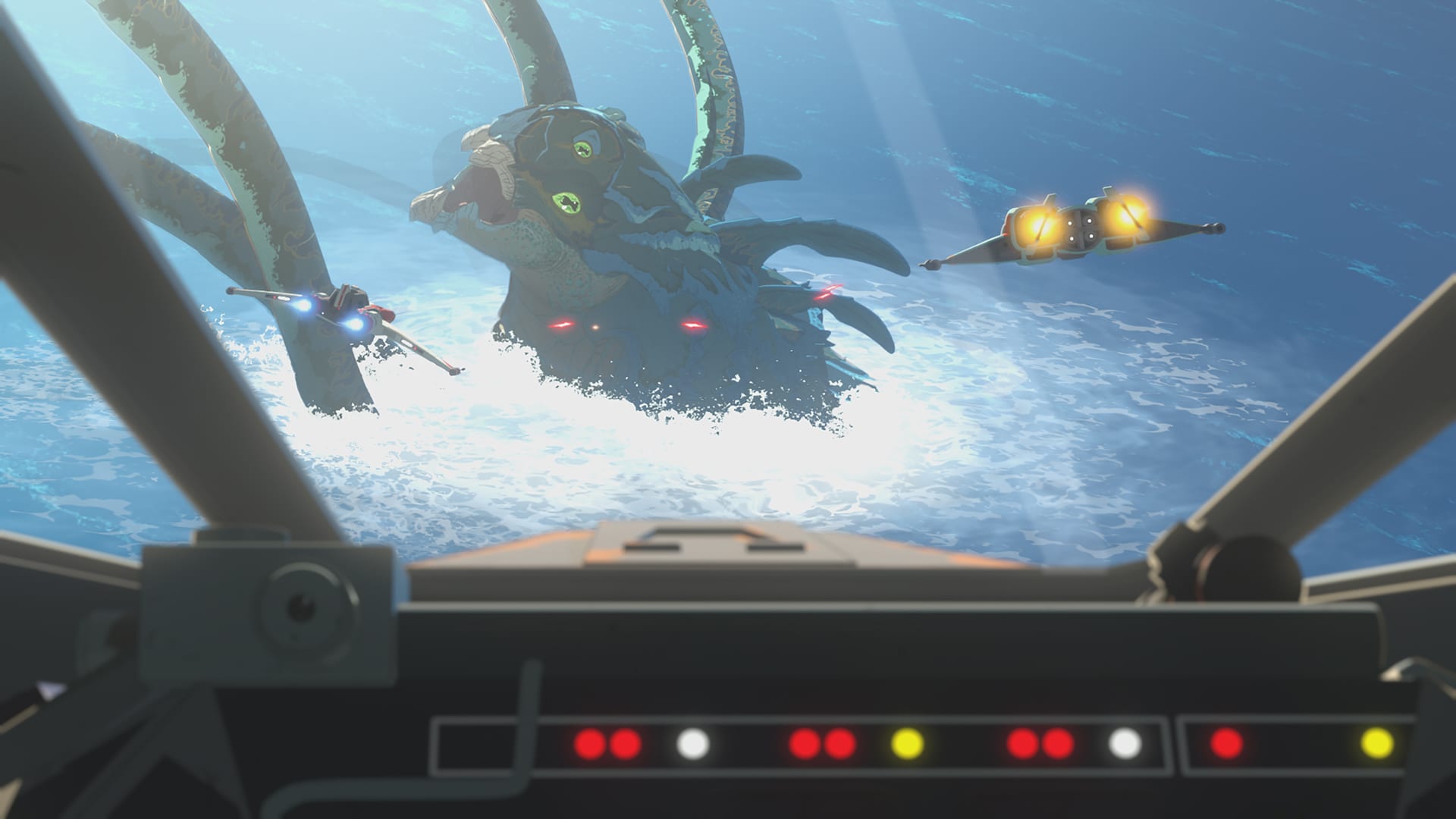 An episode like "Bibo" is a perfect example of small, contained stories that don't have galaxy-wide implications, but are nonetheless still heavy on the excitement. The climax of this episode slowly builds until the final ten minutes where it hits its peak. The Colussus is now set upon by the giant sea creature. Captain Doza quickly orders Ace squadron to scramble and launch, forbidding them to use missiles.
This is when Star Wars Resistance really shines, when the fighters are in the air doing what they do best: flying high and flying fast. The squadrons blasters are no match for the thick hide of the great beast as they bounce off. Perhaps harpoons and tow cables could work? A tense moment occurs when the ferocious beast catches a glimpse of Bibo through a window, it holds a tentacle out in an attempt to smell it.
"Bibo" is the type of episode that slightly nudges a show like Star Wars Resistance in a direction that may at first seem inconclusive. In a year from now, it's not out of the realm of possibility that the twins Eila and Kel or even the Shellfolk could play a larger part in the story.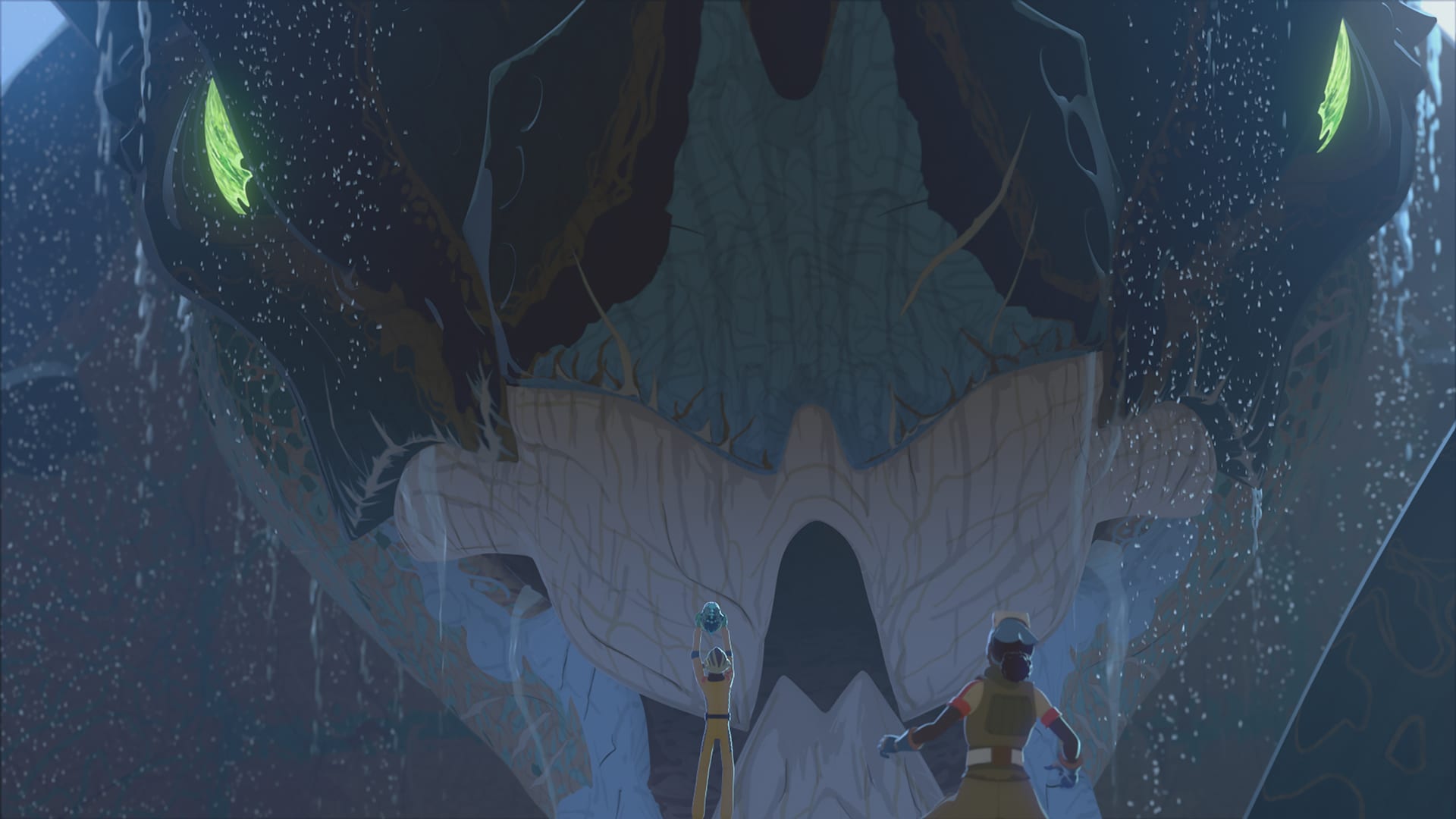 Interlude
"Bibo" was an entertaining episode of Star Wars Resistance that brought new aliens, and more character development. As the season progresses, the silliness of the first few episodes is starting to give way to episodes where the stakes are higher and tension is sharper. Slowly, but surely, Star Wars Resistance is developing its characters into more layered dimensions. Even though it's geared for kids aged 6-11, series director Justin Ridge believed that the future of Star Wars Resistance will attract older fans as well.
As it goes with second-half trailers, the one for Star Wars Resistance provided hints of what's on the horizon. As far as the First Order and Captian Doza's relationship with Captain Phasma, with the events of The Force Awakens are right around the corner, it's not hard to imagine that scenes like General Hux delivering his speech on Starkiller Base will happen towards the end of season one. Assuming Star Wars Resistance overlaps with The Last Jedi and beyond, it will be interesting to see how Lucasfilm balances a lighthearted show with the events of the sequel trilogy.