We came. We saw. We conquered Rhode Island Comic Con and returned with handfuls of Kenners and stories of drinks with Oppo Rancisis. And that's just the tip of the iceberg. You don't want to miss this one.
We've had adventures…oh yes, friends, we've had adventures, and you need to hear them! On this episode we detail our experiences at Rhode Island Comic Con 2018, pay tribute to Stan the Man Lee, discuss the report of Pedro Pascal as the Mandalorian, geek out of the Cassian Andor series announcement, debate our favorite toppings on an Italian sub, and invent something known as Pizzaquest. This one is jam packed, Warheads, so let the Star Wars Party begin! It's time for Brews and Blasters.
Show Notes
Joe's struggling
NeedEm GotEm Duel of the Fates Promo Contest
A tribute to Stan Lee
Is Pedro Pascal the Mandalorian?!
The perfect roles for Chris and Joe in a live-action Star Wars series
The best toppings on an Italian sub
How does Joe know so much about Adam Sandler?
Cassian Andor live-action series!
Praise for David W Collins podcast The Soundtrack Show

Go back to hear our interview with him!

Hawaiian Punch is the best
Joe's Keto update
A special guest stops by!
Rhode Island Comic Con 2018

Best Comic Con Ever.
Kenners WERE acquired
Notes on how to buy a vinyl-cape Jawa
Patches, etc.
Meeting Hayden Christensen, again and taking a legendary photo
Meeting Jessica Henwick and Finn Jones
Ric Flair being Ric Flair
What it's like to shake the hand of Ice-T
OPPO RETURNS! We went on an adventure with the legend, Jerome Blake! You need to hear this to believe it
And much, much more you need to hear.

Email
Pizzaquest is born
Links
Join Our Community: Discord Server
Subscribe: Apple Podcasts | Spotify | Stitcher | Google Play | Soundcloud | iHeart Radio | TuneIn | RSS
RetroZap Podcast Network: Apple Podcasts | Google Play | RSS
Social:  BrewsAndBlasters.ninja | Facebook | Facebook Group | Twitter | Instagram
Email: [email protected]
Voicemail: (978) 219-6688
ALL NEW DESIGNS! T-Shirts: TeePublic Store
Support Brews and Blasters: If you like the show, please leave us an iTunes review. It helps, honestly, because more people will find the show. And if you take the time, we'll really, really appreciate it. Plus, you'll win an Oppo Award!
Support These Things, Too: Go to JediNews and Fantha Tracks for ALL your Star Wars information! And, for the best Star Wars podcast reviews out there, head over to Roqoo Depot.
---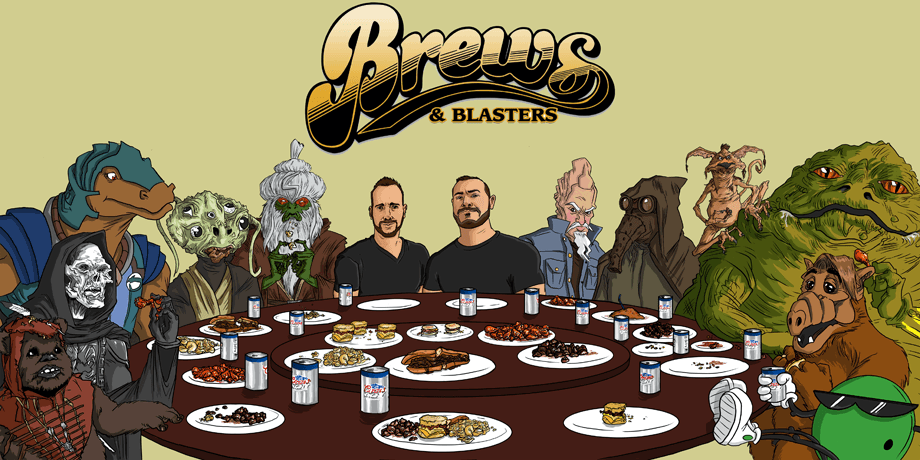 click the banner for all episodes and homepage
Born from the discussions between two friends at a local pub in the historic town of Salem, Massachusetts, Brews and Blasters is your chance to kick back, relax and then enjoy everything about that galaxy far, far away. Your hosts, Chris Salton (founder, The Collectors Hutt) as well as Joe Tavano (founder and editor in chief, RetroZap!) sit down every week to do what would be doing anyway–talk about all things Star Wars, tell some stories, and of course, have a good time. Join Joe and Chris as they share their love for Star Wars, the most obscure Star Wars characters, Boston's North Shore, 1980s pop culture and delicious food, and occasionally talk to fascinating people–and friends, like an anthropomorphic packet of crystallized lime.
Brews and Blasters 184: Martinis with Oppo Rancisis