We are in a brand-new studio as we kick off a whole new era of Brews and Blasters! With so much going on in Star Wars, you know we have plenty to discuss about the Solo: A Star Wars Story premiere, but you can bet we're also going to have some thoughts on Bill and Ted Face the Music, Jurassic World Fallen Kingdom, and much more.
Plus, we reveal the winner of the Brews and Blasters "True Believer" contest, talk about acquiring Solo Fan Event tickets, thoughts on Star Wars Celebration and much more. Did we mention Vintage Kenner mint on card?! Yeah, we got a huge NeedEm GotEm, too. LET'S GO, WARHEADS! Solo: A Star Wars Story premiere is here and this IS the Star Wars party, and it all starts NOW. It's time for Brews and Blasters.
---
Brews and Blasters 167: Porcelain Knobs [Solo: A Star Wars Story Premiere]
Also in this Episode
Welcome to the Brewhouse Beatlab!

We're in our new studio and we're giving you an audio tour!

Bill and Ted 3 is happening!

Bill and Ted Face the Music is a HUGE DEAL
A huge influence on this show and our lives

I guess this is your 30s…

Wisdom teeth extractions
Babies on the way
And more!

Solo: A Star Wars Story Premiere

Can this film be spoiled?
Therm puns!
Saving lobsters
Bad Michael Caine impressions

The True Believer Contest Winner Announced!

Amanda B!
Wins Kylo Ren Unmasked Black Series Figure!

Solo tickets have been acquired!

How was Joe awake at 3 am on a Friday morning?!
The Fan Event looks amazing! We review the gifts.

Where's Celebration 2019?

We have some ideas.
Is it all about Galaxy's edge in 2019?
Will Star Wars Weekends return (finally)?

Solo clips

Chewie plays Holochess for the first time?
Han meets Lando

More about Moloch
Quick Thoughts on Jurassic World: Fallen Kingdom, Rocky III
Solo Track listing review (no spoilers)
Pronouncing Porg on Board in Boston
Need Em Got Em
Subscribe
Apple Podcasts | Spotify | Stitcher | Google Play | Soundcloud | iHeart Radio | TuneIn | RSS
RetroZap Podcast Network
Apple Podcasts | Google Play | RSS
Social
BrewsAndBlasters.ninja | Facebook | Facebook Group | Twitter | Instagram
Contact
Email: [email protected]
Voicemail: (978) 219-6688
Support the Show
If you like Brews and Blasters, the best way to support the show is to leave us an iTunes review. We know it's a pain, but it helps, honestly, because more people will find the show. If you take the time, we'll really, really appreciate. Plus, you'll win an Oppo Award!
Sa'Kalla!
Support These Things!
First, you have to subscribe using the podcast app of your choice. Then, Go to JediNews and Fantha Tracks for ALL your Star Wars information! Finally, for the best Star Wars podcast reviews out there, head over to Roqoo Depot.
If You Like This Episode, Check out this previous one!
---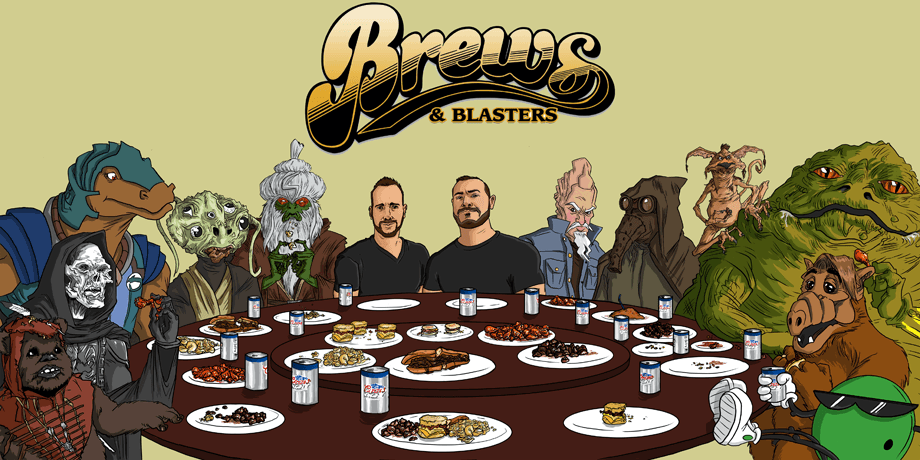 click the banner for all episodes and homepage
Born from the discussions between two friends at a local pub in the historic town of Salem, Massachusetts, Brews and Blasters is your chance to kick back, relax and then enjoy everything about that galaxy far, far away. Your hosts, Chris Salton (founder, The Collectors Hutt) as well as Joe Tavano (founder and editor in chief, RetroZap!) sit down every week to do what would be doing anyway–talk about all things Star Wars, tell some stories, and of course, have a good time.
Join Joe and Chris as they share their love for Star Wars, the most obscure Star Wars characters, Boston's North Shore, 1980s pop culture and delicious food, and occasionally talk to fascinating people–and friends, like an anthropomorphic packet of crystallized lime.
Brews and Blasters 167: Porcelain Knobs [Solo: A Star Wars Story Premiere]