Falcon Friday has come! New figures for Solo: A Star Wars Story are hittin' the streets, and you can bet Chris and Joe have their hands on them! All that, plus some Last Starfighter talk and two contests!
New figures for Solo: A Star Wars Story are out right now and Chris and Joe already have the jump on some of the new figures as Falcon Friday and Wookiee Weekend are upon us! Listen in to find out your best plan for seeking out the new waves, what's coming down the line for the movie release, and a whole lot more! Plus, we have TWO–count em TWO–giveaways in this episode, so let the Star Wars Party begin NOW to see how you can win! It's time for Brews and Blasters.
---
Brews and Blasters 164: Falcon Friday Free For All
Also In This Episode
Episode 164, Powered by vodka
Is The Last Starfighter coming back?
Swearing like sailors when we were kids
Update on Rian Johnson's new trilogy
Contest #1: Star Wars Breakfast Cookbook, courtesy of Chronicle books
Falcon Friday

What is the optimal strategy in our new collecting reality?
A few things to know when buying from third party toy sites
Predictions and discussion on what will be available to Solo: A Star Wars Story
Force Link 2.0 Figures, 2-Packs, Creature Packs, Vehicles, Black Series

NeedEm GotEm: Black Series Wave 16 Reviews

Range Trooper
Grand Moff Tarkin
Young Han Solo
Young Lando Calrissian
Death Squad Commander (new face sculpt)
Jawa

Contest #2: Win Top Trumps Card Set and Expansion Packs, courtesy of Top Trumps
Announcements
WE ARE ON SPOTIFY! Click to listen and subscribe for high-quality listening on all devices!
Find everything Brews and Blasters, including email, social links, t-shirts, subscribe options and also much more at BrewsAndBlasters.ninja.
Brews and Blasters T-Shirts
Subscribe
Apple Podcasts | Stitcher | Google Play | Soundcloud | iHeart Radio | TuneIn | RSS
RetroZap Podcast Network! One feed to rule them all!
Social
Connect with us and send us your selfies listening to the show, having a great sandwich, partying hard or grabbing some great figures #needemgotem.
BrewsAndBlasters.ninja | Facebook | Facebook Group | Twitter | Instagram
Contact Us
Wanna talk Oppo Rancisis? Ask us some Star Wars questions? Ask us some Boston questions? Have a game for us to play? We wanna hear from you!!
Email: [email protected]
Voicemail: (978) 219-6688
Support the Show
If you like Brews and Blasters, the best way to support the show is to leave us an iTunes review. We know it's a pain, but it helps, honestly, because more people will find the show. If you take the time, we'll really, really appreciate. Plus, you'll win an Oppo Award!
Sa'Kalla!
Support These Things!
First, you have to subscribe using the podcast app of your choice. Then, Go to JediNews and Fantha Tracks for ALL your Star Wars information! Finally, for the best Star Wars podcast reviews out there, head over to Roqoo Depot.
If You Like This Episode, Check out this previous one!
---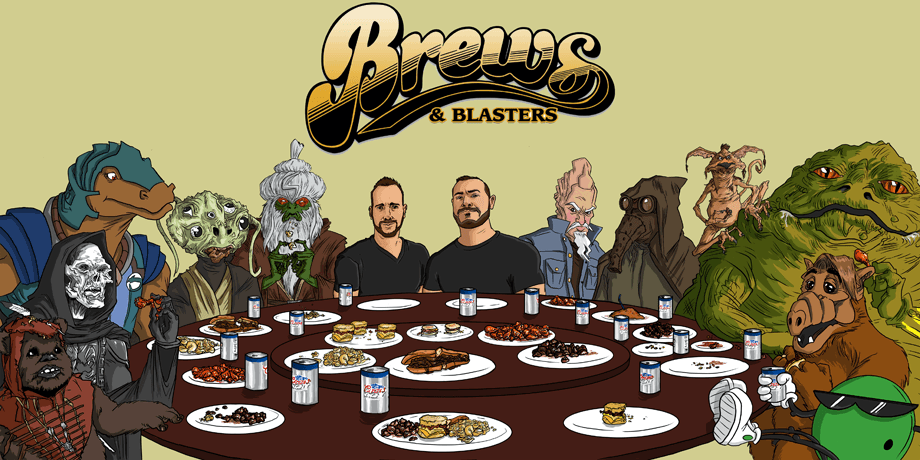 click the banner for all episodes and homepage
Born from the discussions between two friends at a local pub in the historic town of Salem, Massachusetts, Brews and Blasters is your chance to kick back, relax and then enjoy everything about that galaxy far, far away. Your hosts, Chris Salton (founder, The Collectors Hutt) as well as Joe Tavano (founder and editor in chief, RetroZap!) sit down every week to do what would be doing anyway–talk about all things Star Wars, tell some stories, and of course, have a good time.
Join Joe and Chris as they share their love for Star Wars, the most obscure Star Wars characters, Boston's North Shore, 1980s pop culture and delicious food, and occasionally talk to fascinating people–and friends, like an anthropomorphic packet of crystallized lime.
Brews and Blasters 164: Falcon Friday Free For All