It's (nearly) over now…Star Wars Rebels is in its homestretch and we have plenty to say about it! Why are The Ones from Mortis back? What will happen when Ezra meets the Emperor? What is the final fate of our heroes?
We go over the Star Wars Rebels air dates, episode titles, descriptions and make predictions about the finale of this epic series, but not before admitting our blood runs thick with mortadella, and daring each other to get our midi-chlorians tested. Godspeed Rebels!
Did anybody order a Loveburger? The Star Wars Party Starts NOW! It's time for Brews and Blasters.
---
Brews and Blasters 153: Star Wars Rebels: The End is Nigh
Also in This Episode
We're drinking Woodford Reserve
Blind Box figure roulette

Disney Vinylmation update
Bob's Burger figures

Can't Hardly Wait retrospective

Star Wars references in the 1998 movie!
Did anyone order a Loveburger?

Baby update

What if the Emperor was an Ob/Gyn
Choosing baby names
We have some good ideas.
Midi-chlorian counts

Toys R Us are closing stores

Who is really looking for action figures in 2018?
Remember Cap Gun He-Man?

Rian Johnson's Bookshelf and The Last Jedi Inspiration

Chris and Joe geek out about Rian having The Jedi Path& The Book of Sith.
Then Joe really geeks out about the Chicago Manual of Style (16th Edition).

Dr. Evazan went to college for 7 years to be the man he became.
The End of Star Wars Rebels

Looking back on Kevin Kiner's best work.The final trailer for Rebels
This is it.
Ian McDiarmid is coming back!
Why are The Ones from Mortis back?!
Get ready for the final episodes with "Joe watches the Mortis Arc"
Air dates, episode titles, descriptions and predictions
The final fate of Thrawn
Who's gonna die?

The Jedi Council throws keg parties
Ezra's had the toughest time.

The Master of Rejection
He's never got the breaks.
Always had to try harder.

Update on Darth Vader volume 2
Voicemail
The wisdom of Wookiees?in Love
The smoothness of Poe Dameron
ANNOUNCEMENTS
WE ARE ON SPOTIFY! Click to listen and subscribe for high-quality listening on all devices!
Find everything Brews and Blasters, including email, social links, t-shirts, subscribe options and also much more at BrewsAndBlasters.ninja.
New T-Shirt Styles Available Now
Subscribe
iTunes | Stitcher | Google Play | Soundcloud | iHeart Radio | TuneIn | RSS
RetroZap Podcast Network! One feed to rule them all!
Social
Connect with us and send us your selfies listening to the show, having a great sandwich, partying hard or grabbing some great figures #needemgotem.
BrewsAndBlasters.ninja | Facebook | Facebook Group | Twitter | Instagram
Contact Us
Wanna talk Oppo Rancisis? Ask us some Star Wars questions? Ask us some Boston questions? Have a game for us to play? We wanna hear from you!!
Email: [email protected]
Voicemail: (978) 219-6688
Support the Show
If you like Brews and Blasters, the best way to support the show is to leave us an iTunes review. We know it's a pain, but it helps, honestly, because more people will find the show. If you take the time, we'll really, really appreciate. Plus, you'll win an Oppo Award!
Sa'Kalla!
Support These Things!
First, you have to subscribe using the podcast app of your choice. Then, Go to JediNews and Fantha Tracks for ALL your Star Wars information! Finally, for the best Star Wars podcast reviews out there, head over to Roqoo Depot.
If You Like This Episode, Check out this previous one!
---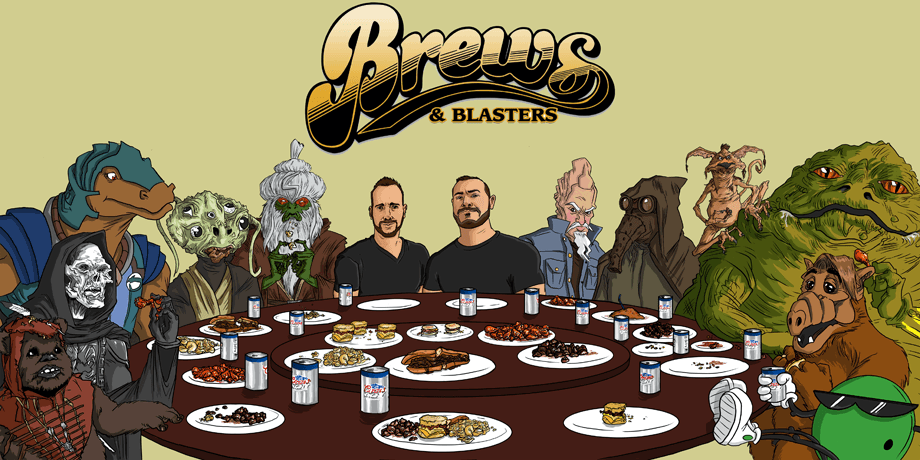 click the banner for all episodes and homepage
Born from the discussions between two friends at a local pub in the historic town of Salem, Massachusetts, Brews and Blasters is your chance to kick back, relax and then enjoy everything about that galaxy far, far away. Your hosts, Chris Salton (founder, The Collectors Hutt) as well as Joe Tavano (founder and editor in chief, RetroZap!) sit down every week to do what would be doing anyway–talk about all things Star Wars, tell some stories, and of course, have a good time.
Join Joe and Chris as they share their love for Star Wars, the most obscure Star Wars characters, Boston's North Shore, 1980s pop culture and delicious food, and occasionally talk to fascinating people–and friends, like an anthropomorphic packet of crystallized lime.
Brews and Blasters 153: Star Wars Rebels: The End is Nigh