It's time for the Animanicast! Here's episode eighty seven featuring a discussion of "Papers for Papa," "Amazing Gladiators," and more!
Join your hosts Joey, Nathan and Kelly in the "Animanicast!" A podcast dedicated to the classic 90's cartoon show Animaniacs! Today's episode features a discussion of Animaniacs episode 88. First, the Warners visit Ernest Hemingway in "Papers for Papa," then the Hip Hippos step into the ring on "Amazing Gladiators," and finally Pinky gets paired up with Ralph the guard in "Pinky and the Ralph."
---
Each and every week, Joey, Nathan and Kelly revisit an episode of Animaniacs in the order in which they first premiered. They discuss their favorite jokes, gags, and discuss all the cultural references they can find. Today the hosts discuss and review episode 88 of Animaniacs!
The hosts of the Animanicast discuss episode 88 of Animaniacs. First the Warners chase after Ernest Hemingway, then the Hip Hippos go on "Amazing Gladiators!"
Commercial Parodies
Flavio appears in a few commercial parodies in this episode. First, a soloflex commercial parody is shown. You could look just like Flavio if you eat Choco Dots! Then we see women flock to a window to watch Flavio drink a soda. Finally we see Flavio show off his "physique." These commercials have some cute moments. The hosts discuss what they liked about them and the connections to the original commercials in the 90's.
Papers for Papa
Ernest Hemingway has given up on writing so when the Warners come to the door with more paper he tries to avoid paying for it. They chase him around the world and end up inspiring him through their adventures. This is a nice segment that has lots of literary references and even a quick reference to the movie "Alice Doesn't Live Here Anymore." The hosts discuss their favorite moments and Kelly shares a connection to Young Indiana Jones.
Amazing Gladiators
The Hip Hippos go on a "Amazing Gladiators" which looks very similar to "American Gladiators." They face off against an athletic couple in a battle to the finish! Of course, Marita and Flavio are just happy to be there and don't really seem to care about winning anything. The hosts discuss their favorite moments in this amusing cartoon.
Pinky and the Ralph
Ralph and Pinky ask each other what they would like to do tonight. They go back and forth several times and can't decide. It's short and sweet but Nathan and Joey wonder if it could have gone on even longer! Perhaps that would have made it even funnier?
Would 'Ya Like to Take a Survey?
We'll be finishing up our run of the classic episodes of Animaniacs soon! What should we cover before the new episodes premiere in 2020? Let us know by going to Survey.Animanicast.com.
Join the Party!
Head on over to Discord.Animanicast.com today to join our RetroZap discussion group. You'll get to chat with the hosts of this show as well as the hosts of other RetroZap podcasts!
Today's Sponsor: Teepublic.com!
Head over to our merchandise store to support the artists at TeePublic and our show as well! Simply check out the designs at teepublic.animanicast.com and then pick out a shirt, mug, cell phone case, or any other merchandise available!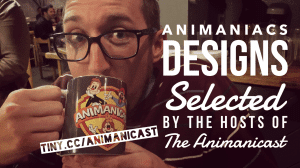 Different Ways to Support Our Show
If you'd like to support out show there's lots of ways to do it! First of all, you could go onto Apple Podcasts and leave us a five-star positive review.
Also, don't forget to tell a friend about the show! Your retweets and post shares help others find us.
By going to Amazon.Animanicast.com you can find some of the newest Animaniacs merchandise including clothing, toys, videos, and even books written by some of the original writers of the show. Get some great stuff and help support our show! You can even use Amazon.Animanicast.com as your portal to Amazon on your next shopping trip and you'll still be supporting our show with any purchase you make.
You could also purchase some hand prepared decals from Joey at Decals.Animanicast.com
Interested in getting some Animanicast MERCHANDISE? It's in stock now at TeePublic! Get yours at Teepublic.Animanicast.com
If you like this episode, check out the previous one!
---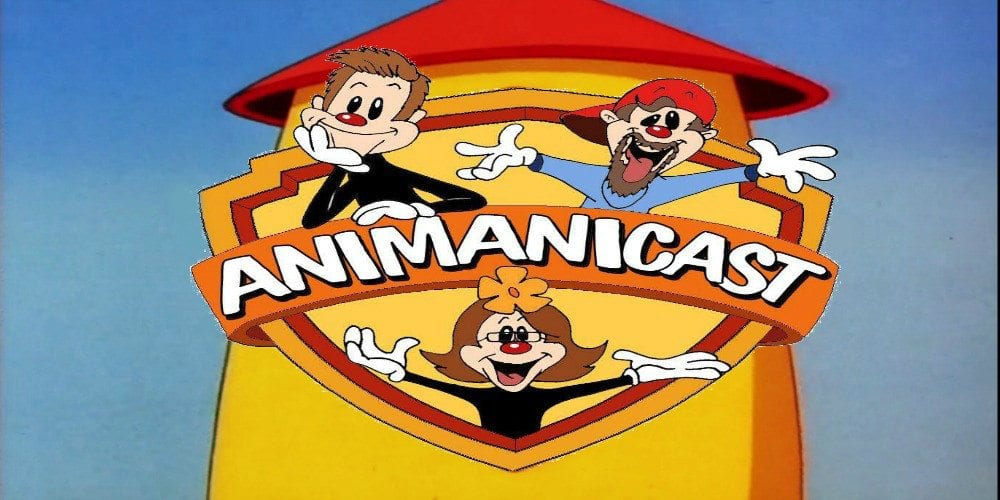 click banner for all episodes and homepage
The Animanicast is a podcast dedicated to the classic animated television series Animaniacs. Join your hosts Joey, Nathan and Kelly as they revisit each episode in the order in which they were released. They'll discuss their favorite moments, jokes, characters as well as their memories of first watching the episode. Pop cultural references are also discussed in detail. (You might just learn some cool facts!) In the end, each episode receives a "Water Tower Rating" from the hosts. Cue up an episode of Animaniacs on DVD or Hulu and then listen to the Animanicast to keep the fun going!
Cover art by @jedishua Intro Music performed by Kontra5t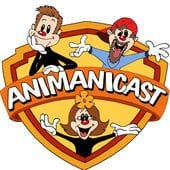 The Animanicast is a podcast dedicated to the classic animated television series Animaniacs. Join your hosts Joey, Nathan and Kelly as they revisit each episode in the order in which they were released. They'll discuss their favorite moments, jokes, characters as well as their memories of first watching the episode. Pop cultural references are also discussed in detail. (You might just learn some cool facts!) In the end, each episode receives a "Water Tower Rating" from the hosts. Cue up an episode of Animaniacs on DVD or Hulu and then listen to the Animanicast to keep the fun going! Cover art by @jedishua Intro Music performed by Kontra5t