Star Wars fabric does not sound too interesting. But it is–check out some of the patterns and awesome gifts I've gotten!
I don't sew. I'm not very good at even patching up a hole in a sock. But plenty of friends and family can sew, and when I had my baby shower for my son, I received some super cool items made from Star Wars fabric. These items are extremely special to me.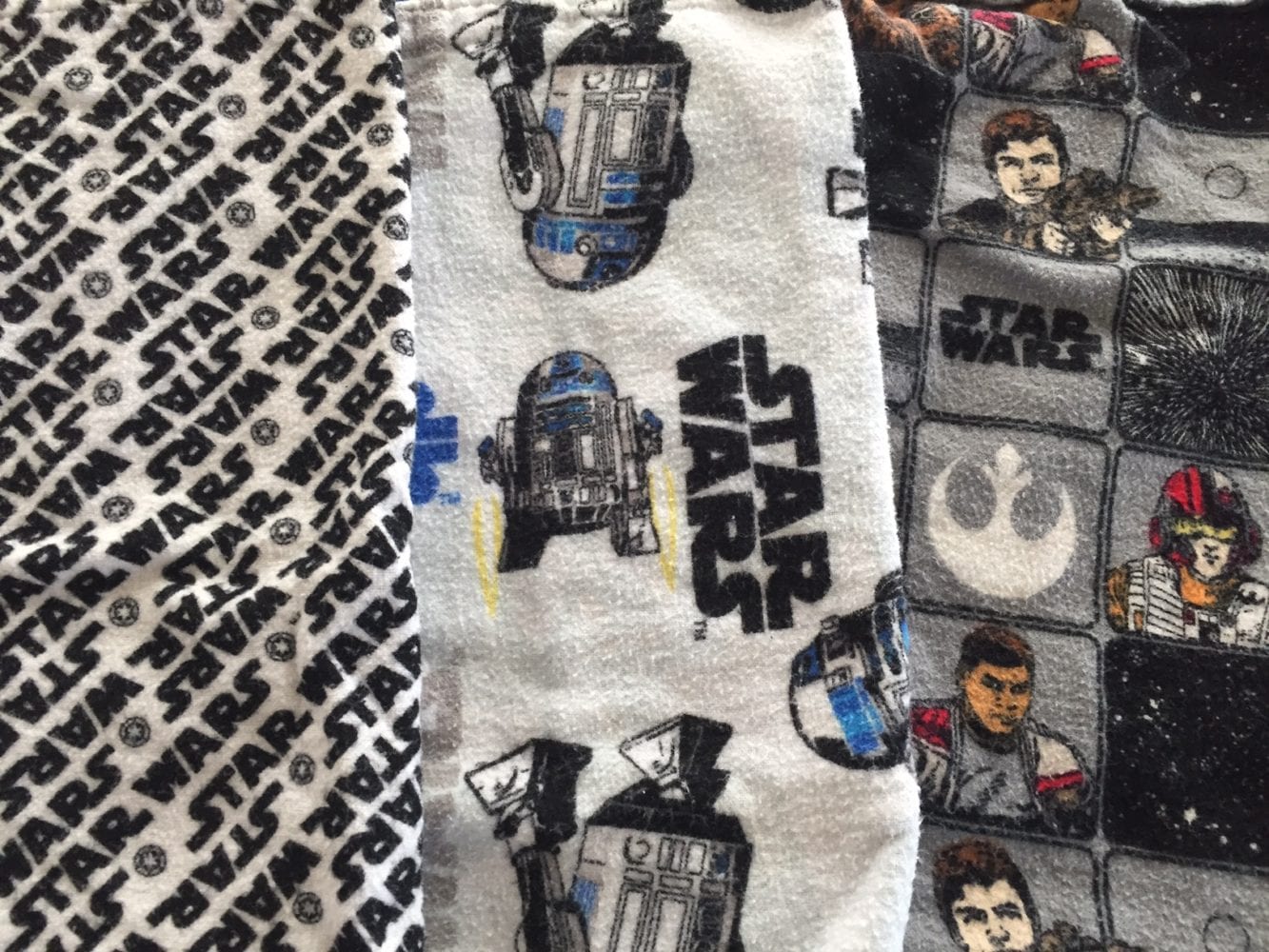 These fabrics are all baby burp cloths. But the fabric is so cool! I love the classic Star Wars logo in black and white, and R2-D2 is always a kid favorite.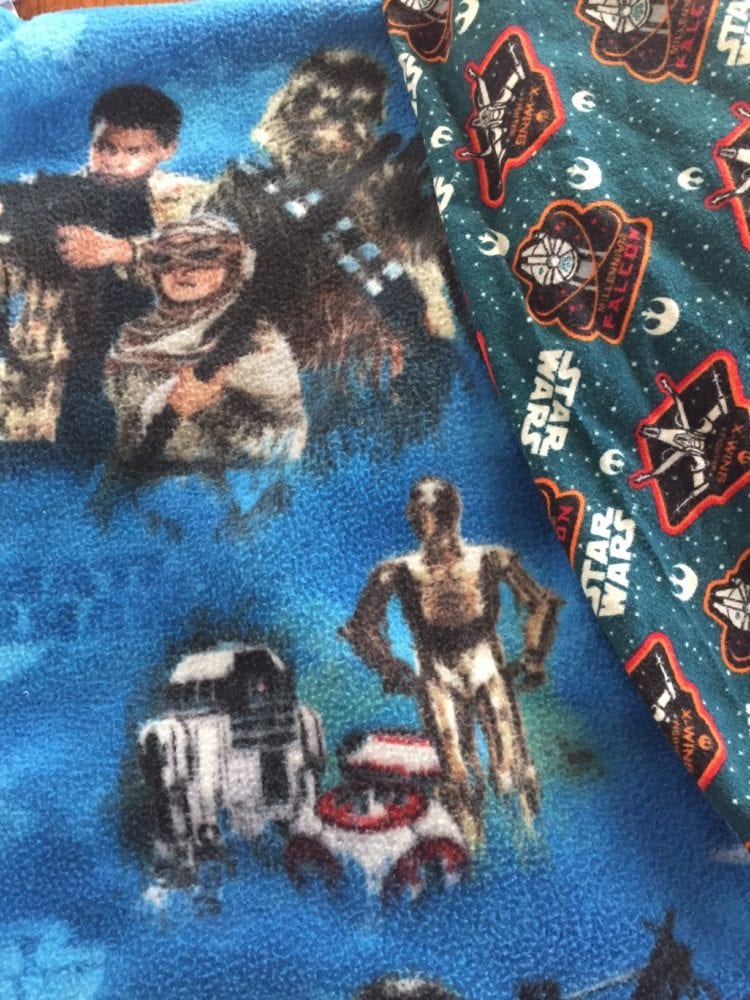 Here are two small blankets, perfect for a toddler, that I received. The fleece The Force Awakens blanket is the perfect size for my toddler's bed right now, and he loves to carry it with him. I love the green X-Wing and Millennium Falcon fabric with the stylish logos. All of these items are made from Star Wars fabric that can be found in local craft stores or online. And anyone good at sewing can use the fabrics to make anything they want!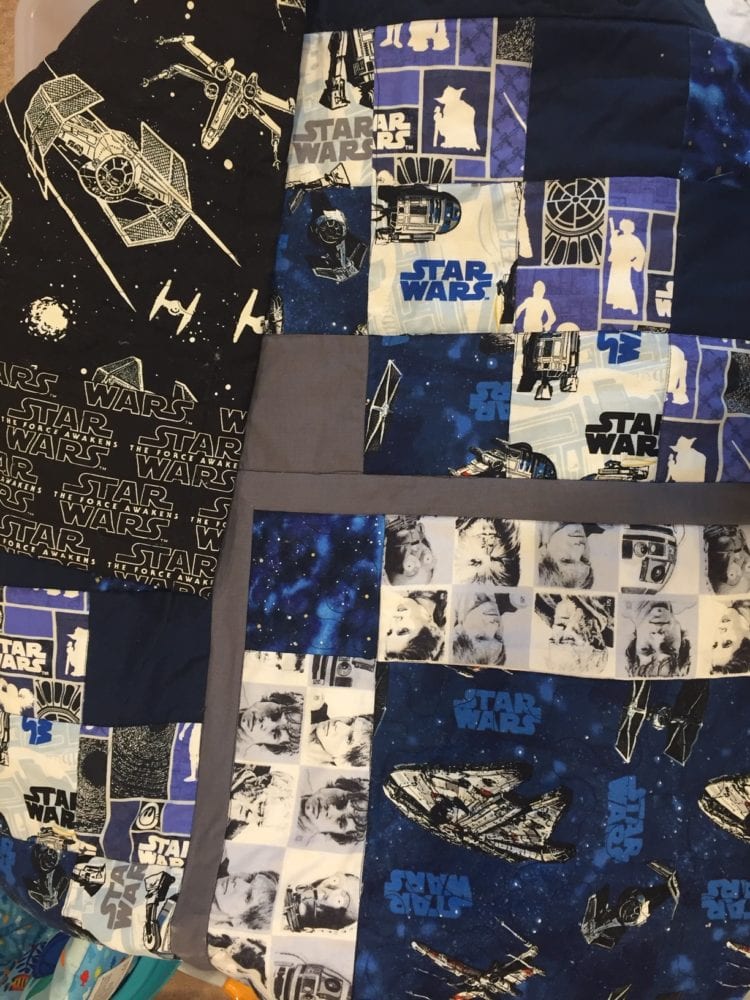 The above photo is a close up of the multiple Star Wars fabric that were used to make my son a remarkable quilt. I had never seen fabric with actual photographs of actors on it before. The reverse side of the quilt is black and white with the classic logo and X-Wings and TIE fighters. Plus it glows in the dark! This quilt shows the diversity of using different fabrics in a project. And it is amazing. If you sew, or know someone who can, it's certainly worth a trip to the local fabric store to see what Star Wars fabrics are in stock now.
Courtney Martin is a graduate of Indiana University and works in publishing. She's an avid Star Wars fan and wrote the recipe blog Courtney Cooks Star Wars on suvudu.com. When not enveloped a science fiction or fantasy novel, she is watching television with her husband and son, doing crossword puzzles, or playing with her Shih Tzu, Burt.