Twin Peaks: The Return Part 12 favors Lynchian talk over action as it reveals the history of the Blue Rose and exposes old wounds.
David Lynch and Mark Frost don't give in to audience expectations with Twin Peaks: The Return part 12. The narrative was threatening to reach the peak of the second act, yet part 12 deftly holds back. During my initial viewing I felt the tug of expectation; I was waiting for something to drop, or land, or otherwise make itself known to me. That elusive something may not have arrived, but there were other kinds of magic in its place.
My second viewing I settled right in and fell head over (red) heels for the unexpected story that Lynch and Frost did deliver. The construction of the episode is different again from anything that precedes it. Part 12 is made up of a series of long sequences heavy in Lynchian dialogue. These are punctuated by short narrative bursts.
I watched The Straight Story for the first time in a while at the weekend. It may not have the outright weirdness and darkness associated with David Lynch, but each moment, every shot, is so purely Lynchian. The Straight Story is a reminder that to narrowly define a Lynchian narrative is wrongheaded. Twin Peaks: The Return is testament to this week in, week out. Part 12 is but the latest example.
Strange, After All These Years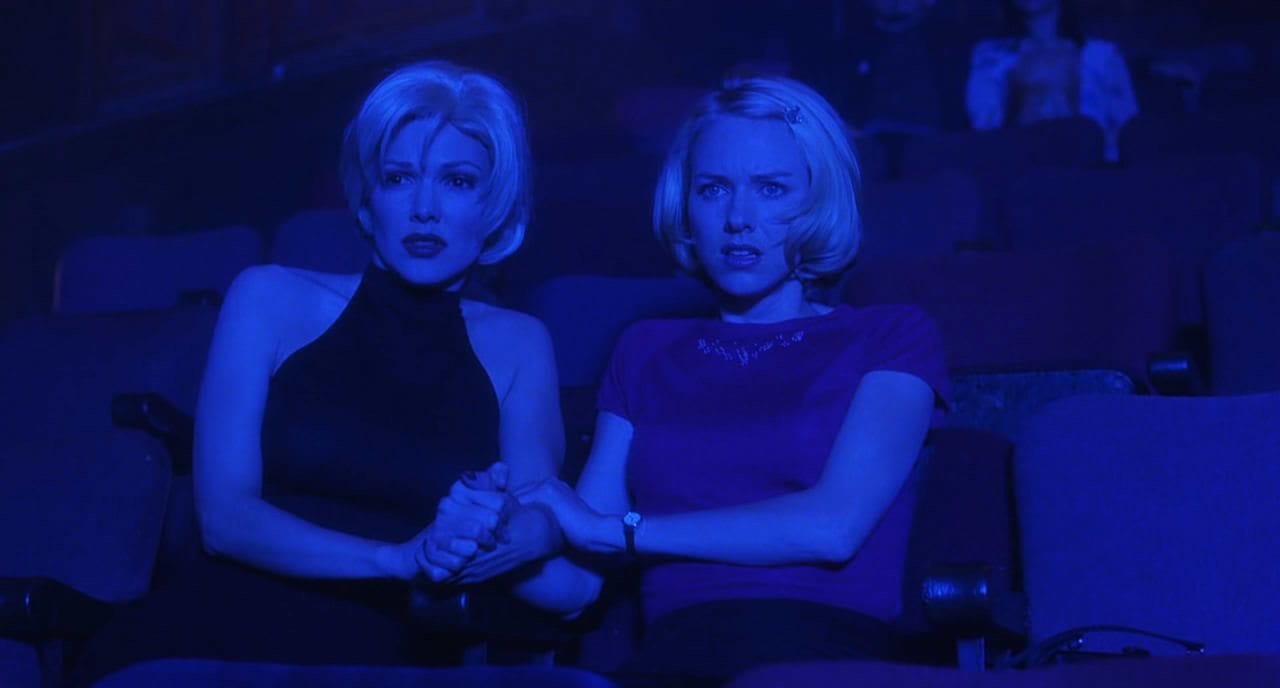 More is explained about blue rose (sorry, that's Blue Rose from now on) here than I ever dreamed possible. That is a wonder in itself. In true Twin Peaks fashion, the information isn't too much. It feels thrillingly essential yet maintains the mystery. Where others would haltingly explain away the dream, Lynch makes the dream seem more real. Thing about a dream feeling more real? Means you're deeper in it.
Much of part 12 delves into subjects and themes at the very core of Twin Peaks. The idea of the father appears throughout the episode, whether spoken, seen, or implied. Sarah Palmer embodies the "goddamn bad story" that started it all. She has lived through the unspeakable; Twin Peaks gives voice to that.
A lot of names were casually thrown about this week. On one hand this recalls the doubling of names from the beginning of the show, namely (sorry) Bobby and Mike / Bob and Mike the One-Armed Man. It also harks back to the show's early fascination with soap operas. Dropping in on impenetrable conversations feels like watching a single episode of a long-running soap and having to get Lucy to explain what's going on.
But names are not ultimately throwaway. They have power. Bob knew that when he placed letters intended to spell out ROBERT under his victims' fingernails. The name Laura Palmer has immeasurable power. Agent Cooper must rediscover his true name and wake from his Las Vegas dream.
No Credible Evidence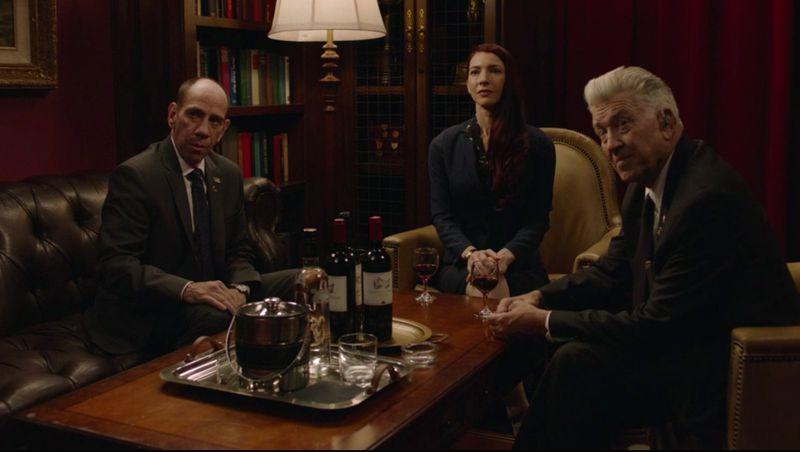 Gordon, Albert, and Tammy sit in a South Dakota hotel. Except it is also notably a room with red drapes. Gordon stocks the plane from his own wine cellar, to Albert's relief. It is of course red wine. "Ignore the strange man," Albert jokes to Tammy, referring of course to Gordon.
Albert brings Tammy up to speed on the Blue Rose basics (she will get a full debrief in the morning). The story of how the unit came about taps straight into Secret History of Twin Peaks territory. Project Blue Book was shut down in 1970 after determining that there was no credible evidence of UFOs and therefore they posed no danger. It was, in Albert's words, a massive cover up.
"A few years later the military and FBI formed a top secret task force to explore the troubling abstractions raised by cases Blue Book failed to resolve. We called it the Blue Rose, after a phrase uttered by a woman in one of these cases, just before she died. Which suggested these answers could not be reached except by an alternate path we've been treading ever since."
Here comes the origin story:
"Gordon suggested an agent by the name of Phillip Jeffries to head the squad. He soon recruited three others: myself, Chet Desmond, and Dale Cooper."
Please, please, please bring back Agent Chet Desmond in some way or another. What dark gods do I need to make sacrifices to in order to make that happen? Ancient names on a postcard please.
Blue Rose Task Force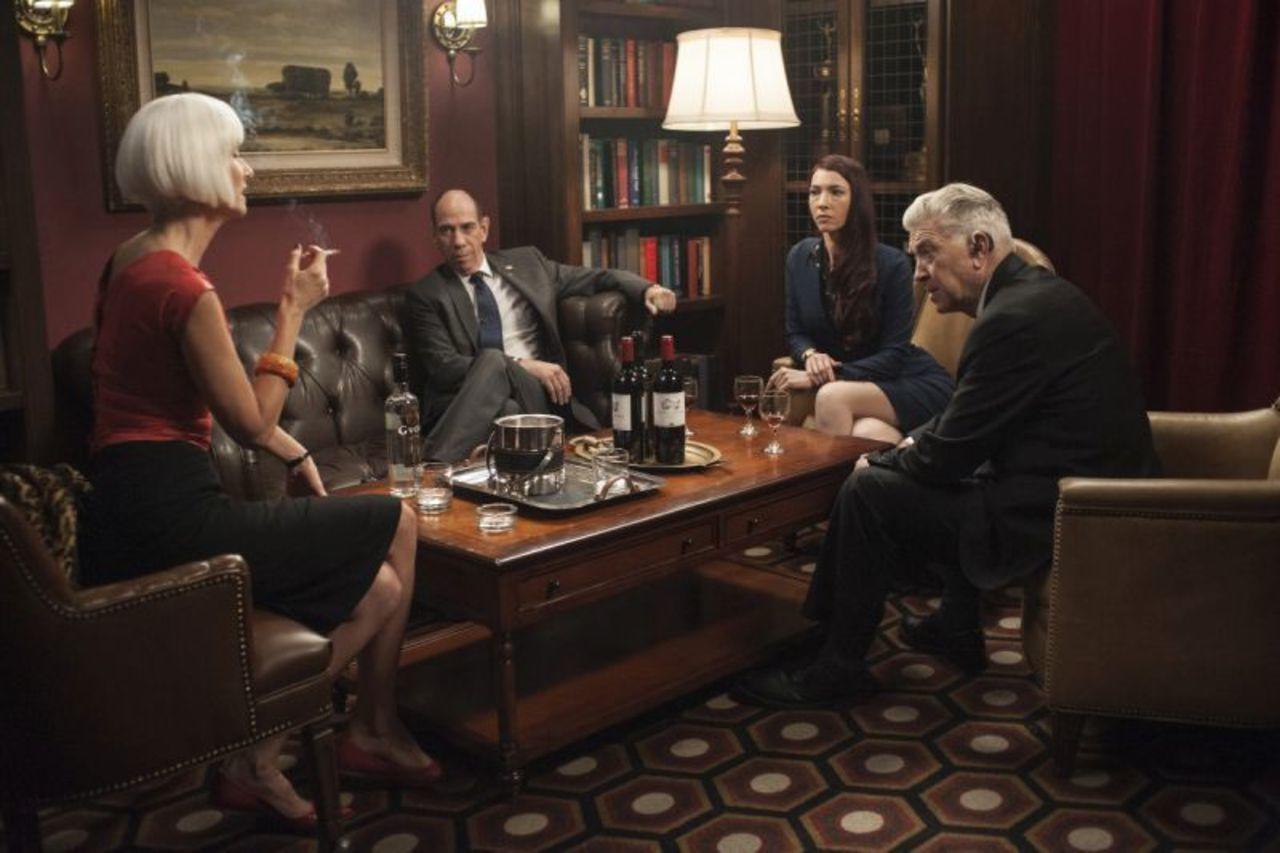 Albert continues and it is rather concerning indeed. It's obviously heart breaking just knowing that Miguel Ferrer died not long after after filming new Twin Peaks. If something terrible happens to Albert on the show then that will bring all the sadness to the surface and then some. Gordon is worried about him and that means I am too.
"Perhaps you haven't failed to notice that I'm the only one of that group who hasn't disappeared without explanation."
Under the circumstances, Gordon has rightly been reluctant to recruit new blood. But Tammy Preston has been on their radar for many years and it is time to bring her on board.
"You're asking me to join the Blue Rose task force?"

"Yep," replies Albert.

"I'm in," says Tammy.
Tammy will go on to investigate the dossier that constitutes The Secret History of Twin Peaks. That must occur sometime after part 12, but there is not enough information to ascertain when exactly. For now she is sitting in an armchair framed by red drapes. I'm worried about Tammy too. I'm a worrier, me.
The Parting of the Red Drapes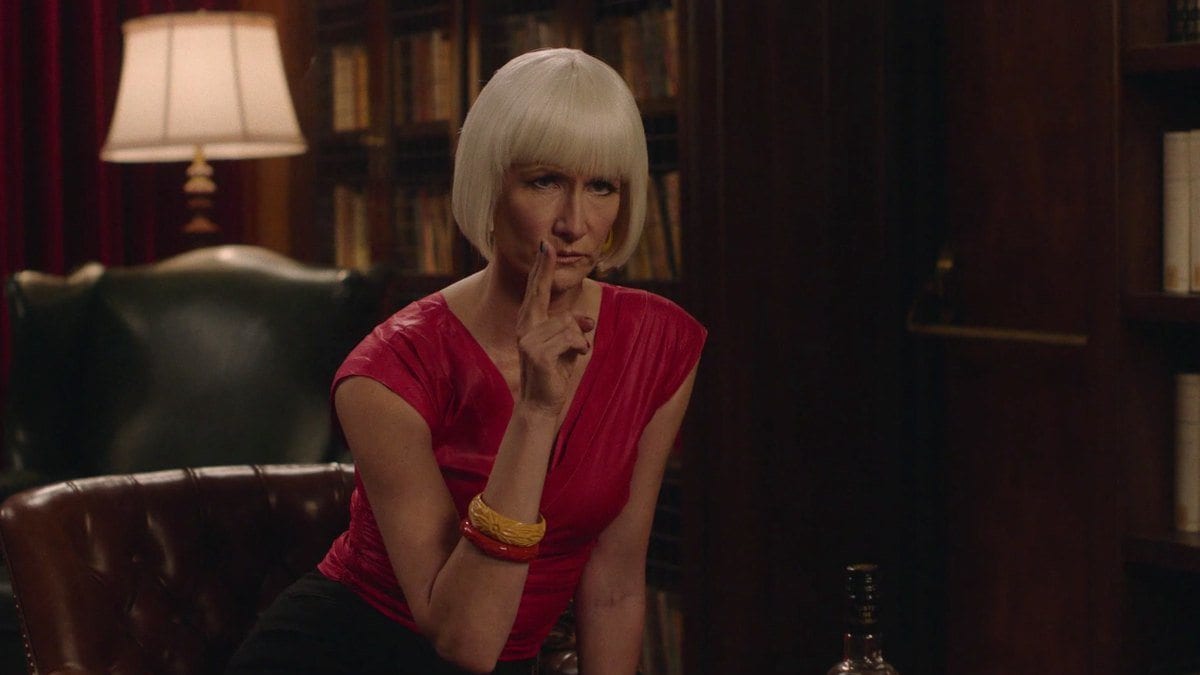 Enter Diane. The way she parts the red drapes recalls Cooper in the Red Room in episode 29. An everyday location has already been given cosmic significance by what is being said. That the visuals also strongly suggest the cosmic gives the scene an added intensity. It is as if the reality of part 12 has been infected by those other worlds. Diane is deputized. "Let's rock!" she says with a pistol hand gesture, as if they are all living inside a dream.
She later receives a text message from her unknown contact that says simply: "Las Vegas?" "THEY HAVEN'T ASKED YET," is her reply. Of course Gordon, Albert, and Tammy do not have anything about Vegas to ask…yet. The Las Vegas PD were putting Dougie's or, more accurately, Cooper's DNA into the system. So surely that will flag up something somewhere that a Blue Rose agent will see.
Diane uses a memory technique to bring to mind the co-ordinates on Ruth Davenport's arm. Lynch cuts to Diane mouthing "coordinates" to herself as she looked at the photo of the arm. Back in the present Diane carefully speaks the words as she types a search into a map on her phone:
"Co-or-din-ates. Plus two."
Words have power. Lynch doesn't reveal what Diane types, but she is channeling the coordinates nonetheless. A few zooms in on the map and she has a location. It is of course that place both wonderful and strange. All roads lead back to Twin Peaks. The circle closes. Part 12 just closed it a little further.
The Cowboy and the Frenchwoman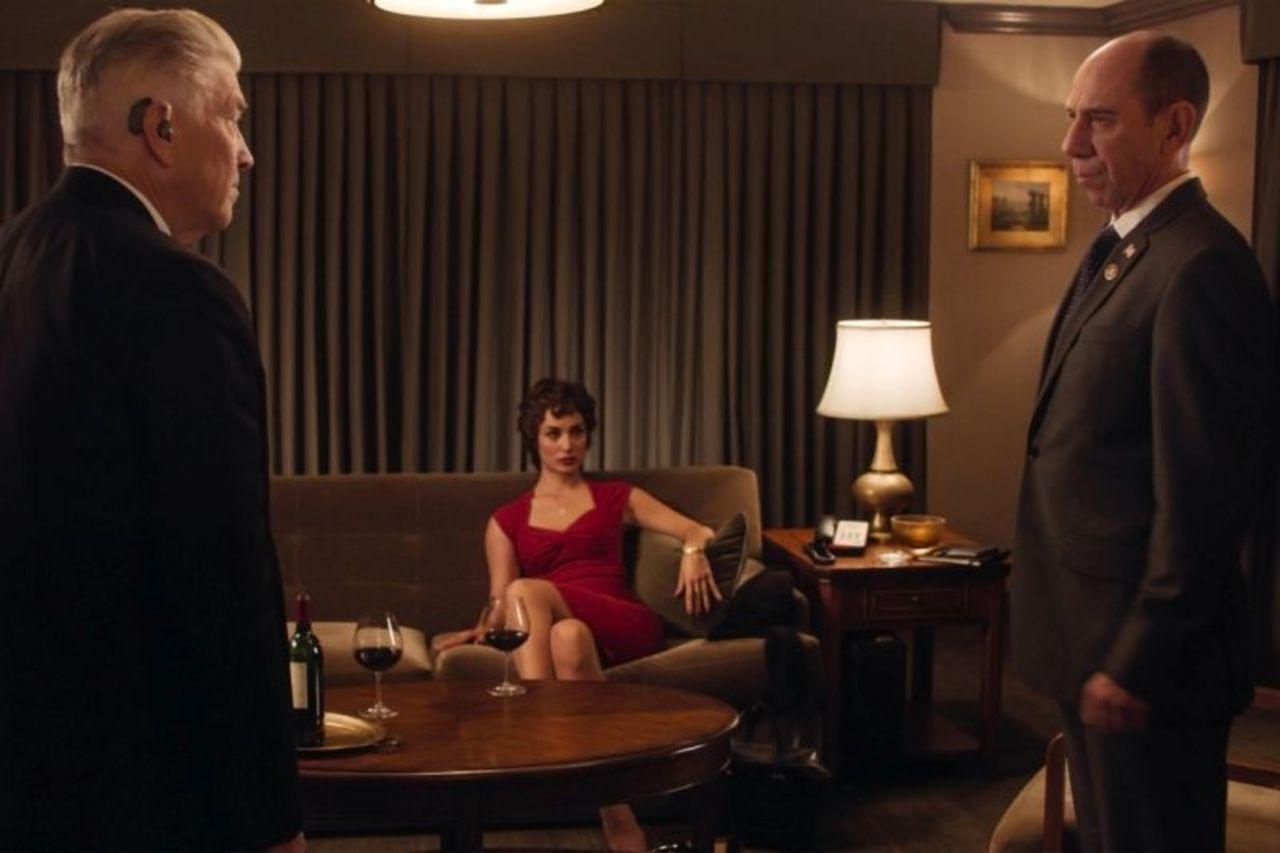 Gordon entertains a Frenchwoman in a red dress in his hotel room. Albert interrupts as he needs to discuss important Blue Rose stuff. There's some fine Lynchian light comedy as Gordon and the woman exchange exaggerated smiles and gestures. They're having a series of moments that extend out into infinite dreams. The exit takes forever. Every cut to Albert's stoic yet exasperated expression is priceless. "Ah, tres bon," says the Frenchwoman of the wine. "It's a good one," says Gordon.
After the woman leaves, Gordon explains that she is visiting a friend of her mother, who's daughter is missing. Words which recall Blue Rose Lil in Fire Walk With Me ("she's my mother's sister's girl"). Albert is unperturbed. He informs Gordon of Diane's recent text exchange. There's confusion between what kind of fine bordeaux Gordon wants to get back to and what time it is; 11:05 never was so ominous. "Albert, sometimes I really worry about you," Gordon tells him, hand on his shoulder.
Lynch shifts from light comedy to an air of sadness in the blink of eye. Part 12 delivers more wrongness with the world, in this instance in a very subtle manner. I can't help but think of Gordon previously opening his hotel door to the vision of Laura Palmer crying. It was in fact Albert who had knocked on the door. My worry isn't going anywhere.
Shortcuts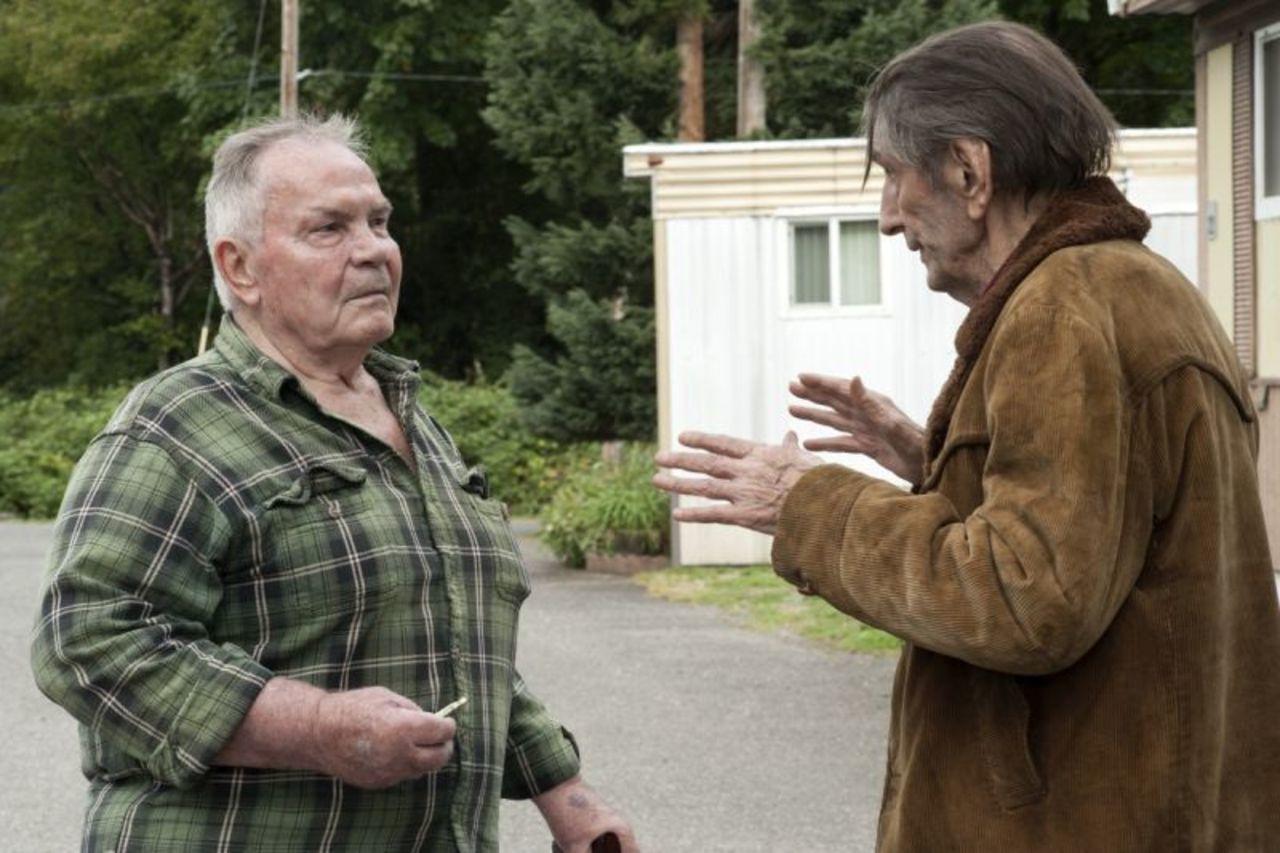 Jerry runs out of the woods and through a field; listen to the sounds of music. Carl doesn't want Fat Trout Trailer Park residents to sell their blood for food; did I mention what a total dude Carl Rodd is? Dougie plays baseball; well, catch; well, not-catch. Miriam lies in intensive care; alive, but not awake. Hutch kills Warden Murphy; Warden Murphy junior finds his daddy dead on the porch. Dr Amp and Nadine are stuck in a time loop, a golden circle of rage and satisfaction.
Funny, moving, strange, sad, disturbing, and so on. That's Twin Peaks for you.
Scenes from a Marriage
I literally gasped when Audrey Horne appeared on screen! I suppose some folks might complain that the scene goes on too long, doesn't explain itself, and is basically two people talking in a room. David Lynch is well aware of what he's doing with this scene. The way he draws out absurdities, exposes insecurities and old wounds, allows the characters to breathe, is quite miraculous. Most other directors would be hard pushed to come up with the goods over an entire movie. From that perspective the Audrey scene was as short as anything.
It all depends on point of view of course. I once sat inside on a rare blazing hot day in Glasgow to watch Ingmar Bergman's Scenes from a Marriage (an almost three hour dissection of the dissolution of a marriage). Which is a rather roundabout way of saying I'll more than happily take two people talking in a room under the right conditions. Or the wrong conditions apparently.
Audrey is married to a guy called Charlie. It's late, he's sleepy, and he has paperwork to do. But Audrey wants him to come out with her to look for Billy. Billy is missing. "If you went missing would you want people finishing their fucking homework before they went looking for you?" she asks. Ouch. Audrey reveals she is in love with Billy and is sleeping with him. Or at least was until two days ago when he went missing. Tina might know something. Chuck certainly does. I've no idea where Paul comes into this, but I see his name in my notes between Tina and Chuck.
Yellow Pages in a Blue Rose Town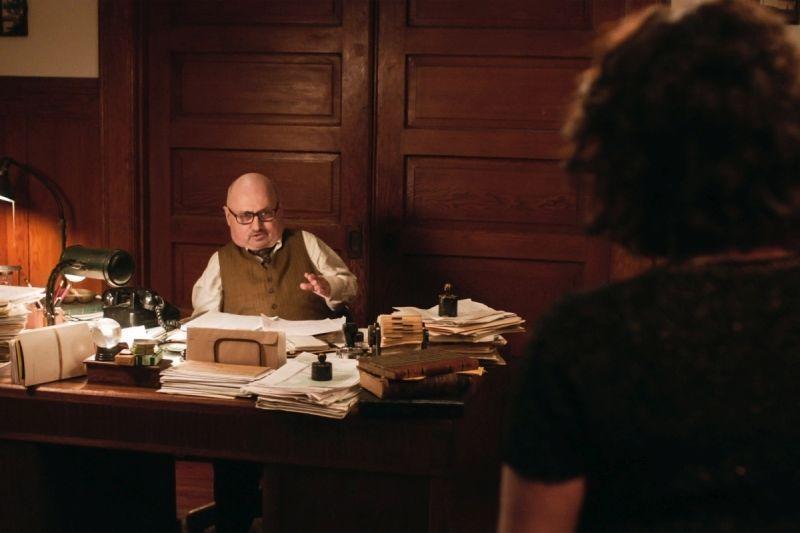 At least everyone knows Billy, right? Well, kind of. Batteries not included; some supposition required. There was some confusion (what, confusion in Twin Peaks?) at the end of part 7 regarding whether the dude who shouted into the Double R was looking for Billy or Bing. The guy doing the asking was Bing. He shouted, "Hey, anyone seen Billy?" Part 12 reveals that Billy's truck was stolen, which lines up with Billy being the person who Andy visited with regards to the hit and run. Apparently Chuck stole Billy's truck, but Chuck isn't Richard. What's in a name anyway? Everything and nothing.
Sideways note: Scott Coffey appears at the Roadhouse at the end of the episode. He plays a character named Trick. However, he once played a character called Billy for David Lynch's Wild At Heart, although his scenes were cut.
The Audrey and Charlie scene in part 12 may just be two people talking in a room. But it's done in a way that only Lynch could. The heightened melodrama leaves Douglas Sirk in the dust and brings back Twin Peaks' old habit of satirizing soap operas.
Charlie phones Tina. "Unbelievable, what you're telling me," he says to her over the phone. But he doesn't tell Audrey what it was Tina told him. By extension the audience is also kept in the dark.
I Loved That Bike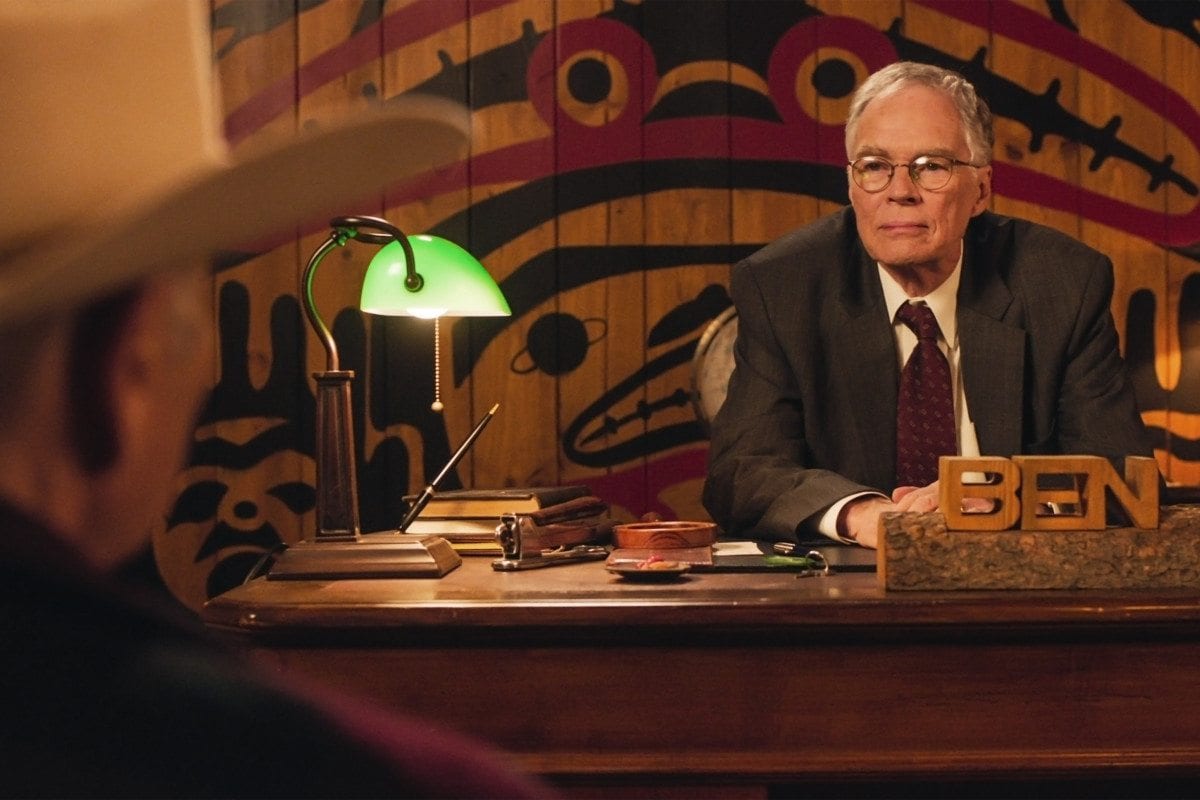 Another Sheriff Truman visits the Great Northern to deliver bad news. Frank tells Ben that his grandson killed that little boy and put Miriam in the hospital. "Richard," says Ben. "That boy has never been right."
Ben tells Frank that the key to Agent Cooper's room showed up in the mail. He wants to give it to Harry as a memento. Frank agrees to take it, obviously keyed up (sorry) about the investigation:
"Interesting. We're just opening up an old case involving Agent Cooper. Strange this key shows up after all these years."

"Yeah, I thought so too," says Ben.
Ben speaks with Beverly after Frank leaves. He laments that "Richard never had a father" (that 'Mr C is Richard's dad' theory is not going to go out of style), which triggers memories of his own childhood. Ben reminisces that his dad bought him a beautiful two-tone Schwinn bicycle:
"I loved that bike. I'd ride with my friends."
The nostalgia is palpable and infectious. The phrasing recalls something Lynch says in The Art Life documentary about sitting in a mud pool with his friend when they were kids. In true Lynchian style, Ben goes on, enunciating the words more and more carefully, drawing out their meaning until that meaning becomes something other:
"I loved that bike. I loved that bike that my father bought for me."
Oddly, yet beautifully phrased, it's a memorable moment about memory. The past seen through rose-tinted spectacles.
Things Can Happen
Twin Peaks: The Return is not about nostalgia, although Lynch plays with the idea. The past is more likely to be horrifying than gentle and warm. Poisonous truths rise up from the past, bubble to the surface. That is abundantly clear in part 12. What is known cannot be unknown and some truths will eat a person up from the inside out. It is a miracle that Sarah Palmer is still standing. But she is.
Sarah Palmer is reintroduced in part 12 as she shops for vodka in a convenience store (hope no one lives upstairs). The three bottles of vodka aren't quite enough, but they'll do the job. Sarah is disturbed at the counter because there's a new kind of beef jerky in town and it's turkey jerky. This doesn't sit well with Sarah and she becomes discombobulated.
"Your room seems different. And men are coming."
Maybe there is somebody upstairs then. Drink full of that vodka, Sarah. You'll need it.
"I'm not sure I know what you mean," says the sales assistant. She has that young person's reaction to someone old and crazy. Like that's how anyone can go when they leave youth behind. Grace Zabriskie gives another startling performance, losing herself in the indignities of the character.
"I am trying to tell you. That you have to watch out. Things can happen. Something happened to me. Something happened to me. I don't feel good. I don't feel good."
Psychogenic Fugue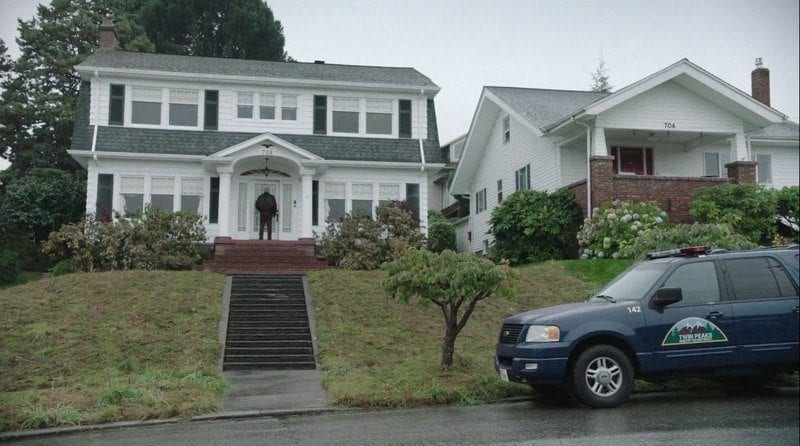 There appears to be another voice in Sarah's head that manifests at this point. Although it doesn't stay inside and tells her in her own voice to, "Leave this place." If it's some sort of inhabiting spirit then it's a helpful one and is not working against her. A more real world explanation is that it is Sarah helping herself, powerful levels of self-preservation kicking it.
It works on multiple levels of course. Sarah Palmer has suffered enough trauma for a thousand lifetimes. More than enough to break a person, snap them in two. But there's also the supernatural angle baked into the story. As if there is indeed another being in there with her. Like Mike / Phillip Gerard. Or a young girl in 1956 who swallowed a flying frog lizard.…
Hawk, having learned about the incident at the convenience store, visits the Palmer residence. The ceiling fan is on and the mood is beyond ominous. "I just don't know what came over me," Sarah tells him. She seems more together now,  dismissive of her earlier turn.
"You're okay now?" asks Hawk.

"I feel fine now."
There's a noise from inside.
"Somebody in the house?"

"No. No. Just something in the kitchen."

"You're okay then?"
It's probably just the young man who said he would deliver her shopping after she left it at the store. But that's almost beside the point. Nothing is okay in Twin Peaks. The action is inexorably tilting back towards the town where it all began and a reckoning is in the air.
I'm taking next week off to investigate the Zone. Don't worry though, I'm not going to go the way of Chet Desmond. I'll be back the following week with reviews of parts 13 and 14, one of which my doppelganger will be write in reverse speech. See you in my dreams.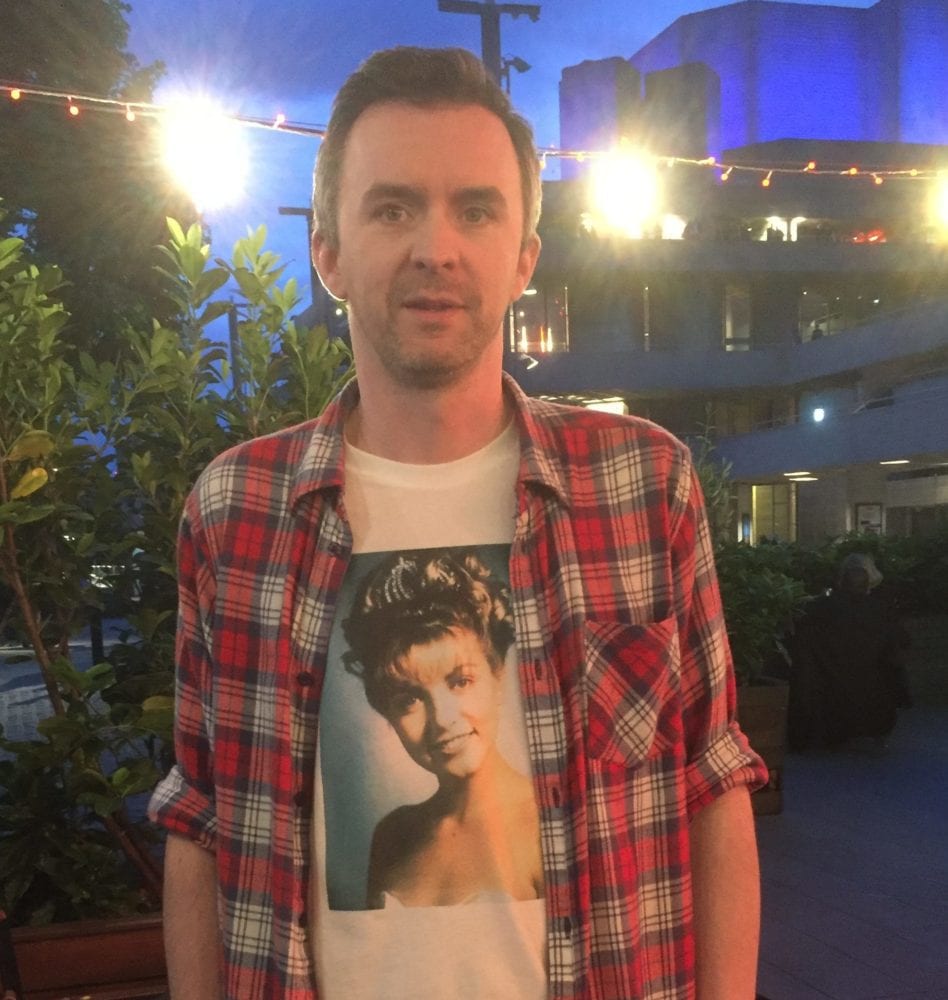 Stewart Gardiner is still disappointed that magical wardrobes don't actually exist. He can't travel to other worlds, so writes about them instead. Is it coincidence that he is the same age as Eraserhead and Star Wars? No. Is Damon Lindelof his constant? Probably. When will this bio end? Soon. Very soon. Stewart is co-editor-in-chief of UK website Future of the Force, writes about David Lynch for 25 Years Later, and used to write for magazines. Originally from Scotland, he lives in London with his wife and two kids, but they might consider relocating to Twin Peaks.