Bill tells Joe about the Bandai Star Wars 1:12 Model Kit he's been building, and the crew looks ahead to Marvel's upcoming Darth Maul comics.
Bill recently built the Bandai Star Wars 1:12 Model Kit of BB-8. And he reviews the kits in general with some recommendations for getting started. In the news, Marvel's Darth Maul comic miniseries is just around the corner. Lastly, Hasbro dropped a Black Series release from out of nowhere.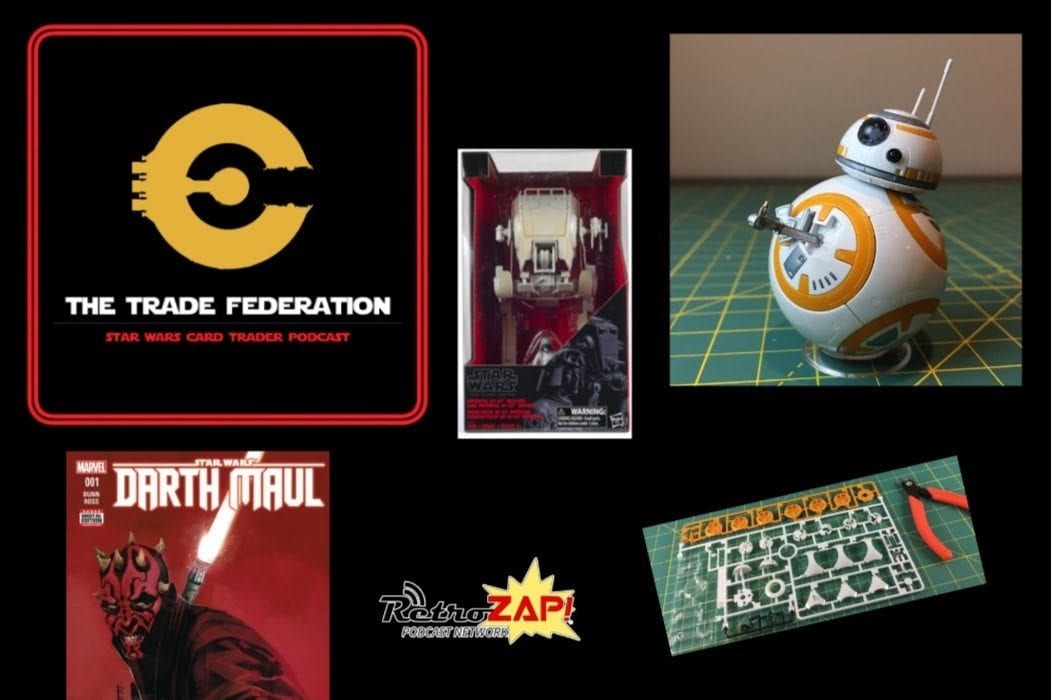 ---
     
---
---
The Trade Federation #85
News
The Black Series 3.75″ AT-ST with driver has started hitting Walmart without any sort of announcement ahead of time from Hasbro. Check out  Jedi Temple Archives and Yakface for coverage and Brickseek info. Due to release on February 1, the Darth Maul miniseries from Marvel Comics will be one of the very few narratives in the Star Wars canon timeline to take place prior to The Phantom Menace.
Bandai Star Wars 1:12 Model Kit
Bill recounts his build of the Bandai BB-8 model kit. These kits are a blast to build, and if you are into LEGO and/or six inch action figures they you should try at least one at some point.  BB-8 comes with R2-D2 and while Bill has yet to assemble Artoo, he does recommend this kit to beginners. They need very little customization and are very quick to complete. These affordable kits are fun, relaxing, and fulfilling.
Star Wars Destiny
Trade Federation 85 wraps up with some Star Wars Destiny chat. Joe and Bill recap a few decks and games they played in the last week. And they look ahead to next week when the Knights of Ren podcast hosts are scheduled to join in.
Social
Joe: @TradeFedCast
Bill: @LostStarWars
---
About The Trade Federation
Begun as the first ever Star Wars Card Trader Podcast, the Trade Federation has evolved to include all things collecting. Collectors are a unique type of person, and everyone collects in different ways. Whether you are trying to assemble a full set of Vintage Star Wars action figures or tossing bottle caps into a ziplock baggy, you'll feel right at home on The Trade Federation Podcast.
Join hosts Joe Ryan, Bill Drewnowski, along with regulars Brent and Steven as they discuss news and collection updates, as well as special weekly collecting and Star Wars topics!