Joe and Bill get ready for Thanksgiving weekend with a look at some not-so-obvious Black Friday events like Record Store Day. And Reflections have returned to SWCT.
Love it or hate it, Black Friday can be a great day for collecting. The Trade Federation talk about some of the events announced for this weekend that might not be on everyone's radar. Record Store Day and the Mondo Flat File Sale are two of the non-standard events worth looking into. In Star Wars Card Trader news, Bill shares his take on the return of Reflections with some wild trades and sales.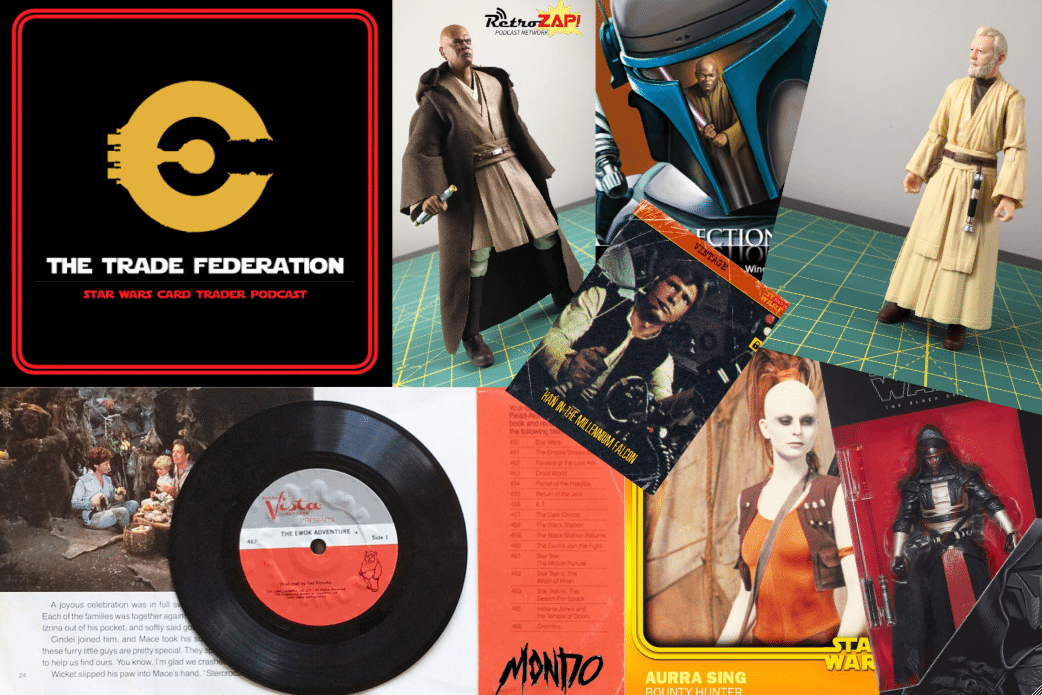 ---
     
---
---
The Trade Federation #81
Black Friday
Record Store Day happens each year on Black Friday. This time Bill hopes to hit Newbury Comics for a reissue of Good God's Urge by Porno for Pyros. Speaking of vinyl, Josh, aka Lightmanx5 shared some photos of his vintage copy of the Ewok Adventure Read-Along book and record. Bill reminisces about his own childhood experiences with the Read-Along books. Finally, last year the Mondo Flat File Sale was an instant sell out, Hopefully this year will bring better luck and Bill will land a new poster.
News
In the news, the latest wave of six inch Black Series figures with Darth Revan and Sabine has been hitting Gamestop and ThinkGeek stores. Furthermore, Chris Salton has reviews of all of these figures on his Collector's Hutt YouTube channel. In other news, Joe is excited for the newly released Mass Effect Omnibus trade paperback comic book collection.
Updates
Bill's collection update is The Black Series Obi-Wan Kenobi from A New Hope. In a #RobeQuest update, Ben's robe fits great on the SH Figuarts Mace Windu figure, and Kenobi still looks great without it.
Other Links
"The Spirit of the Bendu in Princess Mononoke" by Andrew in Belfast
Social
Joe: @TradeFedCast
Bill: @LostStarWars
---
About The Trade Federation
Begun as the first ever Star Wars Card Trader Podcast, the Trade Federation has evolved to include all things collecting. Collectors are a unique type of person, and everyone collects in different ways. Whether you are trying to assemble a full set of Vintage Star Wars action figures or tossing bottle caps into a ziplock baggy, you'll feel right at home on The Trade Federation Podcast.
Join hosts Joe Ryan, Bill Drewnowski, along with regulars Brent and Steven as they discuss news and collection updates, as well as special weekly collecting and Star Wars topics!