Joe and Bill look back at the RetroZap team visit to RI Comic Con 2016.  Bill recaps the sights, panels, art, and toys of the convention. Plus plenty of collector news and updates.
Last weekend Bill attended RI Comic Con with some of the RetroZap team members. He recaps his day of wandering the floor, appreciating art, attending panels, and hunting for collectibles. News includes Super7's takeover of the Masters of the Universe Classics line and Marvel's upcoming Darth Maul comic book miniseries.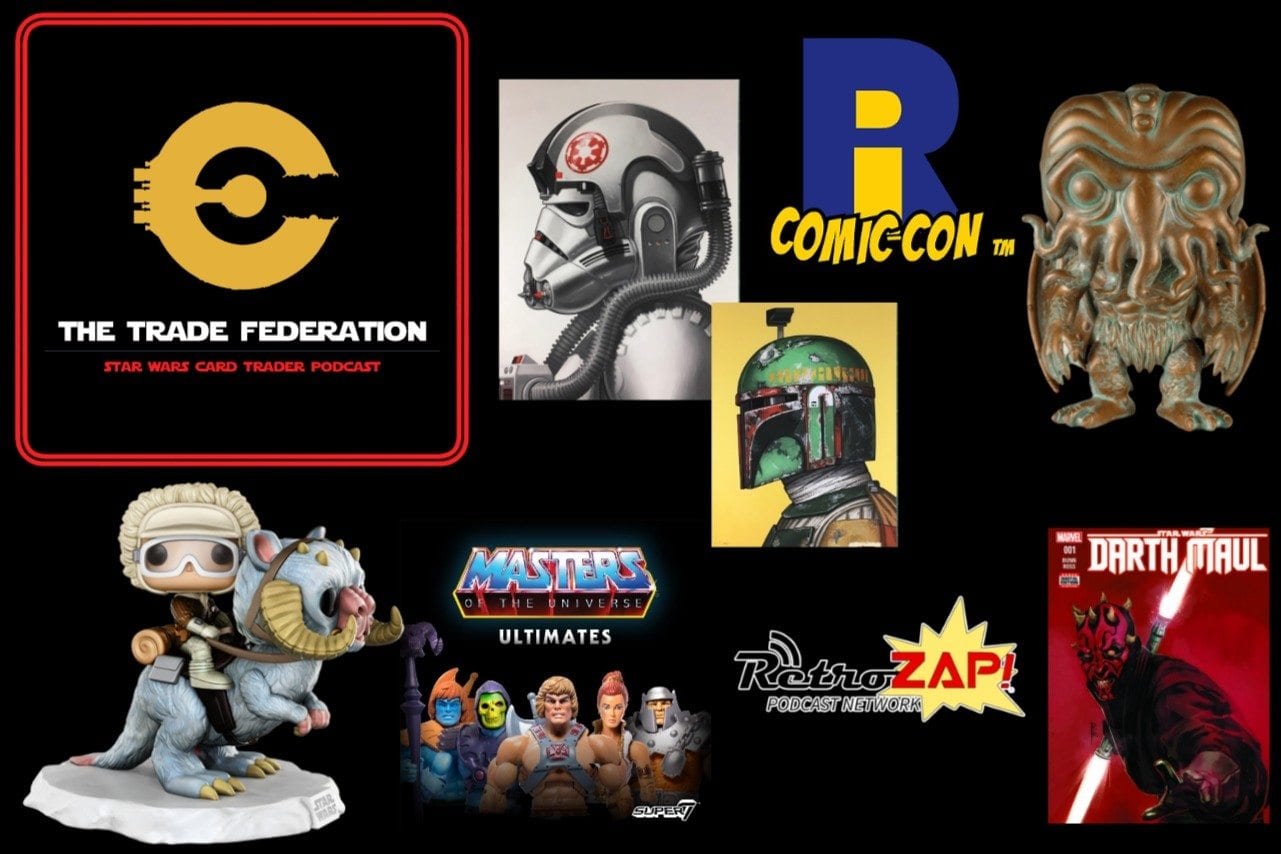 ---
     
---
---
The Trade Federation #80
RI Comic Con
RI Comic Con took place last weekend, and Bill shares his experiences. Panels included Billy Dee Williams and Millie Bobbie Brown from Stranger Things. Bill had a modest collecting haul, making some additions to his fledgling 3.75 Star Wars collection. A true highlight of the artists alley was the work of painter Jason Brockert aka @NerdlyArt.
News
In collector news, Funko Pop has announced their Smugglers Bounty January box: The Empire Strikes Back. Super7 began pre-orders for the first releases after having taken over the Masters of the Universe Classics line. And Marvel announced a Darth Maul comic book miniseries, to be released in 2017.
Updates
Bill's collection update is the latest Mondo Tees Star Wars poster release by artist Mike Mitchell. And Joe melts minds with the Lovecraftian "Mysterious Package" subscription box.
Other Links
Photographic Plastic: Rhode Island Comic Con
Social
Joe: @TradeFedCast
Bill: @LostStarWars
---
About The Trade Federation
Begun as the first ever Star Wars Card Trader Podcast, the Trade Federation has evolved to include all things collecting. Collectors are a unique type of person, and everyone collects in different ways. Whether you are trying to assemble a full set of Vintage Star Wars action figures or tossing bottle caps into a ziplock baggy, you'll feel right at home on The Trade Federation Podcast.
Join hosts Joe Ryan, Bill Drewnowski, along with regulars Brent and Steven as they discuss news and collection updates, as well as special weekly collecting and Star Wars topics!