Joe, Bill, and Brent discuss SWCT including a giveaway, budget collecting tips, and news and updates from the last week.
For the second week in a row, The Trade Federation discusses SWCT. With multiple high-demand sets in a row, fun is to be had, especially for those who like to trade. Martine donates a beautiful SWCT Rogue One poster card in the latest Trade Federation giveaway.  The crew focuses on some specific collector lines for a discussion about budget strategy. And as always there are plenty of news and collector updates.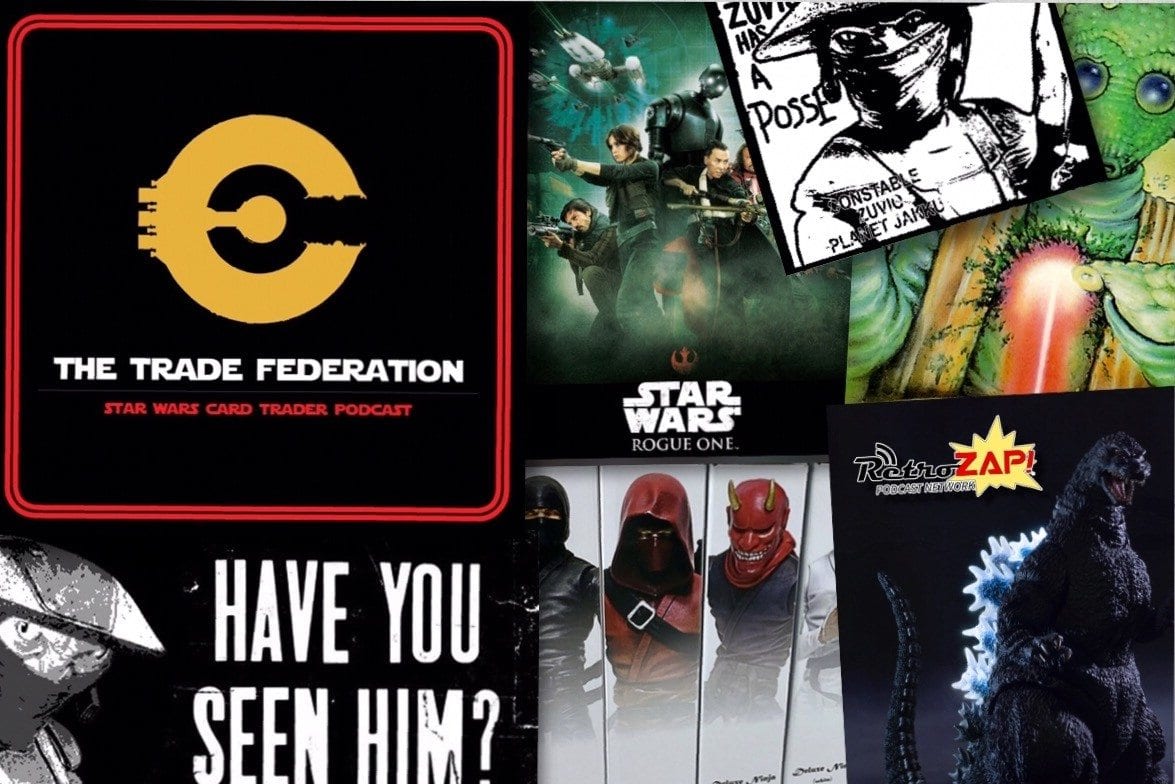 ---
     
---
---
The Trade Federation #77
Yet again SWCT makes it back into The Trade Federation podcast discussion with the release the Galaxy Select. Based on the physical Topps Star Wars Galaxy trading card series this insert set has reignited the trade fire for the crew.
In the news, Bill and Brent share some action figure items they are excited for, including SH MonsterArts Godzilla 1989, Articulated Icons Feudal Series, and the upcoming Black Series six inch waves that are about to hit stores. Brent updates the crew on his great Star Wars TCG find, and poses a budget quandary.
The topic of the week is collecting on a budget and finding the best deals. Collecting can be an expensive hobby, so finding ways to save are essential. The Trade Federation shares some strategies for being an informed and frugal consumer.
In classic form, Martine aka MWG13 donates a giveaway to the podcast. Up for grabs is a SWCT Rogue One Day One Poster insert. Be sure to listen to find out how you can win this beautiful digital trading card.
Links
"Zuvio Has a Posse" by James Volpe the Ska Geek
The Fwoosh's Articulated Icons Kickstarter packaging update and product page.
SH MonsterArts Godzilla 1989
Martine's Youtube
Social
Joe: @TradeFedCast
Bill: @LostStarWars
Brent: @BuseyKnowsBest
Martine: @IlGeneralissimo
---
About The Trade Federation
Begun as the first ever Star Wars Card Trader Podcast, the Trade Federation has evolved to include all things collecting. Collectors are a unique type of person, and everyone collects in different ways. Whether you are trying to assemble a full set of Vintage Star Wars action figures or tossing bottle caps into a ziplock baggy, you'll feel right at home on The Trade Federation Podcast.
Join hosts Joe Ryan, Bill Drewnowski, along with regulars Brent and Steven as they discuss news and collection updates, as well as special weekly collecting and Star Wars topics!