Bill welcomes Luke back on the show, to talk about his new Trade Federation theme song, New York Comic Con, and SWCT.
New York Comic Con brought some new six inch Black Series announcements. It introduced the new Ahsoka novel to the world. And NYCC showcased the amazing SWCT art of Matthew Petz. Bill and Luke get caught up on music, Star Wars, Collecting, and Gaming on Trade Federation Episode 76.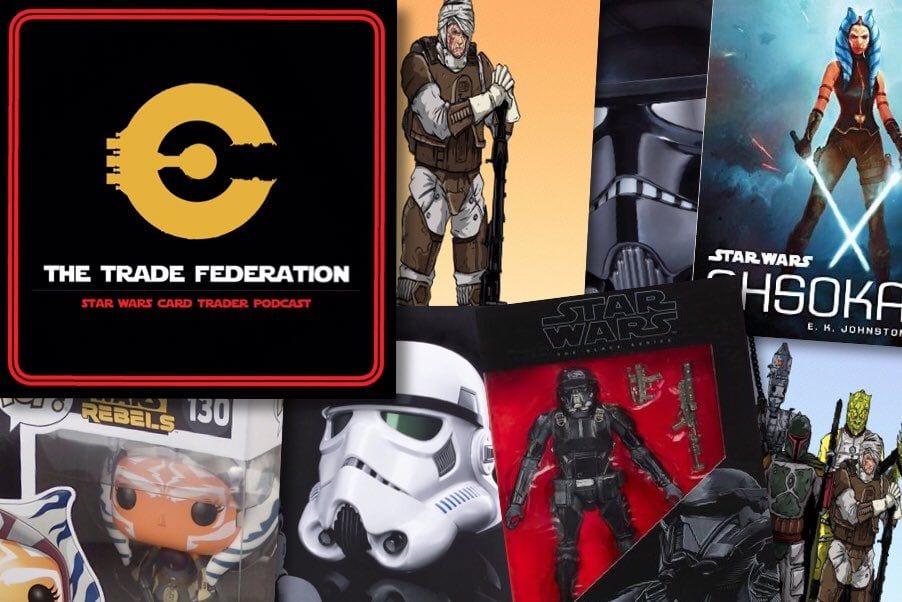 ---
     
---
---
The Trade Federation #76
Luke, the composer and performer of the Trade Federation theme song, fills in for Joe on the latest episode. Bill and Luke revisit some of the highlights from New York Comic Con including new Black Series, Ahsoka by E.K. Johnston, and Topps Digital.
Luke has been cracking into some Rogue One: Mission Briefing trading cards, and shares his reactions to the series. The latest wave of Rogue One advertising is imminent: Bill and Luke discuss the poster, contemplating working from home in the morning to view the trailer. And Bill announces the winner of the Funko POP! Ahsoka giveaway.
Billy, aka Biljamin, calls in to recount his experience at NYCC. And finally Bill and Luke wind down with a discussion about Star Wars Card Trader and why it no longer has the same appeal for them as it used to.
Links
NYCC Six Inch Black Series promo pics on The Fwoosh
Twitter
Joe: @TradeFedCast
Bill: @LostStarWars
Luke: @RealSwellMusic
Billy (voicemail) @cortonabilly
---
About The Trade Federation
Begun as the first ever Star Wars Card Trader Podcast, the Trade Federation has evolved to include all things collecting. Collectors are a unique type of person, and everyone collects in different ways. Whether you are trying to assemble a full set of Vintage Star Wars action figures or tossing bottle caps into a ziplock baggy, you'll feel right at home on The Trade Federation Podcast.
Join hosts Joe Ryan, Bill Drewnowski, along with regulars Brent and Steven as they discuss news and collection updates, as well as special weekly collecting and Star Wars topics!