Joe, Bill, and Brent discuss vinyl record collecting, recent Star Wars comics announcements, and the latest Funko Smuggler's Bounty.
Record albums and Funko Pops, this episode is heavy on vinyl. Brent's recent acquisitions include items from Hastings and Third Man Records. Joe is getting ready for The Dark Tower. And Bill reviews the latest Smuggler's Bounty subscription box (spoiler alert).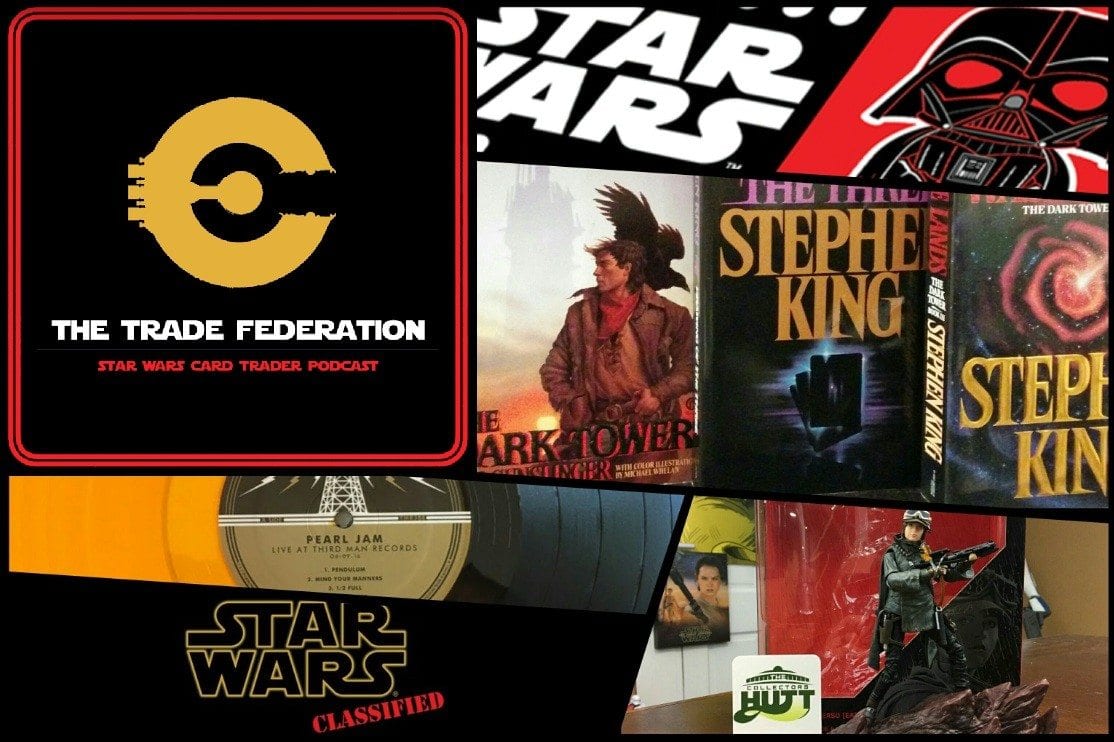 ---
     
---
---
The Trade Federation #73
Collections grow on this week's episode of The Trade federation Podcast. Brent shares his passion for great music and great music collectibles, especially Third Man Records. Joe has been working his way back through Stephen King's Dark Tower series in anticipation for the upcoming Nkolaj Arcel film with Idris Elba and Matthew McConaughey. Finally, Bill reviews the September "Death Star" Smuggler's Bounty Box from Funko (spoiler alert). Find out Bill's overall take on the first year of Smuggler's Bounty. Which were his favorites? Is it worth the price? Will he continue on to year two?
In the news, the crew previews the upcoming Star Wars: Classified ongoing comic book from Kieron Gillen and Kev Walker. A few of the six inch Hasbro Black Series exclusives have begun to hit shelves. K-Mart has Jyn Erso with diorama base. And Toys R Us is selling the Hover Tank Driver. And Brent sifts through the remnants of Hastings' massive clearance sale.
SHOW NOTES
0:00 Intro
0:01 New Trade Federation Theme Song by @realswellmusic. Follow him on Twitter and let him know what you think, and check out his BandCamp page: realswellmusic.bandcamp.com/
0:03 News – Comics Books: Star Wars: Classified
0:11 News – Hasbro six inch Black Series Exclusives including the Collector's Hutt's review of K-Mart Jyn Erso
0:20 News – Hastings going out of business sale
0:29 Media Play
0:30 Collector Update – Brent's Third Man Records Vault haul
0:39 Collector Update – SPOILERS Smugglers Bounty Death Star Review SPOILERS
0:51 Collector Update – Bill reviews the whole year of Smugglers Bounty and chooses his top three favorite Pops from year one.
Twitter
Joe: @TradeFedCast
Bill: @LostStarWars
Brent: @BuseyKnowsbest
---
About The Trade Federation
Begun as the first ever Star Wars Card Trader Podcast, the Trade Federation has evolved to include all things collecting. Collectors are a unique type of person, and everyone collects in different ways. Whether you are trying to assemble a full set of Vintage Star Wars action figures or tossing bottle caps into a ziplock baggy, you'll feel right at home on The Trade Federation Podcast.
Join hosts Joe Ryan, Bill Drewnowski, along with regulars Brent and Steven as they discuss news and collection updates, as well as special weekly collecting and Star Wars topics!