Joe, Bill, and Brent discuss Star Wars CCG, Expanded Universe, and NECA Toys along with plenty of collector news and highlights.
Brent is back with a look at Star Wars CCG. The crew shares comic, book, and figure news. Highlights include NECA action figures, Hasbro's The Vintage Collection, and chasing past Topps hobby boxes.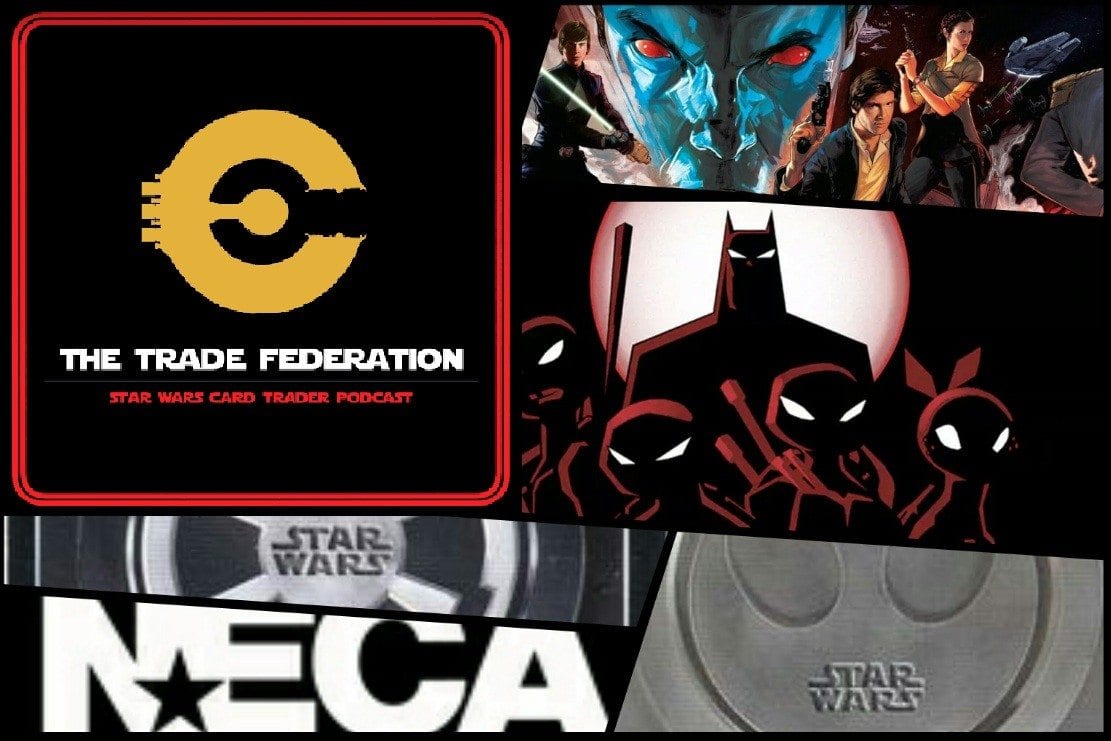 ---
     
---
---
The Trade Federation #72
On this week's episode of The Trade Federation, Brent tells Joe and bill all about Star Wars CCG. Originally created by Decipher, the Star Wars collectible card game is now overseen by a players committee. Almost as old as Magic the Gathering, Star Wars CCG has a rich history.
In the news, the crew previews the upcoming Batman/TMNT Adventures from IDW Publishing. A comic book based on Batman the Animated Series and Nickelodeon's Teenage Mutant Ninja Turtles can only be good, right? They also talk about the numerous reports of Rogue One Hasbro figures showing up early (and at discount prices) at Walmart and other grocery stores. Finally some new covers for Timothy Zahn's Thrawn Trilogy are on there way later this month
SHOW NOTES
0:00 Intro – Recommendation: Mike O'Conner on politics in Star Wars
0:02 News – Batman/TMNT Adventures 
0:03 News – Rogue One Hasbro figures showing up early
0:07 News – Timothy Zahn's Thrawn Trilogy new covers
0:12 Collector Update – NECA 1:4 scale Donatello and NECA in general
0:19 Collector Update – Hasbro The Vintage Collection
0:30 Expanded Universe/Legends chat
0:30 Collector Update – Old Topps Hobby Boxes
0:53 Star Wars CCG
Twitter
Joe: @TradeFedCast
Bill: @LostStarWars
Brent: @BuseyKnowsbest
---
About The Trade Federation
Star Wars Card Trader is taking the world by storm. The app from Topps, available on on iOS and Android devices, has more and more followers every day, and has become a fun and exciting marketplace, creating a new generation of deeply involved fans and collectors. From Reddit forums to eBay to social media, #SWCT can be complex–even overwhelming for newcomers.
That's where the Trade Federation comes in.
The first-ever podcast of its kind, this IS the destination for Star Wars Card Trader users who need to know the most recent information, strategies, and predictions for the future. Join hosts Joe Ryan and Bill Drewnowski each week as they break down the latest news and releases, talk about trade strategy, look at upcoming sets and awards, break down the pricing of cards on eBay and more!