Joe and Bill discuss their personal trading card histories, with an emphasis on collectible card games. Also EU, ASOIAF, TMNT, DBZ trading cards and more!
Following a few figure updates from last week's Rogue One announcements, Joe and Bill share their trading cards histories. Collectible card games include Magic the Gathering, Yu-Gi-Oh!, Pokemon, Dragonball Z, Wheel of Time, and A Game of Thrones.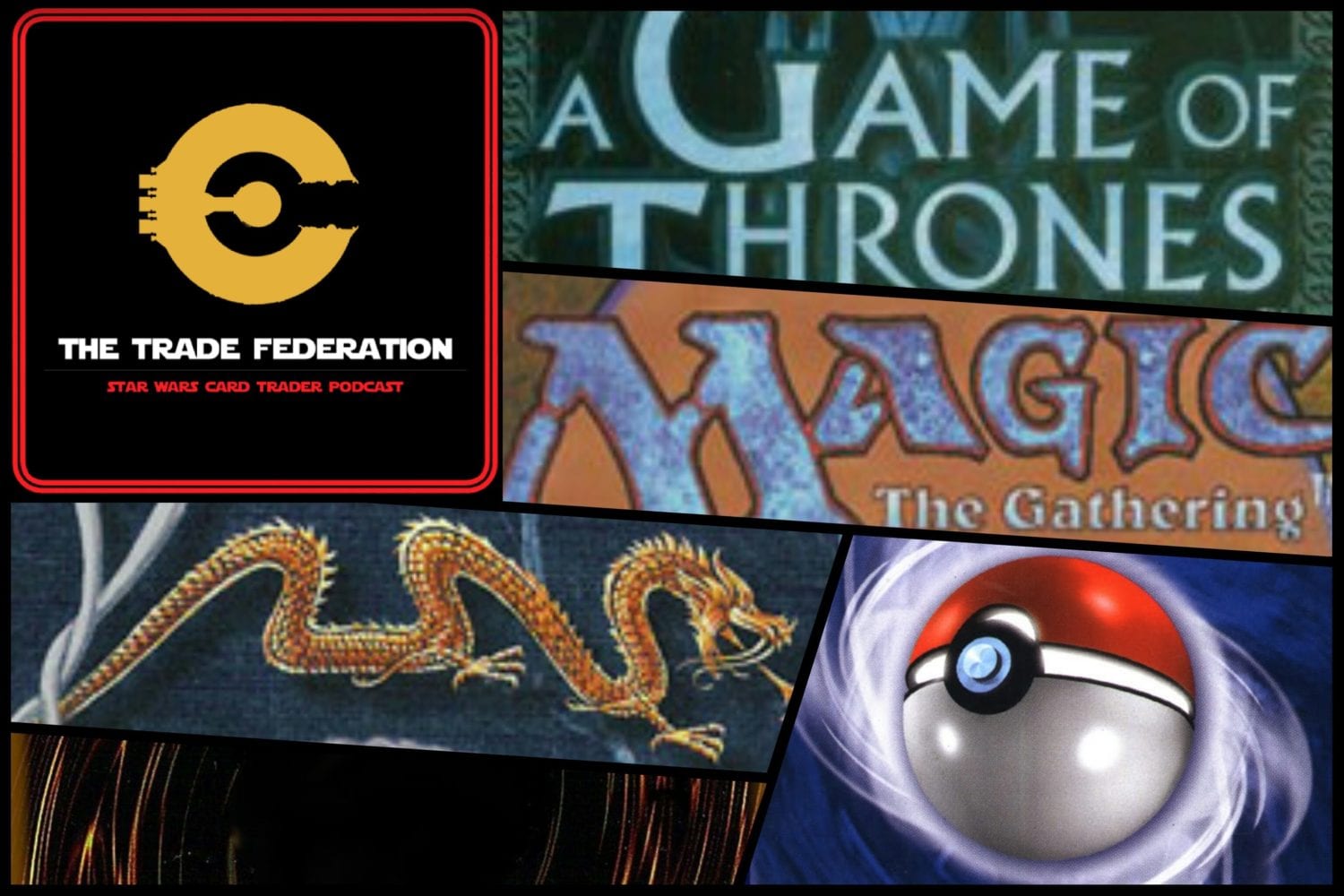 ---
     
---
---
The Trade Federation #71
On this week's episode of The Trade Federation, Joe and Bill continue their discussion of collecting physical trading cards. Joe debates the merit of collectible card games versus traditional trading cards, while bill recounts the history of his Magic the Gathering collection.
In the news, the crew takes another look at SH Figuarts Unmasked Kylo Ren, which is now available for pre-order. Bill discusses some of his strategies for getting the best prices on SH Figuarts.  And Joe picks Bills brain about collector line completeness and comparisons between The Black Series six inch and SH Figuarts.
Lastly, there is a whole bunch of book chat. Joe is into a new TMNT title, while Bill has been re-listening to the Timothy Zahn trilogy audio books. Discussions of epic fantasy include The Wheel of Time and A Song of Ice and Fire.
SHOW NOTES
0:00 Intro
0:02 News – SH Figuarts Unmasked Kylo Ren pre-order 
0:06 SH Figuarts vs Black Series with packaging comparison
0:13 SH Figuarts Teenage Mutant Ninja Turtles 
0:16 SWCT Force Score shift
0:23 Book chat including comics and Star Wars audiobooks from the public library
0:30 Collectible card games
1:10 Anticipation for SWCT Rogue One content
Twitter
Joe: @TradeFedCast
Bill: @LostStarWars
---
About The Trade Federation
Star Wars Card Trader is taking the world by storm. The app from Topps, available on on iOS and Android devices, has more and more followers every day, and has become a fun and exciting marketplace, creating a new generation of deeply involved fans and collectors. From Reddit forums to eBay to social media, #SWCT can be complex–even overwhelming for newcomers.
That's where the Trade Federation comes in.
The first-ever podcast of its kind, this IS the destination for Star Wars Card Trader users who need to know the most recent information, strategies, and predictions for the future. Join hosts Joe Ryan and Bill Drewnowski each week as they break down the latest news and releases, talk about trade strategy, look at upcoming sets and awards, break down the pricing of cards on eBay and more!