September is upon us, and that means Rogue One product announcements are imminent. Joe, Bill, and Steven talk Hasbro, Topps, LEGO, and Bandai as they get ready for round two of the Disney era of Star Wars.
The Trade Fed Crew recap their favorite highlights from all the recent Rogue One product announcements. Today's main topic is physical trading cards including the upcoming Topps Rogue One Mission Briefing and Fantasy Flight Games Star Wars Destiny.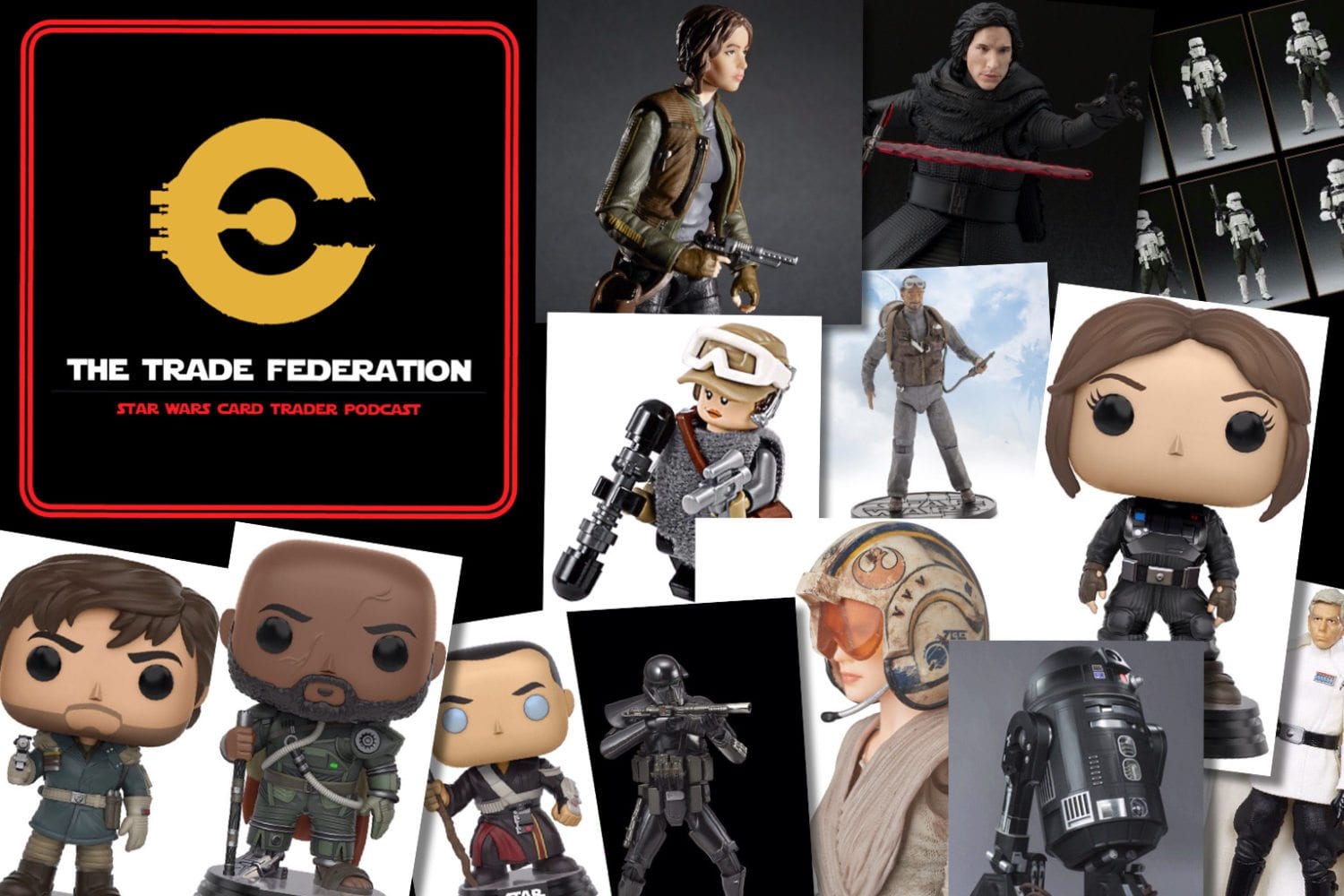 ---
     
---
---
The Trade Federation #70
Last year, Force Friday was a huge event. But for many fans it was an even bigger letdown. In many ways, we still do not know what is in store for us come "Rogue One Friday" (as some are calling it). Will the Rogue One product announcements be a midnight event? Could retail locations have enough to meet demand? Will target have a life-sized C2-B5 for Chris Salton to chase down? Who can say?
September 30 is still a month away, but Disney and Lucasfilm have begun to reveal a slew Rogue One product announcements scheduled for release. Perhaps their pre-order strategy will take the pressure off of the expectations surrounding the street date, slowing some of the buzz while making the general experience more enjoyable. One thing is for sure: another epic Star Wars event and accompanying product bonanza is on its way, and Joe, Bill, and Steven are here to talk about it.
SHOW NOTES
0:00 Intro
0:03 News – Retrozap roundup by Dan Lizotte, including Hasbro, LEGO, Disney, and Funko 
0:12 News – Bandai model kits and SH Figuarts 
0:30 Focus – Trading cards – Topps Rogue One Mission Briefing 
0:44 Fantasy Flight Games Star Wars Destiny 
0:46 Voicemails
Other links mentioned in this episode:
First Order Transmissions Rogue One 3.75 Reviews
SH Figuarts Exlusive Kylo Ren Unmasked Pre-order
Twitter
Joe: @TradeFedCast
Bill: @LostStarWars
Steven: @SWCTVader
---
About The Trade Federation
Star Wars Card Trader is taking the world by storm. The app from Topps, available on on iOS and Android devices, has more and more followers every day, and has become a fun and exciting marketplace, creating a new generation of deeply involved fans and collectors. From Reddit forums to eBay to social media, #SWCT can be complex–even overwhelming for newcomers.
That's where the Trade Federation comes in.
The first-ever podcast of its kind, this IS the destination for Star Wars Card Trader users who need to know the most recent information, strategies, and predictions for the future. Join hosts Joe Ryan and Bill Drewnowski each week as they break down the latest news and releases, talk about trade strategy, look at upcoming sets and awards, break down the pricing of cards on eBay and more!