Joe and Bill discuss budget collecting and ways to make the most of limited funds. Other topics include Magic the Gathering, SWCT, and a Mysterious Package.
Between the buzz of the latest releases and the need to complete sets, budget collecting can be a challenge. Joe and Bill share some strategies to spend less and still have fun. In the updates, Joe shares his experience with a new subscription service known as the Mysterious Package. Bill cracks open some Magic the Gathering packs for the first time in a long time. And Mezco announces the One:12 collective Spider-Man figure.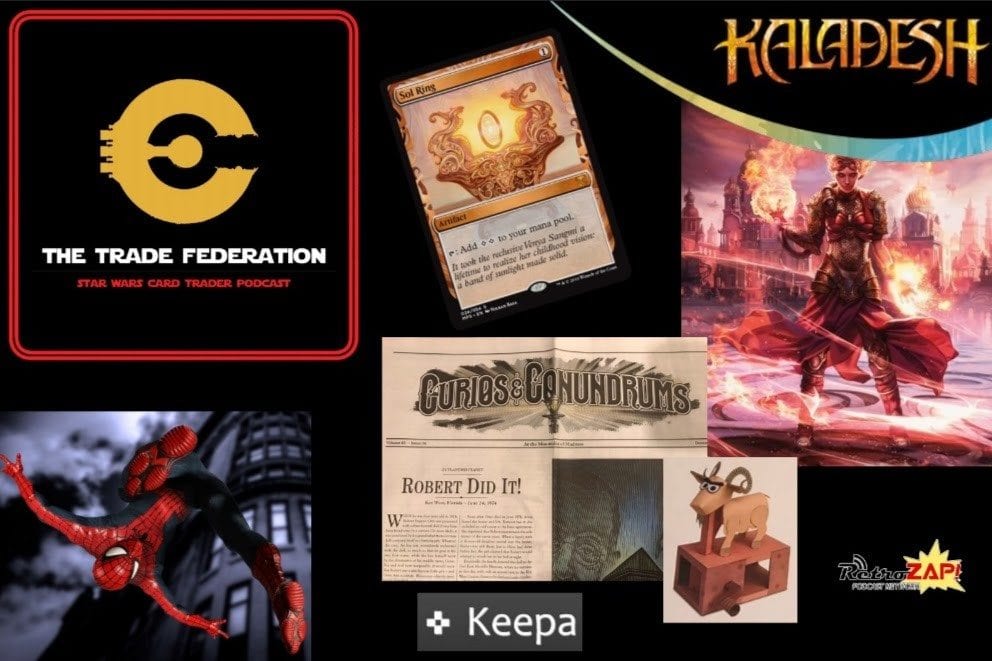 ---
     
---
---
The Trade Federation #82
Budget Collecting
If you have ever wondered how people always find those awesome Amazon sales, you will want to listen to Episode 82. Keepa is a Chrome browser extension that lets you track prices and set up alerts for price drops and lightning deals. Price trackers like this can help collectors avoid overpaying, save time checking, and enhance collecting. Other advice for budget collecting: Exercise patience. Avoid becoming a completionist. And do nott get too attached; being open to selling some things can be a great way to work on a collection without acquiring more stuff. Curating a collection by thinning it down to the most precious and enjoyable pieces is often as satisfying as building it up.
News
In the news, Mezco has started accepting pre-orders for the One:12 Collective Spider-Man action figure. Find out if it will make Bill's budget. Elsewhere, Funko has started a series of animated shorts starring the cuteness of their Marvel Pop! Vinyl figures.
Updates
Bill's collection updates include his first Magic the Gathering packs in many months, with a discussion of the new Masterpiece series begun in the Kaladesh set. Also find out how Bill's odd SWCT Vintage Han story ended in mystery last week. Speaking of mystery, Joe risks his soul and cracks open a Mysterious Package that arrived at his house.
Other Links
Sandcrawler Podcast Episode 9 with Jordon Maison from Cinelinx.com.
Social
Joe: @TradeFedCast
Bill: @LostStarWars
---
About The Trade Federation
Begun as the first ever Star Wars Card Trader Podcast, the Trade Federation has evolved to include all things collecting. Collectors are a unique type of person, and everyone collects in different ways. Whether you are trying to assemble a full set of Vintage Star Wars action figures or tossing bottle caps into a ziplock baggy, you'll feel right at home on The Trade Federation Podcast.
Join hosts Joe Ryan, Bill Drewnowski, along with regulars Brent and Steven as they discuss news and collection updates, as well as special weekly collecting and Star Wars topics!